Looking for predictive maintenance examples to model your internal program after?
Reducing the chances of operational and electrical equipment failure is an integral part of solid maintenance management. That's why so many organizations are pursuing predictive maintenance.
In this blog post, we will go through three standard predictive maintenance examples that you can use to fashion your own maintenance management processes and avoid the dangers of reactive maintenance.
What Makes The Perfect Predictive Maintenance Example?
Before diving into a few predictive maintenance examples that we have selected for you, it is important that we first discuss the main element that makes up a good predictive maintenance plan.
It is imperative that your predictive maintenance incorporates some means of measuring the efficiency of the machine which you are evaluating.
In order to implement a predictive maintenance strategy, you will need to install the Internet of Things (IoT) sensors within the assets you want to track.
You can do this by having a column that specifies the ideal score at which the machine should be performing. Next to this column, you can have another one that records the piece of equipment condition which you have registered for that specific machine. Depending on the type of machine being evaluated, this information will be significant. This will let you know whether you need to increase the amount of lubrication needed at maintenance schedules.
For any additional information regarding maintenance tasks and how they ought to be prepared, you can check out our step-by-step blog post on how to create a preventive maintenance program.
While they are different from predictive maintenance templates, this blog post will help you to spot how similar templates can be constructed while allowing you to avoid falling into the trap of framing a predictive maintenance checklist as if it were a preventive maintenance checklist.
Predictive Maintenance Examples
Let's take a look at a few different predictive maintenance examples, which have been set up using distinct approaches.
Predictive Example #1
Below is an example of Limble CMMS digitized predictive maintenance module, that allows maintenance managers and technicians to easily gather, store, and recover predictive maintenance data set.
Credits: LimbleCMMS
After installing sensors into the selected assets, data starts being automatically sent to the software's database. Through artificial intelligence, automatic predictions regarding equipment's conditions are made. Since the software has a high-functioning work order module, the database triggers work requests when corrective work is needed.
As you can see on the example above, there are several tasks which have been included, one of them being 'Vibration Rate high! #15094'. The name of this maintenance activity corresponds specifically to vibration analysis, a procedure that requires the officer carrying out the operation to practice predictive maintenance. This is because vibration analysis, in and of itself, centers around using sensor data to identify abnormalities within a machine's vibration pattern. With this data collection, one can then use data analytics to measure its operating conditions and then make informed decisions regarding its upkeep.
Here, our focus is on the way that the predictive maintenance program is structured. Having the entire maintenance team being able to access real-time data through an easy to use dashboard saves time and increases productivity.
Work Order Ticketing System Templates
These useful templates will help you get a handle on work order ticketing and management.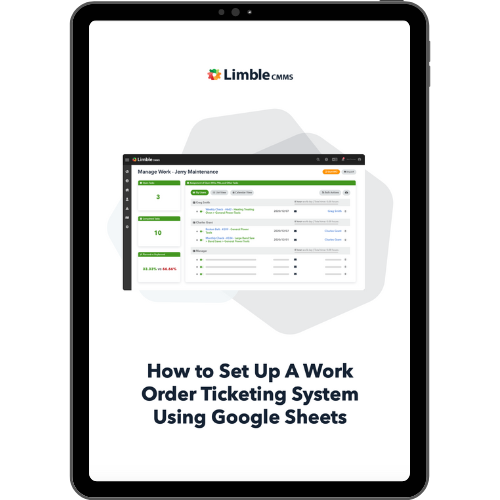 Predictive Example #2
For organizations who want to start small, or are already used to using paper checklists, the template below, provided by Internal Audit Checklist, is an example of how to set up a predictive maintenance checklist to be manually filled out.
Credits: Internal Audit Checklist
Comprising nine columns, each one represents values that are crucial to determining how effective the condition monitoring procedure that is being undertaken by the technician is.
Of particular note are the columns named 'Acceptable Limit' and 'Measured' respectively. In the first column, the maintenance technician completing the maintenance checklist has to note what is considered to be the standard set by the company-specific to the machine which they are evaluating. Then, in the next column, they write down the performance rating of the device they are analyzing based on how it has performed in the test they did.
This is very much in keeping with the guidelines specified previously with predictive maintenance work and its corresponding monitoring equipment.
It is important to note that the person completing the checklist has more than one parameter to use in order to measure the performance of the machine. This is significant in cases where each machine that is being measured has various systems that need to be weighted.
Predictive Example #3
To provide you with a final example, we have selected a vibration analysis summary from Continuously Improving Manufacturing.
Credits: Continuously Improving Manufacturing
This work order features two columns that are of utmost importance, namely the ones labeled 'Problem Description' and 'Lubrication', respectively. In the section marked 'Lubrication', the technician completing the form can input details that document whether the machine is adequately lubricated or not.
Similarly, in the section 'Problem Description', the maintenance technician can include a general summary about the problems and defects that they have managed to identify when they analyzed the machinery.
All in all, these two columns allow one to include relevant details regarding their vibration analysis so that any correct measures can be made should the need arise.
The Essential Guide to CMMS
Download this helpful guide to everything a CMMS has to offer.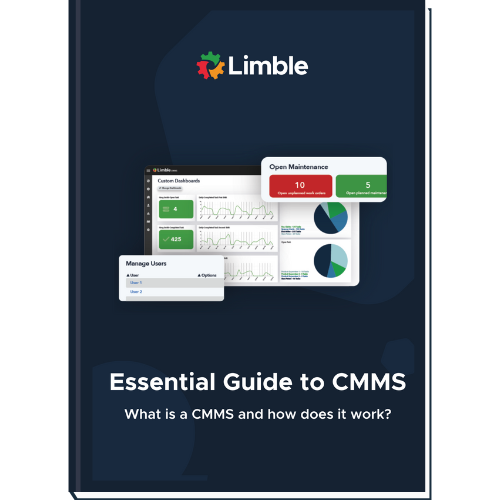 Limble CMMS for Predictive Maintenance
Every organization has different maintenance needs and will need personalized PdM strategies. Robust predictive maintenance plans are often needed by organizations operating with complex assets. That's because reactive maintenance associated with this type of equipment often has significant costs — not only with spare parts but also with unplanned downtime needed.
Choosing which assets to include in the plan is a task that involves study of historical data and trends. Modern CMMS software, such as Limble, helps managers access data to make decisions that bring the highest return on investments (ROI).
That said, depending on the type of organization you operate, a simple set of spreadsheets to keep track of data coming from the sensors won't be enough to streamline maintenance activities. Instead, you need to leverage a machine-learning platform that enables you to create customized predictive templates that you can use at a moment's notice to get your operations underway.
Limble CMMS grants maintenance managers, property owners, and anyone in the industry the tools needed to simplify the challenges of maintenance procedures.
The dashboard combines the best of user experience, intuitive, and cutting-edge big data software to deliver a complete asset management solution.
With CMMS software, sensor data instantly populates the dashboard and triggers a request for action when needed. Then, maintenance technicians receive notifications on their mobile phones with the details of what needs corrective maintenance.
With that, maintenance teams avoid the waste of precious work time filling out checklists manually.
Leverage These PdM Examples to Implement a PdM Strategy
Businesses handling complex assets can't afford to have them going through reactive maintenance if they want to be cost-effective.
To build a powerful predictive maintenance plan, organizations need the right tools at hand.
Leverage a software platform that allows you the flexibility to build and customize your very own predictive maintenance template based on your own requirements.
Limble CMMS offers not only top-notch predictive maintenance technology but also a preventive maintenance module, work request module, spare parts inventory module, analytics reports, mobile app, and more. That allows maintenance professionals to develop bespoke maintenance plans.
Through our platform, you have the unique chance to seamlessly integrate maintenance managerial procedures with tech solutions that allow you to cut down on your expenses, boost maintenance cost savings, and make your real-time operations more effective.
Don't let it slip away.
Find out more about how you can begin using our CMMS software today to start implementing your own condition-based maintenance plan.