January 17 2020
Top CMMS Features And How They Were Used In 2021.
Different companies have different needs, but core CMMS features tend to be used across the board. That's not surprising when you consider how those features interconnect.
If you want to run a proactive maintenance plan, you need to have the ability to schedule PMs and start WOs, you have to be able to assign specific technicians to specific assets, and you need to have dashboards and reports that enable you to track work in progress. If one of those features is missing, the whole thing falls apart.
This is why all core features are used proportionally the same and why most CMMS on the market have them implemented in one form or another.
That being said, CMMS solutions have many other useful features, and with the big enough sample, we can see which ones businesses tend to prioritize.
In the rest of this article, we will:
give you a brief overview of core CMMS features
a short infographic that looks at our internal data from 2019. and shows how our clients used Limble CMMS (to go straight to the infographic, click here)
discuss which CMMS features will be a top priority in 2020. and beyond
For a full in-depth guide about everything CMMS, check out our What is a CMMS System and How Does it Work guide.
A quick overview of core CMMS software features
To help you put things into perspective, we are first going to outline core CMMS software features. This section will be broken down into general maintenance areas, followed by a list most prominent CMMS features available in each stated area.
As a short disclaimer, we will highlight features we find most useful, but we cannot guarantee that all other CMMS vendors have these exact features implemented.
1. Asset management
Having important asset information at the tip of your finger is an extremely useful feature. It gives you real-time insight into the health of your assets, as well as how expensive they are to repair and maintain.
Top asset management features to look for:
maintenance logs reports – allow you to track everything that has been happening with your assets so far (breakdowns, repairs, PMs, MTTR and MTBF, data from condition monitoring sensors if you use any, etc.)
centralized asset card – allows for a clear overview of everything related to your asset (view Asset Information, Work Orders, Preventative Maintenance, logs and reports for a selected asset in one place)
asset hierarchy organization – the ability to organize your assets in a parent-child hierarchy is a HUGE time saver (you can see how this looks like in Limble in the GIF below)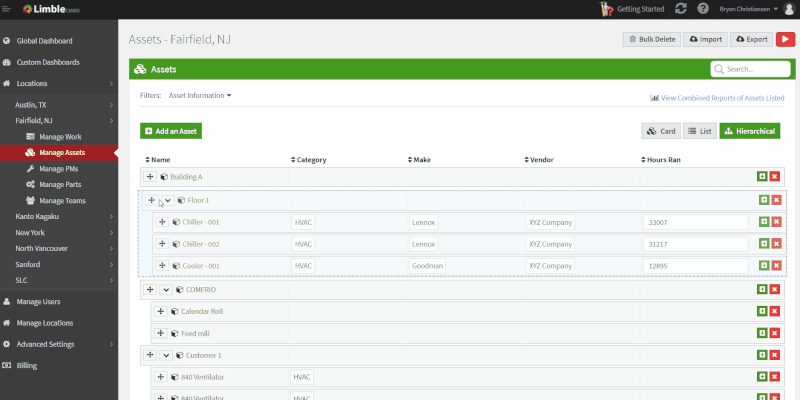 2. Managing maintenance work
How does maintenance work translate to CMMS software? Well, the most direct comparison would be that a maintenance action taken by a technician is tracked on a certain task in a CMMS.
Almost all maintenance tasks can be categorized as either Word Orders, PMs, or Work Requests. So, the features we are going to list in this section are those that help you manage all of those maintenance tasks.
Top CMMS features related to maintenance work management:
calendar of current and upcoming tasks
the ability to set (and change) task priority
automatic work logging – Work Orders and PMs are automatically logged into an asset's maintenance log when completed
manage work dashboard – view all critical information like tasks that are currently in progress, due dates, task priority, and so on (as illustrated on the picture below)
3. Preventive maintenance
While predictive maintenance is on the rise, the majority of businesses are still focused on preventive maintenance as it is cheaper and easier to implement (and is still a big upgrade from reactive maintenance).
CMMS features that enable you to run an efficient PM program revolve around scheduling and managing all preventive maintenance work.
Most prominent preventive maintenance features:
automatic PM scheduling (based on time, events, or sensor meter readings)
drag and drop calendar – allows a quick overview of all open work and upcoming PM schedules
task template builder – we also call it PM builder as most clients use it to outline the workflow for specific PM tasks, so all technicians have a clear process they can follow (you can see one example in the picture below)
4. Spare parts inventory management
It is hard to run an efficient maintenance department if you have poor spare part inventory control. Forcing maintenance technicians to improvise solutions from thin air because of missing replacement parts is not a sustainable strategy.
Luckily, any decent CMMS will have features that help you manage your spare parts inventory.
Top spare parts inventory management features include:
barcode lookup – custom QR codes provide an easy way to track and access your inventory
yearly forecasting for optimizing stock levels
instant push and email notifications (when a part's quantity reaches a set threshold)
automatic part usage tracking – the inventory is automatically updated to reflect the parts used in WOs and PMs
5. Reporting
In general, maintenance managers look for two different types of reports:
a general overview that shows them if they are reaching their maintenance KPIs and gives them the ability to compare performance between different locations
custom reports that allow them to analyze and compare specific factors to identify root causes or find room for improvements (often with the purpose of cutting costs)
With that in mind, here are top CMMS software features related to reporting:
dashboard overview for tracking critical KPIs
reports that are automatically generated and updated based on your metrics
custom report builder for creating highly customizable custom reports (as seen on the screenshot below)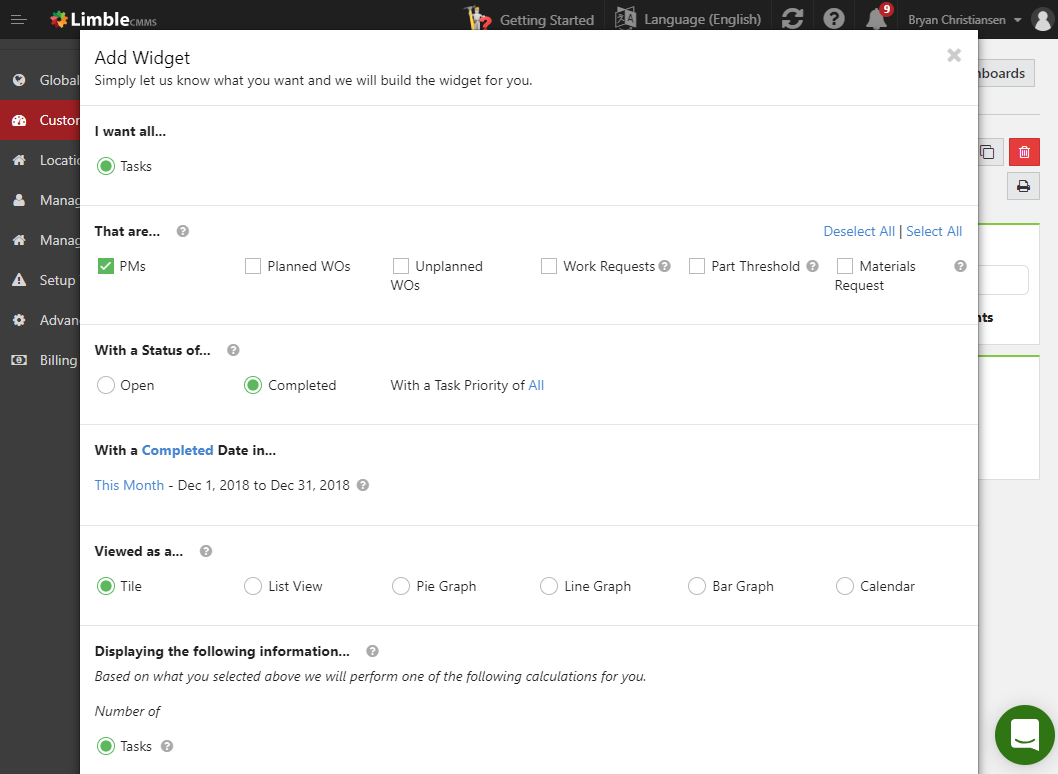 While having the ability to create detailed reports is great, that doesn't matter if the data pulled for the report is inaccurate. You have to make sure that the data being entered into your CMMS is correct and up-to-date.
Most requested CMMS features in 2018.
Before we get to the stats for this year, we thought it would be interesting to take a quick look at the research from late 2017., early 2018.
Two years ago, we compiled data from different sources to dig out some maintenance statistics and trends relevant for that time. Part of the research was the analysis of a list of potential clients and the CMMS features they were looking for.
The summed-up results can be seen in the picture below.

These 5 features were by far the most requested features. For example, the graph shows how 65% of all analyzed businesses had 'the ability to schedule maintenance' marked as one of the must-have features.
Have things changed at all since then? Let's look at how people used Limble CMMS in 2019. and see if there are some clues there that could lead us to an answer.
CMMS features usage statistics
The research had some limitations since it is impossible to see how many times did someone looked at an asset card or how much time do maintenance managers spend looking at and tweaking PM calendars, for example.
With the numbers we do have, it is pretty clear that the most requested features in 2018. are the ones people still use the most. It might sound anticlimactic, but that is what the numbers show.
Looking at the mentioned statistics, there are a few things that are clear:
if there is one thing all organizations use, its CMMS features revolving around managing maintenance work (represented by WOs, Work requests, Task templates)
while preventive maintenance tasks dominate in total volume, there is still quite a bit of reactive work happening across the board
organizations like to enter most of their assets into a CMMS, even those that might never be on a preventive maintenance program
most organizations tend to use inventory management features to manage spare parts (part of the reason for this might be because the automatic updates we implemented allow them to cut costs through better tracking and forecasting – which is always a strong incentive)

The research had a good mix of small, medium, and enterprise-sized businesses which means that the represented averages best reflect numbers you might see in a medium-sized business
Looking at some other internal data we were not able to show on the infographic, the conclusion is that all of the core features are used proportionally the same.
Again, this is to be expected. As we mentioned in the intro of this article, all of these features are a part of a machine called CMMS. For maximum output, all parts need to be in use.
Must have CMMS software features in 2020. and beyond
While the tools, solutions, and workflows used in the maintenance world have drastically changed over the last 50 years, the incentives and goals have stayed the same. The name of the game still revolves around balancing productivity and costs, trying to answer a question: How can a maintenance department be as productive as possible with a very limited budget?
CMMS is one of the answers to this question. Here are some aspects of CMMS that will continue to dominate or grow in importance through 2020. and beyond:
There you have it
If you didn't know much about CMMS and its capabilities, we hope this gave you a clear overview of what you can expect from it.
If you already had a good grasp of what CMMS can do, then we hope that the presented numbers gave you a perspective on how people use CMMS features in practice and how the CMMS market might evolve going forward.
If you have any questions about Limble and its features, leave a comment below or send us a short email!
Limble
Ranked #1

by maintenance experts in the field



>
<
Nov 10

Limble has completed changed the way we do maintenance

"Limble is amazing. It has revolutionized the way we handle repairs and the upkeep of our assets and facilities. We not only can keep track of work that has been done on each asset, but we are also able to track costs associated with the asset itself."

Jan 11

Great product at a great price

"Terrific customer service, easy to use, and at a great value. Our old Maintenance software was very difficult to use and was very expensive."

Sept 6

The best value available in CMMS Software

"This software is very easy to use. All CMMS suppliers say that, but I found this one to be exactly that. This software, in my opinion, is the best value out there in the CMMS world. My team of maintenance techs got on board quickly and loves the app. Anytime you can get 8 of 8 maintenance techs to get on board, you have a winner."

Nov 08

Very well written software. Easy to use.

"The support is fantastic. The guys who support this software even email you to check in from time to time. If you have any issues you can call directly, and get instant help!"

Aug 10

I spent a long time evaluating systems I'm so glad I chose Limble

"Limble is super easy to use. For technicians receiving work orders, it requires almost no training. The app makes it quick and easy to create work orders (with pictures) from your phone. PM's are also very easy to set up. Limble is also the least expensive."

Sept 17

Great Product, Even better support!

"I started using Limble after trying out many other off the shelf CMMS software and I quickly fell in love with the ease of use, intuitiveness yet the power this tool provided me and my team. The ability to see automatically generated and customized reports meant that I could choose whether I wanted to see things at a micro level or a macro one, or both of them together."