Even though it is notoriously resistant to change, the maintenance industry is not immune to the advances in maintenance automation. Things like data collection and analysis, inventory management, resource scheduling, and work order management have been automated for years thanks to computerized maintenance management systems (CMMS). 
More recent developments in IIoT technology and supporting hardware offer unprecedented opportunities for maintenance professionals to eliminate guesswork and automate tedious parts of their daily workflow.
The benefits of automation in maintenance
These days, businesses can access cutting-edge technology through a modern CMMS for a relatively mild investment. With it, they can automate data collection, storage, and analysis, leading to improved data integrity at a reduced cost. 
On top of that, machine learning and data mining provide insight into equipment failure modes and frequencies, automating maintenance intervention scheduling, and optimizing inventory management.
These improvements provide businesses with improved equipment uptime, maintenance efficiency, and capital spending. Aside from the important economic impacts, maintenance automation indirectly minimizes the effects and reliance on reactive maintenance, improving maintenance technician and production worker safety in the process.
Many asset-intensive businesses are already reaping the financial rewards and competitive edge that accrues from automating parts of their asset lifecycle management processes, reducing equipment total-cost-of-ownership (TCO), improving reliability, and increasing earnings before interest, tax, and amortization (EBITDA).  
The Essential Guide to CMMS
The Essential Guide to CMMS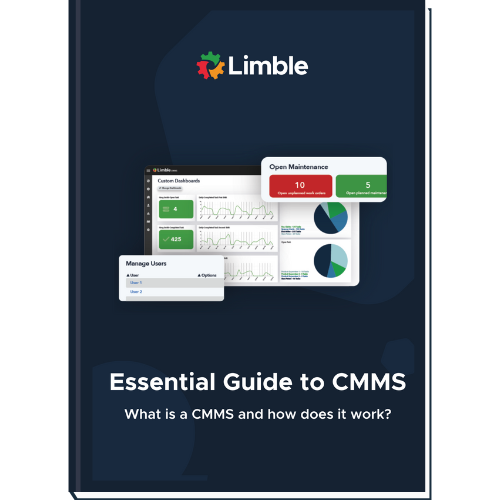 Current technological drivers of maintenance automation
Most of the physical repair and maintenance work technicians do on a daily basis cannot be automated (yet). However, gathering and analyzing data, communication, scheduling, and tracking are a whole other story.  
Through proper hardware and software support, those kinds of activities can be highly automated.
Cloud technology
In the past two decades, the advent of cloud computing technologies has been the inflection point for the rapid uptake of mobile CMMS systems. Being able to record and retrieve maintenance data on a mobile device has allowed maintenance teams to build more efficient and more automated workflows.  
With many cloud-based solutions like Limble, businesses no longer need to invest in on-premise information centers, thereby saving considerable costs. However, the real game-changers have been the computing power, scalability, and automatic software updates that are facilitated by cloud technology.
Given its data-intensive nature, computing power is the force behind current maintenance automation. Off-site, large-scale server farms allow previously unthought-of capabilities in solving complex computational operations while relieving users from needing high-end devices to access and engage with the service.
Machine learning and artificial intelligence 
Having enough computing power is a prerequisite for running predictive maintenance analytics, which uses machine learning (ML) and artificial intelligence (AI) to analyze incoming machine condition monitoring data and large historical maintenance and failure data repositories. 
The software predicts the speed of degradation that leads to equipment failure and schedules timely maintenance interventions with minimal impact on production or other operational activities at your facility. Additionally, this allows automated resource scheduling suitable for the task, while checking inventory levels and flagging spares requirements.
The cloud storage capacity and computing capability effectively build a maintenance model of the plant, allowing scenario planning where modeling can be employed to identify the impacts of different changes. For example, a business may model the introduction of new equipment for its effect on equipment uptime, maintenance schedules, maintenance costs, etc.
IIoT and sensor technology
As the industrial internet of things (IIOT) has matured, CMMS-connected sensors and local wifi networks allow the automated collection of equipment performance and condition data and their immediate upload to – you guessed it – the cloud. 
If cloud technology was a person, it could easily paraphrase Thanos from Marvel's Avengers and say: You couldn't live with your equipment failure, and where did that bring you? Back to me.
The future of industrial maintenance and automation
As new communication technology becomes available to businesses through infrastructure investment, it will enable some exciting opportunities for maintenance automation. By that, we do not mean an emergence of a large number of new automation opportunities, but significant efficiency and capability improvements to existing automation methods.
For example, 5G technology is upon us and offers a step-change in connectivity, providing good range and reliability with ultra-low latency. This will substantially increase our ability for real-time data gathering, monitoring, and analysis. As an added bonus, latency of one millisecond and below will support and improve all autonomous or remote maintenance activities.
Prescriptive maintenance
Moving beyond predictive maintenance, we will see higher adoption of prescriptive maintenance enabled by high-speed, low-latency data connections that operate in real-time. Prescriptive algorithms will have access to even more data, which they can analyze and use to make better maintenance recommendations. 
Such intelligent and fast processing means that maintenance technicians will be warned about incoming maintenance interventions well ahead of time, with more accuracy than ever.
Alternatively, if the algorithms get such permissions, they will completely bypass human input and perform automated remedial actions (like slowing down or speeding up certain production processes).
Digital twins
With improved network bandwidth, data-hungry functions such as creating digital twins of specific equipment (or entire plants) will become mainstream. A digital twin is a virtual model that accurately reflects a physical object. Such systems integrate data from in-service operations and overlay them onto the digital twin. 
This construct allows simulations, modifications, and maintenance to be carried out on the digital twin. This way, you can gain insights into how the equipment could behave if you operate it or maintain it in a certain way.
AR and VR
A step from digital twins is the world of augmented and virtual reality. Both technologies will streamline and automate the education and training of maintenance technicians and mechanics, as well as remote collaboration with colleagues on maintenance tasks.
Cobotics
With Industry 5.0 emerging as the next iteration of industrial evolution, we can expect to see greater use of cobotics. The term cobot is a collapsed form of the term collaborative robot, describing robots designed to assist humans. 
Exoskeletons worn by humans for heavy or difficult tasks are a primitive version of what we might expect soon as much of the enabling technology is already available.
Start automating maintenance today with Limble CMMS
While we are very far away from machines maintaining themselves with zero human "interference", the maintenance automation we have access to today is enormously helpful in minimizing human error and gathering and analyzing machine condition and performance data.
Intelligent CMMS systems allow maintenance managers to organize, automate, and streamline all aspects of maintenance work.
You can start automating your most tedious maintenance tasks today by implementing an easy-to-use CMMS like Limble. Schedule a demo and let us demonstrate how automation is not reserved only for businesses with deep pockets.