May 28 2021
What Is A Maintenance Report And How To Ensure Its Accuracy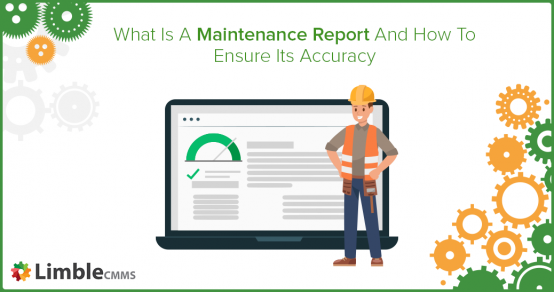 How many filters did we use last month? Have our MTTR and MTBF improved after the last procedure update? What is our planned maintenance percentage? How much money did we spend on the repair of that conveyor belt? All of those answers should be easily found in a maintenance report. 
The reason we used "should be" instead of "are" is because many organizations either do not have the data to generate maintenance reports, or the reports are so inaccurate that they lead to wrong conclusions.
It's time to turn that trend around. With the right tools and practices in place, everyone can have access to useful information and use it to improve their maintenance operations. Let's see how.
What is a maintenance report?
A maintenance report is a document that contains specific information about your past maintenance actions and their effect on cost, assets, and business performance. In general, maintenance reports are used to track KPIs and performance indicators which the department identified as worthy to follow.
For any report to be useful, it has to be:
Concise: the report should be brief but comprehensive; presented in a way that makes complex data easy to digest.
Fact-based: accurate; up-to-date; objective, based on hard data rather than opinions and speculations. 
Reviewed in the proper context: was downtime prolonged because a supplier delayed the shipment of an important spare part or because we didn't order it in time – context is crucial for decision making.    
With a CMMS, the reports can be created at the level of parts, assets, floors, locations, employees, shifts, and so on – depending on what the organization decides to track. Additionally, modern CMMS will allow you to dig deeper into each maintenance report, not just view the top-line number. This ability to drill down into maintenance data is extremely useful for finding problem areas and gives important context for decision-making.
Prerequisites for generating accurate reports
Continuously generating accurate reports requires more than just having access to maintenance records. We identified three key prerequisites. If you get all of them right, you will be on the right track.
Access to CMMS or comparable digital system
CMMS is designed to be a centralized repository of your maintenance data. Since it automates a big chunk of data entry, there is less room for human error. It's nearly impossible to lose or misplace records when they are stored in a CMMS database.
In contrast to manual tracking, almost every maintenance action can be tracked through the software. Let's take the example of a work order. A WO is created based on a maintenance request form. A supervisor assigns it to a technician. The technician performs the work, leaves notes, and closes the WO. Here's what CMMS records about that interaction:
total number of (open) work requests increased by 1
total number of (open) work orders increased by 1 
details about who submitted the work request and when
details about who created the WO and when; who it was assigned to
who performed the work, how long did the repair last, was the work performed on time
which spare parts have been used (parts inventory database automatically updated)
comments left by the technician are added to the corresponding equipment maintenance log
total number of closed work requests and work orders increased by 1
If you look closely, just opening and closing a simple work order results in at least 14 data points – and most of them are automatically recorded. We didn't even include how the system automatically calculates the exact costs of this action based on spent parts and labor. 
There's simply no other way to get close to this level of data without using a computerized maintenance management system.
Proper data management and standardization
Those who actively track high volumes of maintenance data either do it with maintenance software or by using customized spreadsheets. In both scenarios, it's important to have good data management practices.
High levels of data standardization can be achieved by following these steps:
Decide what you do and do not want to track. Tracking data you do not use wastes your internal resources and leaves more room for error, especially if it requires manual entry. 
Define scales and measurements. Is something graded on a scale 1-5 or 1-10? Is the measuring unit in kilograms or pounds? You do not want to end up comparing apples with oranges.  
Standardize manual data entry. How is data entered, changed, and deleted? When is it appropriate to use abbreviations? Which fields are compulsory and which are optional? Which naming conventions should be followed when adding new assets to the list? Setting simple data entry guidelines will go a long way in ensuring consistent records.
It is much easier to find the right record or generate a report if everyone uses the data in the same way.
Commitment from all personnel handling the data
A certain amount of manual data entry is unavoidable, even with a CMMS. This always leaves the possibility for human error. Complacency and lack of attention while entering data into the system are common problems. Maintenance managers need to drive home the importance of having accurate data and create a culture that reflects that.  
Imagine the following situation. A new hire is closing a work order. He is prompted to enter which parts he used and how much time did he spend performing the repair. He asks the more experienced colleague to help him out. Depending on the company culture, the answer will be either "Sure, let's double-check everything." or "Just write a ballpark figure, nobody checks these things anyway."  
If maintenance personnel is not doing their due diligence in this regard, you are unlikely to have reliable maintenance records.
What should be included in a maintenance report?
This depends entirely on what you are making the report for. It is impossible to give a unified template. In general, an official maintenance report might include:
information about the organization (name, logo, address, contact information…)
name/type of the report
timeframe for which the report was generated
report details (the main part of the report that outlines all of the data)
any additional information that might be useful (considered on a case-to-case basis)
Now, if you are actually searching for maintenance service reports used for performing specific maintenance work, you can find a variety of maintenance report form templates here. These individual forms can be used as input when creating the summarized reports we discuss next. 
The most common types of maintenance reports
With the right data, maintenance and facility managers can generate dozens of useful maintenance reports. Here's a list of the most common ones:
Breakdown of total maintenance costs: can include parts cost, labor cost, vendor cost, and more.
Preventive maintenance report: includes an overview of preventive maintenance activities and maintenance schedules (number of PM tasks open, scheduled, closed, and deferred, planned maintenance percentage..). It can be broken down by location, equipment type, vendor, etc.
Work order report: an overview of work order management activities – received maintenance tickets and created, open, closed, and deferred WOs.
Asset history report: it can include the list of purchase orders, PMs, WOs, spare parts, and other resources spent on a specific asset or group of assets.
Purchase order report: list of created, sent, scheduled, received, and closed purchase orders; can be broken down by vendor, facility, priority, order type, order status, and more.
Vendor history report: an overview of the work performed by a maintenance vendor and associated costs.
Labor summary report: it can include things like total hours spent, overtime hours, hours spent on reactive vs proactive work, individual performances, and more.
Performance report: numerous reports can be generated to track metrics like MTTR, MTBF, number of planned vs unplanned tasks, number of breakdowns, downtime duration, etc.
Every maintenance report is created for a specific time interval. If you are using a CMMS, you can build a template and use it to generate future reports in a couple of clicks. This can be very useful for generating daily, weekly, and monthly reports. Some organizations might even use it to streamline annual reporting as well.
Instead of piling through papers and spreadsheet columns every time you need to send a report, you only need to set it up once and let the system do the rest.
Create and automate maintenance reports with Limble CMMS
Limble CMMS allows you to create custom fields for tracking basically anything you need. Limble users can open our custom report builder and combine any of those custom fields with standard predefined fields to create a ton of unique reports for any situation. 
It takes one click to share the reports with other Limble users or to generate a PDF that can be sent to anyone else.
One closely related feature that our customers really like is the option to build a custom dashboard out of different reports (as seen in the image below).
In short, you can populate the dashboard with all kinds of reports that are updated in real-time. Then, you can share the dashboard on a TV. It is encouraging to see the numbers change as the tasks are being completed. 
There is only so much info that can fit on one screen. No problem here. You can create multiple dashboards and tell Limble to cycle through them every X seconds. It is a small feature, but we've got great feedback on it in the past.
The last thing left to do is to show how all of this works in practice. For anyone interested in learning more about Limble's custom dashboards and maintenance reporting capabilities, take a few minutes to skim through the video below. The video itself is on the longer side, but it shows how powerful and flexible our reporting system really is.
If this looks like something that would save you several hours every week, you can check our pricing page to start a 30-day trial. Alternatively, you can contact us to get a personalized walkthrough and get an overview of all major features. 
And remember, you need good reports to make great decisions!
Hear what
Limble CMMS customers

have to say...



>
<
Aug 09

A great tool for Facility Managers.

"Limble is very easy to get involved in and no contracts, with simple monthly billing. I have auditioned other CMMS companies and they make it too difficult, to try out. Limble strategy is very simple - here is our software, you can customize it in most categories and let us know if you have any questions. As a multiple building County Facilities Director, I highly recommend trying it!"

Sept 6

The best value available in CMMS Software

"This software is very easy to use. All CMMS suppliers say that, but I found this one to be exactly that. This software, in my opinion, is the best value out there in the CMMS world. My team of maintenance techs got on board quickly and loves the app. Anytime you can get 8 of 8 maintenance techs to get on board, you have a winner."

Jul 10

Great user friendly product

"Love the fact that the product can be used on my phone, tablet, and laptop. It also has made several updates to make an even better product."

Jan 30

Perfect for my business

"I run a coffee equipment service company and Limble is great for everything we do. We can store all of our assets and equipment and access it easily with a comprehensive list of all the work done on the equipment. Limble is by far the best CMMS on the market and I wouldn't dream of using anything else."

Nov 21

Awesome Product with REAL support!

"Our team reviewed & demoed 6 different CMMS companies and the decision was easy! The functionality was extremely easy, but still provides the analytics needed to track our companies time and money spent on maintenance. Their support is top-notch! I've dealt with numerous software companies in my position and can tell you, you will not find one better!"

Mar 6

A very simple and elegant CMMS system

"If you've had prior experience with CMMS systems, Limble is very intuitive. The ability to view and use the software on multiple platforms is very advantageous. I was able to become proficient and launched the system after only 2 weeks. Support from Limble is fantastic - very prompt and they work well with you to truly understand your questions."