The only way to decide if a CMMS can benefit your business is by understanding what it can do. If you're interested in learning… what is a CMMS system  how it works what are its major features which industries use […]
September 2 2020
Every piece of equipment in use will suffer from wear and tear that will ultimately lead to equipment failure. Equipment maintenance is not here only to postpone that point of failure, but to also be prepared for the moment it […]
August 25 2020
You will never hear someone say "Yeah, the AC was leaking, the toilet wouldn't flush, and the sheets were dirty, but other than that, it was a great hotel." The only thing such an establishment can get is a bad […]
August 18 2020
What do you do when you want to make sure that a certain task is performed correctly and on time? You create a task, describe what needs to be done, assign it to a specific person, and place a due […]
August 11 2020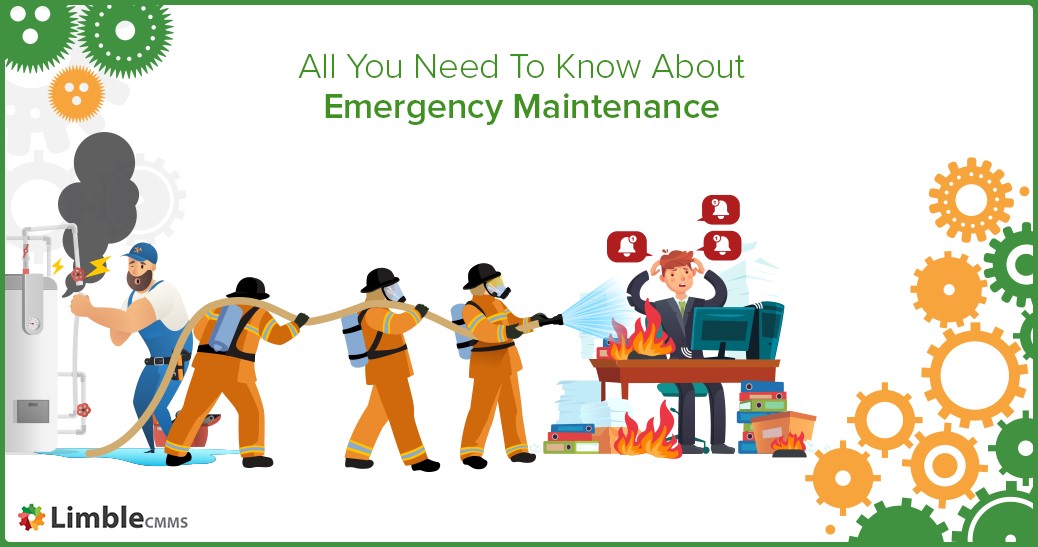 Emergency maintenance situations are the most stressful events for any maintenance team.  Emergencies can cause a lot of damage to brand reputation, result in loss of life, and have a huge negative impact on the company's bottom line. So, it […]
August 7 2020
Being a good maintenance technician often asks for a specific set of technical skills, as well as having the ability to work well within a team. Defining a complete list of duties and responsibilities maintenance techs hold is not an […]
July 27 2020
Wrench time seems to be a controversial topic among maintenance professionals.  Some believe this metric is too hard to track and that it ignores value-adding activities from its measurements and can lead managers to wrong conclusions. Others state that it […]
July 21 2020
It is hard to be productive if you're constantly on the lookout for things that can hurt you. Workers in the industrial space have surely felt like that at some point in their career as accidents and injuries are an […]
July 13 2020
Everyone wants to live and work in a safe and functional environment, which is one of the main factors that impact our quality of life. As a property owner, you might be wondering which actions you need to take to […]
July 1 2020
Keeping assets in good operating condition and reducing the fear of unexpected breakdowns is the main purpose of routine maintenance. Be it a truck, a building, a CNC machine, or a forklift; no asset is exempt from wear and tear […]
June 25 2020
Hear what
Limble CMMS customers

have to say...




>
<
Jan 28

Five star program

"This is one of the most easiest CMM Systems I have used. With unbelievable response times to questions. The Limble staff is very helpful. With this system, our equipment downtime has been cut by 20%."

Jan 18

Limble is the best thing to happen to this company

"Limble does such a good job at keeping track of what's been done and letting me know when and what I need to do next."

Jan 30

Great for smaller or larger facilities

"We haven't fully integrated Limble yet but we are already seeing improvements in our efficiency. As we fully integrate Limble we expect to see more benefits and increase our response and completion times. The customer support has been outstanding. The Limble team is very quick to respond to any questions and they are very open to suggestions."

Jan 30

Manufacturing

"Great experience. Solved our obvious PM tracking issues but also addressing our SHE&S requirements (safety audit task tracking), Environmental checks are being logged, Corporate Audit items tracked"

Aug 09

Great time saver

"On average, [Limble] saves me an hour to two hours a day, depending on the workload. The biggest thing for me is being able to do things on my phone, on the fly."

Jul 10

Great user friendly product

"Love the fact that the product can be used on my phone, tablet, and laptop. It also has made several updates to make an even better product."

Jan 30

Perfect for my business

"I run a coffee equipment service company and Limble is great for everything we do. We can store all of our assets and equipment and access it easily with a comprehensive list of all the work done on the equipment. Limble is by far the best CMMS on the market and I wouldn't dream of using anything else."

I'm amazed with the functionality & customer service

"Executive summary software produces to give me a snapshot of where each contact center is at in preventative maintenance on critical building assets."

Mar 6

A very simple and elegant CMMS system

"If you've had prior experience with CMMS systems, Limble is very intuitive. The ability to view and use the software on multiple platforms is very advantageous. I was able to become proficient and launched the system after only 2 weeks. Support from Limble is fantastic - very prompt and they work well with you to truly understand your questions."

Aug 07

Wow. You guys are amazing...

"Wow. You guys are amazing... your software really one-up's the competition. I've found several with some of the functionality, but much clunkier designs. I reviewed 16 CMMS packages, and yours was an easy choice. Thank you again. Well done."

Sept 6

The best value available in CMMS Software

"This software is very easy to use. All CMMS suppliers say that, but I found this one to be exactly that. This software, in my opinion, is the best value out there in the CMMS world. My team of maintenance techs got on board quickly and loves the app. Anytime you can get 8 of 8 maintenance techs to get on board, you have a winner."

Nov 10

Limble has completed changed the way we do maintenance

"Limble is amazing. It has revolutionized the way we handle repairs and the upkeep of our assets and facilities. We not only can keep track of work that has been done on each asset, but we are also able to track costs associated with the asset itself."