Maintenance mechanic is a job position that is very similar to a maintenance technician, both in terms of required skills and the list of expected responsibilities. That being said, there are some differences we can observe, mainly in the volume […]
September 18 2020
Understanding failure modes and their effects is at the core of modern product and system designs. FMEA and FMECA analysis are necessary to identify and correct different flaws that can lead to item breakdowns. Many businesses think they can get […]
September 10 2020
The only way to decide if a CMMS can benefit your business is by understanding what it can do. If you're interested in learning… what is a CMMS system  how it works what are its major features which industries use […]
September 2 2020
Every piece of equipment in use will suffer from wear and tear that will ultimately lead to equipment failure. Equipment maintenance is not here only to postpone that point of failure, but to also be prepared for the moment it […]
August 25 2020
You will never hear someone say "Yeah, the AC was leaking, the toilet wouldn't flush, and the sheets were dirty, but other than that, it was a great hotel." The only thing such an establishment can get is a bad […]
August 18 2020
What do you do when you want to make sure that a certain task is performed correctly and on time? You create a task, describe what needs to be done, assign it to a specific person, and place a due […]
August 11 2020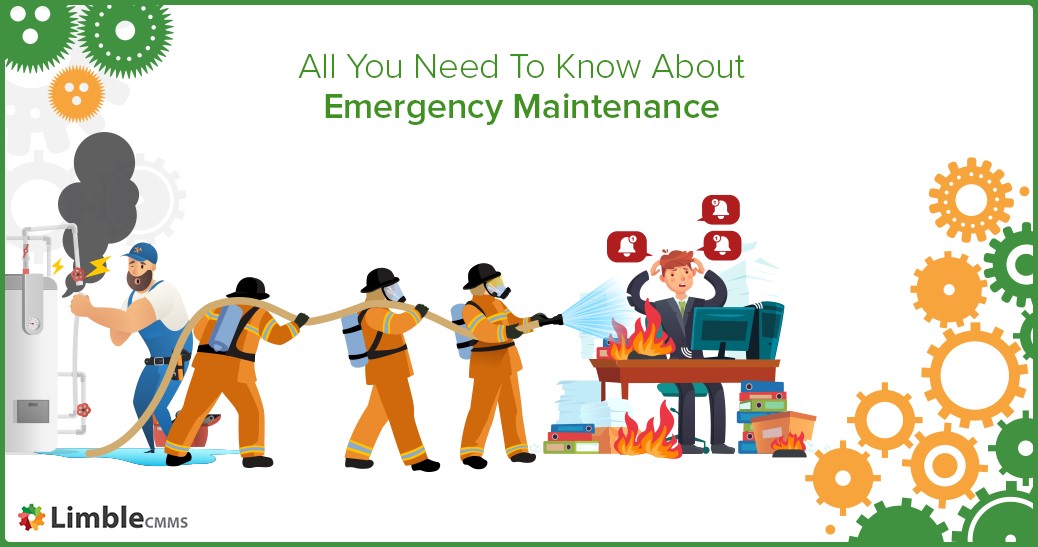 Emergency maintenance situations are the most stressful events for any maintenance team.  Emergencies can cause a lot of damage to brand reputation, result in loss of life, and have a huge negative impact on the company's bottom line. So, it […]
August 7 2020
Being a good maintenance technician often asks for a specific set of technical skills, as well as having the ability to work well within a team. Defining a complete list of duties and responsibilities maintenance techs hold is not an […]
July 27 2020
Wrench time seems to be a controversial topic among maintenance professionals.  Some believe this metric is too hard to track and that it ignores value-adding activities from its measurements and can lead managers to wrong conclusions. Others state that it […]
July 21 2020
It is hard to be productive if you're constantly on the lookout for things that can hurt you. Workers in the industrial space have surely felt like that at some point in their career as accidents and injuries are an […]
July 13 2020
Hear what
Limble CMMS customers

have to say...




>
<
Aug 07

Wow. You guys are amazing...

"Wow. You guys are amazing... your software really one-up's the competition. I've found several with some of the functionality, but much clunkier designs. I reviewed 16 CMMS packages, and yours was an easy choice. Thank you again. Well done."

Aug 09

A great tool for Facility Managers.

"Limble is very easy to get involved in and no contracts, with simple monthly billing. I have auditioned other CMMS companies and they make it too difficult, to try out. Limble strategy is very simple - here is our software, you can customize it in most categories and let us know if you have any questions. As a multiple building County Facilities Director, I highly recommend trying it!"

Jan 30

Perfect for my business

"I run a coffee equipment service company and Limble is great for everything we do. We can store all of our assets and equipment and access it easily with a comprehensive list of all the work done on the equipment. Limble is by far the best CMMS on the market and I wouldn't dream of using anything else."

Jan 04

Best value for money CMMS

"Limble has all the features essential to maintenance management. It is very easy to use. Limble can connect with wireless sensors for Condition Based Maintenance. We are in Thailand, and Limble also supports the Thai language. Importantly, their customer support is fantastic almost 24/7. They reply within 10 minutes anytime. I am sure that Limble will really help your operations."

Nov 8

A must for any maintenance department

"The thing that I loved the most right from the start was the ease of use of the Limble software. The customization options available when setting up PM's are great. I love the flexibility it gives to tailor the PM to exactly what your needs are."

Jan 6th

It takes me about 10 seconds.

"Limble made my job easier pretty much right off the bat. Now I create Work Orders on the fly. It takes me about 10 seconds."