167 Results
You searched for | Page 5 of 17 | Limble
Looking for the best predictive maintenance training courses to help you grow as a maintenance manager? Continuous learning is key when it comes to effectively managing PdM technologies. With new maintenance techniques, regulations, and tools, being developed continuously, maintenance professionals […]
January 15 2021
As we dive into the environment of Industry 4.0, predictive maintenance analytics become a critical part of every successful maintenance plan. At this point, maintenance must do more than simply prevent downtimes of individual assets. With the power of machine […]
January 15 2021
Looking to get a better understanding of what are the predictive maintenance tools that you can use to streamline your maintenance plan? To remain competitive in today's market, organizations must guarantee efficiency and uptime for every machine in the facility. […]
January 15 2021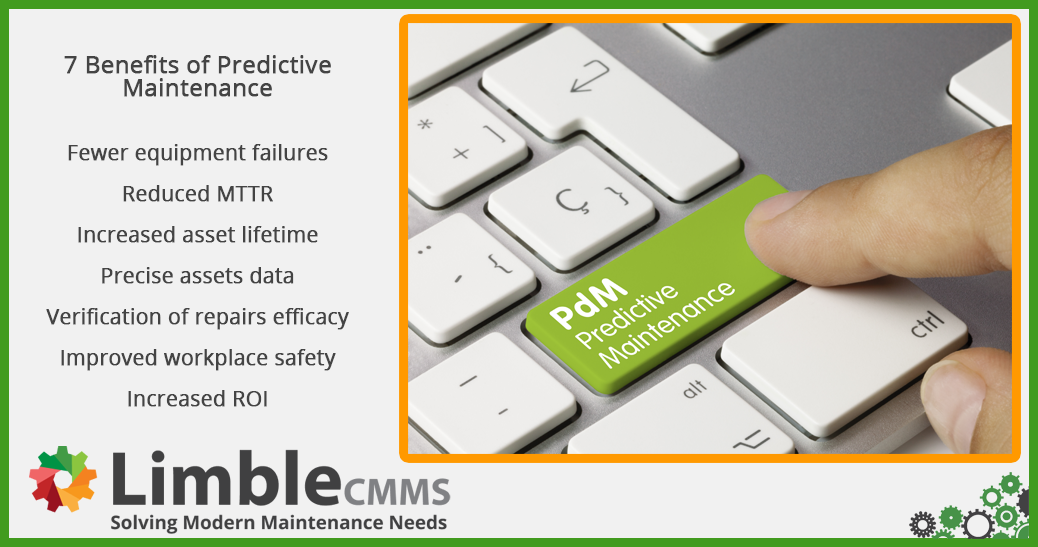 Not sure whether you should invest in a predictive maintenance program? This article will cover the benefits of predictive maintenance and everything you will need to know in order to make this decision. Most asset management strategies include both preventive […]
January 15 2021
Interested in learning about the impact of predictive maintenance within the oil and gas industry? Over the last 20 years, predictive maintenance strategies have been largely deployed in the oil and gas industry. Since this industry has a cyclical and […]
January 15 2021
What is the minimal amount of maintenance work you need to perform to keep assets in peak operating condition and avoid unexpected equipment breakdowns?  It is a challenging question, one that can only be answered with the help of predictive […]
January 15 2021
Every business, no matter how big or small, has to deal with a certain level of operational issues. More often than not, those operational issues are a direct consequence of malfunctioning or broken physical assets and infrastructure. Be it a […]
January 7 2021
Every piece of equipment in your company requires regular maintenance for smooth operations. Many companies only focus on reactive maintenance; however, a growing number of organizations are now developing a preventive maintenance plan for machines. Preventive maintenance helps with the […]
December 3 2020
Hear what
Limble CMMS customers

have to say...



>
<
Jan 28

Five star program

"This is one of the most easiest CMM Systems I have used. With unbelievable response times to questions. The Limble staff is very helpful. With this system, our equipment downtime has been cut by 20%."

Jan 30

Perfect for my business

"I run a coffee equipment service company and Limble is great for everything we do. We can store all of our assets and equipment and access it easily with a comprehensive list of all the work done on the equipment. Limble is by far the best CMMS on the market and I wouldn't dream of using anything else."

Jul 10

Great user friendly product

"Love the fact that the product can be used on my phone, tablet, and laptop. It also has made several updates to make an even better product."

Mar 6

A very simple and elegant CMMS system

"If you've had prior experience with CMMS systems, Limble is very intuitive. The ability to view and use the software on multiple platforms is very advantageous. I was able to become proficient and launched the system after only 2 weeks. Support from Limble is fantastic - very prompt and they work well with you to truly understand your questions."

Nov 07

Very easy to use, functionality is great

"I can track my inventory and it sends me emails when I'm running low on an item. Also that I can track how much time I'm spending on certain jobs over an extended period of time."

Jan 18

Limble is the best thing to happen to this company

"Limble does such a good job at keeping track of what's been done and letting me know when and what I need to do next."