SAP Integration
Sync SAP into Limble's Assets inventory
Using our SAP Integration we again make lives easier by helping meet the needs of the organization.  Now ERPs working with our CMMS is a great way to keep up on maintenance tasks while using all the benefits that come with an ERP.
Our integration with SAP will help automate tasks and keep data synced removing human errors. You'll never have to worry about your inventory concerns upon receiving parts.
Advantages of Using Our SAP Integration
Keep and power up your SAP solution by integrating it with Limble using the best of both worlds to run your maintenance departments.
Avoid Human error by having our integration do the heavy lifting of syncing the right data over.
Example of Integration
In SAP when you go to order parts you can set it up to sync with Limble upon receiving.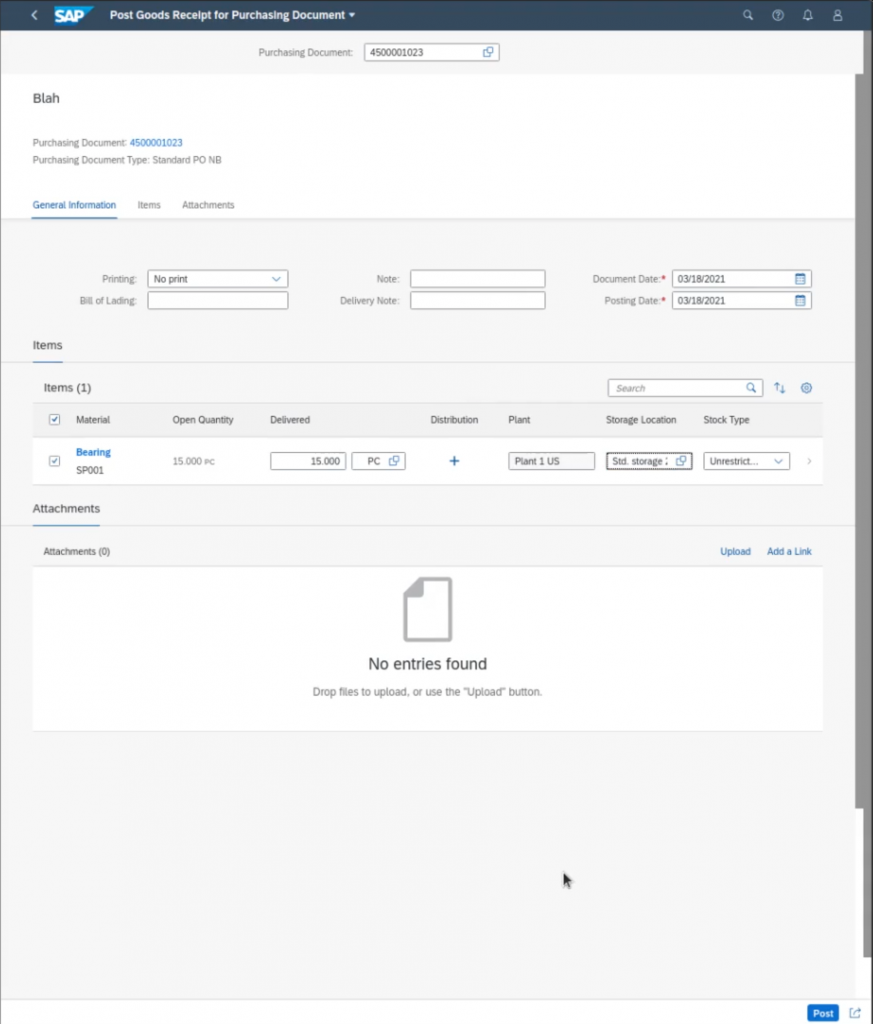 2. Receiving parts no matter the quality will update correctly in Limble. As you can see this order was for 15 Bearings.
3. The bearing quantity was 160 before the SAP order was received. You can now see it at 175 Qty.
The integration will make your life easier by doing the work for you in syncing SAP to our CMMS.
Limble
Ranked #1

by maintenance experts in the field


>
<
Nov 07

Very easy to use, functionality is great

"I can track my inventory and it sends me emails when I'm running low on an item. Also that I can track how much time I'm spending on certain jobs over an extended period of time."

Jan 04

Best value for money CMMS

"Limble has all the features essential to maintenance management. It is very easy to use. Limble can connect with wireless sensors for Condition Based Maintenance. We are in Thailand, and Limble also supports the Thai language. Importantly, their customer support is fantastic almost 24/7. They reply within 10 minutes anytime. I am sure that Limble will really help your operations."

Jan 30

Perfect for my business

"I run a coffee equipment service company and Limble is great for everything we do. We can store all of our assets and equipment and access it easily with a comprehensive list of all the work done on the equipment. Limble is by far the best CMMS on the market and I wouldn't dream of using anything else."

Sept 17

Great Product, Even better support!

"I started using Limble after trying out many other off the shelf CMMS software and I quickly fell in love with the ease of use, intuitiveness yet the power this tool provided me and my team. The ability to see automatically generated and customized reports meant that I could choose whether I wanted to see things at a micro level or a macro one, or both of them together."

I'm amazed with the functionality & customer service

"Executive summary software produces to give me a snapshot of where each contact center is at in preventative maintenance on critical building assets."

Jan 30

Great for smaller or larger facilities

"We haven't fully integrated Limble yet but we are already seeing improvements in our efficiency. As we fully integrate Limble we expect to see more benefits and increase our response and completion times. The customer support has been outstanding. The Limble team is very quick to respond to any questions and they are very open to suggestions."