SAP Integration
Sync SAP into Limble's Assets inventory
Using our SAP Integration we again make lives easier by helping meet the needs of the organization.  Now ERPs working with our CMMS is a great way to keep up on maintenance tasks while using all the benefits that come with an ERP.
Our integration with SAP will help automate tasks and keep data synced removing human errors. You'll never have to worry about your inventory concerns upon receiving parts.
Advantages of Using Our SAP Integration
Keep and power up your SAP solution by integrating it with Limble using the best of both worlds to run your maintenance departments.
Avoid Human error by having our integration do the heavy lifting of syncing the right data over.
Example of Integration
In SAP when you go to order parts you can setup so it will sync with Limble upon recieving.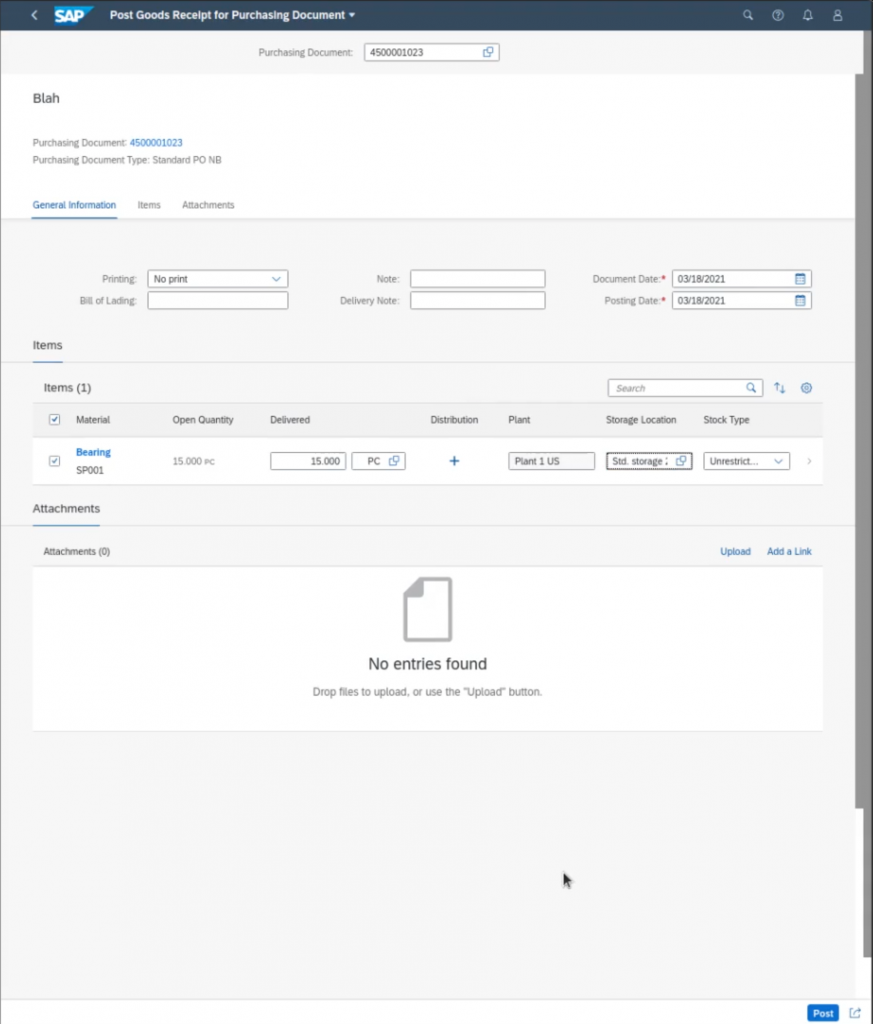 2. Recieving parts no mater the quality will update correctly in Limble. As you can see this order was for 15 Bearings.
3. The bearing quanity was 160 before the SAP order was recieved. You can now see it at 175 Qty.
The integration will make your life easier by doing the work for you in syncing SAP to our CMMS.
Hear what
Limble CMMS customers

have to say...




>
<
Nov 10

Limble has completed changed the way we do maintenance

"Limble is amazing. It has revolutionized the way we handle repairs and the upkeep of our assets and facilities. We not only can keep track of work that has been done on each asset, but we are also able to track costs associated with the asset itself."

I'm amazed with the functionality & customer service

"Executive summary software produces to give me a snapshot of where each contact center is at in preventative maintenance on critical building assets."

Sept 6

The best value available in CMMS Software

"This software is very easy to use. All CMMS suppliers say that, but I found this one to be exactly that. This software, in my opinion, is the best value out there in the CMMS world. My team of maintenance techs got on board quickly and loves the app. Anytime you can get 8 of 8 maintenance techs to get on board, you have a winner."

Aug 10

I spent a long time evaluating systems I'm so glad I chose Limble

"Limble is super easy to use. For technicians receiving work orders, it requires almost no training. The app makes it quick and easy to create work orders (with pictures) from your phone. PM's are also very easy to set up. Limble is also the least expensive."

Nov 08

Very well written software. Easy to use.

"The support is fantastic. The guys who support this software even email you to check in from time to time. If you have any issues you can call directly, and get instant help!"

Jan 18

Limble is the best thing to happen to this company

"Limble does such a good job at keeping track of what's been done and letting me know when and what I need to do next."