SAP Integration
Sync SAP into Limble's Assets inventory
Using our SAP Integration we again make lives easier by helping meet the needs of the organization.  Now ERPs working with our CMMS is a great way to keep up on maintenance tasks while using all the benefits that come with an ERP.
Our integration with SAP will help automate tasks and keep data synced removing human errors. You'll never have to worry about your inventory concerns upon receiving parts.
Advantages of Using Our SAP Integration
Keep and power up your SAP solution by integrating it with Limble using the best of both worlds to run your maintenance departments.
Avoid Human error by having our integration do the heavy lifting of syncing the right data over.
Example of Integration
In SAP when you go to order parts you can setup so it will sync with Limble upon recieving.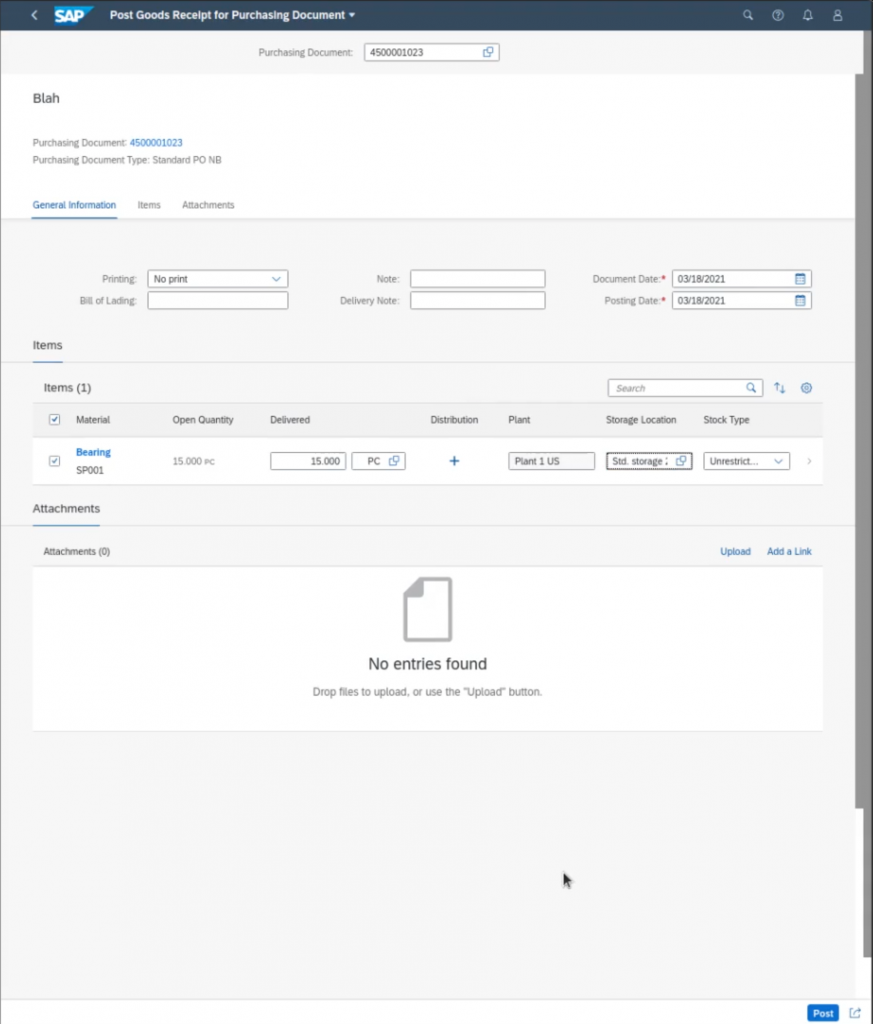 2. Recieving parts no mater the quality will update correctly in Limble. As you can see this order was for 15 Bearings.
3. The bearing quanity was 160 before the SAP order was recieved. You can now see it at 175 Qty.
The integration will make your life easier by doing the work for you in syncing SAP to our CMMS.
Limble
Ranked #1

by maintenance experts in the field



>
<
Aug 07

Wow. You guys are amazing...

"Wow. You guys are amazing... your software really one-up's the competition. I've found several with some of the functionality, but much clunkier designs. I reviewed 16 CMMS packages, and yours was an easy choice. Thank you again. Well done."

Jan 30

Great for smaller or larger facilities

"We haven't fully integrated Limble yet but we are already seeing improvements in our efficiency. As we fully integrate Limble we expect to see more benefits and increase our response and completion times. The customer support has been outstanding. The Limble team is very quick to respond to any questions and they are very open to suggestions."

Jan 18

Limble is the best thing to happen to this company

"Limble does such a good job at keeping track of what's been done and letting me know when and what I need to do next."

Nov 08

Very well written software. Easy to use.

"The support is fantastic. The guys who support this software even email you to check in from time to time. If you have any issues you can call directly, and get instant help!"

Jan 1

Limble CMMS is a great product and is very intuitive

"This CMMS checks many boxes for what we were looking for. Flexible. Mobile App for in the field use. Cost-Effective. Reporting. Great Dashboard. Great Support. Cloud Based. Cost-Effective."

Jan 30

Perfect for my business

"I run a coffee equipment service company and Limble is great for everything we do. We can store all of our assets and equipment and access it easily with a comprehensive list of all the work done on the equipment. Limble is by far the best CMMS on the market and I wouldn't dream of using anything else."