Today, preventive maintenance templates have become the cornerstone of sound company management.
The stats speak for themselves.
From as early as 2018, a maintenance survey issued by Plant Engineering highlighted that preventive maintenance was the preferred choice by 80% of professionals in the niche.
Not only that, but the same survey highlighted that preventive maintenance as a mechanism for risk management had risen by 4% from the previous year.
This is attributed to the massive projected return on investment that this practice promises through damage mitigation while minimizing unforeseen expenditure.
Therefore, it comes as no surprise that maintenance managers and business owners alike are scrambling to source preventive maintenance templates fast.
Now, you don't have to wait to get what you need.
In this blog post, we'll show you the maintenance templates that'll help you to plan effectively for your projects.
Let's get started.
What Makes The Perfect Preventive Maintenance Template
Before diving into the best templates for preventive maintenance, it's important to establish the elements that make them up.
After all, it would be pointless to highlight these templates without first explaining the factors that make them fit for our list.
A solid preventive maintenance template is one which:
Includes a detailed checklist which corresponds to the needs of your project: While many maintenance managers ensure that they include some type of checklist in their templates, at times, they neglect the importance of tailoring each one to the needs of your project. Any possible unnoticed variable widens a company's risk margin and, at the same time, increases the chances of unwanted incurred expenditure. A typical expense brought about by improper planning is unexpected downtime. According to ServiceMax, 82% of companies experienced some time of unplanned downtime within the span of a year, an expense which, among all companies, totaled some $2M. Therefore, maintenance managers are advised to maximize the resources afforded to them to ensure an even spread of responsibilities among maintenance team members.
Shows the importance of all members of the maintenance team: Any good preventive maintenance schedule will show a clear relationship between members of a team and the role they play in routine maintenance. Not only is this significant in terms of guaranteeing transparency in a maintenance log, but it also paints a more vivid picture of the effectiveness and need of profiles within your maintenance team.
Assigns tools and equipment to various facets of the template: In a preventative maintenance program, any piece of equipment or tool which aids in the completion of a maintenance task must be explicitly stated in the corresponding sections. This is important to allow for equipment accountability as well as to ensure that there is no misallocation of company resources.
Accounts for changes within an organization: While preventive maintenance checklist templates are ideal for routine maintenance tasks, they should also be updated regularly. For some companies, maintenance work is carried out so as to ensure an improvement in company operations. Consequently, as a company progresses, so too should templates reflect the updated operations that are expected for the company.
For more information on how to go about creating a checklist, check out our in-depth blog post on how to prepare a preventive maintenance checklist.
Now, we're going to hop right into the top preventive maintenance templates.
Checklist for Creating a Preventive Maintenance Plan
Following a consistent Preventive Maintenance Plan can make life easier. Use this checklist to create your own!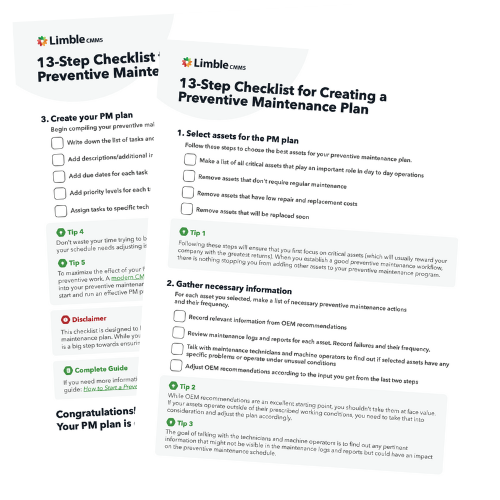 7. Car Facility Preventive Maintenance Work Plan
The preventive maintenance schedule template featured above is brought to you by the courtesy of Template.net. This template is meant to be used for a car refurbishment company.
We have elected to include it in our list as it contains several elements that constitute ideal equipment preventive maintenance template.
For starters, among the columns that have been included in the checklist, there are two dedicated to measuring the workflow of the project: 'Status' and 'Date Completed' respectively. While it may seem obvious to include them, some businesses make the mistake of not doing so, a dangerous practice which does not promote accountability and consistent follow-ups on workflow.
What's more, the column 'Initials', guarantees that anyone reviewing the preventative plan can identify the person responsible for a specific list of tasks and, consequently, follow-up with that person should the need arise.
While the template is a solid example of a preventative maintenance checklist, it would be even more succinct if it showed the order in which a series of activities are to take place. In as much as one may assume that one should complete the template according to the order in which the tasks appear, that may not be the ideal procedure. Therefore, it is best to explicitly state the milestones through which a task begins and ends.
6. General Preventive Maintenance Template
Similar to the previous example, this preventive maintenance template has also been taken from Template.net.
The template is an example of a general preventive plan which involves multiple tasks.
One of the most striking things about the structure of this plan is that its tasks are divided into categories. Each category comprises a series of common tasks. Each task is complemented by a series of measures that record its completion status in addition to the person responsible.
The major difference between this template and the previous one is that for this plan, tasks were categorized into groups that help to better organize the activities which need to be done.
This is important as it allows both the maintenance team leader as well as the person carrying out the activities to understand the purpose behind the activities included and consequently better review the checklist.
5. Maintenance Schedule Template
Once again, we have taken another template from Template.net to add to our list.
Judging by the seal included at the bottom of this template, it is safe to assume that it was created for a restaurant. However, the format can be used for any other business assuming that it coincides with the type of operations that said business undertakes.
This preventive plan features a different format from the ones which we have seen previously. In this case, while a column has been dedicated to specify the person responsible for doing the maintenance check as well as a one dedicated to the maintenance supervisor, the remaining columns require open-ended responses.
While one may argue that this may result in unnecessary inconsistencies in how team members complete the preventive plan, the chances of that happening are low, even more so if there are a fixed number of operations which can be done.
In fact, the flexibility in task inclusion allows for easier scalability as your operations change over time.
4. Preventive Maintenance Checklist
This preventive maintenance checklist has been provided by Pinterest. It is a template developed for a construction company.
Unlike previous templates shown, this preventive maintenance checklist is significant in that it is geared specifically towards projects marked by a set timeframe as opposed to standard one-off checklists.
Therefore, due to the progressive nature of this checklist, the column 'Observation' allows for the person filling out the form a level of flexibility to include comments when carrying out the maintenance operation.
Similarly, much like the previous template, this one affords greater flexibility in terms of scalability as a business' operations change over time.
3. Preventive Maintenance Checklist
The free template included above was taken from All Business Templates. It is taken as a sample template that can be used for a car maintenance company.
We elected to add it to our list since it combines several recommended elements mentioned under previous templates.
On one hand, the template includes both the information of the ordering customer as well as the professional responsible for the check-up.
What's more, as has been previously discussed, the template also includes a layout which organizes the tasks to be carried out in broad categories which help to promote better revision while reducing the chances that a team member skips a step.
Additionally, the template allows for a comments section where the professional, in addition to completing the checklist, can include any notes that may be important. Therefore, by combining a checklist format with the option to include comments, the preventive plan covers both standard reviews while leaving margin for the inclusion of important items that the team member may come across while conducting the operation.
2. Home Maintenance Schedule Template
The free printable home maintenance schedule above is taken from Sample Templates.
This preventive maintenance plan is straightforward in the sense that it features a list of series based upon which a member of the maintenance team fills out the remaining columns based on observations that correspond to the item.
As has been seen before, the template includes a comments section that allows for the authorized personnel to jot down any relevant notes when conducting the maintenance.
However, what stands out about this template is that in addition to a checklist, at the very top, it provides additional instructions which the maintenance team member should adhere to.
In doing so, the company which implements this template indirectly creates a second measure of risk management whereby team members are forced to confer with their supervisors before completing a task.
While some companies may see this as a misuse of human resources, it represents an added layer of risk management and, consequently, reduced human errors in the long run.
1. Vehicle Preventive Maintenance Log
Provided by The Compliance Doctor, this preventive motor vehicle maintenance schedule log contains several elements of an ideal work order template, most of which have been seen in other templates.
For starters, it includes not only information related to the make and model of the ordering customer's vehicle, it also includes the signature of the professional to whom the maintenance operation was assigned.
Each task is grouped according to the timeframe during which the task is done. What's more, the corresponding columns are extensive, allowing for the inclusion of as many relevant details as possible.
However, the most outstanding element of this layout is the fact that it includes a key. This key features instructions as to how the form should be filled out.
This is important as it reduces inconsistencies in how the form is completed while boosting productivity by providing the maintenance team member with clear and precise instructions on how the preventive plan must be filled out.
Limble CMMs for Preventive Maintenance Templates
The templates listed above are examples that contain recommended guidelines for preventive maintenance programs.
That said, those templates may not speak to the specific needs of your business maintenance operations.
You can solve that problem with LimbleCMMs.
We feature an SaaS platform that enables you to create custom preventive maintenance templates and share them with the members of your team.
Unlike platforms such as Microsoft Excel and Google Sheets, the design of LimbleCMMs's preventive maintenance software is geared specifically to meet the demands of maintenance professionals.
By leveraging a PM schedule software solution that can be easily accessed online, you can ditch physical forms to improve your operating conditions.
CMMS Buyer's Guide
Learn the questions to ask and the features to look for during the CMMS selection process - and find the right CMMS for you.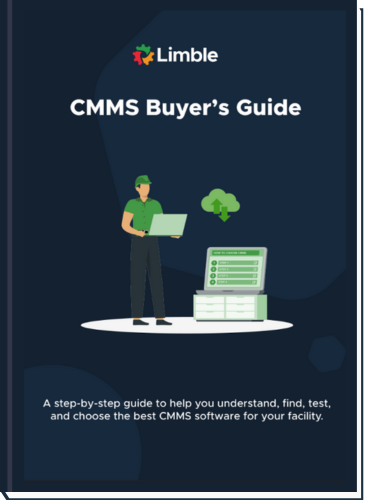 Our PM Builder:
Easily enables your team to record completed tasks.
Makes it easy for you and your team to record text or numbers that automatically update meter readings.
Allows your team members to include photos of maintenance work.
Show the relationship between tasks so that your staff can know when they should start and stop a specific task.
Create more concise timelines for project completion.
Our software has an intuitive, small learning curve, thus making it easy for persons who are not familiar with the platform to use.
Check out our PM Builder walkthrough for a visual on how easy it is to use.
Final Thoughts
All in all, preventive maintenance templates included in this blog post feature elements that constitute good maintenance practices.
With our PM builder, you can use them to form the base of your own customized template.
That way, you can facilitate better workflow between members of your maintenance team all while protecting the safety of your data by storing it online via our secure platform.
Don't let the opportunity to simplify your operations pass you by.
Check out our preventive management features to learn how you can start benefiting today.