Putting together an effective preventive maintenance schedule? Smart decision. A proactive approach can help you avoid the high costs of reactive maintenance. And the schedule is what turns your preventive maintenance plan into action.  
If you are looking for a complete transition how-to, check out our step-by-step guide on How To Switch From Reactive Maintenance To Preventive Maintenance. It will walk you through the process step-by-step and explain how a CMMS can be the most impactful tool to support the transition.  And if you are unfamiliar with CMMS systems, check out our What is a CMMS System and How Does it work guide.
What is a Preventive Maintenance Schedule?
A preventive maintenance schedule (or preventative maintenance schedule) is a set of asset or infrastructure maintenance tasks planned for specific times or intervals in order to avoid equipment failure.
Different from reactive maintenance, which occurs when equipment has already broken down, preventive maintenance takes a proactive approach to asset maintenance to keep critical assets in optimal working order. By developing a well-researched preventive maintenance plan, you have all the ingredients you need to create your schedule.
Guide to Moving from Reactive to Preventive Maintenance
Want to transition away from costly reactive maintenance but don't know where to start? This guide has everything you need to know.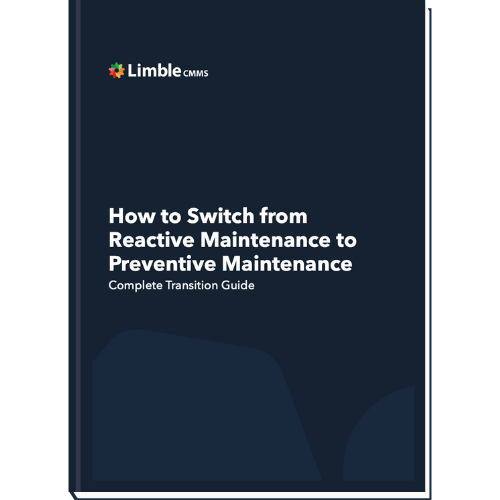 How to Create a Preventive Maintenance Schedule
Setting up a customized preventive maintenance schedule might be one of the best long-term investments you can make. In addition to money saved on corrective maintenance, your maintenance team will have to face fewer moments of crisis. 
If you have taken the time to document a preventive maintenance plan, this will be the basis of your PM schedule.  If you have not, a PM schedule is still within your reach. In either case, follow these steps to create yours. 
Step 1: Prioritize Assets by Maintenance Needs
Make a list of your company's most critical equipment. If you have a PM plan, this step has likely already been done. 
These are the assets you will start your PM schedule with. This will allow you and your team to start slow as you transition into a proactive workflow yet earn the biggest benefits. 
Machines that will benefit most from a preventive maintenance schedule are those that:
Are vital to business operations and organization success

Have failure modes that can be prevented with routine maintenance

Have high repair and replacement costs

Are more likely to fail as time goes by
By choosing assets that require a lot of resources to maintain, your preventive maintenance schedule will provide your organization with the greatest returns. 
Step 2: Identify a schedule based on maintenance triggers
After you have a rough idea of which equipment you want to include on your preventative maintenance schedule, it is time to determine how maintenance gets scheduled. For this, you have many options depending on the resources and data you have available. 
Time-based maintenance:

Maintenance is scheduled at pre-determined time intervals (e.g. every X months). 

Usage-based maintenance:

Maintenance is scheduled at pre-determined usage intervals (e.g. every X number of cycles or hours of operation). 

Condition-based maintenance:

Maintenance is performed when an asset's condition requires it (e.g. when temperature exceeds X level).

Predictive maintenance:

Advanced data algorithms trigger maintenance based on numerous criteria.
Modern CMMS systems can automate or replicate scheduling of routine maintenance tasks depending on the parameters you choose for each asset and can even integrate with condition monitoring systems for condition-based or predictive maintenance strategies. 
If you don't currently use a CMMS, schedules can easily be created on the calendar platform of your choice using historical data and OEM recommendations.
Step 3: Prioritize maintenance tasks
It would be great if the capacity of your maintenance team always matched the amount of maintenance work required every day. But that is not realistic. Luckily, there are ways scale your day-to-day work in accordance with your team's capacity. 
Even though PM work is proactive by nature, there are still some regular maintenance tasks that are higher priority than others. By noting the priority level of each task on your schedule, your team has the information they need to make informed decisions about which tasks to defer. 
Here are some things to consider when identifying a task's priority: 
Criticality of the asset

Safety risk associated with deferring a particular task

Risk of operational disruptions if a task is deferred

Time and resource investment involved in completing a task
Step 4: Assign responsibility for maintenance tasks
It may feel like enough to get a task on the schedule.  However, task assignment is critical for ensuring accountability. When responsibilities are clearly identified at the time of scheduling, team members can plan well ahead of time to ensure work gets done. 
Here are some considerations when making task assignments: 
Skill or experience level required for the task

Asset location and travel required

Operational disruptions anticipated with preventive maintenance tasks that may require coordination with machine operators
Step 5: Document work with preventive maintenance checklists
Documentation of the outcome of scheduled maintenance activities is critical. Data from documentation such as time spent to complete the task and resources used are essential pieces of information that be analyzed to optimize maintenance schedules and procedures in the future. 
If you have a CMMS, documentation — particularly if using PM checklists — can be quick and easy to the point where most of it is automated. Many systems are worth the investment for this time saving feature alone.
Step 6: Continually improve maintenance schedules
This is a step that any initiative you undertake should include. If you are investing the time to implement a process, evaluating the outcome to ensure it meets the original goal is worthwhile. 
If the goal of your preventive maintenance plan or PM schedule is to reduce breakdowns on a particular piece of equipment, comparing the before and after for MTBF or other related metrics is essential. You may find that adjustments to your maintenance schedule may be required in order to fully reach your goal. 
Checklist for Creating a Preventive Maintenance Plan
Following a consistent Preventive Maintenance Plan can make life easier. Use this checklist to create your own!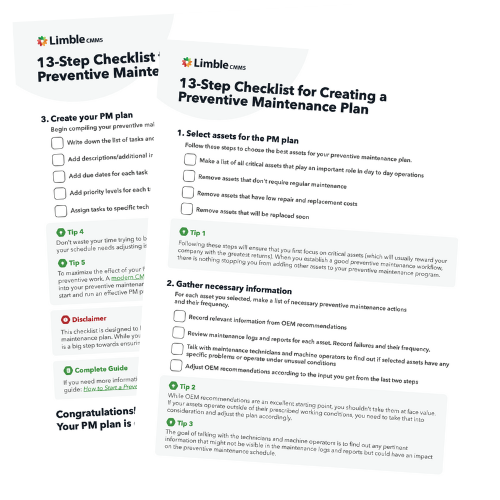 Using preventive maintenance software to oversee PM schedules
In order to ensure a successful preventive maintenance program, some modern CMMS systems are designed to deliver a superb user experience that gives maintenance managers full visibility of maintenance scheduling and schedule compliance. 
Features that help with schedule management are: 
Custom dashboards that provide real-time access to completion rates and other important metrics.

A PM calendar that provides an overview of open and upcoming work. 

Automated PM scheduling that allows managers to change due dates and task assignment with a simple drag and drop.

PM checklists that streamline the documentation of tasks

Mobile access to reporting and schedule management from anywhere.
Ready to create a preventive maintenance schedule?
Creating a preventive maintenance schedule has invaluable benefits. Some of them include:
Extending the lifespan of critical equipment

Enhancing and streamlining maintenance workflows

Reducing the number of unplanned downtime events

Increasing workplace safety

Decreasing the number of costly reactive maintenance tasks
The oversight and control you get with a CMMS software will ensure that you squeeze every last drop of value from your carefully crafted preventive maintenance program. To see for yourself what Limble can do for you, schedule a quick product demo or start a free trial.