In the last decade, maintenance went from a fairly static industry with high resistance to change to a field that is constantly getting disrupted by new tools, technologies, and software solutions.
Pair that with the pandemic and the labor shortage, and it is not surprising we're seeing a series of emerging trends that help the industry expand and thrive in increasingly challenging conditions.
Let's see which maintenance trends will leave their mark in 2023. 
The Essential Guide to CMMS
Download this helpful guide to everything a CMMS has to offer.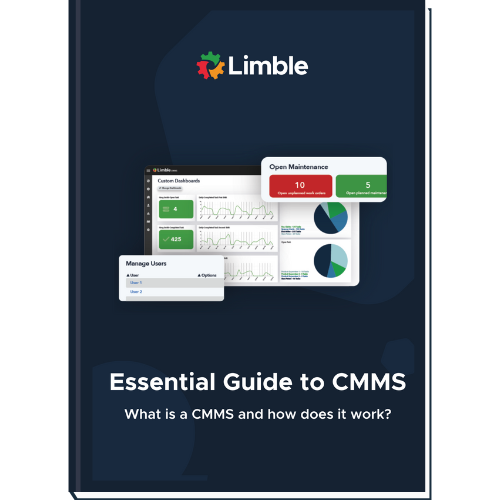 Trend #1: Increasing efficiency and safety through digitalization
Maintenance departments are under constant pressure to be more efficient and safe. In large organizations, there is only so much you can accomplish with in-person training and written procedures. 
To be truly efficient and create a safe working environment, maintenance and operations managers need to look for ways to digitalize their departments. Luckily, there are plenty of specialized, cloud-based software solutions out there:
ERP/EAM software

Job shop management software

EHS software

LOTO apps

Toolbox Talks apps

MRP software

Quality management software

Parts/inventory management software.  
This is by no means a complete list. Its purpose is to show that, if you wanted, you could digitalize almost every workflow inside your organization.
With so many options, businesses can prioritize the digitalization of the most problematic areas.
In the context of a maintenance department, it means that 2023 will see a continued increase in CMMS implementation in both industrial maintenance and facility management.  
Trend #2: Increased adoption of condition monitoring technology
According to the research published by Mordor Intelligence, the machine condition monitoring market is projected to reach a Compound Annual Growth Rate (CAGR) of almost 10%. In other words, there are a bunch of big players investing in condition monitoring technology.
This growth is fueled by the increasing adoption of Industry 4.0, as well as industrial businesses wanting to improve the efficiency of their maintenance work by adopting strategies like condition based maintenance and predictive maintenance.
As the market expands and the cost of vibration sensors, oil analysis, thermography equipment, and other condition monitoring technology continues to go down, we're bound to see more and more maintenance departments embrace the technology throughout 2023.
Trend #3: Expansion of the Equipment-as-a-Service model
Modern industrial equipment is getting more complex, requiring specialized skills to be properly maintained. Instead of spending a fortune on new equipment and specialized contractors,  wouldn't it be nice if your OEM/maintenance vendor provided and took care of that asset for a certain fee?  
That is the basic idea behind the Equipment-as-a-Service (EaaS). Also known as Machine-as-a-Service (MaaS) or Pay-per-use (PPU), this model allows you to rent equipment and outsource maintenance to the equipment vendor.
With the rising costs of owning and maintaining complex equipment, renting it is starting to sound like an appealing option.
Trend #4: Optimizing stock with additive manufacturing (3D printing)
Additive manufacturing is just a fancy term used to describe 3D printing for industrial purposes.
In the context of maintenance management, 3D printing can be used to:
Reduce spare parts management costs.

Instead of holding a huge stock of spare parts, companies can now just print them on an as-needed basis. This is especially useful for expensive parts with slow turnover.

Replace discontinued parts.

Parts for older machines can be difficult to find. Even if you do find them, they can be unreasonably expensive. That becomes a non-issue if you can just create the part yourself.

Improved tooling capabilities.

You can use specialized 3D printers to create jigs, fixtures, and other tools. 

Prototype new parts.

As your assets get older, you might need a custom part to prevent future breakdowns. 3D printing does not only allow you to modify and test different designs — they also give you the ability to print parts using different materials.
Simplified steps for replacing a part through 3D printing. Source: Software Advice
The Siemens Mobility RRX Rail Service Center has published a great case study outlining the uses cases and benefits of 3D printing in the transport industry. The bottom line is nicely summarized by their head of additive manufacturing concluding how:
The ability to 3D print customized tools and spare parts whenever we need them, with no minimum quantity, has transformed our supply chain. We have reduced our dependency on outsourcing tools via suppliers and reduced cost per part, while also opening up more revenue streams by being able to service more low-volume jobs cost-effectively and efficiently.
As the pandemic-caused supply chain issues continue to linger, 3D printing is becoming a viable alternative for solving spare parts management challenges.
Trend #5: Greater focus on equipment reliability
Everyone understands that being proactive is the way to go. However, doing a lot of proactive maintenance work doesn't guarantee high equipment reliability. 
Global and domestic disruptions have created unstable market conditions, forcing businesses to hyperfocus on their expenses and productivity. This means that maintenance directors and managers have to justify their maintenance budgets and show how does the performed maintenance work improve the company's bottom line.
To ensure their actions are cost-effective, maintenance departments will need to focus on improving equipment reliability, instead of just tracking the volume of performed maintenance work.  
2023 maintenance trends and statistics report
To put things into perspective, and see where the industry is going, let's look at some numbers. For this infographic, we compiled data from:
Top market research companies (2023 data)

The most recent industry surveys (2023 data)

The internal survey we ran amongst Limble customers (2021 data) 
Here is all of the relevant information we found, with exact sources in the footer of the graphic.
Long story short, maintenance managers will continue to increase investments in digital tools and technology in order to combat labor shortages, reduce operational costs, and improve the productivity, safety, and effectiveness of their departments.
Keeping up with the latest maintenance trends
Organizations that have a very tight maintenance budget will struggle to keep up with most of the maintenance trends we have outlined in this article. 
Even though smart investments in maintenance technology can provide a fat ROI, the cost of such projects often makes getting approval from top management an uphill battle.  
We recommend starting with smaller projects that can be scaled easily. Identify the most problematic pieces of equipment and use them in your pilot projects. 
You can install condition monitoring sensors or put them on a preventive maintenance plan using CMMS software. With proven results, which should be fairly easy to calculate on a small sample size, you will have a strong argument for expanding existing projects – as well as explore other technologies we discussed in this article.
For more helpful maintenance content, keep browsing the Limble blog.