If you are currently relying solely on reactive maintenance at your organization, chances are your maintenance team is frequently chasing breakdowns, putting out fires, and responding to reactive requests. That leaves little time for organizing and optimizing your processes, and even less for budgeting and team development.  
The good news is that creating a preventive maintenance plan can help you get ahead of this cycle. It isn't complicated when you have a clear idea of the steps you need to take. We're here to provide you with just that.
If you are looking for a

complete transition how-to

, check out our step-by-step guide on

How To Switch From Reactive Maintenance To Preventive Maintenance

. It will walk you through the process step-by-step and explain how a CMMS can be the most impactful tool to support the transition.  And if you are unfamiliar with CMMS systems, check out our

What is a CMMS System and How Does it work

guide.
Corrective maintenance vs preventive maintenance
Corrective maintenance is a maintenance task performed to identify, isolate, and rectify a fault so that failed equipment, machinery, or systems can be restored to operational condition. Simplified, corrective maintenance is diagnosing and fixing broken assets.
Preventive maintenance (or preventative maintenance) is work that is performed regularly (on a scheduled basis) in order to prevent or minimize the chance of equipment failure and costly unscheduled downtime. Preventive maintenance, as a result, is performed while equipment is still in working condition.
A recent study by Jones Lang LaSalle highlights how a telecommunications company saw a 545% return on investment (ROI) when implementing a preventive maintenance plan. 
What is a preventive maintenance plan?
A preventive maintenance plan is simply the steps taken to implement the strategy defined in your preventive maintenance program. These steps are performed while equipment is still in working condition to minimize the chance that a piece of equipment will fail and cause costly unscheduled downtime. 
A solid preventative maintenance program works as a blueprint that guides all planned maintenance activities. It helps managers consistently improve the performance of their teams.
Checklist for Creating a Preventive Maintenance Plan
Following a consistent Preventive Maintenance Plan can make life easier. Use this checklist to create your own!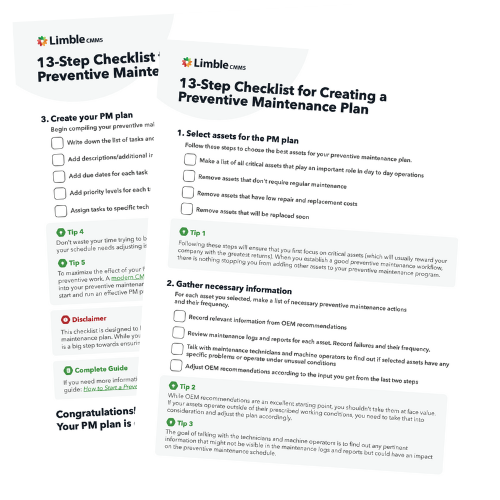 Creating a preventive maintenance plan
Now let's break down the process of creating and implementing a preventive maintenance plan, based on your strategy.
Assess your inventory
Before anything else, you need to perform an in-depth asset assessment. This should include everything that comes under your domain and might require maintenance or repair.
This could include:
The buildings your employer owns

Manufacturing equipment

Company-owned vehicles (vans, trucks, forklifts, aircraft, etc.)

HVAC systems

Miscellaneous assets and equipment
Perform an inventory count, make note of their current condition, and categorize them by criticality to the goal of your preventive maintenance program. This will help you prioritize maintenance work accordingly. 
Identify maintenance tasks and their triggers
Once you've assessed your equipment, it is time to document all the maintenance that must occur for that equipment. Initially, you may not do this for all of your equipment but rather a small number of the most critically important ones to get you started.
There are two key sources of information on the maintenance tasks and triggers for your equipment. 
Original equipment manufacturer (OEM) recommendations:

Manufacturer manuals contain recommended schedules for maintenance, usage of critical spare parts, and basic instructions.

Data from your maintenance history: 

Look at past failures and maintenance needed for your asset. It is likely that there are patterns upon which you can build a preventive maintenance plan.  
Also useful can be external resources for preventive maintenance best practices such as this resource for the frequency of preventive maintenance inspections.
Document the maintenance tasks you know must be completed regularly, and identify their triggers (based on time, usage, or condition). In the end, you will have a long list that looks something like this: 

Create checklists for consistent execution of each task
Using the same resources as above, along with the expertise of your team, document detailed checklists for each of the unique tasks on your list. Documenting each step of each task will ensure thoroughness and consistency across team members and assets. 
Set up the tools to execute and document the tasks in your plan
You should now have a list of all preventive maintenance tasks, their frequencies, and detailed steps to complete them. The only thing left is how it will be executed and documented. 
It is likely that your list of tasks is long and your documentation is very detailed. Many organizations start with pen and paper or spreadsheets to help coordinate execution of their preventive maintenance plan.  Other organizations may already have a CMMS or other software to help them manage this work.
We strongly recommend using CMMS software which requires slightly more financial investment, but pays off dividends in efficiency.  
Implement your preventive maintenance program
Share your finished preventive maintenance plan with your team and management and discuss a plan for work assignment and documentation. In addition, the roll-out of preventive maintenance will involve the following steps: 
Train your team on the maintenance plan and any software or tools involved

Clearly communicate expectations for following checklists and documenting work

Inform management of this shift in strategy so they can provide support and resources
Depending on your assets and their condition, you may need to prioritize certain tasks or assets at first and then move on to relying on the triggers you've identified in your plan.
Tasks can be assigned to technicians based on expertise, qualifications, available work capacity, or location.
The Essential Guide to CMMS
The Essential Guide to CMMS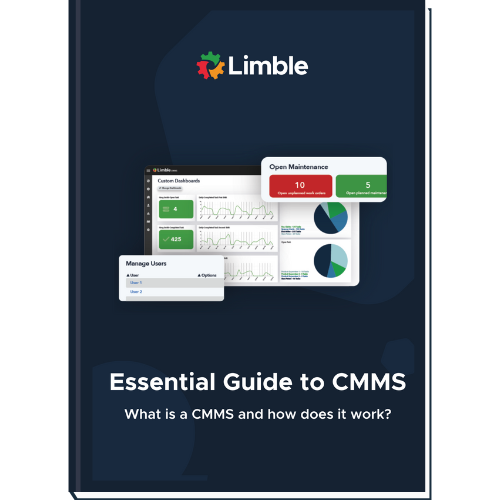 Using CMMS software to execute your preventive maintenance plan
Having a preventive maintenance plan in place is a huge step in the right direction. A CMMS will ensure you squeeze every last drop of value from it by doing the heavy lifting of sending notifications, copying PM schedules, tracking work history, reporting KPIs, and much more.
CMMS software systems are specifically designed for the job. In fact, they are frequently referred to as "preventive maintenance software." They can simplify, automate, and organize your maintenance operations. In addition, Limble CMMS has the tools to help you manage, measure, and optimize your preventive maintenance program.
Allow for more sophisticated organization of tasks by priority

Assign tasks or move them between technicians to help manage workload

Track data on time to task completion, preventive versus

reactive maintenance

,

MTTR

/

MTBF

/

MTTF

, and more

Streamline work order management, spare parts inventory, and purchase ordering
Final thoughts
A preventive maintenance plan will help you extend the life of your critical equipment, reduce operating costs, and significantly improve your overall maintenance operations. And putting the pieces in place is easier than chasing problem after problem, especially with the help of a good CMMS.
Get in touch and give us a chance to show you why Limble is a perfect choice.