Limble has made it easy and affordable for any company to implement sensors for their maintenance program or IOT devices and setups.
Technology is one of the main drivers of competition in the market. At Limble, we understand the importance of staying on top of the technological developments and trends in the maintenance industry.
One of those important trends is predictive maintenance. Predictive maintenance has been proven to be the best maintenance strategy, with an ROI in the 10X range. What makes Predictive maintenance so much better is that you are basing maintenance decisions on the constant flow of sensor data collection. This means that you don't have to pay someone to check an asset at scheduled times. You save on labor costs, and you will be notified in real-time.
Despite the measurable benefits of Predictive maintenance, there are two reasons why most companies don't implement the strategy:
High implementation costs
High degree of technical expertise needed for setup
Limble has eliminated both of these barriers by offering an affordable full sensor kit and by re-inventing the implementation process to be simple and intuitive. Now any business can implement a predictive maintenance program.
The process is extremely simple:
You purchase our starting package
We mail you preconfigured sensors
You plug in the sensors where you want them

Everything else is done by our software!
To make all of this possible, we added Predictive Sensors integration to Limble.
Simply put, this integration allows Limble to communicate with different condition-monitoring sensors you have deployed at your facility.
That allows the software to do some cool things you can use to speed up and optimize your maintenance approach.
The Essential Guide to CMMS
Download this helpful guide to everything a CMMS has to offer.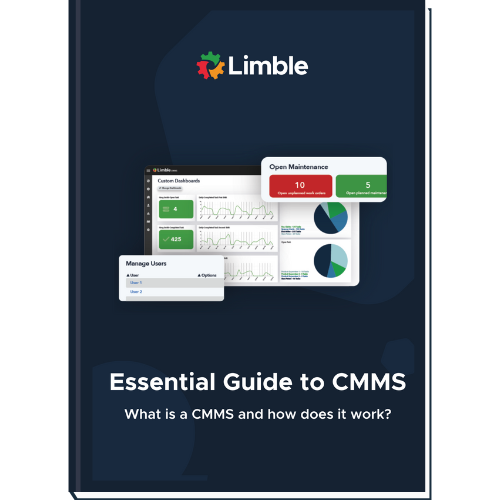 Predictive sensors integration opens up a slew of opportunities
With a wide variety of sensors that are available on the market today, there is no shortage of the conditions you can track like:
Vibrations
Temperature
Pressure
Fluid levels
Cycle counts
Etc.
With sensor integration, Limble can now automatically create a predefined task with the data sets or alert whenever critical events happen such as a motor starting to fail to assist with maintenance work. This can help drastically reduce unexpected downtime, lower repair costs, and increase productivity.
Example of automatic task creation in Limble
Create a "Fill Oil" task when the level of oil in the reservoir gets too low.
Create an inspection task when the temperature in a refrigeration room gets too high.
Create maintenance schedules when a sensor detects connectivity and increased vibrations on a gearbox to alert you about operating conditions.
Create a preventive maintenance task when a machine has run for a certain amount of time or cycles before equipment failure occurs using data we collect from the industrial internet of things sensors and devices to ensure uptime.
Task Automation
Installing sensors can free up your maintenance team from doing a lot of boring repetitive work by collecting big data sets around your assets.
Use case of improving efficiency with IOT Sensors
We recently visited a local healthcare company that was looking to eliminate many simple, daily tasks from their daily to-do list by implementing sensors. This would allow their maintenance team to focus on the larger tasks and projects with metrics to help.
One of those simple daily tasks requires that a technician does a daily check of the air pressure difference for their industrial AC unit. The technician records the measured values in a logbook and then assesses if the pressure is high enough to warrant a maintenance activity.
Including the time to walk and climb up to the AC unit, this task takes 10 minutes to complete. When this company plugs in a pressure sensor and links it to Limble, they will have virtually eliminated 365 tasks a year or 60 hours of saved labor.
About a dozen of these tasks were identified for the facility. In all, we calculated that all of the sensors could be connected in a day's worth of work, and it would save the company 2.5 months of labor costs per year without machine learning algorithms.
Real-time Monitoring Of Your Equipment Health
Some assets work fine with only one inspection per month while others are so sensitive that you'd rather have someone stand there and look at them the whole day.
Well, now you can actually accomplish that! Just choose the right condition-monitoring sensors and let Limble warn you when the machine needs your attention. iot preventive maintenance solution is a great way to reduce costs.
Example of real-time monitoring
A water leak could cause major damage to the equipment in a facility. A water detection sensor can be placed in the facility and will alert the correct people if there is a leak.
Is the whole process really that simple?
In order to take advantage of our predictive sensor integration, a small black box called gateway (which we provide) needs to be plugged into your company's wifi network.
Your sensors will link to the gateway and begin transmitting their readings using the high range, low-frequency radio waves. The gateway will then forward those readings to Limble over the internet.
Upon reception, Limble will process the data analytics and automatically update your Limble database, trigger alarms, or schedule defined tasks.
With this package, you now have the option to test if the predictive maintenance strategy is the right choice for your facility.
If you want to find out more about this offer or have any other questions about Limble's features, predictive analytics, or pricing, send us a message and find out the answer today.