The Essential Guide to CMMS - What is a CMMS System and How Does it Work?
Maintenance management isn't easy, especially when you don't have any – or the right – technology to support your work.
You have to make sure maintenance work is done on-time, equipment is running smoothly, and the company you are maintaining is running with minimal breakdowns.  Things become even harder when you realize that all of that needs to be done with a very limited budget.
No wonder maintenance and facility managers turn to CMMS solutions for help. After all, computerized maintenance management systems are designed to help you manage all aspects of maintenance operations.
If you set up a CMMS correctly you can
increase productivity by 28%,
lower downtime by up to 32%,
and reduce part spend by 23%.
Over the years, we have gotten a lot of different questions about the functionality and implementation of CMMS software. And we have worked with a lot of organizations who have gotten it right.  We will share the tried-and-true secrets and best practices that make maintenance technology successful in this essential guide to CMMS.
What is a CMMS system?
A CMMS system is a software solution that helps businesses manage, automate, and streamline all of their maintenance operations. 
Now that that mouthful is out of the way let's break down exactly what a CMMS is…
It is a centralized web and mobile software that can hold all of your maintenance information such as work orders, preventive maintenance schedules, assets, logs, work histories, parts inventory, vendors, purchase orders, and maintenance reports.  This allows you to manage all of the chaos of maintenance work in one single spot.
A good CMMS will automate PM and WO assignments, hold your team accountable, provide actionable real-time reports, lower parts spending, decrease downtime and drastically lower the manual work that comes with running a maintenance department.
Basically, a CMMS gives you a streamlined approach that ensures the right thing is being done at the right time for all of your equipment and facilities with the ability to report on what matters to you.
This type of system is typically just called a CMMS, but you may hear people using different variations of the acronym like CMMS software, CMMS system, CMMS platform, and CMMS solution. They all refer to the same thing.
The CMMS acronym stands for Computerized Maintenance Management System.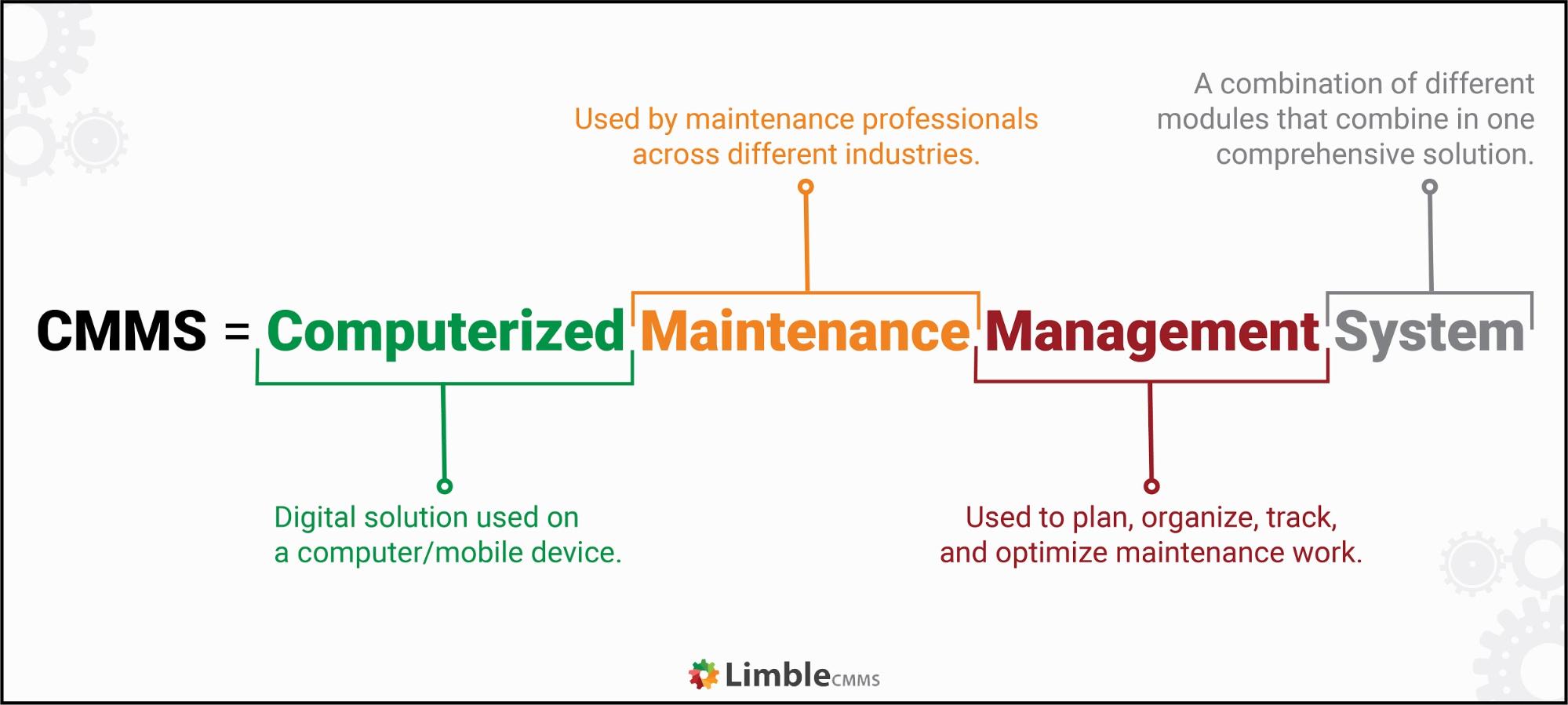 How does a CMMS system work?
Modern CMMS systems are cloud-based solutions.  Cloud-based just means that all of your maintenance data is saved in and accessed from one centralized spot (database) and can be accessed on any device (that has access to the internet) with a simple username and password.
Here is how a typical CMMS is used:
Maintenance Managers setup the CMMS to have the right equipment (Assets) with the right work orders scheduled (preventative maintenance) for their maintenance team.  Additionally, the CMMS may be set up so that reactive work can be submitted through a ticketing system (Work Requests).  This allows your team to know immediately when something goes wrong and can provide instant feedback to who is experiencing the breakdown or problem.
Maintenance Technicians/Operators use a mobile CMMS app to access and complete their work orders while actually physically out at the equipment.  From there they can not only see their full list of work orders that need to be done, but they can also look up work histories & manuals, communicate with each other, document what they did, etc. from their mobile device.  Any work they do is automatically saved to the centralized spot (database) for their team or manager to view later. This significantly increases their wrench time and limits time wasted wondering what to do, how to do it, or doing tedious data entry.
Maintenance Managers use the mobile or desktop app to run reports based on their own unique KPIs.  For example, on-time percent of preventative maintenance, % of downtime, work orders completed on time, asset uptime, labor costs, the total cost of ownership, spare parts usage, etc.  The best CMMSs allow you to build your own custom reporting KPIs based on what is needed for you to show your company that the millions of dollars of equipment or facilities owned are being maintained properly.
To sum it up, at its core a CMMS works like any other app. You have a robust interface with a lot of data/features when logged in on your PC, and a simplified version of that interface adjusted for mobile devices when logged in on your smartphone. This is done to remove clutter and increase the speed for your mobile users so they can focus on fixing things rather than using a horribly difficult mobile app.
Since the information is stored on the cloud, any changes that are made in the database are updated in real-time for everyone. For instance, if a maintenance manager changes the priority of a certain work order, technicians assigned to that work order will see the change immediately. In the same fashion, when a technician closes a work order, the maintenance manager will instantly see that the status of the work order changed to completed or closed.

This level of automation gives you as a manager many advantages: everyone has access to the most up-to-date information, reduces the chance for human error, improves response times, speeds-up maintenance workflows, and enables you to track and analyze an insane amount of data you wouldn't have access to otherwise.
Work Order Ticketing System Templates
These useful templates will help you get a handle on work order ticketing and management.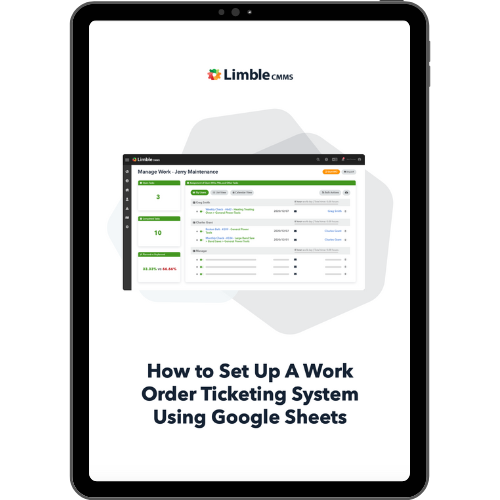 Why use a CMMS for your team
There are numerous benefits of having computerized maintenance management software. You can read about them in our list of 31 reasons to use computerized maintenance management software, or read on to learn about our favorites.
1) Overall maintenance cost reductions
Many organizations decide to implement CMMS in an effort to reduce their maintenance costs and improve their bottom line in few major ways:
Improve maintenance productivity (technicians performing more work in less time).  We see an average of a 28% increased productivity for our customers.
Reduce the number of unplanned breakdowns and reactive maintenance.  We see an average of 32% reduced downtime.
Shorten the length of both unplanned and scheduled downtime.
Lower labor costs (by reducing overtime work and increasing productivity).
Lower parts inventory costs.  We see an average reduction of part spend by 23%.
Improve asset lifespan which avoids more capital expenses.  We see an average increase in asset lifespan by 16%.
Maintenance work is very interconnected. Inefficiency at any point in the maintenance process will echo across all other maintenance activities. That is why CMMS aims to support every aspect of maintenance work.
2) Decreased downtime occurrence and length
An unexpected failure of a critical machine is one of the worst nightmares of every maintenance manager. The only way to combat this is with a proactive equipment maintenance strategy.
How CMMS fits into this story? By giving you all of the features you need to set up a proactive maintenance plan – and execute it day after day.
Since equipment downtimes can cost upwards of $100k/per hour for some companies, this alone might be an incentive enough to invest in modern CMMS software.
3) Big productivity gains
As mentioned earlier, with a CMMS, technicians can do more in less time. This especially holds true for CMMS solutions that offer a mobile app.  Limble specifically sees an average productivity increase of 28%.
With access to mobile maintenance software and a sound maintenance calendar, maintenance teams become more coordinated and take less time to diagnose a problem, perform the repair, and log their work. This is a direct consequence of the fact that CMMS improves communication, automates data recording, gives instant access to maintenance history, and allows you to create maintenance checklists and attach them to your work orders.
4) Better inventory control
The control of spare parts inventory doesn't always get the attention it deserves. What is the point of running a spare parts inventory if it is constantly out of stock.
We can agree that doesn't make sense. What also isn't realistic is to expect to have a whole warehouse stacked with endless spare parts and replacement tools. That is just too expensive.
The solution is in the middle. It means using your CMMS software to track spare parts usage and using that data to make accurate inventory forecasts for the following month, quarter or year. This is at the core of best practices for spare parts inventory management.
5) Deep insight into all aspects of maintenance work
Arguably the largest benefit of using CMMS is having in-depth, structured access to your maintenance data.
Whenever we describe how to optimize a certain maintenance process or how to implement a specific maintenance program, the list of steps ends with a section called "track and improve".  It would be impossible to track and improve with access to structed actionable data.
For this, pen and paper or excel can never compete with a CMMS. CMMS does not only automatically log data such as parts used, maintenance history, time to complete work, etc., it also structures that data in easily accessible reports that can be used to make informed decisions. And the best part is that the CMMS database isn't plagued with human errors and misplaced documents.

With Limble CMMS, we took things a step further. To maximize our customers' access to maintenance data, we designed an advanced CMMS Business Intelligence tool we call the custom dashboards. In practice, this gives you the ability to break down the reports in thousands of different ways to find out the root cause of just about any problem. For example, instead of just seeing that the cost of your spare parts increased, you can check how and where they were used and by who with a couple of clicks.
Core CMMS features that delivers those benefits
Computerized maintenance management systems all come with a very similar set of features. The real difference is, therefore, in how those features are implemented and will they actually get used.
For this to happen the features must be intuitive and easy to use or else your maintenance team will never even attempt to give it a shot.
The only thing worse than not having a CMMS is paying for one you stop using after only a couple of months.
It is hard to convey what a good user experience looks like through words and pictures.  Nonetheless, it is important to go through the core features any modern CMMS should offer so you know what to expect and look for.
1) Work order management
Work order management is at the core of every CMMS. Its purpose is to streamline how people submit work requests, how supervisors track work orders, and how technicians carry out actual maintenance work.
A strong work order management system should offer:
A dashboard with a clear overview of scheduled, in-progress, and finished maintenance tasks (as seen on the picture below)
An easy to use work request portal so individuals outside of your maintenance team can report issues to your team with pictures they can markup.
An easy to use maintenance calendar so scheduling work is quick and easy.
A mobile app that quickly allows your maintenance team to complete work orders on the go.
This combination of features is what drives the large 28% productivity gains the very best modern CMMS systems can get.
2) Asset management
The more assets you have, the harder it is to save, organize, and use asset information. Filing cabinets and paper records are grossly inefficient (and often inaccurate too).
User-friendly CMMS solutions should be set up in a way so that everyone can get the CMMS data they need in just a few clicks.
A modern CMMS solves these problems by allowing users to:
Create unlimited custom fields you can use to track only the information relevant to your asset.
Organize your assets in a clear parent-to-child hierarchy (as seen on the picture below) that is instantly searchable on a single page.
Pull detailed and complete work histories on equipment and run total cost of ownership reports.
View real-time, granular reporting with KPIs such as MTTR, MTBF, and different asset performance metrics
Tracking assets to this detail drastically improves an Asset's life and reduces your capital expenditures.
3) Spare parts inventory management
Few things are more frustrating then not having the spare needed to fix the machine everyone is depending on.
A good CMMS will help you run a spare parts inventory the right way which can result in cutting spare parts spend by 23%.
Here are the key things a modern CMMS should do:
Automatically tracks parts usage and helps you make accurate inventory forecasts
Set up reminders for when parts go below a certain quantity
Let you know what spare parts are used on what Assets and if those spare parts are no longer needed
Quickly lookup and order parts from preferred vendors.
4) Vendor management
Every organization has some specialized maintenance work that has to be carried out by third-party contractors. If you do not have an option to track and manage their work, then your maintenance records are incomplete.
Depending on your outsourcing strategy you may be spending tens to hundreds of thousands of dollars a year on vendors.  A good system can help ensure you are getting the biggest bang for your buck.
A great CMMS should be able to:
Track and manage your vendors' contact information, past work, and invoices
Know which assets your vendors take care of and which vendors you purchase spare parts from
Give limited access to a vendor so they can complete only the work assigned specifically to them
5) Maintenance reports
One might presume that every CMMS offers deep and customizable reports, but unfortunately that is not always the case.
After all of the setup and data being collected by your team the last thing you would want to miss out on is the real-time maintenance reports and KPIS.  A good CMMS system will make it so you don't require a data science degree to gather insights important to you.
Here are the characteristics of a strong dashboard and reporting system:
Customizable dashboard and reports that lets you choose which maintenance KPIs and metrics you want to track and compare
Reports that are built once and automatically regenerate so you don't have to rebuild them
Reports that can be shared in different formats like Excel and PDF
Deep drill-down capabilities to learn exactly why the data is showing you the problem
The ability to easily compare costs and KPIs between different facilities and teams
Arguably this is the largest benefit of a CMMS.  As the famous saying goes "What you don't measure you can't improve".  Everyone's maintenance operations is different and the only way to find where to improve is to get a system in place and start taking those measurements.
Head over to Limble's Business Intelligence tool to learn more.
6) Sensor integration
As Industry 4.0 and IoT continue to grow, it is only natural that advanced maintenance strategies like CBM and predictive maintenance will become cheaper to implement, making them accessible to more businesses.
This is why a modern CMMS should offer integration with condition-monitoring sensors that are at the core of those strategies. What it means in practice is that your CMMS should be able to talk to those sensors and automatically start work orders depending on the information it receives. You can learn more about this process here.
That being said if you are just coming off of a paper or excel based system you may want to learn how to walk before you run 🙂  A good CMMS will morph to your unique needs, but also allow you to grow into more advanced setups like a sensor integration.
This list is only the tip of the iceberg. If you're interested in a more detailed breakdown of CMMS features and how businesses use them, you can find more information here.
The Essential Guide to CMMS
The Essential Guide to CMMS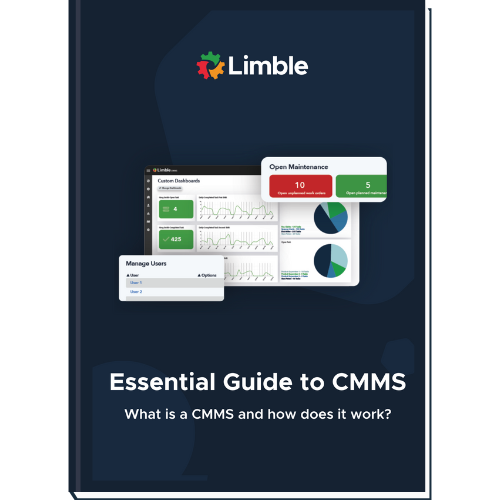 How to find the right CMMS for your organization
Finding the best CMMS solution for your business will take some research and testing.
We recommend the following approach:
Identify the core problems you and your team are trying to solve.  Some customers have horrible response times to breakdowns.  Others are trying to improve overall reliability.  Every company is battling a unique combination of problems and knowing yours will help you know what to look for.
Make a list of "must-have" and "nice-to-have" features. Making a list will help you know what you need to prioritize now and what you may want to grow into in the near future.  Nice to haves can often be a trap so don't get to worked up into trying to have every little thing.
Prioritize easy to use software.  It doesn't matter how powerful a piece of software is the user interface is so horrible that no one can use it.  It is far more important to have software your team can use then have software that can do every little feature under the sun.
Check CMMS software review sites like Capterra and PAT and choose a few solutions you want to test (based on user reviews and your criteria from step 1.  Software advice specifically has a quadrant that shows customer satisfaction.
Review and test your top 2-3 CMMS solutions. This step should involve actually testing the software (which you can do by signing up for free trials) and by contacting the CMMS vendor and double-checking for any details you're unsure about.  It is often a good idea to involve supervisors and technicians in the testing process as they are the ones that will use the platform on the daily basis. Not to mention that they will be more excited about using it if they feel they had a say in the selection process.
Dive deep on the testing of the CMMS.  It is incredibly important to test how easy a CMMS is.  You can do this in a variety of ways:  check how many clicks it takes to do something in the CMMS, throw a curveball at the sales rep to show you how to import items on the spot, does it look and feel modern, test the CMMS's support on the spot, etc.  To read more about testing look at our Why CMMS implementations fail section.

If you want to read more, here is an in-depth guide on how to pick the best maintenance software.
How to calculate a CMMS Return on Investment (ROI)?
You now know you want to a CMMS and you even found the right one for your team.  The next step is convincing your management to make the purchase.
There are many ways of doing this, but one quick and easy method is to simply ask your CMMS provider.   The better ones should be able to provide you with Case Studies, ROI calculator or a wealth of other information to help you convince whoever you need to.  If they don't you may want to rethink your choice of a CMMS vendor.
On the other hand you may want to write out your own ROI so that it has more of a personal touch.  With that in mind, here is a quick breakdown of the basics of a CMMS ROI with an example showing how one is built.
As you can see you really only need to answer a couple questions:
How much money can you save after implementing a CMMS?
What is the total cost of implementing and running your chosen CMMS software?
When you know those numbers, you simply subtract the costs from savings and divide what is left with the costs.  This gives you a percentage, but if you want just the dollar amount simply don't divide and just do CMMS savings – CMMS costs.
Now that is laid out, let's actually go through an example that shows you how to build the CMMS ROI.
First, let's go over the four main ways a CMMS saves money:
Improved productivity and organization which causes increased wrench time and less overtime resulting in your technicians being able to do more with their time. (Limble sees a 28% increase in productivity)
Decreased downtime which results in higher production, less waste, happy bosses, etc.   (Limble customers see a 32% reduction in downtime)
Better spare parts forecasting means fewer emergency shipments and less excess inventory which reduces your inventory costs (Limble customers see a 23% drop in spare parts spend)
Increased asset lifespan which results in less capital expenditures.  (Limble customers average a 16% increase of asset lifespan)
Alongside those direct savings, there are some intangible benefits that come with a CMMS such as happier and more engaged maintenance staff,  happier users of the facility, etc.  Those are hard to measure in terms of $$ so we will leave that out for now.
Now let's assume, we have 5 techs that work 8 hours a day at a $20 per hour rate.  We also experience 10 hours of downtime a month and it costs roughly $5,000 each hour a piece of equipment is down.  During that month we spend roughly $10,000 on spare parts.  Lastly we are spending $10,000 a month purchasing equipment because the old equipment is dying.
Using Limble's customer's average savings we can do the math:  (5 (techs) * 8 (hours per day) * 20 (wage per hour) * 22 (business days per month) * .28 (productivity increase)) + (10 (hours) * 5000 (cost per hour) * .32 (% less downtime)) + (10000 (spent on parts) * .23 (average spare parts savings)) + (10000 (spent on new equipment) * .16 (average increase in life))=  total monthly savings of $24,828.
Next let's figure out how much it is going to cost.
For 5 users on Limble per month on our business plus plan it would be 5(users) * 120(business per month cost) = $600 a month.  Additionally it make cost a manager 20 hours a month to manage (adding assets, removing users, setting up new PMs) the CMMS 20 (hours) + 45 (wage per hour) = $900 a month.  If we add those two together $600 (Limble licenses) + $900 (time managing the CMMS) = total CMMS monthly cost of $1500.
In this case the ROI would be $23,328 per month. 
As you can see there is an insane level of possible ROI.  Because of that you may need to show your management that these are not just pie in the sky empty words.   Make sure to include case studies, testimonials or other items from the CMMS vendor or even call the CMMS vendor's reference customers to see their results.
Lastly it is worth noting that if for some unforeseen reason you only object 1/4th of the projected ROI it is still a huge win for you and your team.
"With Limble, I can track all of our supplies that come in, how they are getting used, look at the usage rates, and then also be able to forecast budgets for next year. It has dropped my budget tremendously; I was actually able to hire another guy because of what we were able to save."
— Benjamin Scott, Facilities Supervisor, Intercontinental Hotels Group

In case you want to read more here is our Ultimate guide on writing a ROI for a CMMS.
Why CMMS implementations fail
Let's cut through the bullshit.  You will never get the Return on Investment we talked about in the CMMS ROI section if you aren't willing to put in the work.
Getting a CMMS going isn't as simple as flipping a switch.  It takes planning, time and buy in from your team and management to be successful.  To put it in perspective, reliable plant recently did a study showing that almost 80% of CMMS implementations fail.
Luckily this is why next gen modern CMMS like Limble were created.  Modern CMMS software drastically lowers the learning curve, drastically speeds up the time to enter data, requires little to no training for your technicians and provides a clear ROI to management.  This is why at Limble, our customers can start to see the ROI in as little as 1 to 2 weeks and have a 98% implementation success rate versus a 80% failure rate.
With that being said you may be forced to use a different CMMS so it is worth going over the main failure points in detail:
The CMMS software is too difficult to use
You should love the CMMS you use.  This software is going to be used daily by not only you, but your entire team.  Simply put, you spend too much time at work to have to put up with something you hate using.
This is the number 1 reason why most CMMS implementations fail.  If you hate using something you will tend not to use it regardless of how many bells and whistles it has.  This is not only true for you, but also for your team.
Now that we are on the same page on the importance of ease of use.  Here is a quick breakdown on how to test how easy a CMMS software is:
How many clicks (or taps in case of mobile) does it take to do something.  When comparing CMMS vendors ask for their sales rep to demo the CMMS for you.  During the demo you can then measure how long it takes to perform a specific action.  For example, we once had a soon to be customer test all of their potential CMMS vendors on how long it would take to start a Work Request.  Limble completed this test in 21 seconds.  We never found how long it took the other vendors, but the customer ended up picking Limble.
Quiz the sales rep giving you the demo on the spot.  Nothing tests software better then throwing a curveball at the CMMS Vendor's sales rep.  For example, ask the CMMS provider to import your assets on the spot.  I like importing of assets or PMs because the next largest reason a CMMS fails is due to it taking too long to get your data into the system.  If the sales rep (who spends literally all day every day showing the CMMS software) can't quickly import your spreadsheet then you are probably going to have problems with that CMMS.
Does it look and feel modern.  The look of badly designed software drains and stresses a user's eye sight making them tired and irritated.  This can be tricky to test because it is more of a gut feeling then anything else, but here are some tips.  Go look at modern software like Airbnb, Uber, Google, FB, etc. to get a feel for what millions of dollars and world class UI/UX looks like.  A CMMS isn't going to look exactly the same, but you can get a good feel of what very large modern software that thrives on User Experience looks like and then compare that to the CMMS you are looking at.
Test the CMMS's support.  No matter what CMMS software you pick you will want an expert's help at some point.  Most of Limble customers can successfully set up Limble by themselves, but why do that when a Limble Customer Success Manager can drastically speed up the process.  Luckily this is extremely easy to test.  Just give the CMMS vendor a call, shoot them an email or chat a question.  If they respond quickly with a good answer, great.  If they don't maybe you shouldn't use that CMMS.  At Limble we have a Chat system built directly into our CMMS which we pride ourselves on answering within under 60 seconds on average.
Do a 30 day trial.  Most modern CMMS offer a free trial which allows you to play around with the software for a given period of time.  This is a great way to test first hand if it is going to be easy to use.
Not willing to put in the time to get it going.
There is an old saying: The squeaky wheel gets the oil.  If your shop is running from breakdown to breakdown, you will tend to always focus on that instead of setting up your newly bought CMMS even though the CMMS has proven to drastically lower reactive maintenance by as much as 73%.
From helping thousands of customers we've seen first hand what works best when it comes to managing your limited time.  Here is a breakdown of a couple time management strategies that will make sure your CMMS gets the time needed to get off the ground:
Fully dedicated to setting it up.  This is the best approach, and can have a CMMS setup in as little as a few days, however, it requires your team and management to buy in since you be doing nothing else for the next 3 to 14 days.
An hour a day.  This is the most common approach because your maintenance manager can't fully stop what they are doing to set up the system.   Instead have him/her spend 1 hour a day coordinating what needs to be done and then have a lead technician do the leg work.  If you take this approach make sure to block out the time on his/her calendar and don't let anything else pull him/her away from it during that time.
Hire your CMMS provider to set it up.  This is the quickest, but there are some drawbacks.  First, it costs more money.  Second, it may not get setup in the best way for your facility due to the fact the CMMS vendor doesn't know the unique quirk/needs of your facility.  This option will still take some time from you, however, not as much as the first two options.
Regardless which strategy you pick, setting up a CMMS will require a time investment from you, but unlike most normal investments you will see the impact in as little as a few weeks.  At Limble we have a dedicated Customer Success team that helps our customers get a plan in place to ensure the implementation goes well.
Lack of Planning
A CMMS is just a tool and not a magic wand.  If you don't have a basic understanding of what problems your facility has, what equipment you own, what maintenance tasks you should be doing or how to do maintenance in the first place, then a CMMS can't help you.
If you have no idea what you want to do or accomplish here are a couple questions you can ask yourself to figure it out.
What is costing us the most money and why?  Is it random breakdowns, unhappy users of the facility, replacing equipment, etc.
Does my team feel these same problems? If the problem is only affecting you and not your team/company overall maybe it isn't worth solving.
Are there ways to solve those problems?  For example implementing a PM plan drastically lowers breakdowns and reactive maintenance.
Why haven't we solved those problems already? Maybe management will never buy in to using software for maintenance.
Do we know what we currently have and what currently needs done? Knowing where you are at allows you to plan how much resources it will take to get to the finish line.
Luckily you don't have to figure this out alone.  At Limble we help thousands of companies around the world improve their maintenance operations.  Give us a call and we can help you come up with a plan to solve the problems you are experiencing.
Management isn't bought in
Sadly there has been too many times where we are about to help a maintenance manager drastically improve his/her life, but then we hear the dreaded "my manager killed the project".
Unfortunately, the maintenance manager didn't spend any time or effort trying to show his/her boss the potential ROI.
If you can prove a ROI then management won't get in your way.  We did a great write up on how to address this above in the CMMS ROI section so please check it out.
Your team isn't bought in
Lastly if your maintenance techs are not bought into getting a new CMMS system you will run into problems.  At Limble, we almost never run into this problem since our software actually improves the maintenance technician's day to day without hours/days of intense training.
If you are using a different system make sure to dedicate time to provide training to your technicians on how to use it so they aren't frustrated from the get go.
Additionally it is important to get emotional buy in from your team which can be done in a couple ways.
First, explain why this will help them improve their day to day life.  No more paper, no more manual data entry, instant access to  manuals and other information from their phone, real-time communication, less random equipment breaking, etc.

Second, include them during the CMMS selection process.  Getting their feedback and insight helps them take ownership of the project.  If they take ownership of course they will want it to succeed.
Hidden Costs of Maintenance
The real cost of maintenance can be tricky.  Failing to do maintenance the right way doesn't simply mean it will take more labor, parts or contracts.  It will also cause lower product quality, higher energy costs, reduced asset lifespan, extra maintenance, lost production hours, wasted resources, environmental issues and even safety issues.
To put it in prospective a well ran maintenance organization can reduce the true cost of repairs by anywhere between 5 to 15 times just by simply doing the right type of maintenance work.
Let's breakdown each of those items so you can see how not doing maintenance right affects them:
Lower product quality.  Equipment that isn't properly maintained will create more defects.  Let's pretend you have a press that has a loose belt.  That loose belt will most likely cause items to slightly be off which will result in product that isn't as good as it could be.  This lowers customer satisfaction and causes a wide range of other problems that are completely avoidable.
Higher energy costs.  In this case imagine an HVAC system that rarely if ever gets it's filters changed.  That dirty filter isn't just an annoyance.  It actually causes the air to not flow through it as easily as it would through a clean filter.  Because of this the HVAC has to use more energy to pull the air in.  According to the Department of Energy replacing a dirty filter with a clean one can reduce energy consumption by as much as 15%.
Reduced asset lifespan.  In this case let's also use the HVAC system as an example.  Clogged filters mean not enough air is getting into the system which means it has to work harder.  If it has to work harder, it will die sooner.  At Limble our customers see an average increase of asset lifespan by 16%.
Lost production hours.  Poor maintenance causes more downtime.  Downtime costs vary from thousands to hundreds of thousands of dollars per hour.
Wasted resources.  Poorly maintained equipment is harder to operate, produces more defected product and overall wastes maintenance time, operations' time and management's time.
Environmental issues.  Poorly maintained equipment wastes energy, pollutes the environment, is unhealthy for your employees and causes a host of other issues.  Not all of these items directly affect your company's bottom line, but it is an important cost nonetheless.
Safety risks.  Poorly maintained equipment breaks more often and when things break injury can occur.  For example, if the right maintenance isn't done on a forklift then it's forklift forks may break dropping hundreds of pounds of items.  This can seriously injury someone and land your company in a lawsuit.
Why CMMS reports matter
There are many benefits to using a CMMS, but reporting is arguably the largest.
Because of this we thought it was good to lay out a few of the most beneficial reports we see our customers make and explain how it helps them better run their maintenance shop.
Total cost of ownership reports.  This report allows you to see exactly how much it is costing you to maintain a specific piece of equipment or even an entire group of equipment.  This gives you the data you need to make important decisions such as should I replace a specific piece of equipment this year.
Asset uptime/downtime reports.  This report allows you to see how often your equipment is breaking down.  This is an important factor in determining if this piece of equipment needs more PMs or other attention to make sure that it runs effectively.  This also shows OEE which you can read more about in our OEE(Overall Equipment Effectiveness) guide.
PM completion rates.  PMs have been proven time and time again to be one of the smartest things you can do in maintenance.  Being able to track if your team is actually completing the PMs helps ensure that you get the benefits of a well run preventative maintenance plan.
Employee time spent.  Managing a team is near impossible if you don't know how or where your team's time is being spent.  Since a technician will be logging most of the things he or she does throughout the day you will be able to easily see what is happening in your team.
Tasks completed on-time vs overdue.  A well run maintenance shop gets most items done on time.  Tasks completed past their due date results in longer downtime, less satisfied users of the facility, and production interruptions.  These reports allow you to see what is not getting done on time and why.
Total parts spend.  Parts spend can eat into your budget.  Knowing where and how your parts are being consumed allows you to find ways to lower costs.
Total vendor spend.  Just like parts, spending on a vendor's services can drastically eat into your budget.  Knowing where and how you are spending money with vendors is incredibly useful.
Work Request (Ticket) open to completion time.  Depending on your industry, response times are incredibly important.  For example, our Hospitality customers responding to a Guest's ticket slowly can cause bad reviews at a minimum.
Other reports.  The reports above are just the start of the thousands of different reports you can build.   Be careful though, most CMMS force you to use only their pre-defined reports which can be very limiting.  Look for software that allows you to build your own reports.  For example, Limble has a Business Intelligence tool that lets you build your own custom reports and KPIs with over 100,000 different insight possibilities.
How to get the most out of your CMMS software
To get the most out of your CMMS there is really only one main concept you need to follow.  The more CMMS features you use the more likely you will increase your ROI from the CMMS software.
Now obviously some CMMS features won't make a difference for your company due to you have unique needs.  The best method to test this is with a simply 4 week experiment where you test out the CMMS feature.  At the end of the 4 weeks you measure if it made a measurable impact.  If it did, you just found a new way to do more with less.  If it didn't simply don't use that CMMS feature any more.
A good CMMS vendor will have a customer success team that can help your structure that experiment to see if it will make a measurable difference for you.
Lastly here are a couple common tips to help you get the most out of CMMS features you are currently using:
Ensure proper training. Some CMMS systems are more complex than others and some technicians need more time to get the hang of the software. Modern CMMS has knowledge bases, video tutorials or even a customer success manager that will do training.
Correct mistakes early on. It is crucial to watch how people are using the software for the first couple of months. Watch for those who are skipping steps or cutting corners. Heading off these bad habits early can result in big results.
Measure and improve.  Utilize the CMMS reporting functions so you can see how you are doing month to month.  This will help you know where or who can improve.
Utilize the Customer Success team of the CMMS Vendor.  Most modern CMMS will offer this for free.  For example at Limble we give every customer a customer success manager which forces us to stay true to our promise of easy to use software.  Other vendors may charge for this, but even if they do utilizing someone that knows the ins and outs of the CMMS will great help you get the very most out of it.
Industries that need CMMS software
Every business that has equipment to maintain can benefit from using CMMS software. As you can imagine, some organizations depend much more on the functionality of their assets (and the environment they work in) than others.
We can roughly split the most common CMMS users into 4 groups:
Heavy industries like manufacturing, construction, and energy
Facilities that need facility or property management like museums, hotels, fitness facilities and parks
Field maintenance industries such as telecommunications, and electrical grid maintenance
CMMS for heavy industries
When we talk about heavy industries, we talk about mining, construction, manufacturing, energy, aircraft industry, and similar.
These industries spend a lot on maintenance management because if the equipment is broken, no work is being done that day – which is devastating to their bottom line. They feature large and expensive assets, have long asset life cycle, struggle with very high downtime costs, and have to satisfy strict safety regulations.
CMMS for facilities management
An integral part of facility management is building maintenance. Its goal is to make sure that all building systems work properly to ensure the comfort of all building occupants. That means taking care of the building infrastructure, electrical, plumbing, and lighting systems, HVACs and other building assets and equipment.
It is used by a wide variety of different businesses like hotels, casinos, churches, fitness facilities, commercial buildings, museums, aqua parks, and so on.
CMMS for fleet management
As its name suggests, fleet maintenance is here to make sure that the vehicles your organization relies on are in top condition. It is used by trucking companies, businesses offering car rental services, certain government organizations, farming businesses, businesses that offer delivery services, and more.
What is specific about fleet management is that it places a lot of importance on things like asset tracking and fuel management as those are two things that have a huge impact on vehicle performance and maintenance costs.
CMMS for field maintenance
Field maintenance is a specific field of maintenance (pun intended) that aims to take care of widespread assets that function independently of each other.
It can be used in most of the industries mentioned above to carry out a specific maintenance task in the field. Some common examples include:
managing telecommunication infrastructure like cellphone towers
maintaining different parts of an electrical grid
going out to fix HVACs in residential and commercial properties
performing landscaping as a part of grounds maintenance
going to people's homes to maintain and repair medical equipment
etc.
All of these examples have one thing in common: CMMS supports their maintenance team – their maintenance team supports their assets – their assets support their bottom line.
The history behind CMMS
The history of CMMS is about 50 years old. The story begins in the 1960s with punch cards that were fed into large IBM mainframe computers via card readers. The purpose? To remind technicians to perform routine tasks like oil changes.
As technology evolved, so did CMMS systems.
Throughout the 70s and 80s, punch cards turned into paper forms and mainframes were slowly replaced with mini computers. Technicians used a central terminal in the plant to enter data about completed work orders. This is the point where medium-sized businesses could also start to afford this kind of technology.
With the introduction of personal computers in the 90s, CMMS solutions started to take a recognizable shape. Many organizations made custom internal solutions in Microsoft Access. This brought significant improvement in usability and allowed for a slew of new features to be added. However, you still had a lot of bugs, you couldn't track work order history or costs, and updating the software was very complicated and expensive.
Not long after, CMMS vendors started offering browser-based solutions instead of Access-based applications. These were on-premise solutions that ran on the company's local server. Now, you could access the software from any PC that was connected to the local network and not just from specific terminals. However, updating the software to the latest version remained complicated and expensive. You can find some CMMS vendors that still offer such solutions today, but they are all but obsolete.
Slowly but surely, we got back to the present. The final significant evolution of CMMS was the jump from on-premise browser-based solutions to cloud-based solutions. The benefits? Huge:
implementation costs dropped down to basically zero as there is no need to set-up an internal server and install the software
the software can be accessed by any mobile device with internet access
updates are handled automatically by the vendor and require no involvement from the buyer
the software is available almost 24/7 and doesn't have a single point of failure like on-premise solutions
In other words, CMMS solutions have become way more practical, scalable, and affordable, which is why they are seeing widespread adoption among small and big businesses alike.
The difference between a CMMS, ERP/EAM, CAFM, and fleet management software
We often get asked about the difference between a CMMS and ERP and how CMMS fairs when compared to CAFM and fleet management software. The confusion is justifiable as all of those solutions offer a similar set of features that have a lot of overlap.
Let's talk about these differences next.
CMMS vs EAM/ERP
Enterprise Resource Planning (ERP) is a robust software solution that helps manage main business processes across different departments. Depending on the available modules for the type of ERP system they use, a company might use an ERP solution to track everything from asset information, raw materials, and production output to things like cash, purchase orders, and payroll.
EAM (Enterprise Asset Management) is one of those ERP modules. It is used to manage assets and maintenance work. Different EAM/ERP providers offer different sets of features, but roughly speaking, a standard EAM module will have half of the functionality that a standard CMMS offers. Usually, just some basic asset management features with very limited customization options. Organizations can hire developers to adjust and expand their EAM module, but that is a costly and risky maneuver with a poor track record.
Since CMMS is designed specifically for maintenance management, it is only natural that it offers a more broad range of features that are way more polished and customizable.
Another difference is that a CMMS is suitable for both small and big businesses, while EAM is predominantly used by big corporations as an upgrade to their existing ERP system.
Last but not least, businesses can decide to integrate CMMS with their ERP system instead of the EAM module. It is a viable strategy, but it does come with its own set of pros and cons.
CMMS vs CAFM
CAFM stands for Computer Aided Facility Management. The main difference between CMMS and CAFM is in their scope and purpose.
While CMMS "only" helps you to manage maintenance work and assets, CAFM software supports everything from space planning and asset management to room reservations and administrative support. As such, CAFM is best suited for businesses that have to manage large office spaces.
CAFM providers sometimes offer their version of a CMMS as a part of their package. In a sense, you can think of a CMMS like one of the modules inside a CAFM solution. That being said, as with EAM, standalone CMMS usually provides stronger asset management features than when it comes as a part of the CAFM package. And again, there are some situations when CMMS software is worth implementing alongside CAFM.
The decision between implementing CAFM or a standalone CMMS is something every business needs to decide for themselves based on their facility management needs.
CMMS vs fleet management software
Fleet management software is in essence a CMMS platform that is modified to serve the specific needs of fleet managers. At its core, it offers the same set of features like a maintenance calendar, work order management, maintenance history, and so on.
What makes it stand out is the addition of specific features like fuel cards, the ability to connect to GPS hardware and telematics for asset tracking, and the ability to provide deep insight into different fleet utilization and performance metrics.
You can manage fleets with a regular CMMS as they have many of the same features, but a dedicated fleet management software might provide you with a few additional options.
So, if you are a manufacturing company, an obvious choice is a CMMS. If you are a trucking company or any other business where your core assets are vehicles, you are better off using fleet management software. If you manage construction equipment, it's a toss-up.

One important thing to note is that a lot of CMMS vendors will have a page on their website to market their software as fleet management software, even though they do not have those asset tracking and fuel management options (or have it poorly implemented). If you need those features, be sure to double-check it with your preferred vendor before you make any purchases.
How to get started with Limble CMMS?
If you are interested in testing Limble CMMS, you have three options:
Everyone that signs up for Limble gets a dedicated account manager that helps the organization with the implementation process – provides necessary details, answers questions, and helps with training. The training process itself is usually very short as one of the main selling points of Limble CMMS is that it is really easy to use.
The reason why many CMMS implementations fail is because the software is complicated to use and technicians never fully adopt it. We have made extra efforts to ensure Limble is intuitive and user friendly so technicians can get the hang of it in a matter of minutes.

"Limble CMMS is very easy to use. All CMMS suppliers say that, but I found this one to be exactly that. This software, in my opinion, is the best value out there in the CMMS world. My team of maintenance techs got onboard quickly and loves the app. Anytime you can get 8 of 8 maintenance techs to get on board, you have a winner."
— Mark Quillin, VP of Operations, Roplast Industries (Click here to listen to the interview)
Conclusion
We hope that this guide provides a satisfying explanation of what is a CMMS system, how it works, and ultimately, is it something your organization can benefit from.
If you have any additional questions about how Limble can solve your maintenance needs, reach out to us via email, our support team is always ready to help.