What is CMMS?
CMMS stands for Computerized Maintenance Management System. CMMS software helps businesses manage, automate, and streamline all of their maintenance operations.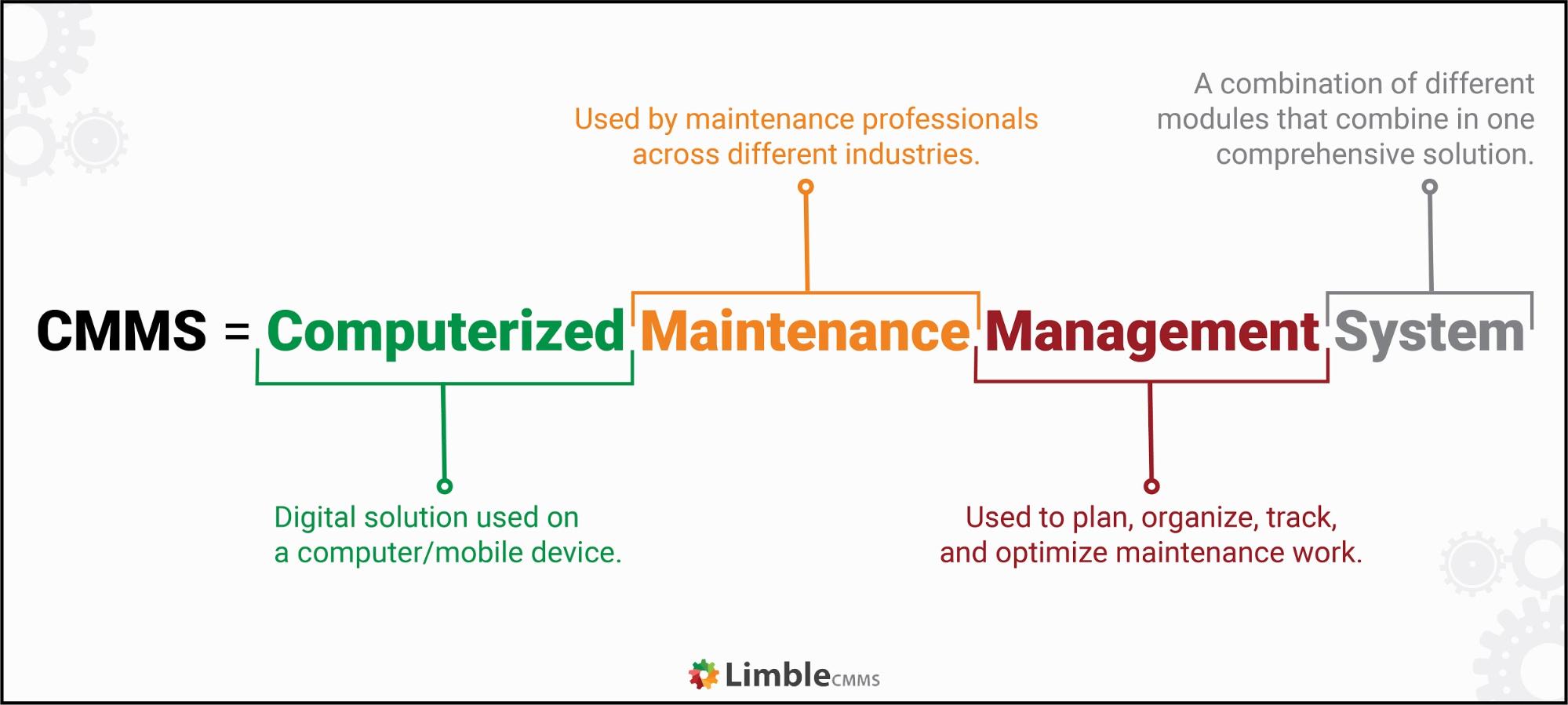 This type of system is typically just called a CMMS, but you may hear people using different variations like CMMS software, CMMS system, CMMS platform, CMMS solution, or more simply, maintenance software. They all refer to the same thing.
What is CMMS used for? 
Maintenance teams use CMMS systems to help organize and document all the administrative aspects of their work in one centralized location. These systems offer CMMS features that can automate documentation and scheduling, and make communication between team members a lot easier, usually within a mobile app that allows for easy access on-the-go.
It may sound simple, but a central repository where all maintenance data and information can be accessed from anywhere provides powerful functionality and efficiency to maintenance teams.
A repository of maintenance data
CMMS are made to hold all your maintenance information including: 
In addition, these systems can take all that information and make it available for helpful analysis and reporting too. This allows you to manage all the chaos of maintenance work in one neatly organized, easily accessible location.
Maintenance information that works for you
In addition to storing documentation of your maintenance work, a good CMMS can also automate it. By streamlining administrative tasks like documentation and scheduling, teams have more time to focus on actual maintenance work.
CMMS systems — particularly those with a well-designed mobile CMMS app — also give everyone on your team access to all of your maintenance information directly from their mobile devices. This real-time access makes information sharing and communication easy. This enables standardization and training of new staff who can rely on checklists and historical information to implement best practices.
What are the benefits of CMMS?
There are numerous benefits of a CMMS. You can read about them in our list of 31 reasons to use computerized maintenance management software. Here are some of the most impactful.
Reduction in overall maintenance costs:

By reducing administrative work and enabling more efficient and effective repairs, CMMS systems can result in lower labor costs, lower downtime costs, and more efficient use of resources like parts and tools.

 
Decreased downtime occurrence and length:

By giving you all of the features you need to set up a proactive maintenance plan and execute it day after day, CMMS software reduces the costs and lost revenue that are inevitable with lengthy downtime.

Big productivity gains:

With a CMMS, technicians can do more in less time with the help of functions that accelerate the diagnosis and repair process, improve communication, automate documentation, and guide technicians through checklists.

Better inventory control: U

sing a CMMS software to track spare parts usage over time allows accurate inventory forecasting and better inventory management. 

Deep insight into all aspects of maintenance work:

CMMS software structures your maintenance data in easily accessible reports that can be used to make informed decisions. 
With Limble CMMS, we took things a step further. To maximize our customers' access to maintenance data, we designed an advanced CMMS Business Intelligence tool we call Custom Dashboards. It gives you the ability to break down your maintenance reports in thousands of different ways to find the root cause of just about any problem. 
Limble CMMS was built by maintenance professionals, for maintenance professionals with the goal of making it easy to maximize all these benefits for your team.
CMMS Buyer's Guide
Learn the questions to ask and the features to look for during the CMMS selection process - and find the right CMMS for you.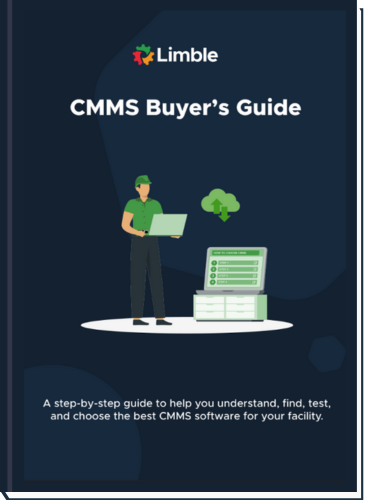 How to find the right CMMS for your organization
As we mentioned, most CMMS systems come with a similar set of functions and features. The way they are designed and applied is what differentiates one from another — and there is no one-size-fits-all approach. 
That means finding the best maintenance software for your business will take some research and testing.
After guiding many customers through the selection process, we have found that a four-step process is most likely to match an organization with the right CMMS.
Step #1: Form your internal CMMS taskforce

Step #2: Identify your company's needs

Step #3: Perform preliminary research

Step #4: Test the finalists
If you want to know more, download our in-depth guide on how to pick the best maintenance software for your organization.
How to calculate a CMMS return on investment (ROI)?
Most maintenance teams run on a tight budget as it is. Investing more money into maintenance software may be a tough sell to management. The solution? Show the potential ROI. 
There are many ways of doing this, but one quick and easy method is to simply ask your CMMS vendor for resources. They will likely have case studies, a CMMS ROI calculator, or other ways to help you make the case that a CMMS is worthwhile. 
Calculating your specific projected ROI has more of a personal touch. On average, Limble customers see a 28% increase in team productivity, a 23% reduction in parts spent, and a 32% reduction in downtime costs. 
If you have enough data to know your own labor costs, parts spent, and downtime cost, you can easily estimate the potential savings a CMMS could give you. Compare that to the cost of your chosen system, and that gives you your estimated CMMS ROI. 
To learn more about the steps involved, and to review examples, we have all the information you need on calculating a CMMS ROI.
How to get the most out of your CMMS software
To get the most out of your CMMS there is really only one main concept you need to follow. The more CMMS features you use and the more consistently you use them, the more likely you will increase your ROI from the CMMS software.
A good CMMS vendor will have a customer success team that can help you make sure you are using the right features for you to their fullest potential. In addition, here are a couple common tips to help you get the most out of the CMMS features you are currently using:
Ensure proper training.

Some CMMS systems are more complex than others and some technicians need more help. Modern CMMS have knowledge bases, video tutorials, or even a customer success manager that will do training.

Correct mistakes early on.

It is crucial to watch how people are using the software for the first couple of months. Watch for those who are skipping steps or cutting corners. Cutting off these bad habits early will ensure the system is used properly.

Measure and improve.

Utilize the CMMS reporting functions so you can see how you are doing month to month. This will help you know where or who can improve.

Utilize the Customer Success team of the CMMS Vendor.

Most modern CMMS will offer this for free. At Limble, every customer has a dedicated Customer Success Manager. Other vendors may charge for this, but even if they do, utilizing someone that knows the ins and outs of the CMMS will help you get the very most out of it.
Industries that benefit from CMMS software
Every business that has equipment to maintain can benefit from using a CMMS. As you can imagine, some organizations depend much more on the functionality of their assets (and the environment they work in) than others.
We can roughly split the most common CMMS users into 4 groups:
CMMS for heavy industries
When we talk about heavy industries, we are referring to mining, construction, manufacturing, energy, aircraft industry, and similar.
These industries spend a lot on maintenance management because if their equipment is broken, no work is being done that day – which is devastating to their bottom line. They feature large and expensive assets, have long asset life cycles, struggle with extremely high downtime costs, and have to satisfy strict safety regulations.
CMMS for facilities management
An integral part of facility management is building maintenance. The goal is to make sure that all building systems work properly and ensure the comfort and safety of all building occupants. That means taking care of the building infrastructure, electrical, plumbing, and lighting systems, HVACs, and other building assets and equipment.
CMMS software is used by a wide variety of different businesses like hotels, casinos, churches, fitness facilities, commercial buildings, museums, aqua parks, and more.
CMMS for fleet management
As its name suggests, fleet maintenance is here to make sure that the vehicles your organization relies on are in top condition. It is used by trucking companies, businesses offering car rental services, government organizations, farming businesses, businesses that offer delivery services, and the like.
What is specific about fleet management is that it places a lot of importance on things like asset tracking and fuel management as those are two things that have a huge impact on vehicle performance and maintenance costs.
CMMS for field maintenance
Field maintenance is responsible for maintaining widespread assets that function independently of each other. It can apply to most of the industries mentioned above to carry out a specific maintenance task in the field. 
Some common examples include:
Managing telecommunication infrastructure like cellphone towers

Maintaining different parts of an electrical grid

Going out to fix HVACs in residential and commercial properties

Performing landscaping as a part of grounds maintenance

Going to people's homes to maintain and repair medical equipment
All of these examples have one thing in common: CMMS supports their maintenance team – their maintenance team supports their assets – their assets support their bottom line.
How to get started with Limble CMMS
We hope this guide provided a helpful explanation of what a CMMS system is, how it works, and ultimately, whether or not it is something your organization could benefit from. If you are interested in testing Limble CMMS, you have three options:
If you have any additional questions about how Limble can solve your maintenance needs, reach out to us via email, our support team is always ready to help.
What does CMMS mean?
CMMS stands for Computerized Maintenance Management System. CMMS software helps businesses manage, automate, and streamline all of their maintenance operations.
What does a CMMS do?
Maintenance teams use CMMS systems to help organize and document all the administrative aspects of their work in one centralized location.
Is Limble Mobile CMMS app user friendly?
Limble is consistently rated Easiest-to-Use CMMS on review sites like G2, Capterra, and Software Advice. And our customers agree. With our mobile CMMS app, teams experience 30%+ better productivity, on average, requiring little to no training or ramp-up time. Our CMMS app can travel with your team, no matter where they go! Visit our App Store or Google Play for more information.
Can I connect to other systems?
Limble provides seamless, pre-built CMMS Integrations with the most widely used software systems. That means no help from a developer or your IT team is required. Learn more about our integrations.
How secure is the Limble CMMS platform?
Related Content
Explore our blog for insightful articles, personal reflections and ideas that inspire action on the topics you care about.