Best CMMS for Facilities in 2021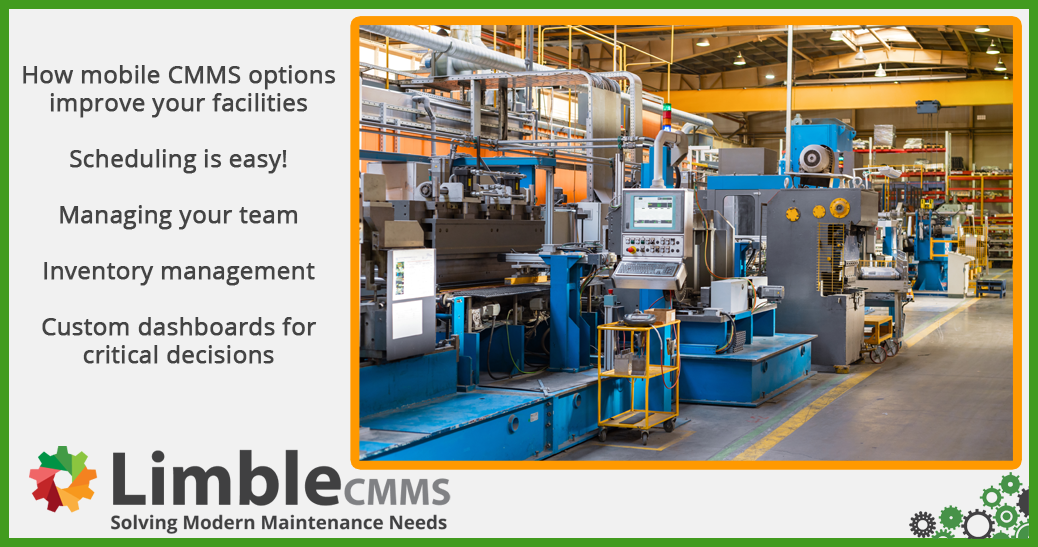 Leverage Limble modern CMMS to streamline facilities maintenance
Why Limble CMMS for Facilities
Limble's software solution was designed to refine facility maintenance processes and maintenance teams' productivity. Its modern features allow facilities managers to automate preventive maintenance, work order management, predictive maintenance, inventory management, and more.
Limble mobile app allows technicians to log maintenance requests or preventive maintenance reports on-the-go through their smartphones, which not only saves time but also increases efficacy.
On average, customers reduce their inventory spend by 17% and increase their team's productivity by up to 30% when using Limble's next-generation solutions.
Features Designed to Simplify Facilities Management
Mobile CMMS System
Limble's mobile facilities management software allows anyone authorized to submit a work order to your maintenance department by simply scanning a QR code (bar code) using their mobile devices. Once submitted, work requests automatically sync across logged computers, smartphones, and tablets – so every team member has access to real-time data.
Limble's mobile app users tend to see an increase in work request efficiency by up to 34% and a reduction of time communicating with requesters by up to 41%.
Effective Preventative Maintenance Program
Limble preventive maintenance module makes it possible to automate PM scheduling. Depending on the assets' nature, you can set the PM work to be daily, weekly, monthly, yearly.
Our easy-to-use calendar allows you to view all open work and upcoming maintenance schedules. To change the due dates, you can easily drag and drop tasks.
You no longer have to waste precious hours manually distributing PM checklists and following up with your team to make sure the work is done.
Custom Dashboards for Personalized Data
With a few clicks, you can create your own custom KPIs which are then automatically tracked and sent to you as a report. The custom dashboard makes it easy to analyze critical data about your maintenance history and understand where your money is being spent and why.
Begin putting data-backed plans into action, and you will see reduced labor costs, decreased equipment downtime, and more.
Inventory Management Made Easy
Limble software sends out instant notifications when a spare part quantity hits the minimum custom set threshold. This inventory control enables maintenance managers to optimize stock levels and to streamline asset tracking. The software's A.I. technology also uses data to forecast how many parts may be used within the next quarter or year.
Track supplies that come in, how they are getting used, look at the usage rates, and leverage A.I. to make predictions.
Lead Building Maintenance Like a Boss
View all of your maintenance activities including WOs, PMs, and work requests. You can even set tasks priority so the right work gets done first.
Organize all work requests, PMs, and other maintenance tasks throughout your team in a centralized database that can be accessed anywhere, from any device.
Observe a calendar of current and upcoming tasks. View work assignments with critical information such as asset information, due date, priority, and more.
Leverage an easy-to-use and searchable tree structure to manage enterprise asset management (EAM)
Hear what
Limble CMMS customers

have to say...




Jan 6th
It takes me about 10 seconds.
"Limble made my job easier pretty much right off the bat. Now I create Work Orders on the fly. It takes me about 10 seconds."
Aug 07
Wow. You guys are amazing...
"Wow. You guys are amazing... your software really one-up's the competition. I've found several with some of the functionality, but much clunkier designs. I reviewed 16 CMMS packages, and yours was an easy choice. Thank you again. Well done."
Jan 1
Limble CMMS is a great product and is very intuitive
"This CMMS checks many boxes for what we were looking for. Flexible. Mobile App for in the field use. Cost-Effective. Reporting. Great Dashboard. Great Support. Cloud Based. Cost-Effective."
Jul 10
Great user friendly product
"Love the fact that the product can be used on my phone, tablet, and laptop. It also has made several updates to make an even better product."
Aug 10
I spent a long time evaluating systems I'm so glad I chose Limble
"Limble is super easy to use. For technicians receiving work orders, it requires almost no training. The app makes it quick and easy to create work orders (with pictures) from your phone. PM's are also very easy to set up. Limble is also the least expensive."
Sept 6
The best value available in CMMS Software
"This software is very easy to use. All CMMS suppliers say that, but I found this one to be exactly that. This software, in my opinion, is the best value out there in the CMMS world. My team of maintenance techs got on board quickly and loves the app. Anytime you can get 8 of 8 maintenance techs to get on board, you have a winner."
Sept 17
Great Product, Even better support!
"I started using Limble after trying out many other off the shelf CMMS software and I quickly fell in love with the ease of use, intuitiveness yet the power this tool provided me and my team. The ability to see automatically generated and customized reports meant that I could choose whether I wanted to see things at a micro level or a macro one, or both of them together."
Nov 8
A must for any maintenance department
"The thing that I loved the most right from the start was the ease of use of the Limble software. The customization options available when setting up PM's are great. I love the flexibility it gives to tailor the PM to exactly what your needs are."
I'm amazed with the functionality & customer service
"Executive summary software produces to give me a snapshot of where each contact center is at in preventative maintenance on critical building assets."
Nov 21
Awesome Product with REAL support!
"Our team reviewed & demoed 6 different CMMS companies and the decision was easy! The functionality was extremely easy, but still provides the analytics needed to track our companies time and money spent on maintenance. Their support is top-notch! I've dealt with numerous software companies in my position and can tell you, you will not find one better!"