Today when it comes to maintaining facilities, machinery, and other equipment, preventive maintenance is the way to go. However, with such diverse upkeep obligations, it's difficult to nail down an ideal PM plan. This is why it's always best to have a list of preventive maintenance best practices to abide by.
In this article, we'll list the ideal preventive maintenance best practices to help you build a maintenance strategy that works.
Preventive Maintenance Best Practices in 2023 [An Overview]
Preventative maintenance consists of maintenance tasks that are regularly done to prevent equipment failure, bring down overall maintenance costs, and basically retain asset health for longer.
Generally, most companies perform four basic forms of maintenance.
These are:
Out of these, preventive maintenance is considered the most cost-effective and beneficial to the lifecycle of critical assets.
It's a form of reliability centered maintenance that saves on resources such as spare parts and tools and reduces the chances of costly repairs.
In short, it's the backbone of a company's asset management plan.
However, regardless of the benefits of preventive maintenance, there's still the issue of which PM practices are actually useful and which are redundant in the digital age.
Checklist for Creating a Preventive Maintenance Plan
Following a consistent Preventive Maintenance Plan can make life easier. Use this checklist to create your own!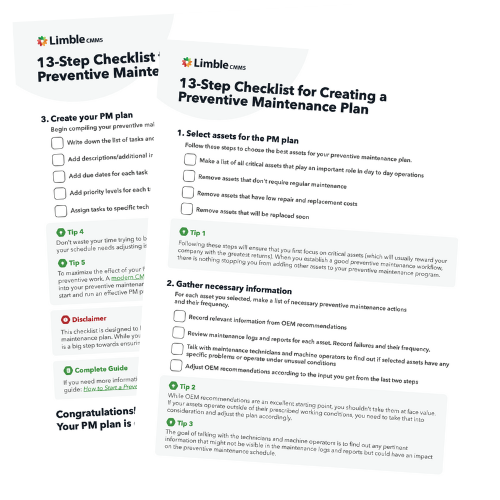 7 Top Preventive Maintenance Best Practices
As mentioned, PM best practices have shifted in terms of importance, with new ones emerging as technology progresses.
They also vary in importance with regard to a company's size and scope.
However, if you're looking for a set of best practices that will prove beneficial no matter the size of your company, look no further.
1) Run a CMMS System
A Computerized Maintenance Management System (CMMS) provides companies with a virtual maintenance framework on which they can base their preventive maintenance plans.
With CMMS software, you can set up timely maintenance tasks, schedule regular inspections, assign work orders, and collaborate seamlessly with all the maintenance team members.
This kind of software usually comes with a lot of customizability. Companies can set up their systems according to the number of employees, types of equipment, number of incoming work orders, among other things.
Here are some of the benefits of running maintenance software at your company:
Create, delegate, and monitor maintenance schedules remotely
Automated maintenance checklists with custom entries and layouts
Real-time performance monitoring and inventory management
Built-in preventative maintenance checklist templates
No need to hire additional personnel for analytics and resource allocation estimates
Short and long-term cost savings
Needless to say, CMMS systems are at the center or maintenance operations in most modern companies worldwide.
2) Continued Training and Development
Ongoing training has proven benefits not just for maintenance managers and related staff, but for all company employees, and even the leadership.
However, maintenance technicians, engineers, mechanics, and assistants can benefit even more from regular bi-monthly or quarterly training sessions.
Furthermore, a few highly-skilled technicians with a growing knowledge base will be better for any company as compared to hiring new staff.
Continuous training of the maintenance staff will result in:
Diversely talented maintenance personnel
More streamlined maintenance work
More efficient PM program implementation as training progresses
Each team member capable of performing a wider range of tasks
A steadily improving bottom line with no additional hires
Overall, maintenance staff training and development creates more valuable team members and steadily improves the bottom line.
3) Install Performance Monitoring Devices
Performance monitoring modules are third-party devices that are installed on running machinery to collect valuable performance data.
Depending on the machinery and the modules themselves, it could provide data in real-time, or in scheduled intervals.
These devices can also be linked to a centralized maintenance management software, allowing managers to see all the relevant data in one place for better management.
Installing these devices on machines has several benefits, including:
Detailed data collection programs for more precise maintenance
Remote monitoring for off-site machinery
Enable data-backed proactive maintenance
Reduce mean time to completion for complicated maintenance tasks
Plugins for existing preventive maintenance software
An IoT-based performance monitoring device can also allow companies to effectively centralize their maintenance activities.
4) Get Expert Engineers to Develop PM Plans
The maintenance managers and crew work with the machinery and equipment on a regular basis and know those assets better than anyone at the company.
Getting them to help create a PM plan will enable companies to customize those plans to their unique maintenance needs.
Additionally, senior engineers will be able to lend their expert insights about the inner workings of machines. This may help technicians create PM procedures with much less required input.
Developing expert-backed PM plans have several benefits, including:
High-level insight going into regular tasks
More cost-effective preventive maintenance programs
Fewer pieces of equipment needed for preventive maintenance tasks
Low-redundancy plans that efficiently allocate PM resources
Greater customizability as compared to PM stock plans
In case companies don't have highly experienced maintenance engineers and managers to develop PM plans, they can bring in external experts for the same purpose. Despite the added immediate cost, it'll be more affordable in the long run.
5) Analyze Long-Term Progress
Companies procure more and better equipment as their operations grow, and it's necessary to keep an eye on both maintenance needs and efficiency alongside the growth.
More equipment means more maintenance requirements and more personnel. In light of this, the ideal PM plan should factor in company growth to actively predict requirements down the line, and develop more streamlined procedures.
Analyzing long-term progress offers several benefits to the PM framework.
These include:
The ideal basis for a predictive maintenance strategy
Fewer extra resources needed for specific jobs
Pre-procurement knowledge of the maintenance needs of several machines
More efficient maintenance procedures with minimal downtime
Quicker maintenance response times (in case of emergency breakdowns)
Developing a preventative maintenance plan based on historic maintenance requirements and delivery will improve a company's chances of eliminating resource wastage completely.
6) Prioritize Tasks Categorically
Maintenance tasks vary in terms of resource consumption and complexity. A progressive approach is to categorize them according to priority and perform them accordingly.
Most PM plans usually approach equipment irrespective of their individual maintenance needs. This leaves out some of the more valuable and complicated machinery that may break down if not maintained regularly.
Prioritizing and performing those tasks first will gradually reduce equipment downtime since only specific machines will have to be stopped for maintenance, at a time.
Here are some of the advantages of categorical maintenance:
Increases the life of high-value machinery
Companies can assign maintenance tasks to staff based on their skill level
Prevents resource allocation to otherwise run-to-failure machinery
Saves time on individual service sessions
Allows for a smoother maintenance framework for newer companies
Overall, assessing potential maintenance opportunities and knowing which ones should be prioritized will enable companies to assign some resources to business growth, even during company-wide maintenance runs.
7) Implement Machine Learning Protocols
The ability to know when equipment needs maintenance (based on previous maintenance intervals) is a major advantage for companies with limited resources.
While senior managers can track these times by looking at historical data, they are prone to human error. Machine learning systems are the only solution for a foolproof maintenance prediction framework.
A drop in overall parts costs for commercial end-users
More predictability for major and minor malfunctions
Resource procurement decisions based on extensive data and predictive insight
More cost savings throughout the maintenance cycle
Reduction of irregular mechanical behavior through accurate preventive alerts
Machine learning basically eliminates guesswork on the part of decision-makers and provides a clear picture of when and how to proceed with maintenance efforts.
The Essential Guide to CMMS
Download this helpful guide to everything a CMMS has to offer.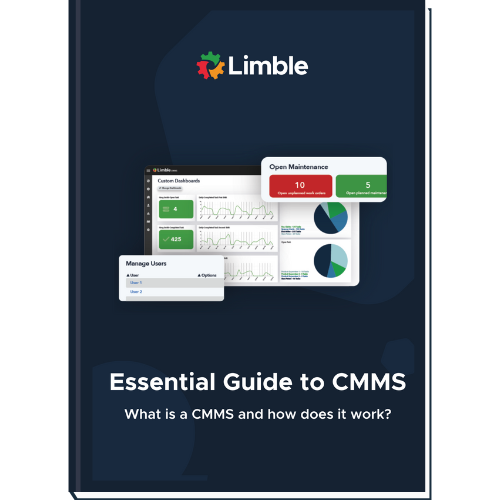 Recognizing Preventive Maintenance Best Practices
There are tons of tried and trusted practices for all types of practical and virtual maintenance.
Any company looking to create a preventive maintenance strategy can find various tips on how to maintain more (cost)effectively.
However, the issue is finding the right practices for the equipment at your specific company.
Here are some pointers on finding the ideal maintenance best practices for your company equipment:
Look at Historical Data: Observe and track all maintenance procedures and intervals and record the data. Use that data to determine which practices will help streamline maintenance during the next run.
Compare Cost Trends: See how much each maintenance session costs the company and decide which cost-saving measures are needed.
Diagnose Digital Transformation Needs: Find out how many processes are currently aided by software, measure the potential benefits of added digital input, and implement CMMS and ML systems accordingly.
Determine Personnel-Specific Requirements: Check to see if the best practices you're aiming for, go well with the number of personnel you have on hand and whether they're qualified to perform what those practices require.
Furthermore, make sure your PM optimization efforts are in line with your company and business goals for the immediate and distant future.
Ending Note
If there's one thing 2023 has taught companies, it is to introduce as much tech as possible into legacy systems and procedures.
Preventive maintenance is no different.
CMMS systems have been found to be the most valuable investment you can make toward more stable and productive maintenance.
In conclusion, it's going to pay dividends to always look toward the digital future, and introduce more tech-forward best practices in any maintenance framework.