Trying to land a job as a facility manager or as a maintenance technician?
The first step is creating a remarkable facility maintenance resume.
It can be challenging to put all information about your background, professional experience, and education on one piece of paper. But there are techniques to help you convey the message to hiring managers in an effective way.
Let's dive in.
Facilities Maintenance Resume Examples that Win Job Interviews
There are multiple ways to structure a resume — some are better than others. If you don't want to miss the opportunity to show the best of your maintenance experience, you should include the following sections:
Personal information
Education background
Profile Statement
Relevant Skills
Professional Experience
Keep in mind that this structure works for any maintenance job application, including maintenance manager, technician, facilities coordinator, and others. Of course, the content within each section varies depending on the job you're applying for.
To help you build your own winning facility maintenance resume, let's cover each of these sections.
The Essential Guide to CMMS
Download this helpful guide to everything a CMMS has to offer.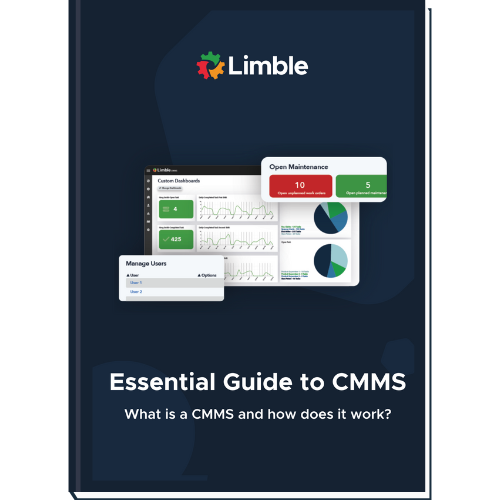 Personal Information
There's no secret in this first part. It must contain your contact information on the top of the page, emphasizing your name but making sure that this section doesn't take too much space on your resume.
Make sure to include:
Full name
Current address
Phone number
Professional email
Example of the Personal Information Section
Education Background
The second section of your resume should briefly highlight your education.
Most leadership roles in maintenance require a bachelor's degree in a chemical, mechanical, industrial engineering, or in a related field. Some smaller facilities don't require a bachelor's degree but require certification in a technical training program.
Positions that don't require project management and people management skills often require at least a high school diploma along with some field experience or a technical certification.
If you had some coursework relevant to the position you are applying for, feel free to list it in this section too.
Recruiters refer to this academic background section to verify what's the foundation of your maintenance career and knowledge.
If you have a college degree, make sure to include the following points:
Educational institution name
Degree or program
Field of study
Years of completion
Wondering about the GPA?
If you are applying for an entry-level position and you have a GPA higher than 3.5, then it is a good idea to include it. If that is not the case, you will shine on the other sections.
Keep in mind that a degree can often be out valued by relevant work experience.
Example of the Educational Background Section
Relevant Skills
In this section, it is key to focus on quality over quantity. Recruiters don't want to go over a long list of your building maintenance skills searching for the right ones for the job.
To catch hiring managers' attention, you must list the most relevant skills for the specific maintenance program you would be working at. The best way to do that is by looking at the job description and finding out what are the skills necessary to succeed in the facilities maintenance manager position that you are applying for.
If you're applying for a position that involves plenty of preventative maintenance responsibilities, for example, be sure to focus on skills that show you can succeed on this specific responsibility.
If you are unsure about where to start, look at the "required skills" section of the job posting (if it has one). That will make it easy for you to understand what particular qualifications recruiters consider vital for the job.
Once you find out what they are, make sure to make them as specific as they can be. For example, instead of adding "technical knowledge", you can add "HVAC building systems knowledge" as a skill.
Tailoring your skills to the job that you are trying to land will help your resume stand out from the other candidate's resume.
Keep in mind that facility management positions require a mix of soft skills and hard skills. These are some skills necessary to thrive in most positions as a maintenance worker:
Soft Skills
Able to work quickly under pressure
Strong problem-solving abilities
Versatility
Ability to deal with decision-making
Proactivity
Leadership acumen
Organizational abilities
Technicians management
Decision-making
Hard Skills
CMMS software
Microsoft Applications
OSHA compliance knowledge
Carpentry
Plumbing and electrical systems (high and low voltage) knowledge
Painting, clean up, demolition knowledge
HVAC systems knowledge
General construction, Electrical (High and Low Voltage),
Alarm systems and sprinkler systems knowledge
Maintenance procedures management
Preventive maintenance scheduling
Work order system
Assets data analysis
Compliance
If you don't have many of the hard skills outlined above — that's nothing to worry about. Many facilities jobs require deep knowledge of one specific type of maintenance work. A candidate who has a very strong knowledge of air conditioning systems but doesn't have general construction and plumbing skills is more likely to get hired for an HVAC Technician position than a candidate who has broad but superficial knowledge.
This means that — one more time — you need to understand what the specific job title you are applying for entails.
Example of the Skills Section
Professional Experience
This is a vital section of your resume. If you manage to impress the recruiters with the previous sections, they will want to look for proof.
And your building management experience is what will give them the assurance that you have what it takes to succeed.
The best way to ace this facility manager resume section is to include concrete results. Saying that you "Implemented a preventive maintenance program" is not the same as saying that you "Implemented a preventive maintenance program that reduced costly corrective maintenance by 45%".
With specific results, hiring managers will get a better sense of your competence and will see that you are a results-driven professional. Not to mention that they would likely want to hear more about what was involved in that initiative, which means landing a job interview.
Just like the other sections of your resume, it's important to add relevant experience. Not every experience will aggregate value to your aspiring job.
So, don't include all the responsibilities that you had in your previous jobs. Instead, add only the maintenance tasks that are meaningful to the job at stake.
Each bullet point should increase the recruiters' confidence that you are the right person for the job.
These are some of the job responsibilities that maintenance recruiters will look for underneath your previous job titles:
Performed building and equipment repairs using hand tools, power tools, and basic electric multimeter skills
Utilized a variety of powered and non-powered equipment (e.g. large trucks and power forklift)
Assisted with troubleshooting various issues with building systems
Identified and recommended the most cost-effective and efficient course of repair in different situations
Developed and implemented a preventive maintenance program that reduced reactive maintenance by X %
Managed a team of X technicians and improved maintenance staff's productivity by X %
Oversaw compliance with regulations
Leveraged Limble CMMS software to streamline operations and reduce downtime by X %
Managed to troubleshoot the HVAC system and get it operational until the equipment technical support team arrived, which avoided
Note that hiring managers' expectations of your previous experience vary according to the position you are applying for.
Example of the Professional Experience Section
Use These Facility Maintenance Resume Samples to Win an Interview
Now that you have a good understanding of how to master each section, you are ready to put together a winning resume.
There are a few resume templates available online but if you want to stand out, you must make your maintenance resume customized to the position you are applying for.
Don't forget to focus on quality over quantity when it comes to information. Recruiters don't spend much time on each resume, so you want to make sure they get what's most important.
Another good practice is to get a few main keywords on the job posting and use them on your resume's skills section and experience section.
Following these structure tips and format strategies will put you ahead in the resume-building game.
Good luck!