Staying on top of asset performance and maintenance is vital for organizations that rely on life-saving medical equipment. Limble's CMMS software was designed to allow our clients in the healthcare industry to automate this type of work, increasing safety and decreasing risks.
Limble modern features allow healthcare organizations to automate preventive maintenance, work order management, predictive maintenance, inventory management, maintenance scheduling, and more.
Our clients experience better organization, communication, accountability, and productivity throughout the entire maintenance team, allowing them to provide better patient care.
Streamline Healthcare Maintenance
Want to see an increase in work request efficiency by up to 34% and a reduction of time communicating with requesters by up to 41%?
With our mobile app, any authorized employee can submit a work order to your maintenance department anytime and anywhere. Using their mobile devices, staff members can scan a QR code (bar code), take pictures of the equipment, and upload to the system. Once submitted, work requests automatically sync across all logged devices – so every team member has access to real-time data.
The Essential Guide to CMMS
Download this helpful guide to everything a CMMS has to offer.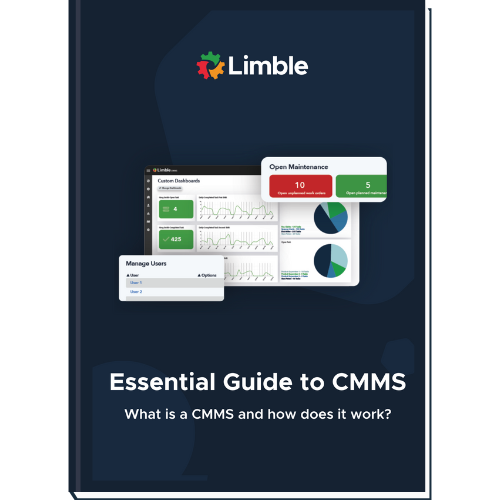 Avoid Costly Reactive Maintenance With a Preventative Maintenance Program
Need to automate PM scheduling and avoid equipment failure?
Limble makes it possible to create an effective preventive maintenance scheduling with minimum effort. Based on auto-generated data, you can create preventive maintenance tasks that are directly organized into a maintenance calendar. Through the easy-to-use calendar, you get to view all open work and upcoming maintenance schedules.
View Personalized Data Through Custom Dashboards

Want to start seeing reduced labor costs and decreased equipment downtime?
If so, you need to rely on a data-backed plan. Using Limble hospital CMMS, you can create your own custom KPIs which are then automatically tracked and sent to you as a report. The custom dashboard makes it easy to analyze critical data about your maintenance history and understand where your money is being spent and why.
Take Control of Your Inventory Management
Want to leverage A.I. to make predictions and have full control over the organization's supplies?
Limble CMMS sends out automatic notifications when a spare part quantity hits the minimum preset quantity. This inventory control enables maintenance managers to optimize stock levels and to streamline asset tracking. The software's machine learning technology also uses data to forecast how many parts are likely to be used in the upcoming year.
Leverage What Hospital Maintenance Software Has to Offer
Use the maintenance calendar to schedule maintenance tasks. View work assignments with critical information such as asset information, due date, priority, and more.
View all of your maintenance activities including WOs, PMs, and work requests through a custom dashboard. You can even set tasks priority so the right work gets done first.
Organize all work requests, PMs, and other maintenance tasks throughout your team in a centralized database that can be accessed anywhere, from any device.
Leverage an easy-to-use and searchable tree structure to manage healthcare asset management.