If you do not have an effective preventive maintenance program at your organization, chances are your company is losing significant amounts of money to downtime, lost production, quality issues, and other forms of waste every year. 
The good news is there is an answer! Developing an effective preventive maintenance program can solve or minimize many of these issues. And it doesn't have to be difficult, especially with the right resources and tools. We'll show you how. 
What is preventive maintenance?
"Preventive maintenance" (also known as "preventative maintenance" and "planned maintenance") is a proactive approach to maintenance management that involves performing maintenance tasks intended to prevent breakdowns, rather than relying on repairs after they occur. 
There are three main types of preventive maintenance; scheduled, usage-based, and predictive. Check out our blog posts to learn more about what preventive maintenance is, the benefits of preventive maintenance, and why you should be using it. 
What is a preventive maintenance program?
A preventive maintenance program is the maintenance department's strategy for leveraging proactive maintenance work to reduce breakdowns and the costs and consequences that come with them. 
A comprehensive maintenance strategy will address everything the maintenance technicians, supervisors, and upper management must consider when creating a preventive maintenance plan including:
The type of approach you want to follow

Goals for an acceptable balance between proactive and reactive maintenance work

The source of maintenance requirements and checklists for different assets

How maintenance work will be logged and tracked
Checklist for Creating a Preventive Maintenance Plan
Following a consistent Preventive Maintenance Plan can make life easier. Use this checklist to create your own!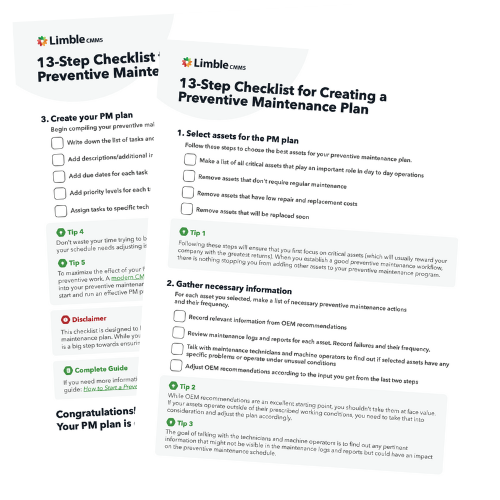 Main components of effective maintenance programs and plans
No two preventive maintenance programs are the same. However, they all share certain foundational elements, without which, it would be impossible to create and execute a proper strategy.
Clear strategic goals and objectives
First, it is important to clearly define and understand what you hope to achieve with preventive maintenance in the first place. This will help inform your strategy and guide you as you develop your program.
The goal will be different based on your organization's mission, needs, challenges, and status. Some examples include:
Save the company money by extending the life of certain assets or parts

Avoid and reduce labor costs for reactive maintenance

Improve the quality of production output 

Reduce the cost of acquiring spare parts
No doubt, your strategy will focus on having a positive impact on the company's bottom line in some way. But not all organizations are coming at that goal from the same place. 
You can further narrow down what you hope to accomplish with your PM program by assigning numeric goals, such as the exact number of hours you want to cut your downtime by, the exact amount you hope to save in maintenance costs, etc.
Defined triggers for maintenance work
Every PM program requires some defined events that trigger maintenance work. Triggers are predetermined events such as time passed, oil level reached, hours operated, or cycles run. Once the event occurs, it is time to review the equipment or perform predetermined preventive maintenance. 
Triggers are important because they take the guesswork out of your preventive maintenance scheduling by automating known, repetitive maintenance. Triggers will fall into one of three categories: 
Time-based (changing the batteries in your fire detectors every 6 months)

Usage-based (changing the oil in your vehicle every 3,000 miles)

Predictive

or

condition-based

(adding air to your tires when the monitoring system detects a lower than optimal pressure level)
Many organizations work toward the predictive maintenance approach. However, if you're just starting out and don't have any historical data to work with, time- or usage-based preventive maintenance is the best place to start.
Capable maintenance staff
To ensure your preventive maintenance program materializes and meets certain standards, you need capable team members at every level.
This entails hiring practices that attract qualified individuals, training programs that ensure the right skills and competencies, and regular feedback and performance reviews that ensure accountability.
Standard operating procedures
When it comes to preventive maintenance, there is no "winging it." To prevent assets from frequently breaking down, you need to establish efficient standard operating procedures based on what you know works. SOPs also aid in prioritizing work.
Manufacturer manuals (if available), and the experience and expertise of staff are good resources for the development of SOPs.  
A computerized maintenance management system
Finally, for true efficiency, a preventive maintenance program should be supported by the right technology. CMMS software (or Computerized Maintenance Management System software) facilitates and tracks all preventive maintenance work with ease. 
A CMMS can provide valuable direction and feedback on productivity to your team, and allow you to monitor performance and report on efficiency easily, leaving you with enough time to focus your administrative and managerial resources elsewhere.
The Essential Guide to CMMS
Download this helpful guide to everything a CMMS has to offer.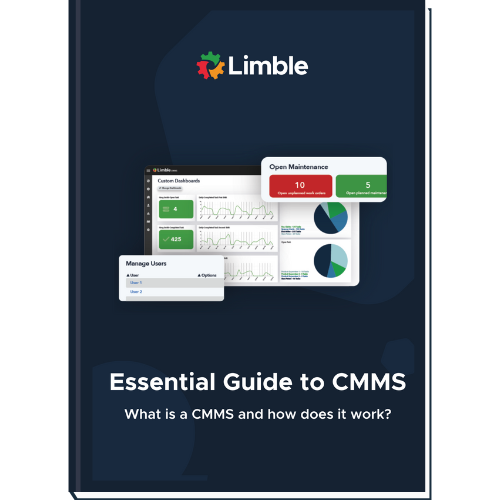 Final thoughts
Now that you understand what a preventive maintenance program is and the foundations required to make it a success, you can get started. 
Creating your preventive maintenance program and supporting it with a world-class software like Limble will set you on a path toward improved uptime, greater efficiency, and extended asset lifecycles. See for yourself what Limble can do for you, schedule a quick product demo or start a free trial.