Even though it may not seem so important when all your equipment is in proper working order, keeping up with regular maintenance is a mission-critical process.
If you barely notice the benefits of preventative maintenance, you're either doing it right, or you've been lucky enough to avoid a catastrophic equipment failure that makes the need for a preventive maintenance program blatantly (and painfully) obvious.
A comprehensive CMMS software like Limble is a major part of the equation, but the effectiveness of your maintenance program is amplified when you pair the right software with the right CMMS labels for your applications and incorporate best practices into your maintenance management program.
If you aren't familiar with what a CMMS is, you may want to first check out our What is a CMMS System and How Does it work guide.
Reduce errors with less manual documentation
Manual documentation can be thorough, but it can also contain many mistakes due to human error. When your maintenance technicians are hurriedly documenting parts used, parts ordered, and work performed, errors in documentation can skew your records. Skewed records, in turn, lead to inaccurate inventory counts and missed maintenance opportunities that could have prevented future equipment downtime due to an unexpected breakdown.
CMMS asset tags, when used in conjunction with Limble CMMS, can streamline documentation and enhance the accuracy of your preventative maintenance records. Maintenance technicians can simply scan an asset tag to immediately navigate to the correct record and have access to the asset's complete maintenance history, necessary replacement parts, and other essential information.
That translates to increased productivity and lower maintenance costs. Additionally, thanks to modern technology, ordinary smartphones and tablets can be used for barcode scanning, meaning there's no need to purchase additional hardware.
The Essential Guide to CMMS
The Essential Guide to CMMS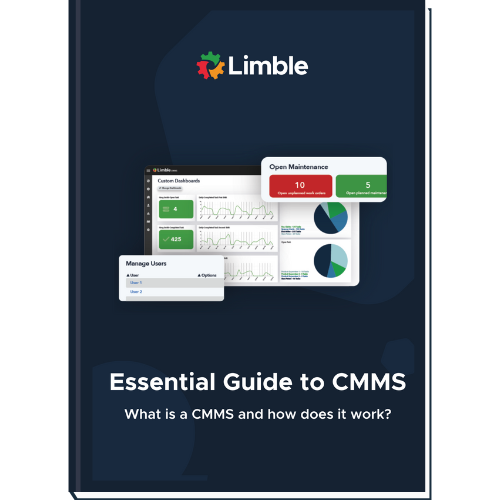 Centralized asset management
In a maintenance program, centralized asset management results in substantial time savings and reduced man-hours. From work orders and maintenance schedules to maintenance reports and other critical information, maintenance technicians can easily locate all data about the asset they're working on.

But that is just the tip of the iceberg. This also allows them to quickly generate reports, and even evaluate logs and key performance indicators that can aid in various diagnostic tasks.
With de-centralized asset management, maintenance technicians and other team members end up navigating across several disparate systems to retrieve records such as product manuals, parts numbers, vendor information, and so forth, only to have to utilize yet another system to initiate a parts request or submit a report documenting the work completed.
When you leverage CMMS labels with centralized asset management, all records pertaining to specific assets are located in one place and readily accessible – and there's no risk of technicians inadvertently entering incorrect parts numbers or viewing the wrong logs or reports when performing maintenance or repairs.
Choosing the right barcode labels for your CMMS
When it comes to barcode labels, there are many options, but choosing the proper label for your application is crucial for the success of your maintenance program. Why? High-value assets tend to have a long lifespan, but they're often used in harsh environments.
Maintenance Inventory Tracking Template
Begin tracking your maintenance and parts inventory with this free and easy-to-use template.
Pole tags, for instance, must be able to withstand constant exposure to the elements, such as UV rays, wind, and rain. The wrong asset tag – one that lacks the durability to withstand these conditions – may be rendered unreadable due to ongoing wear and tear. That means lost time and increased cost, as technicians must now track down the correct information manually and consequently replace the asset tag.
Ideally, you should choose preventive maintenance labels that can last for the expected lifetime of your asset to avoid costly replacements.
Other assets, and thus the barcode labels that identify them, are subject to regular cleaning with harsh cleaners, exposure to chemicals, and other hazards that quickly wear down ordinary barcode labels. Labels that last, such as rigid Metalphoto® Labels, resist fading, chemicals, abrasion, and solvents and can withstand outdoor exposure to the harshest environments including:
extreme heat
extreme cold
UV
and more
with an expected exterior lifespan of more than 20 years.
Attachment methods are also something you should take into consideration.
Weak adhesives can break down in harsh conditions, so asset tags may detach and become lost. High-performance adhesives ensure a permanent bond, even to:
high surface energy metals and plastics
textured and contoured surfaces

For a secure temporary or permanent attachment, you might want to go a step further and employ mechanical attachments.
When considering CMMS labels, you need to take into account the operating conditions and the expected lifespan of each asset. Investing in the right durable labels with the right attachment methods suitable for your applications means you'll only need to replace your asset labels when you replace your assets.
Conclusion
Modern CMMS solutions like Limble provide a powerful solution for preventative maintenance and asset management. When paired with Camcode's durable CMMS labels, you'll not only streamline your maintenance program but also amplify results, extend the useful lifespan of your assets, and lower your overall equipment life cycle costs.
Your maintenance and asset management programs should contribute to your bottom line and the right tools for the job will generate a return on your investment in no time.