What is planned maintenance percentage (PMP)?
Keeping track of the planned maintenance percentage metric is a simple yet effective method for measuring the performance of maintenance processes. It gives you a side-by-side comparison of the volume of scheduled maintenance and unplanned maintenance tasks you are performing. 
Let's be more specific.
A high PMP means that your maintenance program is working efficiently. The majority of tasks are planned and breakdowns are rare, meaning downtime is low.
A low PMP indicates your efforts are being spent on emergencies. This means your operation is experiencing a lot of unplanned equipment downtime, which is a major drain on factories. 
As a matter of fact, an ISA study shows that every factory loses between 5% and 20% of their bottom line gains to a loss of productivity at the hands of unexpected downtime.
You do not want to find yourself in that position. Let's see how to calculate planned maintenance percentage so you can track it and react on time. 
Checklist for Creating a Preventive Maintenance Plan
Following a consistent Preventive Maintenance Plan can make life easier. Use this checklist to create your own!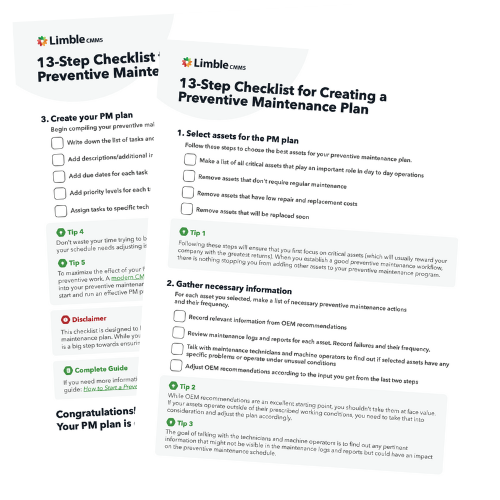 How to calculate PMP?
To calculate the planned maintenance percentage, take the number of planned maintenance hours and divide it by total maintenance hours. Then, multiply by 100 to get a percentage. 
(For the sake of definition, planned maintenance refers to any task that is scheduled or planned ahead).
For example, if your crew has 60 combined hours of planned maintenance in one week, and a total of 100 combined hours of maintenance, then the PMP is 60/100, equating to 60%.
Modern CMMS software like Limble will help you get the numbers you need to quickly calculate PMP as it automatically tracks the volume of planned and unplanned maintenance work you scheduled and performed (the technicians are asked to enter time spent when closing a task in the app so you get accurate hours). 
For instance, when completing a work order, Limble automatically tracks the time, as well as whether the task was planned or unplanned. This way, at any time, users can easily pull reports on planned and unplanned maintenance hours and then simply apply the formula we have shown above.
An example of Limble CMMS custom dashboard that shows a report on planned vs unplanned maintenance tasks over a selected period of time.
While planned maintenance percentage doesn't tell you where your problems are, it does provide a quick and easy way to see if your maintenance department is trending in the right direction.
What comes after measuring planned maintenance percentage?
Remember, planned maintenance percentage shows your baseline. Think of it as a diagnostic tool that helps you zero in on deeper issues in your asset management.
An industry goal is to shoot for a PMP of 80%, meaning only 20% of hours are spent on unplanned failures. Best-in-class operations can boast a PMP of 85% to 90%. 
In reality, many see their PMP numbers much lower. The biggest offenders are organizations that still function on the basis of reactive maintenance. 
However, no one should let these lofty goals discourage them. You can use PMP to turn things around. 
Break down PMP by location or asset: this will give you a good indication of where your problems hide. Start fixing those and your planned maintenance percentage is bound to shoot up.
The Essential Guide to CMMS
Download this helpful guide to everything a CMMS has to offer.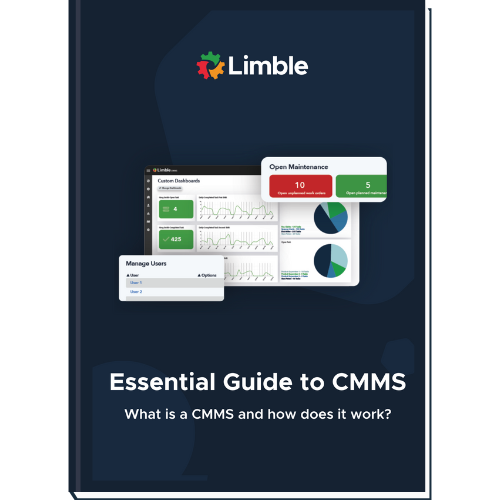 How to improve PMP?
A low PMP typically indicates some deeper problem with a machine. When you start to examine the underlying reasons for equipment failure, you can work on methods to streamline your planned maintenance tasks, and improve your PMP.
The main way to increase PMP is to make a detailed schedule and then stick to it. Of course, this is not often as simple as it sounds. Schedule compliance is often a thorny and complex subject, not something fixed by simply saying "stick to the schedule".
So instead of only delving into schedule compliance, here are more specific methods that should help you boost your PMP.
1. Make plans for assets
Go through each asset and make an individualized plan for it. Look through the history of the asset, how often it has required maintenance attention, and the accumulated maintenance costs.
This asset review should include an examination of failure modes for the machine. With this information, you can formulate a strategy to mitigate and/or correct the issue, should it arise.
If that wasn't already obvious, we suggest moving a problematic piece of equipment to a more rigorous preventive maintenance plan. It is the single most effective way to improve planned maintenance percentage.
2. Match skill sets with job requirements
One way to maximize the effectiveness of your maintenance staff (and therefore increase PMP) is to match the maintenance activities and tasks with the skills of your workforce – in other words, data-driven allocation. 
For example, you will not want to put a junior technician on the most complex repair job, or an electrician on a plumbing emergency.
It sounds simple, but can be difficult to achieve without proper planning and organization.
3. Employ a CMMS
To have a good understanding of PMP, it is important to document your maintenance hours meticulously and thoroughly. A computerized maintenance management system (CMMS) makes this process much easier.
A CMMS will help you set the schedule, balance the total number of hours among staff, and facilitate efficient completion of work orders with set instructions and machine history. In other words, with CMMS, facility management becomes much easier, along with planning and executing a preventive maintenance strategy.
4. Improve documentation
Proper documentation is another key to improving PMP. Ensure sound workflows are established and easily accessible for all technicians. Track asset maintenance history, so that your maintenance teams can quickly identify recurring issues and remedies.
This includes procedures for triage on emergency breakdowns. By having clear decision paths and processes in place, you can reduce your total unplanned maintenance hours.
5. Train your staff
Because PMP will uncover deeper issues in your operation, it may show that your maintenance technicians are lacking in certain skill sets. This is where a solid maintenance training program can help.
Boosting your staff's expertise is a good way to increase the speed at which they complete tasks, which should result in a PMP improvement.
Take the necessary steps
Tracking PMP will start you on the path of maintenance program improvement. It will illuminate problem areas and find inefficiencies to address. By regularly measuring PMP and examining the data, you will take the steps toward operational excellence and boost your uptime. 
If you would like to find out how Limble can help you become more proactive, feel free to send an email, start a free trial, or schedule a product demo with one of our CMMS specialists. 
Related Content
Explore our blog for insightful articles, personal reflections and ideas that inspire action on the topics you care about.