A company's greatest asset is its workforce. To succeed, businesses need the right mix of talent, skill, and experience across the whole spectrum – from top leadership down to technicians and operators on the plant floor. 
That is easier said than done. Maintenance departments are struggling to find skilled workers to keep facilities running safely and efficiently. And with industrial technology evolving at breakneck speeds, existing workers need constant maintenance training and retraining. 
The looming skill gap is a major headache for all industrial firms. In the US alone, Deloitte is forecasting a shortage of 2.1 million skilled workers by 2030 in the manufacturing sector. Firms can no longer rely on the job market to provide new workers with all the requisite skills. 
One of the potential solutions comes in the form of well-calibrated maintenance training programs to upskill existing workers and quickly onboard new hires. Let's see what such training courses look like in practice.  
Benefits of maintenance training 
Effective maintenance is your first line of defense against equipment downtime, productivity issues, safety incidents, and other disruptive events. A skilled and experienced maintenance workforce can make a world of difference to an enterprise, ensuring that daily operations remain unaffected by technical issues. 
Training maintenance workers properly leads to:
Reduced planned and unplanned downtime

:

maintenance and repair work

is done faster and better, leading to a quick restart of production. Trained technicians are also better at keeping machines well-maintained, helping

avoid equipment failure

in the first place. 

Fewer accidents and safety issues/fines:

in plants where heavy machinery, hazardous substances, and potentially dangerous processes are involved, effective maintenance has a direct bearing on the safety and wellbeing of your workers. Lack of trained maintenance crews raises the risk of accidents and regulatory action/fines for

non-compliance with OSHA safety standards.

 

Gives managers more flexibility:

when you invest in proper maintenance training programs, you create a workforce that is more capable of working in various roles, in essence reducing the skills gap. Managers who have many versatile technicians and operators at their disposal have more flexibility when setting production and maintenance schedules.

 
Improves employee morale and focus: humans thrive at work when they feel confident and capable. Training also improves their career prospects by giving them additional competencies and sending a message that what they do matters. These factors improve employee morale and commitment to the job.
An effective maintenance technician has a combination of experience, technical knowledge, and excellent problem-solving skills. To build up the latter two, you need an effective maintenance training program.
The hallmarks of a great maintenance training program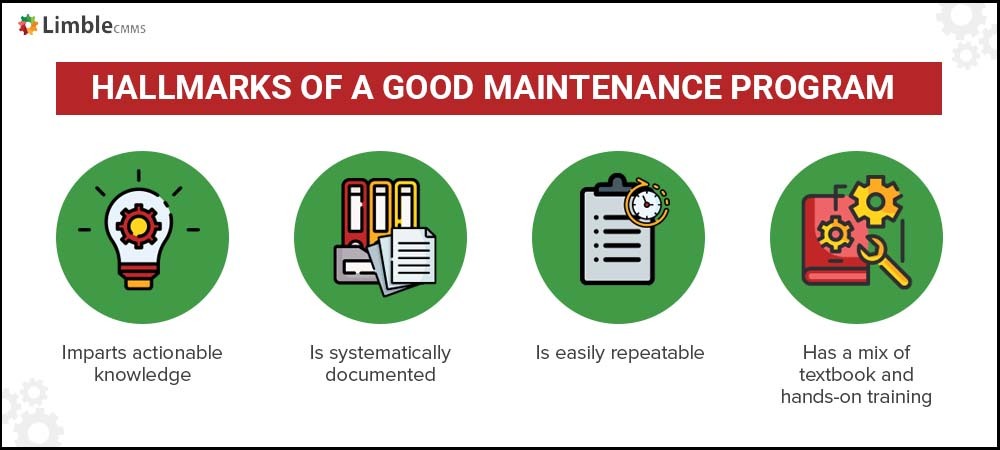 There is no strict definition for what a "good" maintenance training program should be like. There are a lot of variables that can change, depending on the type of business, its size, industrial processes, type of equipment involved, and so on. 
However, there are a few constants you should try to replicate across all "effective" maintenance training programs. From that perspective, a good maintenance training program is one that:
Imparts actionable and technical skills to workers:

or in other words – skills training.

The course/curriculum should cover the whole gamut of technical textbook knowledge and hands-on experience training. It should equip workers to react faster to

equipment failures

and other issues during routine work.

Is systematically documented and easily repeatable:

firms tend to hand over training duties to veteran technicians with decades of experience in the field. If the things they teach are not fully documented, the quality of the training program may deteriorate once these individuals leave the firm. Systematic documentation is critical here – it will ensure that the program is not reliant on any single individual and can be easily repeated across multiple iterations.

Is not designed as a one-off event:

a maintenance training program is not a one-day event. It is an ongoing process, lasting weeks or even months, depending on the complexity of the topics involved. For best results, firms should look at repeating these sessions at set intervals – like once a year – to train new workers and provide ongoing training to existing staff.

Is conducted by a mix of experts:

as mentioned, firms can rely on technicians with deep knowledge and experience to act as mentors. For maximum effectiveness, a training program should combine that with courses at technical schools and special sessions carried out by certified experts (outside consultants). 
Now that we have established the main characteristics of an effective training program, it is time to look at the actual content – what workers and maintenance technicians can expect to learn from a standard maintenance training program.
The Essential Guide to CMMS
The Essential Guide to CMMS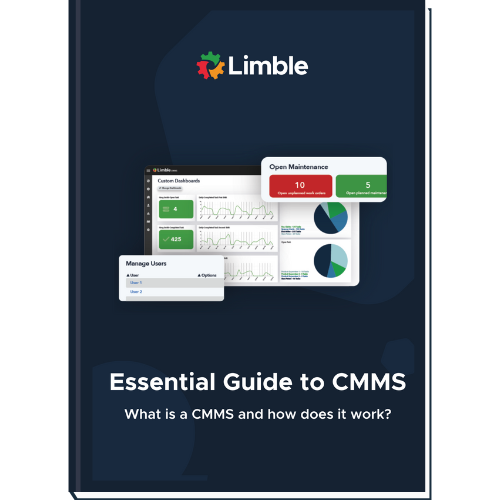 The basic elements of an industrial maintenance training program
Safety and maintenance requirements vary drastically across industries and facilities. Broadly speaking, maintenance technicians and other workers attending a training program will be taught the basics of the following: 
safety procedures

shutdown/startup procedures

qualification for their specific technical roles
Industrial maintenance training is a vast arena, involving a wide array of specializations. Some of the fundamentals include industrial safety, reading blueprints & schematics, troubleshooting, handling tools/equipment, etc.
More specialized courses can cover many topics related to electrical systems, HVAC systems, building and facility maintenance, warehouse processes, industrial rigging, welding, waste treatment, plumbing, electronics, mechanical and hydraulics, mechanical drives, motor controls, and so on.
Different forms of maintenance training
The most popular approach to maintenance training is something called the "introduction – practice – verification" approach. It combines classroom/theoretical/book knowledge with practical training and a meticulous assessment system. It is a tried and tested training paradigm that relies on multiple sources of specialized maintenance knowledge. 
An effective maintenance training program will utilize a judicious mix of the following forms of maintenance training:
1. On-the-job (OJT) training 
Time is a luxury, especially in maintenance. Few firms can afford to give maintenance technicians time away from the job for training. When the bulk of training takes place on the plant floor, it helps reduce the burden on managers. It is also more effective in skill development when compared to purely class or text-based training. 
For maintenance workers, OJT training is irreplaceable and should be the main focus of most training courses. Hands-on learning is especially useful for learning about tasks such as mechanical maintenance. 
2. Schools and colleges
There are many courses on basic industrial maintenance at various technical schools and colleges. Firms can form strategic partnerships with such institutions to provide a classroom-based training format for maintenance mechanics and technicians. However, due care must be taken to ensure that the subjects taught are relevant to the rigors and needs of the firm's workplace. 
3. Workshops
Firms can organize special in-house workshops, conducted by certified trainers that focus on specific aspects of industrial maintenance. Sometimes, these modules are conducted by outside contractors or consultants. 
Occasionally, firms can also rely on the vendors of specialized equipment (OEMs) to provide free safety and maintenance training/retraining to technicians and machine operators; this is especially useful for safety training, and learning about mechanical systems and new instrumentation.
4. Online maintenance training programs and courses
The internet can be a rich source of technical information. A training program can involve a reasonable amount of self-study, involving online videos and documentation from reliable maintenance training sites. This format should largely play a supportive role, as most individuals are not good at self-learning. 
Numerous platforms and entities are providing a wide range of industrial maintenance courses using virtual learning and other innovative formats. Here are some examples of online training resources for industrial businesses:
360 Training:

an Austin, Texas-based online training and certification body active since 1997. Courses include OSHA/HAZWOPER compliance and safety, Food & Beverage, Real Estate, Power & Utilities, Industrial Skills, and more. 

TPC Training:

provides both online and in-person industrial maintenance training, with main offices in Denver and Chicago. Covers a wide range of industries like Manufacturing, Chemical, Oil & Gas, Food & Beverage, and Consumer Goods on OSHA/HAZWOPER and Food Safety.

Vector Solutions: based in Tampa, Florida, Vector Solutions provides online industrial maintenance training in over 400 courses. Covers a wide range of industries like Manufacturing, IT, Facility Management, Power, Chemical Engineering, with advanced virtual reality classes and RMS certification.
5. AR and VR maintenance training
Virtual reality (VR) and augmented reality (AR) technologies are game-changers. Dassault aviation maintenance trainers already use software-rendered 3D versions of machines and parts to deliver highly immersive practical lessons without disrupting production on the plant floor. Learning about the maintenance of delicate machinery, such as pneumatic parts, is best done like this – without the need to dismantle machines.
Similarly, companies like Cyient have developed AR applications that include helpful instructions on how to complete specific maintenance tasks. You can see an example in the video below:
This is a safe and engaging way to conduct maintenance training but usually comes with a high price tag.
6. Virtual training 
In these days of Zoom calls and remote learning, some elements of maintenance training can also be conducted in a virtual classroom. Experts can deliver live training sessions via video conferencing without visiting the facility, improving education accessibility during these very uncertain times. Online courses have become a staple in the last two years, and maintenance training courses should not be an exception.
The basic steps for setting up a maintenance training program 
In many organizations, the initial push for a training course comes from the maintenance management specialists in a company. But it can also come as a reaction to systemic problems revealed by accidents, or a company-wide troubleshooting exercise. 
Regardless, the basic process of creating a maintenance training program remains largely the same:
1. Make the case for the program 
A training program is a significant project that will take up company resources. For it to succeed, everyone from top leadership down to plant and maintenance managers must be on board and in agreement. 
To make this happen, you first need to understand the current maintenance capabilities of the maintenance technicians. 
To estimate the training needs, do a thorough assessment of employee skill levels to find the baseline – look for weaknesses and areas that could use some improvement. A combination of time studies and general workplace safety audits will provide further insights into critical gaps that can be filled with specific maintenance training modules and programs. 
The results of these assessments can be a decent argument for top management to approve the exercise. Maintenance managers can highlight the myriad ways in which it will help improve the business with increased uptimes, fewer malfunctions, overtime reductions, and most importantly – with lowering maintenance operating costs.
2. Create a systematic syllabus
Once you have the go-ahead from top management, it is time to develop an appropriate syllabus for the training program. The contents will be heavily influenced by the insights gained from the internal assessment performed in the previous step. 
There are many potential sources of maintenance training syllabi out there:
OSHA and HAZWOPER regulations

vendor recommended specs

respected industry association standards

specialized courses established by universities
This is also the stage where you have to decide on the format of the training. It is best to create a balanced approach involving a mix of on-the-job, classroom, and workshop training formats. Keep everything fully documented and standardized for repeatability.
3. Plan and conduct the training
Identify and select the technicians/workers who will undergo maintenance training. Often, you may not be able to release your entire maintenance staff for training. Splitting them into batches is the simplest approach that will ensure plant operations do not stop. Give priority to individuals or positions that will benefit most from said training. 
The best training programs have an emphasis on continuous learning. In some cases, this may mean learning on the job across weeks or months. In others, it involves frequent workshops and training sessions throughout the year. 
4. Try to gauge the efficacy of maintenance training 
Calculating exact ROI from investments into maintenance training is damn near impossible. Every maintenance KPI and metric is influenced by a wide variety of factors. It might be hard to know what caused the reduction in the number of unexpected breakdowns. Better replacement parts? Better working conditions? The result of training efforts? Just a case of dumb luck?
That being said, maintenance training should have a strong impact on metrics like MTTR and the number of breakdowns and safety incidents caused by human error.  
The choice of metrics will vary from organization to organization. Often, low performance in specific areas is a key reason for the creation of maintenance training programs.
Compare the results with the baseline (from pre-training periods) and you can find if there are any measurable performance improvements. With longer training programs this will be an ongoing process.
The results can be used to find the strengths and weaknesses of the program. Since CMMS helps you define and track various metrics, you can use it to generate maintenance reports and get improved visibility on how training impacts employee and organizational performance. 
These insights should be used to tweak the composition of future training iterations.

5. Have plans in place for the post-training stage
An effective training program takes into account the human element – the interests and aspirations of the workers who undergo these sessions. Create some sort of incentive/rewards system for employees who participate in these programs.
It could be a certification that improves their career prospects, a promotion to a new role, improved pay, or any other appropriate reward. These can drastically improve the effectiveness of a maintenance training program by giving the participants extra incentive to put more effort into the training.
How Limble CMMS facilitates maintenance training
Computerized maintenance management solutions are great at helping you manage maintenance resources – assets, tools, labor, and MRO inventory.
More robust yet flexible solutions like Limble CMMS can also be used to streamline parts of the maintenance training process. Here's how.
In the planning phase
Coordinating maintenance training workshops without disrupting existing maintenance schedules can be a challenge.
Limble CMMS offers an in-depth look into work-in-progress, as well as upcoming maintenance schedules. With our drag-n-drop maintenance calendar, you can easily reschedule, reprioritize, and reassign tasks to make room for training exercises and free-up technicians that are supposed to participate.
Overview of work-in-progress inside Limble CMMS when filtered "By User" 
Additionally, on-the-job training can't be conducted without access to the right tools and materials. How are you going to demonstrate a new welding technique – and have people practice it – without welding equipment? 
Use CMMS to overview, plan for, and allocate the necessary resources without affecting normal maintenance operations. 
This is not easy to execute with limited resources, but it is that much harder without a CMMS.
In the execution phase
During maintenance training itself, managers and planners can use the software to coordinate day-to-day maintenance activities and any unexpected work that comes in.
Depending on your asset tracking capabilities, CMMS can help you keep an eye on tools and other inventory used during the training process. 
Furthermore, as a centralized repository of maintenance data, CMMS can offer quick access to equipment manuals, maintenance checklists, diagrams, schematics, and similar documentation that might be needed for theoretical discussions.
In the post-training phase
One of the main goals of maintenance training is to enable everyone to follow best practices while executing maintenance work. Many of those practices should be documented in the form of standard operating procedures (SOPs). Maintenance managers can use Limble CMMS to create and store SOPs and checklists for use in the field. 
Last but not least, you can use Limble to estimate the efficacy of your maintenance training program. Our custom report builder helps you define metrics you want to track – and then use those custom metrics to generate actionable reports (example below).
Custom report builder inside Limble CMMS
If you are interested in testing Limble CMMS, you have three options:
Investing in your future 
Many firms opt not to have any in-house maintenance training program to avoid stretching their internal resources. That is perfectly understandable, but it is missing the big picture.
From a long-term perspective, taking into account the workforce challenges facing industries as a whole, the benefits of maintenance training easily outweigh the input costs.