Interested in putting together an effective preventive maintenance schedule?
Smart decision.
Relying on a proactive approach to maintenance will help you avoid the high costs of reactive maintenance. In the long-term, it can help you to save tens to hundreds of thousands of dollars every year.
Starting a preventative maintenance program is not difficult if you have the right resources at hand. Let's start with some valuable information — I will show you how to set up your initial preventive maintenance program in just a few simple steps.
— If you are actually looking for a complete transition guide, check out our step-by-step guide: How To Switch From Reactive Maintenance To Preventive Maintenance. It teaches you how to plan the whole transition, implement a preventive maintenance strategy, set up best practices, train your team, and how CMMS enables and supports this transition. —
But to start going through the details of preventive maintenance implementation, let's make sure we're on the same page about the concept of preventative maintenance schedule and its importance.
What is a Preventive Maintenance Schedule?
Preventive maintenance schedule (also called preventative maintenance schedule) is a set of planned maintenance tasks that happens regularly on critical assets to avoid equipment failure.
Different from reactive maintenance, which occurs when equipment has already broken down, PM takes a proactive approach to asset maintenance to keep assets in optimal working order.
An effective preventive maintenance plan helps companies to avoid downtime, to save money, and to keep the workplace safe.
— A recent study by Jones Lang LaSalle highlights how a telecommunications company saw a 545% return on investment (ROI) when implementing a preventive maintenance plan.—
With that, let's go over a step-by-step guide on how to create a preventive maintenance schedule.
Guide to Moving from Reactive to Preventive Maintenance
Want to transition away from costly reactive maintenance but don't know where to start? This guide has everything you need to know.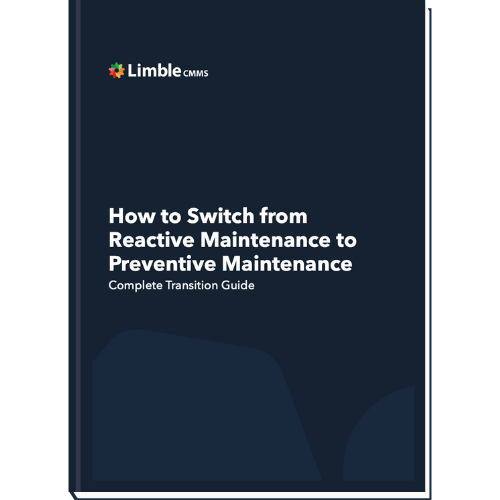 How to Create a Preventive Maintenance Schedule
Setting up a customized preventive maintenance schedule might be one of the best long-term investments you can make in your supply chain department. Besides all the money saved on corrective maintenance, your maintenance team will have to face fewer moments of crisis.
The steps to create a PM program are outlined below.
1: Prioritize Assets by Maintenance Needs
I recommend that you make a list of your company's most critical equipment, and start the PM schedule with them – especially if this is the first time that you are putting together a proactive maintenance planning.
This will allow you and your team to start slow as you transition into a proactive workflow and mindset. On top of that, if you need to pitch the idea to higher-ups within your team, you will be able to prove value faster by starting with just a few assets
Generally speaking, machines that will benefit most from a preventive maintenance schedule are those that:
1. Are vital to the operations function and organization success
2. Have failure modes that can be prevented with routine maintenance
3. Have high repair and replacement costs
4. Are more likely to fail as time goes by
This means that by choosing pieces of equipment that would require many resources – both time and money – if they unexpectedly fail, you will provide your company with the greatest returns in the long-term. Keep in mind that as you invest in preventative maintenance, you are avoiding reactive maintenance costs, which tend to be much higher than a predictive maintenance routine.
Another thing to keep in mind when choosing the assets is that your return will be higher if you go for newer machines. Choosing a piece of equipment reaching the end of its lifecycle won't avoid the need for replacement.
2: Collect Historical Data About Each Asset
After you have a rough idea of which equipment you want to include on your preventative maintenance plan, it's time to gather data about all the work orders and unplanned downtime that each asset went through in the past few years.
Verify what types of problems each asset presented and how often.
This will give you some perspective on how much you should be spending on preventive maintenance work. You must also take into consideration the asset's age and depreciation rate.
If you don't currently use a CMMS, you will likely have this historical data recorded on an Excel CSV file or other type of maintenance log.
In case you don't have substantial data about the assets maintenance history, the next step can help you gather the necessary information to make put together the preventive maintenance plan.
3: Make Projections About Assets Maintenance Needs
Every asset differs greatly in terms of operation lifetime and maintenance needs – for this reason, you must gather information about each equipment's particularity before putting together their maintenance checklist.
The main source of information is the asset's Original Equipment Manufacturer (OEM) recommendations. This is a manual provided by the manufacturer that contains schedules for necessary maintenance, the usage of critical spare parts, and basic maintenance work instructions.
Equipment manufacturers have an enormous amount of statistical data from in-house testing and field tests done by customers, so that's how they outline the OEM.
Another excellent source of valuable information is your maintenance team. As a maintenance manager, some insights you can only get by talking to maintenance technicians, machine operators, and other professionals that are directly operating the machines.
While talking to them, you might find out that you have to schedule regular maintenance to one of your assets because one of your technicians did not have the necessary spare part after a recent breakdown, and had to improvise a solution. The solution is avoiding unscheduled downtime, but some components are currently experiencing additional wear and tear.
4: Put Together the Initial Preventive Maintenance Plan
After analyzing historical data, verifying the recommendations from the OEM, and talking to your field technicians, it is time to organize the information.
You should write down all preventive maintenance tasks for each asset along with how often you need to perform each of those tasks on a particular piece of equipment.
You should end up with something similar to this for each one of your assets:
As you can see from the picture above, it's usually not a bad idea to also include additional notes for certain tasks so a technician knows exactly what he needs to do. Here is another resource for the Frequency of Preventive Maintenance Inspections.
Once you have this initial asset management plan ready, you can start putting these maintenance operations into practice.
5: Verify Progress and Adjust as Needed
As your maintenance team gets used to this optimized workflow, you will also be monitoring progress and making adjustments.
You can expect to do regular adjustments based on the results you get. This will help you keep an optimal return on the investment you're making.
One of the common traps is scheduling too much preventive work and giving too much attention to assets that don't need it. If you notice that that's the case, make the necessary corrections.
The good news is that with a modern CMMS software like Limble, you have access to all crucial data you need to make these decisions. You just need to:
Log into your CMMS
Open asset cards for the assets that are on your PM plan
Open asset report
The asset report will display enlightening graphs and key points to help you visualize data. You should focus on how much preventive work has been done on the asset. You should also verify if there was any asset failure since you've started the PM plan.
Taking decisions from there is quite simple.
If the asset has gone through several preventive work and did not fail once, it means the preventive maintenance checklist is working as it should. It is also possible that there's more work scheduled for that asset than what is needed. In that case, you can reduce its PM checklist without compromising its operating condition.
If the asset has experienced breakdowns, it means you should probably schedule more regular PM work. But before scheduling the extra preventive work, it's a good idea to investigate what caused the breakdowns. Sometimes, the issue is caused by just one specific part that can be easily fixed, and you don't have to schedule maintenance to the entire asset.
Keep in mind that your initial PM schedule will never be perfect – and that is perfectly fine. As long as you're prepared to adjust your preventive maintenance plan based on the insights you get from the maintenance software and the feedback you get from your technicians, you have nothing to worry about.
6: Expand Your Preventive Maintenance Program
With the initial preventative maintenance program, you will give your team the chance to get acquainted with the new approach to maintenance while you also get the chance to understand how to use preventive maintenance software to optimize the PM program.
Starting with just a few assets also gave you the chance to prove the significant impact on your company's bottom line and operations workflow.
Whether you needed to get approval from company superiors, or whether you wanted to test preventive maintenance scheduling results yourself — at this point you will have been able to do so.
If that was indeed the case, then it is time to repeat these steps and expand your PM program so you can see the even bigger benefits of preventive maintenance schedules.
We know that entering a lot of data into a CMMS all at once doesn't sound like a fun proposal. That's why we set up Limble in a way where you can just prepare an Excel CSV file of your assets, click upload, and let Limble to the rest of the work.
Checklist for Creating a Preventive Maintenance Plan
Following a consistent Preventive Maintenance Plan can make life easier. Use this checklist to create your own!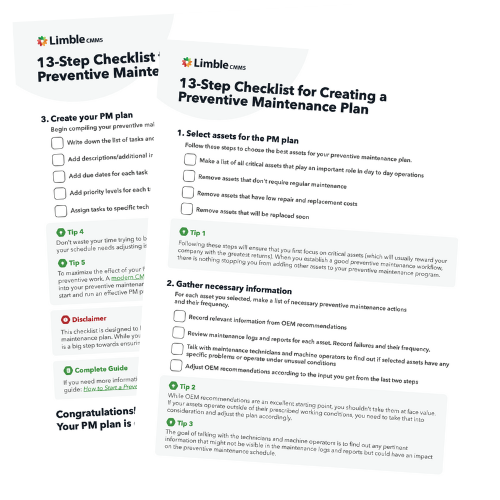 How to Optimize Preventive Maintenance Implementation
At this point, you have a pretty good idea of how to create a preventive maintenance schedule. But how to ensure your team members will be able to implement it?
Well, Limble CMMS takes care of that part too.
That's how it works:
Once you have the list of needed preventive maintenance tasks for each asset, it is time to assign them to your maintenance team and let the magic happen.
Here is an illustrative example of how would that look if you were using Limble CMMS:
In order to ensure a successful preventive maintenance program, we designed the platform to deliver a superb user experience. This means offering a dashboard that contains everything your team will ever need while being easy-to-use.
The PM calendar gives your team a real-time overview of open and upcoming work. It automates PM scheduling and allows managers to change due dates with a simple drag and drop.
Technicians can easily log completed work while out in the field using the mobile software solution. That not only saves time but also reduces the chances of missing some information.
Ready to Create a Preventive Maintenance Schedule?
Investing in preventive maintenance has invaluable benefits. Some of them include:
extending the life of your critical equipment
enhancing your company's maintenance workflow
reducing the number of unplanned machine downtime
increasing workplace safety
decrease the number of costly reactive maintenance
Having a preventive maintenance plan in place is a huge step in the right direction, but you shouldn't let your efforts go to waste. The oversight and control you get with a CMMS will ensure that you squeeze every last drop of value from your carefully crafted preventive maintenance program. Not to mention how CMMS also makes your life a lot easier by doing the heavy lifting of sending notifications, copying PM schedules, tracking work history, and much more.
Therefore, if you want to simplify the process while maximizing your returns, investing in a modern CMMS, such as Limble, is a no brainer.