Campus management teams are like the Special Forces of facility maintenance.
They handle everything from groundskeeping and stray animals to abundant work requests and experimental space lasers. They are on duty 24/7 and have to immediately respond if the situation is dire (and even if it isn't).
And, in higher education, just like their military counterparts, they need specialized tools.
Whether you work for a college or university — or any other campus for that matter — we will show you how a CMMS⁠ makes managing your maintenance easier and more productive.
So, you work on campus?
That means every day holds something new. As a maintenance manager, you get to work with the nation's brightest minds on history-making projects. You also support thousands of students as they discover themselves, the world, and all 301 ways to trigger the fire sprinkler system.
It's a good thing you like your job because you have some enormous responsibilities to shoulder.
Your responsibilities
Lawns: Green and mud-free despite

heavy

usage.

Landscaping: Flowers, shrubs, and trees are healthy and beautiful.

Waste: Litter collection and garbage disposal.

Parking

: Lots in good repair with clear signage and functional entry/exit equipment.
Electrical: Thousands of electrical outlets, light bulbs, and integrated systems.

Plumbing: Hundreds of sinks, toilets, drinking fountains, water heaters, and drains.

Interiors: Paint, flooring, and everything hung from a wall or ceiling.

Exteriors: Every kind of cladding known to humankind (because heaven forbid any two buildings were to look the same).

Doors and windows: Secure and functional so they open when they're supposed to be open and close when they're supposed to be closed.

Access: Checking keys in and out, rekeying locks.

HVAC: Heating and cooling systems are so enormous they take months to ramp up and ramp down.

Janitorial: Vacuuming, sweeping, mopping, waxing, wiping, scrubbing, emptying – the list goes on.

Property management: ranging from student housing to sports facilities management and from new construction to historic registries.
Everything from specimen refrigerators in the biology department to climate-controlled storage for $200,000 Steinway pianos in the performing arts center.
Room setup & event support:
Everything from adding or removing whiteboards in classrooms to setting up thousand chairs in the ballroom for a week-long conference.
Fleet management tasks:
Cars, trucks, vans, golf carts, buses, forklifts, tractors, Zambonis, and more.

Servicing regular wear and tear.

Repairing the damage from student operators (need we say more).
Mail management:
Shipping and receiving all sizes of parcels to and from all over the world.

Mail delivery amidst constant turnover and movement.
The campus management challenge: Everything is an emergency
A backed-up toilet is gushing sewage. A lock is jammed, leaving a professor and 300 students stuck outside their lecture hall. Something triggered the sprinklers on the football field right before the big game. And all of that happened in just 5 minutes.
Everyone in higher education institutions is striving to accomplish something. When everything is in good repair, no one stops to think about how the facility contributes to academic delivery and student success. But when something goes wrong, emotions run high.
So just in case plumbing, electrical, and quantum plasma generators weren't enough to whet your appetite, you are also juggling expectations and relationships too.
When you arrive at work
Let's be honest — you never left work in the first place. Although your team rotates on-call shifts, emergencies often need your input, so you leave your phone on 24/7.
Likely, the first thing you do when you get back into the office is to take inventory of the new work requests. You meet with your team of supervisors to get an update on projects in progress and make assignments. The supervisors then connect with team leads, and the teams spend the rest of the day executing their marching orders.
You, on the other hand, head into a day of meetings. That's because nothing happens on campus that doesn't involve, well, the campus. Here's a sampling of your day's conversations:
The Astronomy Department wants to host late-night events at the observatory for a month. The faculty don't realize that you have a night crew slated to replace the worn-out flooring. You spend an hour discussing the implications of rescheduling either the astronomy events or the flooring team or creating a path (with signage) through the work area(they'll just have to deal with the noise).

The Dean of Students wants to upgrade air filters as a higher ed COVID best practice but doesn't know that some older HVAC systems can't handle that kind of air pressure. He wants to make the sweeping statement that all facilities use that level of filtration, so you walk him through the cost/benefit analysis.

And your favorite: Addressing grievances with the union and HR
Building Maintenance Checklist
Use this helpful template as a starting point for your building maintenance program.
Keeping it all together
So how do you keep it all together? With a CMMS (computerized maintenance management system) that integrates all your department's systems in one place:
Asset management

Planned maintenance

Work request

Work management

Inventory management

Purchasing management

Vendor management
Let's take a look at each one with a side-by-side comparison of a department with no CMMS versus a department that leverages its CMMS — in this case, Limble — well.
Asset management
Asset tracking without a CMMS
On a campus so vast — and in a constant state of flux — you couldn't list all the assets you're responsible for even if you wanted to.
There were some good-faith attempts in the past to create a directory of assets. Unfortunately, no Excel spreadsheet on Earth can handle that level of complexity, and the information the secretary compiled quickly became outdated and unusable.
Asset tracking with Limble CMMS
The first time your team touches an asset — whether fixing a toilet or installing a solar array — it gets entered into Limble while creating the work order.
Over time, that builds a searchable list of assets organized by location, building, room, etc.
Example of asset hierarchy inside Limble CMMS
Each work order associates its asset with the right parts, vendors, and work history. It becomes a living resource that grows and expands as you use it. The more you use it, the better it gets.
Asset history without a CMMS
Information about each asset — manuals, past work orders, spare parts numbers — gets spread to different places:
on paper in the office

in a handful of different employees' email accounts or text messages

in Microsoft Office documents on a dozen other computers

in your head because there's never time to document
Tracking down this information is a non-trivial portion of each work assignment.
Asset history with Limble CMMS
With just one click in Limble, any employee can see an asset's:
work history (every task ever completed on that asset)

scheduled maintenance

current spare parts inventory

preferred vendors and their work history
Asset information tab inside Limble CMMS
You can write notes and attach files like pdf manuals so that your maintenance techs have all the information in one place whether they're in the office or on-site.
Adding an asset to Limble database
All the rest of the asset's information is updated automatically based on the Limble tasks your team completes every day.
Financial planning without a CMMS
If a vice president asked you the current value of the assets you maintain, you would say, "That's not my job. Ask Finance."

Each time you have that conversation, you give up a little more decision-making power to the heads of other departments.
Financial planning with Limble CMMS
You're the one with the answers.
Because you have all your assets in one place, you can let other departments do things like attach depreciation schedules.
Limble generates reports that show upper management the company's capital value and which equipment is due for replacement.
When you can show that a $100,000 piece of equipment costs $80,000 a year to repair, the finance department can't argue. Instead of costing the university for "unnecessary" initiatives, Finance praises you for saving $300,000 over the next five years, thanks to your savvy management.
Going a step further, you know that the profit-generating centers at the university get tax benefits for depreciating equipment over time. However, those benefits end once the equipment is fully depreciated. You can replace the equipment much earlier, knowing that the maintenance cost plus depreciation is adding up.
Watching the charts on your Limble dashboard, you can begin to predict which assets you need to replace or rebuild, and when.
An example of Limble's custom dashboard
All of this adds up to Finance and Facilities building a friendlier dynamic. You know you've got each other's backs. When Finance has questions, you've got answers, and you can explain how it affects the bottom line.
Planned maintenance (PM)
Implementing preventive maintenance without a CMMS
Because of the sheer volume of work requests, your team is always in crisis mode, taking care of what broke down or must get set up today.
Of course, you would love to put more resources toward planned maintenance so the equipment would be less likely to break in the first place. But that just isn't an option.
Implementing preventative maintenance with Limble CMMS
You can add preventive maintenance (PM) schedules (complete with standard operating procedure checklists if you're feeling ambitious) to every asset in Limble.
Creating maintenance checklists in Limble CMMS
Limble automatically generates and assigns PM tasks, so your team naturally begins to shift from reactive maintenance to proactive maintenance.
Limble automatically tracks and calculates your planned vs unplanned work
This does a lot for morale. Rather than feeling like they're always behind, the team acts like they're on their "A" game.
Scheduling and assigning tasks without a CMMS
When your team does have the bandwidth, they're not sure which preventive maintenance tasks to do. Some equipment might go years without being touched while other equipment gets over-serviced.
Scheduling and assigning tasks with Limble CMMS
Limble generates auto-assigned tasks to the right tradesmen. The assignments show up on the same to-do list as their regular work orders. 
Tasks get triggered either by calendar or usage.
The team services equipment on time as part of the regular workflow. Talk about operational efficiency.
Snapshot of a maintenance calendar in Limble CMMS
Logging completed PMs without a CMMS
What preventive maintenance you assign to the team doesn't get logged. No one is ever 100% sure which assets are fully services and which are coming due.
Logging completed PMs with Limble CMMS
Limble keeps track of all completed tasks for you, including preventive maintenance. When you set up your account, you created custom workflows to update equipment/property status based on how your team works:
You set equipment to "Running" by default.

When a work request comes in, Limble changes the asset's status to "In review."

When you approve a work order, the asset changes to "Pending." If the asset is non-functional, you can manually set the status to "Down" instead.

When a work order is in progress, Limble changes the status to "In repair."




And when the work order is completed, Limble changes the status back to "Running" again.
It takes just a glance to see which equipment is operational, in repair, out of commission, etc.
Checking equipment status in Limble CMMS 
Spare parts management without a CMMS
You don't know which spare parts you need for this PM or whether you have any in your inventory (and not allocated to more urgent tasks).
Spare parts management with Limble CMMS
When you set up your Limble account, you did a spare parts inventory audit and associated each part with the corresponding asset in Limble. Then, when you built your PM checklists, you linked them to their spare parts.
Snapshot of parts management view in Limble CMMS 
When your tech receives their PM assignment, it tells them:
which parts to bring

where to find them

how many are in stock

how much of that stock is already allocated to other tasks
More on inventory maintenance later.
The Essential Guide to CMMS
The Essential Guide to CMMS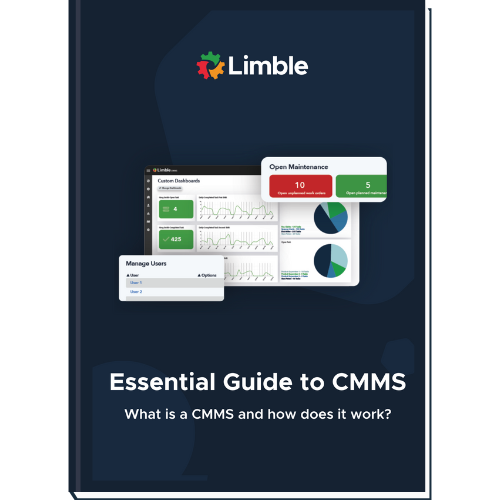 Work requests
Submitting work requests without a CMMS
People who need something fixed report it to the maintenance coordinator. At least you hope they do. 
But hope isn't really a maintenance strategy, at least not when it comes to getting people to report problems. More often than you would like, you find out something has been broken for days (weeks? months?) before a team member discovered it and submitted a work request.
Submitting work requests through Limble CMMS
Signs throughout the facility let people know how to submit requests to Limble via its website (straight into the portal), email, and phone call (where your office can enter the request manually).
Limble allows you to use QR codes to identify assets and speed up the ticket submission process
Anyone can submit a maintenance work request, and all requests end up in the same portal in the same format.
Limble's work request portal
The history of a work request can get pretty murky. When was the problem first reported? Who sent it? How can you get a hold of them? More often than not, you don't ask the question because there isn't an answer.

Limble timestamps all requests and captures the requester's information when they send it in. You can reach out for more information and consider a tasks' age when prioritizing your maintenance backlog. This helps you make sure the critical work always gets done first.
Getting detailed work requests without a CMMS
The descriptions on work requests are incredibly vague: "Toilet is broken." 
Which one of the campus's 900 toilets was that? Is the handle loose, or is it gushing sewage?
With hundreds of guests on campus every day, sometimes the requester doesn't even know where they are or what piece of equipment they're looking at, so good luck figuring that one out.
Getting detailed work requests with Limble CMMS
Most work requests get into Limble directly through the portal, thanks to Limble's easy-to-snap QR codes.
Each QR code is unique and associated with a particular asset. When a user scans the code, Limble attaches that exact asset to the request.
Now, when requesters report that the toilet is broken, you know it's toilet #3 on the second floor of Hall B of the Johnson Building, and that this particular toilet has had problems with the flange twice already this year.
You can also require the requester to upload a photo of the broken part to see what you're walking into before you get there. In fact, you can require any kind of information in the request form.
Work request form example in Limble CMMS
Managing duplicate work requests without a CMMS
On the one hand, you are afraid some problems go on too long before people report them. On the other hand, some problems get reported multiple times. The duplicates, though not the end of the world, can result in wild goose chases.
Managing duplicate work requests with Limble CMMS
If a work request looks similar to any already in the system, Limble shows the original request and asks the requester to confirm this is a new issue. Duplicates rarely get through.
Limble's algorithm can recognize duplicate work requests
Communicating with requesters
When you don't have a way to alert the requesters about work progress, it leaves the impression that your team is unresponsive.
With Limble CMMS, requesters include their email addresses on their maintenance tickets, so Limble automatically emails them when the request becomes a work order, and when it is completed. Your team gets a reputation for being both snappy and thorough.
Campus management teams and tasks
Assigning tasks without a CMMS
You give out assignments in meetings at the beginning of each day or by leaving notes, sending messages, or making phone calls.
In short, to give an assignment, you have to get a hold of them first.
Sure, it's a reasonable expectation — that's how all communication works — but it takes a fair amount of effort and regularly causes delays.
It also pokes holes in accountability. How do you know it actually got done? Or when? Or whether there's something deeper that needs to be addressed before the original problem is fixed?
Assigning tasks through Limble CMMS
All tasks live in Limble, where all team members can see their up-to-date to-do lists on their computers or smartphones at all times. You don't have to get a hold of them to change their priorities for that day; you just drag and drop in Limble, knowing they'll follow the instructions when they get there.
Snapshot of a technician's workload
Some tasks are even auto-assigned by trade, location, etc.
Gathering information without CMMS
Vague work requests become vague work orders. Employees have to track down which toilet is malfunctioning, go back to the office for the manual, trek over to inventory for parts, and get a hold of Stan because, rumor has it, he has fixed this particular issue before. 
Sometimes this preparation process takes longer than the task itself.
Gathering information with Limble CMMS
Limble links tasks to an asset, so workers have all that asset's manuals, work histories, standard operating procedures, and even spare parts data at their fingertips as they work — including part numbers, vendor contact info, and inventory counts.
List of completed WOs in Limble CMMS
Techs look up work histories to see who fixed it before and how they did it. You can assign multiple team members to a task if it's more than a one-person job.
Team members show up to the site with all the parts, tools, and knowledge they need to get the job done quickly.
An example of a WO in Limble CMMS
Communicating about work orders without a CMMS
Of course, teams always run into issues they weren't expecting. Right now, you rely primarily on radios to give real-time instructions. It's quick, but without anything in writing, it leaves plenty of room for error.
That assumes, of course, that the person with the answers is on duty and listening to the radio at the moment you need them. If not, you either reinvent the wheel, or delay. Here's hoping it wasn't urgent.
Communicating about work orders with Limble CMMS
Because so many tasks come with checklists, teams are far more independent. They do not need the level of external support that they used to.
If anything needs clarification, you and the team chat via comments on the task, so there's a complete digital paper trail.
Discussing work details inside WO comments in Limble
Tracking WO history and reports without CMMS
You may not have any formal system for logging what techs did to complete their work orders. If you do, the office files it away somewhere inconvenient so that collective knowledge goes untapped.
To get an overview of completed work orders, you have to pull each one individually and then file them back away, which no one ever does.
This assumes, of course, that the slip of paper didn't get lost. If it did, you're back to square one with no task tracking at all: There is no record of why, when, how, or who did the work.
Because no one has the big picture, there's no sense for when a given asset is likely to break down again. The lack of data keeps you trapped in an expensive and exhausting run-to-failure maintenance strategy. 
Tracking WO history and reports with Limble CMMS
Limble keeps a history of all the work done on each asset, including automatically timing how long it took to complete each work order. This gives you a single glance at the total cost of ownership.
TCO report in Limble
Not only can you see a list of all completed work orders, but you can also filter and search them, too.
Beyond even that, you can generate reports based on how much time they took to repair or any other data on the work order checklist. Team stats shine a spotlight on your top performers.
Team performance report in Limble
On the other hand, under-performers have nowhere to hide. Trends reveal which assets are wearing out, and you save money and headaches by finding problems before they happen.You can see your team's transition from chaos to expert execution as more of their tasks get done on time.
Task status completion report in Limble
Using a digital tool like CMMS is one of the easiest ways to improve accountability in the maintenance department.
Inventory management
Managing inventory stock without a CMMS
The only way to check your spare parts inventory is by driving to the warehouse and looking at the shelf.
That said, if you have a large operation, you might not even know which warehouse or which shelf, in which case it might be easier just to order a new one anyway.
That (lack of) process leaves you with too many of some items (wasted budget) and too few of others (avoidable downtime).
Managing inventory stock with Limble CMMS
Anyone can check real-time inventory levels in their Limble apps because levels are automatically updated every time a tech completes their work order.
Parts management view in Limble CMMS 
The part record says precisely where to find the spares. If a worker takes out a part outside of the context of a particular work order, there is a QR code on the shelf for them to snap that updates the count.
Of course, you still want to true up your inventory counts regularly, so you set a "cycle count." Limble will now auto-generate tasks to audit inventory as often as you deem fit.
Optimizing inventory without a CMMS
Everyone knows that there are parts in the warehouse that have sat untouched for years — maybe decades — but your only way of identifying the excess inventory is the thickness of the undisturbed dust on the box.
Sometimes, parts needed for an upcoming high-priority task get used on an immediate low-priority task.
It's the norm to order parts the day the crew realizes they need them and don't have any, and it's more common than you would like for orders to get duplicated.
Optimizing inventory with Limble CMMS
When you set up your MRO inventory initially, you set stale thresholds so Limble will notify the maintenance coordinator if any parts don't get used for an extended period. That leads to timely conversations about what to keep and what to clear out.
Setting spare part item thresholds in Limble
In Limble, team members see whether parts are in stock and how many are already allocated to other tasks.
Purchasing is triggered the day that parts used/allocated drop below your predetermined thresholds. Vital parts are always on hand, and techs often complete repairs the day they are reported.
You can attach preferred vendors to specific parts, so you're always getting the best quality regardless of who in Purchasing is processing the purchase order (PO). Limble attaches POs to every spare part record, so you can see on the PO when the new order will arrive.
Purchasing for campus management
Triggering and tracking purchase requests without a CMMS
You have a paper trail for every purchase, but it is just that — a trail of paper strewn between multiple desks, offices, even locations.
Anyone on the crew who needs to create, approve or reference a PO has to physically come into the office or distract the purchasing team with phone calls and emails.
Triggering and tracking purchase requests with Limble CMMS
Limble has a customizable system for submitting purchase requests that automatically become purchase orders once approved.
Whenever a part's inventory drops too low, Limble triggers a purchase request automatically. Purchasing can even create a template with a custom message, vendor info, part numbers and quantities, and more.
Purchase order list view in Limble CMMS
If you don't usually carry the part, the tech can trigger a purchase request right within their task.
Even technicians can trigger purchase requests using Limble
Limble saves everything on the cloud and is available on both desktop and mobile. Both the tech and their manager can see the POs status at any time.
Without a digital system, not only do parts not get ordered until the day they're needed, but it's also not uncommon for the wrong part to get ordered, resulting in even longer delays. With Limble, every purchase request arrives with the exact part number and vendor attached. The process is easy — and precise — for both Maintenance and Purchasing.
Approving and accounting for purchases without a CMMS
Many employees are approved to make purchases up to a specific cost on their company cards. That keeps management from getting bogged down with approvals.
Since they're using the company card, the transaction gets logged for accounting purposes, but it may never get associated with a work order.
That means any facility work that could be billed back to a third party — say, a conference that ordered custom signage for their campus event — never gets paid to the university. (No wonder they keep hosting their events here!)
It also means that you don't know the total maintenance cost of your assets because they're getting repaired with materials that never get into the system.
Approving and accounting for purchases with Limble CMMS
Limble automates the approval process taking into account each team member's budget. For example, Sam can make purchases up to $2,000 on his own but needs approval from Dave beyond that. 
Limble pushes the request to either the purchasing department or the next person in line who needs to approve it before it finally ends up with Purchasing.
Any part your tech uses is listed right on the work order and gets automatically calculated into client billing and asset history.
Did you catch that? All the documentation happens automatically — no extra paperwork for anyone.
The purchase approval process in Limble
This streamlined workflow lets Purchasing focus on purchasing, Accounting focus on accounting, and Maintenance focus on maintenance.
Managing incoming shipments without a CMMS
When shipments come in, Purchasing can almost always link them to the right PO, but that doesn't mean they can connect them to the correct work order. Sometimes parts sit in the warehouse for days (weeks?) before the tech who needs them finds out they've arrived. Again, lots of unnecessary downtime. 
Managing incoming shipments with Limble CMMS
As soon as a PO is marked as "received," Limble notifies the techs and managers on the associated work orders. This prompts them to start up tasks again, prioritize their current workloads, and/or set expectations with departments.
Working with Finance without a CMMS
Conversations with Finance are tense. You can't do anything without being double or triple questioned on whether it's really necessary. You get asked lots of questions that would take hours of work to answer — questions that aren't nearly important enough to set aside that kind of time.
Working with Finance with Limble CMMS
Maintenance and Purchasing are now the finance department's best friends. Any time there are questions about a charge, your teams always have the answers.
Limble's reports update themselves instantaneously. More often than not, you're now initiating conversations with Finance because you have so much to show off. 
You started a conversation when you could show them downtime spiking because of faulty equipment. When the budget for new equipment was approved, you could show them that downtime dropped again and calculate the savings based on every hour it was working compared to the month before.
Total downtime report in Limble
Your IT department used Limble's API to link all the Limble data to the data in your company's enterprise resource planning software (ERP). It used the API or the built-in Quickbooks integration to get the same information into the accounting system.
Vendor management
Tracking vendors without a CMMS
No one person in your department knows who all your vendors are. The fleet manager could list off his if you asked, as could the lead on the plumbing team. (When the head of groundskeeping had a heart attack, there was a bit of a crisis, so they started a list they keep in the office.)
Tracking vendors with Limble CMMS
All vendors are in a single list and linked to the equipment, parts, etc., they service or provide. Each record has contact information, a detailed history, and notes/instructions for anyone who needs to reach out.
To keep the thousands of vendors straight, you created custom fields (for example, whether that vendor is for a particular department). You also customize which columns show up on the master list, so you don't even have to click in half the time.
Vendor list in Limble CMMS
Tracking vendor work without a CMMS
Not only is it unclear who your vendors are, but the picture gets even fuzzier when it comes to what work they're doing. You couldn't sum it up if you tried.
Tracking vendor work with Limble CMMS
Every vendor gets assigned to tasks within Limble just like your employees do. When you add them to a job, Limble emails them a unique link to the portal. There, they see and interact with the task within Limble itself. 
Limble adds the work details — how long it takes to accomplish, what spare parts they used, etc. — into the maintenance history.
Sharing a task with your maintenance vendor using Limble
What vendors see when you share tasks with them through Limble
Keeping vendors honest without a CMMS
Now and again, a vendor goes rogue and over-charges for their services or ends up doing more harm than good.
They are adamant that "It was that way when I got here," so the best your department can do is to cut your losses.
Keeping vendors honest with Limble CMMS
You baked vendor accountability into your systems by sending them tasks and keeping all communication within Limble. Limble gives them crystal clear instructions and digital checklists of your standard operating procedures, which means fewer improvisation on their side which you have to fix again later.
Your first step is to require the vendor to upload a picture of the item or area before starting work, so there is no question of whom to hold accountable if things go awry (a great way to reduce everybody's liability).
Vendors can upload before/after images to improve work visibility
You, your team, and your vendors can communicate via messages in the task itself.
Limble tracks time spent on each vendor's task and lets them upload invoices that get siphoned straight into the accounting workflow. Of course, if a vendor didn't use the system, your team can enter their work manually.
As soon as they click "finish," Limble notifies the lead on that project and the project moves forward without delay.
An eye to long-term planning for campus management
More than 60% of the maintenance workforce will be retiring in the coming decade — that's likely 60% of your campus management corp, too. That is a massive loss of institutional knowledge in a short time.
If you're not careful, it will be very expensive to reinvent your campus' systems. There will be costly disruptions to the student experience you could have avoided. Your team will have to learn all the wrong ways to rewire a stadium lighting system before they rediscover the one way that works.
On the other hand, you could have your seasoned employees building out checklists in Limble for new hires to use. Work could continue uninterrupted with historical data at everyone's fingertips. Junior techs become self-sufficient. Senior techs finally get to take a vacation. 
Who knows — maybe even you will get to spend an evening with your family instead of your phone.
How to get started with Limble CMMS?
So, you've liked everything you've read and now you want to take Limble for a test drive. You want to check all of these futures yourself, but without any commitment. 
Smart move, choosing a CMMS vendor is not something you should do on a whim. Here are three ways to test Limble without taking a credit card out of your wallet:
try our self demo (leads you to a simulated environment where you can play around with and test Limble's features