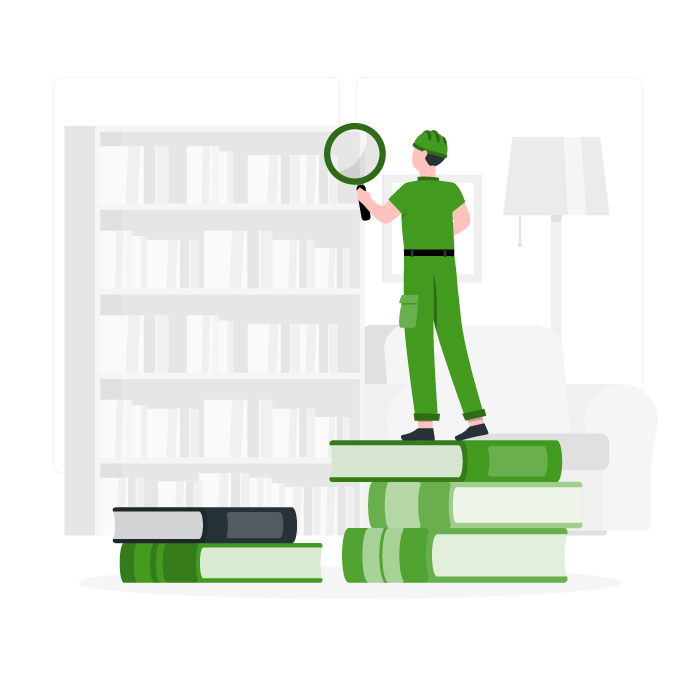 From the moment school administrators begin work until they go home for the day, there are a number of urgent issues that require attention. As a result, regular building maintenance tends to fall through the cracks and gradually loses rank on a school's list of priorities. 
We can all agree that this is less than ideal for both students and teachers.
In this post, we look at what school maintenance is all about, why it matters, and how appropriate maintenance of the physical structures on school grounds can help foster a better learning environment for all students.

The essence of school upkeep
School maintenance refers to all the activities typically required for the general upkeep of equipment and infrastructure on school grounds. In that sense, it is very similar to campus management and maintenance.
Among other things, school maintenance seeks to ensure safe and conducive conditions for all stakeholders, from students to teachers, parents, and guardians. Its goal is to create a physical setting that is appropriate and adequate for learning and teaching.
School maintenance involves a broad list of activities
Like any other type of building, school maintenance includes a wide variety of tasks. The exact scope of work depends on the size of the school and the type of equipment that needs to be maintained.
Building maintenance in a typical school includes: 
Cleaning common areas and removing trash 

Inspecting, repairing, and maintaining electrical systems, plumbing, HVAC systems, elevators, and all other building systems

Repairing items (e.g. broken classroom furniture, windows, play equipment)

Maintenance and servicing of fire fighting equipment

Maintaining and repairing building interiors and exteriors

Water treatment

Waste removal and recycling

Maintaining school grounds

…
Achieving optimal operations in schools requires high standards and oversight in several key areas:
1) General maintenance and repair activities 
The first thing that parents, guardians and potential students will notice about your school is its physical state, neatness, and appearance. Keeping a great appearance entails:  
2) Managing vendors and contractors 
For larger schools with multiple buildings, it's likely that management will need external support to fulfill their maintenance obligations. An effective way to get more work done efficiently is to use subcontractors, suppliers, and outsourced service providers. Managing this requires:
A good

maintenance contract

Centralized vendor information

Issuing work orders and tracking progress from start to finish

Tracking vendor performance, as well as costs associated with each vendor
3) Ensuring compliance with health and safety regulations
Schools have many of the same hazards encountered in commercial and residential buildings. Health and safety in schools is generally regulated by the state department of Education. 
State and local authorities use the resources provided to improve safety on their own premises by:
Undertaking risk assessments 

Monitoring the need for repairs 

Providing adequate ventilation

Prohibiting asbestos usage

Providing treated water

Appropriate waste disposal
4) Physical security and access control
The Department of Homeland Security and other government agencies regularly provide guidance for security at schools. In the context of maintenance, key considerations for security include:

Suitable security methods (barriers, guards, CCTV cameras, etc)

Emergency lighting and alarms
5) Emergency protocols
Depending on the state or school district's regulations and guidelines, the details might differ, but the basic elements of emergency preparedness are the same. These elements include:
A

written emergency program

to ensure the safety of students, staff, and visitors during and after an emergency

A functional and frequently tested alarm system

Checking and removing any hindrances to emergency drills and quick evacuation (e.g.obstructed or locked fire exit doors or burnt-out emergency exit lighting) 
Building Maintenance Checklist
Use this helpful template as a starting point for your building maintenance program.
Common challenges with school maintenance
Students and staff can do better in an orderly, clean, and safe environment. However, maintenance staff needs to be mindful of the following challenges while planning and executing their work.
1) Excessive wear and tear on the facilities 
Kids and teenagers are not the most responsible of people. We know, a shocker! 
School facilities have to withstand decades of wear and tear associated with crowds of students, many of which do not have enough respect for school property. Combine that with tight maintenance budgets and, with enough time, large-scale deterioration of school infrastructure is inevitable.
School infrastructure statistics. Source: Education Week

New school buildings will eventually face the same wear so, regardless of building age, school property maintenance is an essential part of providing a safe and comfortable space long term.
2) Enforcing compliance with cleanliness and hygiene regulations
Cleaning and hygiene are vital for preventing illness in any building, especially in the pandemic era. Different states have specific hygiene guidelines for schools under their jurisdiction like this one for the state of Illinois. 
As most teachers will tell you, it can be tricky getting children to maintain their distance and comply with cleanliness and hygiene rules. On their part, the maintenance team can help to minimize the risks by maintaining strict cleaning and disinfection schedules and ensuring a steady supply of cleaning supplies (hand sanitizers, soap, tissue, etc.) in toilets.
Using CMMS software with an inventory module will help you track your stock levels, forecast future MRO inventory needs, and make timely purchase orders.
Parts management view in Limble CMMS
Purchase order list view in Limble CMMS
You can learn more about Limble's inventory management capabilities here.
3) The issue of maintaining IAQ
Studies of exposure to air pollutants indicate that indoor pollution levels may be two to five times – or more – higher than outdoor levels.
Organizations like UNICEF and WHO often quote research that shows children's lungs are susceptible to air pollution. Continuous exposure to pollutants in childhood can lead to permanent respiratory health issues like asthma. In the US, the EPA regularly publishes information on this subject as well.
In a school environment, building maintenance can help to reduce potential problems by:
Removing dust mites, pests, and mold 

Cleaning/replacing air filters when due

Controlling humidity 

Installing, maintaining, and upgrading HVAC systems

Installing

air quality monitors
Why school maintenance matters
School maintenance problems affect both teaching and learning. Students and staff will directly feel the impact of poorly maintained structures on their health, such as the IAQ- related problems mentioned earlier.
Apart from the health implications, studies imply that there is a direct connection between the school environment and academic performance. Some of the benefits of school maintenance are:

Limiting unscheduled disruptions

: Unscheduled shutdown of systems and major equipment can wreak havoc on student and staff productivity and interfere with the teaching year by disrupting classes, exams, and other important activities.

Preserving health:

An efficient school maintenance program helps to keep students physically safe and minimizes their potential exposure to infections due to polluted water or air.

Saving money:

School budgets are often tight. Maintenance helps to improve assets running condition, thereby

extending equipment lifespan

and saving schools from unexpected, costly repairs.
At the end of the day, we all want to work in pleasant and functional environments. The maintenance department is here to try and make that a reality, even when the budgets aren't as big as they ought to be.
Types of school maintenance jobs
What would the typical maintenance team in a school look like? That largely depends on the size of the school and the type of equipment on site.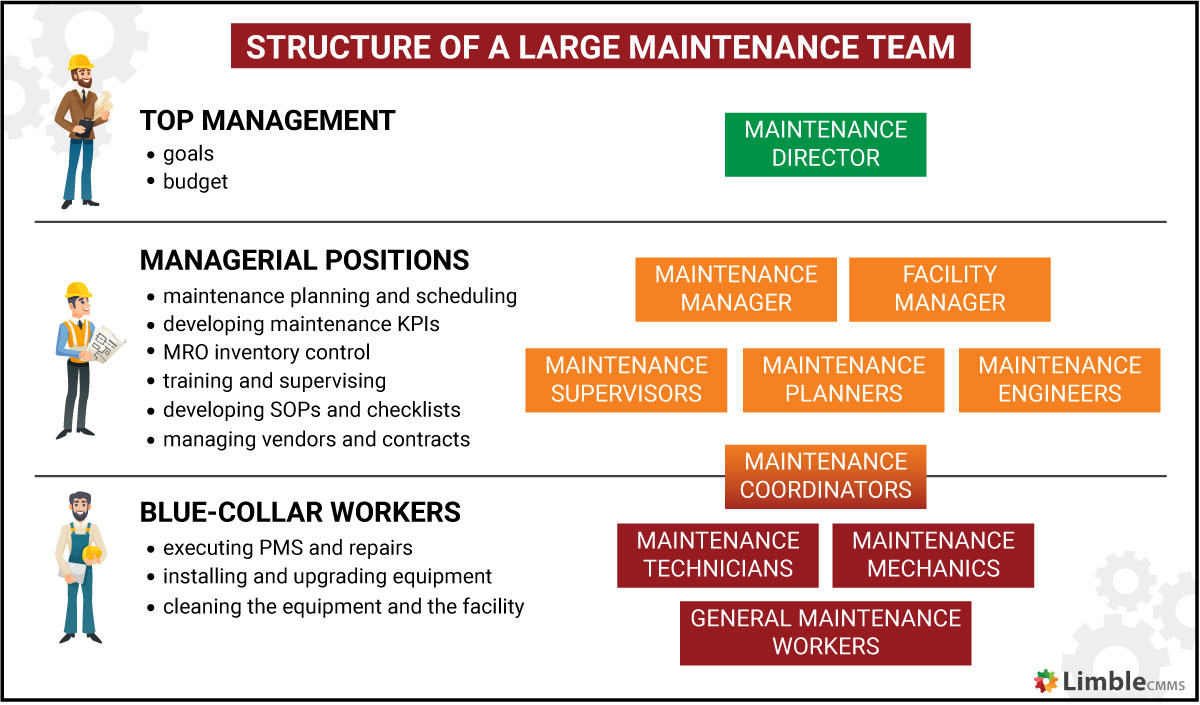 In many schools, school bus drivers report directly to the facility manager or supervisor. In that case, they could be considered a part of the maintenance team.
That said, you can usually expect to see the following positions in most schools.
Facility manager
This is essentially a strategic/supervisory role. The facility manager oversees the entire maintenance team and the maintenance service delivery process. Their job is to ensure that all school infrastructure is readily available for use and that the facility, in general, is conducive on a day-to-day basis. 
A facility manager will usually work closely with the school's principal and other members of the school board at a strategic level to clarify objectives and organize any incoming capital projects. With that information, they can plan better and guide the rest of the maintenance team towards success.
Supervisors
The job of the maintenance supervisor is a very hands-on one. 
They are involved at the tactical level, ironing out the details of maintenance work, assigning tasks, and coordinating other staff during installation, maintenance and repair around the school.
They also hand down instructions from the facility manager, pass information across, and coordinate daily maintenance tasks. They are often asked to identify potential challenges on site and work to ensure that instructions are fully understood and implemented. In addition, it's usually their responsibility to procure and provide tools and work equipment for maintenance staff.
They are required to have relevant technical knowledge and skills in order to effectively guide and supervise other team members at work. Most of them are former maintenance technicians that have gathered years of experience and were promoted into this role.
Janitors 
We've previously established that thorough and regular cleaning/disinfection is a non-negotiable requirement in schools; janitors are the ones that work to keep the entire compound clean and free of germs.
Their daily duties may vary slightly depending on the supervisor's work plan but it will typically include sweeping classrooms and hallways, disinfecting toilets and bathrooms, and vacuuming floors. They'll also be involved in keeping the lawns and external grounds clean by removing snow and debris, collecting and emptying trash, maintaining outdoor plants, trimming bushes, etc. 
Maintenance technicians
Just as janitors are responsible for everything cleaning-related, maintenance technicians are skilled workers responsible for everything machine- and equipment-related.
They handle equipment installation, repairs, and servicing. There are many different specialties of maintenance technicians available today but in a school, you can expect to find electricians, plumbers, carpenters, and HVAC technicians.
In many schools, school bus drivers report directly to the facility manager or supervisor. In that case, they could be considered a part of the maintenance team.
How to streamline school maintenance
From repairing broken equipment to keeping students comfortable enough to focus on their academics, there's always something to do. The list of maintenance tasks can pile up fast!
Below are a few strategies that you can use to streamline school maintenance.
#1) Utilize maintenance software 
First, it's highly recommended that you use a simple but robust computerized maintenance management system (CMMS) for your school. 
The best CMMS comes with a host of useful features like: 
….and much more.
Here's a quick video that showcases what a modern CMMS can do for your school district.
#2) Be proactive 
A busy daily schedule and unexpected maintenance issues can lead to an unruly backlog of deferred maintenance work. This will cause much more problems and be more expensive to fix long term. You can avoid this challenge by being proactive about maintenance. 
Aim to catch small problems before they become bottomless pits that suck in all of your budget. 
Being proactive requires:
Planning and scheduling regular maintenance. Ideally, your maintenance plan should be ready at the beginning of each year and it should aim to cover a 12-month period. 

Frequent inspections and audits of the entire facility.

Using maintenance software to

track and organize maintenance work

, stay on top of your spare parts inventory, and keep an eye on your vendors and contractors.

Having a proactive maintenance culture.   
#3)  Automate inventory management 
Instead of wasting precious time and labor hours trying to manually figure out what parts you still have in stock, where they will be used next, or how soon you'll need to reorder, utilize software to centralize and automate your spare parts inventory. 
A CMMS helps with this as well. One of the major benefits of automating inventory management is that it helps minimize situations where spare parts run out and your technicians are left with no materials to complete urgent work.
#4) Streamline maintenance workflow
A well-organized maintenance team that can deliver high-quality standards of work every time is an invaluable asset for your school. It doesn't happen overnight. 
To get closer to that ideal, you can work on establishing standard operating procedures (SOPs) and PM checklists for recurring and important tasks and processes. It is a great way to:

Reduce errors to the barest minimum 

Significantly improve maintenance workflows, operations, and service delivery

Boost productivity

Train new staff faster

Improve safety 
With these two resources, your team always knows what to do or who to ask for help. As a result, they are empowered to do the right thing quickly and safely every single time.
School maintenance software is your best friend
School is a building with many complex and interconnected systems. If you truly want to keep everything running smoothly, in this day and age where software solutions are fairly cheap and easy to implement, there is very little reason not to use one.
Obviously, as a CMMS provider, we are not just an objective bystander. That's why we always invite people to first request a feature walkthrough, play around with our live demo, or start a free trial.
You do not have to trust our words, the software will speak for itself.