October 12 2020
A Complete Guide To Facilities Management
As organizations grow, they need to take a strategic approach to resource management. They operate in larger spaces with more people that are constantly implementing new processes and technology to reach defined business goals. Facilities management works in the background to maximize business performance and ensure that the physical environment in no way hinders employee productivity. 
Facility management encompasses a huge range of responsibilities and it is vital for sustainable business growth. As such, it has to be approached strategically.
The goal of this guide is to explain the scope of facility management, discuss the tools and resources it needs to function properly, and show how it fits into an overall organizational structure.
Let's jump straight in.
What is facilities management?
An internationally accepted definition of facility management is given by the International Organization for Standardization (ISO) which says: "Facility management is an organizational function which integrates people, place, and process within the built environment to improve the quality of life of people and the productivity of the core business."
In other words, facilities management (or facility management or FM) is an important aspect of business management that involves behind-the-scenes activities for creating a comfortable, safe, and functional physical environment for people to work and live in – in a sustainable and cost-effective way.
While the word "facility" is often associated with industrial buildings, facility management is applied in every organization that has a physical space that needs to be managed: hospitals, schools, churches, museums, offices, hotels, and manufacturing plants, to name a few. 
The scope of facility management
As we mentioned earlier, facility management involves a broad scope of activities that fulfill a specific purpose. The core facility management functions include:
Real estate management
Occupancy management
Maintenance management
Asset management
Financial and performance management
Building systems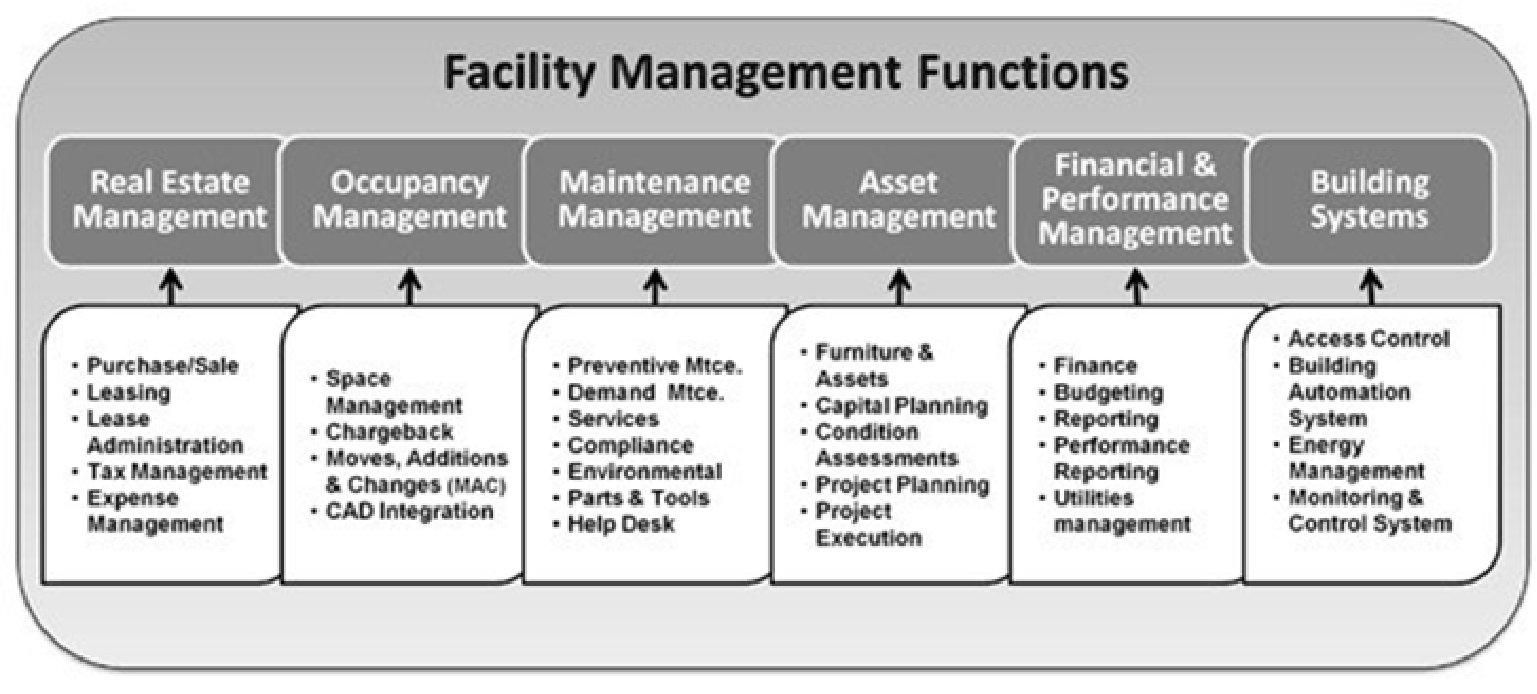 Another popular way to categorize facility management activities is by splitting them into two distinct groups: Hard Facilities Management (Hard FM) and Soft Facilities Management (Soft FM). 
Hard facilities management services (space and infrastructure)
Hard FM services are concerned with spaces and infrastructure. In other words, they focus on the physical components of the work environment. As you will see below, most of them fall into the jurisdiction of the maintenance department. Here is a rough dissection of hard facilities management services:
Maintaining the plumbing system: This system plays an important role in transporting water to a building and removing waste from it. Over time, blockages can occur, pressure can build up, and fixtures/piping have to be replaced. When done correctly, facility management ensures the plumbing system is regularly maintained and that the possible issues are fixed as fast as possible. 
Maintaining lighting and HVAC systems: Heating/cooling and lighting are essential for human comfort. A facility manager will work with a team to check whether the lighting and heating fixtures need repair or replacement. In either case, the team should also decide which alternatives deliver the best solutions regarding energy savings, comfort, and functionality. 
Staying in compliance with fire safety regulations: Fire safety systems are a mandatory add on in most countries and should be regularly maintained and checked for compliance issues.
Maintaining mechanical & electrical systems: It is self-explanatory how the electrical system enables most other building operations. The same goes for mechanical systems such as elevators and water pumps. FM is here to ensure they work properly and do not cause safety incidents. 
Structural maintenance: Regular usage or even poor design can lead to structural issues over time. As a part of facility management, there should be a structural maintenance plan in place to identify, classify, and deal with possible structural problems. 
To successfully schedule, track, and manage all of those maintenance activities and work orders, facility management teams will often seek the help of computerized maintenance management software (CMMS) or CAFM software. We will discuss available software solutions in more detail towards the end of the article.
Soft facilities management services (people and organization)
Soft facility management is concerned with people and organizations. It includes services that create a more comfortable, healthier, safer, and visually appealing environment. 
Common examples include:
Waste management: When waste is not managed, garbage bins become overloaded and things become smelly. This is not the scenario one wants to see. Waste management ensures that garbage is put in the correct bins and sent away at regular intervals to satisfy regulatory requirements and prevent trash overcrowding.
Cleaning services: Cleaning teams are usually called at regular intervals to clean common areas and perform other janitorial duties. A lot of bigger facilities will have an in-house cleaning team, but it is not especially hard to find competent companies to outsource to.
Space planning: Space planning and management is an important part of FM. Whenever a business hires more people, expands to a new floor, buys new assets that take a big chunk of space, wants to do some remodeling of the existing space, and similar, facility managers are here to help organize the space in a way that it remains comfortable, safe, and functional. 
Landscaping: Well-maintained grounds improve curb appeal and signal proper property management. Facility management takes care of the seasonal and non-seasonal changes, such as planting flowers in the spring, trimming the grass during the summer, removing falling leaves during the autumn, or removing excess snow from the walkway in the winter.
Pest control: Facility management should be concerned with scheduling yearly pest controls and manage pest outbreaks if they ever happen.
Building security: Refers to having control of people going in and out of the facility. May also involve the control of restricted access areas inside the facility.
EHS compliance: Defining and maintaining acceptable standards of comfort that might include temperature, noise, sitting standards, and visual cues. For example, selecting specific chairs that guarantee employee comfort for desk workers. Ensuring that instructions regarding services, installations, and amenities are followed to avoid harmful incidents.
The importance of maintenance in facility management
Facility maintenance and building maintenance are essential aspects of facility management. Electrical, plumbing, lighting, and HVAC issues are exactly the problems facilities management is trying to prevent. After all, breakdown of any building system will, at best, result in a lot of discomfort and, at worst, cripple business productivity. 
In a world where productivity and cost-saving are on top of everyone's mind, these situations should clearly be avoided. 
But how?
The answer is simple: preventive maintenance management. As we alluded to while listing hard FM services, all building systems and equipment should be on some sort of a proactive maintenance plan. This plan should specify when maintenance should be performed, which maintenance actions have to be executed, by whom, and when. There are a few viable maintenance strategies that organizations can deploy. The choice of strategy will depend on the types of assets the organization owns and the size of its maintenance budget.
It's important to keep in mind that maintenance doesn't mean just doing inspections and repairing broken assets. It is a big part of facilities management that covers MRO inventory management, vendor management, contract management, ticket management, and more.
To ensure facility management is done right, medium-sized and large facilities need a strong facility management team with access to the right tools. We will discuss those two elements next.  
Structure of a facilities management team
The facilities management team should include people with different competencies. Of course, the size and structure of the team will depend on the size of the organization itself and if any part of facility management is outsourced to a third-party contractor.
Everything starts with a facility manager
The person responsible for overseeing and coordinating facility management activities will be a facilities manager. It is a demanding job that requires a person who is organized, able to see the bigger picture, and has both people skills and understands technical information. It is a position that requires a lot of proactive thinking and prioritizing and has a big leadership component.
The exact day-to-day work of a facility manager can vary greatly depending on the size of the facility they are responsible for. When operating as a part of a smaller team, they will coordinate maintenance activities and have a lot of input in general day-to-day activities. In a large organization, they will be focused on strategic initiatives and coordinate top-level activities with the heads of different departments.      
Outsourcing work vs building an in-house team
A common challenge in facilities management is keeping track of all required tasks and knowing whether it is better to do something in-house or outsource it. The answer is not simple, since it depends on the type of facility, budget, type of service, and available talent.
If a business prefers to have full control over all operations due to security/privacy issues or just wants to avoid delays due to a service provider not meeting a particular deadline, it has to build an in-house facility management team. 
While you can technically outsource everything to a professional facilities maintenance company, that relinquishes a lot of control you have over your day-to-day operations. It can be done with the right partner, but it carries a certain level of risk. Then again, you don't have to outsource everything. Some companies like to hire contract managers that specialize in things like operating mailrooms or providing janitorial services.     
A very popular and cost-effective option is to have a mixed approach. It entails building an in-house team of facility professionals that deals with routine tasks and then establishing contracts with licensed vendors that can deal with specialized tasks. For instance, it is not worth hiring a full-time plumber or a space planner if you only need their services on a couple of occasions throughout the year. 
Examples of FM department organizational structures
Depending on the size of the space and the number of people and assets that need to be managed, many hard and soft FM services we listed above can have their separate teams. For instance, a maintenance department can be one of those teams and it can consist of a maintenance manager, maintenance supervisor, and several maintenance technicians and mechanics. 
Below are a couple of examples that showcase some of the many possible FM department organizational configurations:
Important software solutions for facility management
There are many useful software solutions that can make life easier for a facilities manager. Let's briefly discuss popular asset and building management solutions to understand what they offer. 
Don't be worried if you do not see a clear difference between some of them at first sight. They do have a lot of overlapping features.
CMMS (Computerized maintenance management system)
Maintenance becomes very challenging when complex machines and building functions are monitored manually. CMMS system and make maintenance vastly easier by streamlining and automating all maintenance processes: 
streamline the submission of maintenance work requests
help schedule and monitor all maintenance work
help track spare parts inventory and forecast future inventory needs
help with asset tracking
help with vendor management
help with contract management
save all important equipment maintenance records you can access at any time
When it comes to managing pure maintenance work, no one does it better than mobile-enabled CMMS software.
CAFM (Computer-aided facilities management)
CAFM is a software package that aims to help facility managers execute core functions of facility management.
In essence, CAFM technology combines business administration, behavioral science, architecture and engineering concepts to optimize the functioning of your organization. It can be helpful to think of computer-aided facility management as a comprehensive commercial facility or building maintenance tool with many different facets and functions.
It can consist of many different modules that cover:
information management
maintenance management 
physical building administration
floor plans and space management
leasing and real-estate management
asset lifecycle management
and administrative support
If the maintenance management module of your CAFM software leaves a lot to be desired, it can be combined with a CMMS software to provide better support to your maintenance team.
EAM software
EAM is an abbreviation for enterprise asset management. Functionality-wise, EAM software sits somewhere in between CMMS and CAFM. It provides a broader range of features than CMMS, but most of them are focused on the maintenance department:
work management
labor management
MRO inventory management
contract management
asset lifecycle management
financial management
reporting and analytics 
At its core, enterprise asset management is used by production-oriented organizations to plan, optimize, execute, and track all maintenance activities with the associated priorities, skills, materials, tools, and cost. And EAM software is designed to support that idea.
IWMS software
IWMS stands for Integrated workplace management system. The easiest way to describe it is that it usually offers everything you can find in a CAFM software, and then some. You can think of it as an all-in-one solution for facilities management.
So, aside from CAFM features listed above, IWMS can also include:
flexible real estate and lease management features
project management features
environmental management features
mailroom management features
visitor management features
As with every other software on this list, different software vendors offer different levels of functionality. It makes more sense to look at the exact features you need than to focus on labels like IWMS, CMMS, or CAFM.
BMS/BAS/BEMS 
Let's first explain the acronyms:
BMS = building management system
BAS = building automation system
BEMS = building energy management system
BMS and BAS are often used interchangeably because they serve basically the same purpose. They use a combination of hardware and software solutions to control different building systems like lighting, heating, HVAC, access control, etc. They can also be used to measure the performance and energy consumption of HVAC systems and other assets.  
Facility managers have to keep an eye on energy consumption because it accounts for a big chunk of their facility's operational costs. Building energy management systems help them measure energy consumption across the whole facility and find problematic systems and assets. 
While BEMS and BMS can come together, they are usually standalone systems that are implemented separately. That being said, they do work very well together. BMS/BAM primary function is to control building systems and assets while BEMS primary role is to collect and analyze energy consumption data (it can track everything from device electricity usage to water, gas, and steam consumption).
For those who want to learn more, here is an article that discusses the differences between these systems in more detail. 
Building security system 
Physical security systems also come in different forms and offer a wide array of functionalities. They can be used to detect risk, record incidents, and perform risk analysis. They offer visitor management features that range from facial recognition and badge scanning to video surveillance and capacity and occupancy tracking.
The future of facilities management
COVID-19 has once again proven how facility management is an integral part of business management. It plays a big role in risk management and ensuring business continuity. As we move forward, there are some clear trends that will impact how facility management is executed and what facility managers need to be focused on.
Flexible working spaces
One thing that the pandemic has taught us is that a lot of work can be done from home. Even before the pandemic, remote work was becoming increasingly popular.
If you have been paying any attention to this space, you must have heard discussions about setting up coworking spaces, leasing flexible offices, and switching to a remote workforce. 
As stated in Remoters 2021 remote trends report: "…in 2020 we saw a record number of high profile companies announcing how they will whether remain remote even after Covid, like Dropbox, Shopify and Twitter; or how they will become hybrid and more flexible in their approach of working from a specific location, like Zillow or Facebook, that on May 21st announced that it would permanently shift a high share of its workforce to become remote…"
Moving forward, it is likely that facility managers will have to be more focused on setting up home offices and managing flexible workspaces, while still keeping an eye on the company HQ.
Digital transformation and automation
As businesses continue to digitalize analog processes and IoT technology continues to develop, facility managers will have more data to work with than ever: real-time asset condition and performance monitoring, prescriptive and predictive maintenance, accurate building and asset energy consumption data, smart surveillance and security applications, robots and apps replacing human labor. 
Facility managers of the future will have to be tech-savvy and make sure to create an infrastructure that will enable them to gather and analyze huge amounts of data.
Greater focus on sustainability
Businesses that own big facilities and commercial properties are very interested in reducing their energy consumption. Since the energy bill can be the biggest item on the list of operational costs, it is no wonder that facility managers are under pressure to improve sustainability by increasing energy efficiency.
Refrigeration, equipment, and lighting seem to be the biggest energy spenders in commercial buildings. 
Facility managers will likely focus on purchasing more energy-efficient assets, continue retrofitting their lighting systems, and implementing smart building systems to gain better insight and more control over their energy consumption. 
Promoting healthier lifestyle
We are becoming painfully aware, no pun intended, how working long hours behind a desk is not the healthiest thing in the world. 
Ergonomic chairs, standing desks, spaces for relaxation, air and water purifiers, healthier snacks, and workplace exercising are just some of the ways in which businesses will try to promote a healthier lifestyle. More often than not, facility management will be responsible for making these things happen.    
Where can you learn more?
Facility management is a broad subject and there are lots of resources available online to get more information. Some great places to look for more info include: 
Still curious to know more? If your question is in any way related to maintenance operations or how CMMS delivers sustainability and ensures business continuity, contact us directly.
For everything else, start a conversation in the comments below!
Careers in Facility Maintenance
Facility Maintenance Resources
Limble
Ranked #1

by maintenance experts in the field



>
<
Aug 09

A great tool for Facility Managers.

"Limble is very easy to get involved in and no contracts, with simple monthly billing. I have auditioned other CMMS companies and they make it too difficult, to try out. Limble strategy is very simple - here is our software, you can customize it in most categories and let us know if you have any questions. As a multiple building County Facilities Director, I highly recommend trying it!"

Dec 19

Very easy to use, access

"I like the price, the fact I can see it on my phone or the computer. I like that it is internet-based."

Nov 21

Awesome Product with REAL support!

"Our team reviewed & demoed 6 different CMMS companies and the decision was easy! The functionality was extremely easy, but still provides the analytics needed to track our companies time and money spent on maintenance. Their support is top-notch! I've dealt with numerous software companies in my position and can tell you, you will not find one better!"

Dec 19

Over all very good

"Nice layout and easy to use. Email alerts are very useful, and the comparison between planned and unplanned is very helpful"

Jan 04

Best value for money CMMS

"Limble has all the features essential to maintenance management. It is very easy to use. Limble can connect with wireless sensors for Condition Based Maintenance. We are in Thailand, and Limble also supports the Thai language. Importantly, their customer support is fantastic almost 24/7. They reply within 10 minutes anytime. I am sure that Limble will really help your operations."

Jan 18

Limble is the best thing to happen to this company

"Limble does such a good job at keeping track of what's been done and letting me know when and what I need to do next."