Acquiring assets is a constant practice in fully functional construction companies. It is a vital part of the operational cycle, and as such, its management also becomes mandatory. However, construction asset management can be easily overlooked or taken less seriously than it should be, as more attention is given to the procurement of the assets alone.
Proper asset management will ensure maximum productivity, continuously improve efficiency, and in turn, increase the company's returns on investment.
To understand asset management better, and especially how it applies to the construction industry, one must first understand what an asset is.
What is an asset?
Generally, an asset is seen as anything of monetary value owned by a business or an individual. In the construction industry, assets encompass – but are not limited to – machinery and equipment.
What is asset management in construction?
Construction asset management is the process of organizing the step-by-step method of developing or obtaining, operation and maintenance, renewal or upgrading, and disposal of a company's assets.  It can be easily summarized into two categories:
asset procurement
asset tracking and maintenance
These two categories encompass the general life cycle of any asset in a construction company's possession.
Checklist for Creating a Preventive Maintenance Plan
Following a consistent Preventive Maintenance Plan can make life easier. Use this checklist to create your own!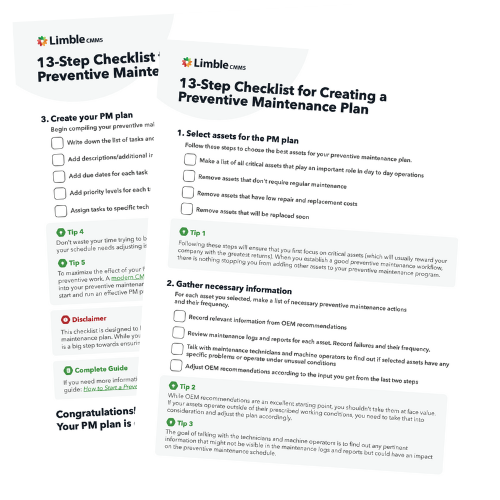 The basics of asset procurement
Asset procurement refers to the process of obtaining any given asset. A lot of observation and systematic planning goes into asset procurement to ensure it's a worthwhile investment. Before an asset can be procured, it must have:
been determined as an essential need
met standard requirements for the company (in terms of efficiency and cost, amongst other variables)
been certified to deliver desired results and add value to the company
If these criteria are not met, a company runs the risk of purchasing a liability and not an asset.
For instance, let's say that a need to purchase a bulldozer is raised in a construction company, as it is no longer profitable to keep renting. The bulldozer has been determined as an essential need, so the company goes on to assess the caliber of the equipment it is eyeing, depending on the kind of job it would be running. If this assessment is not done properly, a bulldozer of inadequate capacity might be purchased —and as such would not meet demands— which would in turn generate losses for the company.
Other variables, such as brand, cost, and asset design requirements, are taken into consideration before a purchase is made.
The basics of asset tracking and maintenance
The work doesn't end after an asset is procured. If assets aren't closely monitored and maintained, they might not meet the company's full expectations.
Monitoring and maintenance of acquired assets
Construction equipment is expensive and construction sites are often poorly secured. Those are the main reasons why equipment theft is a real issue. To combat that issue, besides better security measures, construction companies are more and more focused on asset tracking. Knowing the location of their assets at all times not only increases its security, but can also help construction managers to better coordinate work across multiple construction sites.
Knowing where your assets are doesn't mean much if they are broken and waiting to be repaired or replaced. This is why construction equipment management and asset monitoring is so important. When monitoring is done suitably, it much easier to detect when an asset should be shut down for major maintenance work. This can be done by ensuring no routine maintenance tasks are skipped and by implementing condition monitoring sensors that send alerts when certain parts of the asset start to deteriorate.
The best way to ensure that construction assets are in optimal working condition is by implementing one of the proactive maintenance strategies supported by a good CMMS.  To learn more about what is a CMMS check out our guide.
Renewal or upgrading
Eventually, assets would get to the point where they can no longer perform at optimal status and where the cost of maintaining and repairing the asset exceeds the value it brings to the company. At this point, one would either need a portion or the whole of it to be renewed or upgraded.
Although nothing might be necessarily wrong with an asset prior to an upgrade, the nature of its duty might change, and it may require an upgrade to keep up. For example, a company might decide to upgrade its assets simply because there is a significant upgrade available on the market.
Disposal and replacement
Disposal of an asset when it becomes redundant is necessary because the asset is no longer adding value. If an asset to be disposed of is an essential one, then a replacement would be required, which takes us one full circle back to asset procurement.
It's important to note that disposal can also be done in a cost-effective manner. Instead of outrightly discarding an asset, it could be sold or recycled. This way, even in disposal, it's adding value.
Tips for effective construction asset management
When asset management is done right, a company should be able to effectively and efficiently utilize an asset to accomplish its desired goals and be able to squeeze the maximum value out of the purchased assets.
Effective construction asset management minimizes the cost and risk involved and improves the delivery potential of assets. Here are some tips on making asset management more effective:
Promote the predictive method of asset management. The reactive approach to asset management leads to unexpected equipment shutdowns, project delays, cost increases, and safety risks. For companies that have the budget to implement it, predictive maintenance is the best long-term maintenance strategy.
Automate asset management with a CMMS. Manually organizing maintenance work is grossly inefficient. The most straightforward way to automate, track, and optimize all maintenance work is to implement a modern CMMS like Limble.
Have a comprehensive asset register. Maintain an inventory list of available assets, when they were gotten, why they were gotten, if they are meeting expectations, maintenance history, etc. This will help you improve current maintenance actions, as well as provide important insights you can refer to when purchasing additional construction equipment or upgrades.
Monitor asset conditions, track their depreciations, and have a rating system. The condition of the asset should be known at all times. It should be known when the asset is expected to be withdrawn so that the useful life of the asset can be determined and reviewed accordingly.
Forecast future changes. This is applicable to risks, services to be rendered, efficiency, value, growth, and loss. It is not just for the assets alone but also for the asset management system to predict redundancy.
Work on continuous improvement. Construction asset management involves a lot of moving parts and processes. Any organization that strives to be competitive on the market will be on the lookout for ways to improve. This can be anything, from updating outdated workflow and safety procedures to improvements done in asset tracking and procurement processes.
Conclusion
A good asset management system is a huge benefit in any industry. In the construction industry, it will help increase general production output, prolong the life and usage of all kinds of machinery and equipment (heavy-duty or otherwise), promote system sustainability, and enable the company to meet service expectations and regulatory requirements.
For these reasons, it should never be taken for granted.
---
Patrick Hogan is the CEO of Handle, where they build software that helps contractors, subcontractors, and material suppliers with filing documents like preliminary notices to avoid late payments. Handle.com also provides funding for construction businesses in the form of invoice factoring, material supply trade credit, and mechanics lien purchasing.