Defective electrical components are some of the biggest causes of equipment failure. Considering how complex today's electrical equipment is, preventive maintenance is the only viable solution if companies wish to save on maintenance costs.
We'll provide a comprehensive electrical preventative maintenance checklist that covers all maintenance inspection bases.
Overview of an electrical preventive maintenance checklist
Electrical preventive maintenance refers to maintenance procedures that are performed to prevent damage and malfunction to electrical connections and local networks.
Electrical maintenance is typically performed in the following areas:
Residential Locations: Houses, apartments/condos, and mobile homes are included in this category.
Industrial and Commercial Establishments: These include factories, hotels, shopping malls, entertainment centers, etc.
Healthcare and Special Occupancies: Hospitals, assembly lines, storage areas, boatyards/marinas, and theaters are included in this category.
Any of these will usually have a routine or scheduled maintenance framework set up according to requisite electrical safety (NFPA, OSHA, IEEE, etc.) standards.
Depending on the size and scope of the establishment, it may have in-house electricians or third-party electrical contractors and other qualified personnel to perform that maintenance.
However, it's rare to find an actual preventive maintenance management system that considers all malfunction possibilities and prevents them from happening in the first place.
Furthermore, a lot of facilities don't even consider the importance of electrical preventive maintenance for new equipment.
Electrical pm programs are all the more important today for all these reasons and more.
While such programs involve a huge variety of maintenance tasks, there are some basic procedures that every program includes.
These are:
Regular inspections of all living areas including bedrooms, kitchens, lounges, hallways, and bathrooms.
Close examination of inlets, circuit breakers, panelboards, and electrical distribution systems.
Detailed surveys of residential feeders and various service equipment.
Inspections and repair of commercial transformers, capacitors, and wiring manifolds.
Checking indoor and outdoor lighting, relays, and control panels.
Monitoring of running electrical systems in Class I, II, and III hazardous locations.
Initial and finished surveys of special occupancy units.
Additionally, this includes checking for all major and minor signs of electrical malfunction such as short circuits, loose connections, visible burning and arcing, and small (serial) explosions.
Now that you have a basic overview of what electrical preventive maintenance looks like, let's look at each electrical maintenance area to develop a full checklist.
Electrical Maintenance Checklist
Use this helpful template as a starting point for your electrical maintenance program.
Residential location checklist
Residential areas (also known as dwellings) usually have a smaller electric supply requirement.
This means fewer circuit panels and less wiring.
However, a preventive maintenance plan is just as important in a residence as it is in large facilities.
Here's a list of pointers that will help you develop such a plan:
Check cable assemblies and other wiring methods in rooms, hallways, stairways, and attics.
Check cable installations and circuit boxes for general suitability.
Examine boxes for warning lights and other irregularities.
Ensure equipment grounding conductors are suitable for use according to the size and quantity of equipment.
Examine lighting outlets and ensure they are properly wider on general lighting circuits.
Inspect wall and countertop receptacle spacing and proximity to heat, cold, and water sources.
Survey relevant receptacle outlets for branch circuit type (ensure they're supplied by small appliance circuits).
Identify and repair frayed wires close to water outlets in bathrooms.
Look for irregular wiring arrangements and lighting outlets on walls.
Check the grounding electrode conductor connections and buried connections for heat damage or suitable placement.
Examine and repair electrical surge protection units (where installed).
Inspect timers, power supply units, relays, and control wiring for humidity or temperature damage, as well as regular wear.
Detect signs of electrical disturbance as an indicator of minor shorts and sparking.
Ensure proper voltage in all rooms and areas of majority electrical usage.
Of course, any electrical maintenance checklist is incomplete without NFPA 70B, NFPA 70E, and Institute of Electrical and Electronics Engineers (IEEE) compliance standards.
Industrial and commercial establishment checklist
Commercial facilities usually consume a significant amount of electricity on a regular basis.
Some of these places need their own power supply plants and dedicated electrical equipment maintenance teams.
Nevertheless, even the most organized commercial establishment can benefit from a checklist that includes some crucial and sometimes overlooked maintenance pointers.
These are:
Check all power meters for regular function before shutting them down for maintenance.
Confirm that indicators, sensors, and warning lights are functioning correctly.
Torque test and inspect bolted electrical connections to specified levels whenever needed.
Visually inspect primary control points for signs of deterioration and overheating.
Disassemble battery tripping packs and check for signs of general battery integrity and any signs of corrosion or heat damage.
Perform thermal imaging surveys using precise thermography equipment.
Check for signs of persistent overheating and single out specific areas for repair or part replacement.
Inspect motor control circuits and check for appropriate overcurrent protection.
Confirm that all motor disconnects are close to the motors and are easily accessible for maintenance.
Check if multi-unit conductors are properly supplying to all connected units and if they are rated for their connections.
Verify that ground-fault and feeder short-circuit protection is sized according to the specific application.
Confirm if the transformers rated at over 1,000 volts have adequate overcurrent protection (install protection if necessary)
Inspect transformers for any failsafe elements or means of disconnecting immediately.
Conduct a detailed survey of all machinery and moving systems (elevators, dumbwaiters, and platform lifts), check for proper wiring, and ensure correct voltage supply.
Furthermore, make sure all room circuits are rated for the number of machines and other electric equipment they are connected to.
The Essential Guide to CMMS
Download this helpful guide to everything a CMMS has to offer.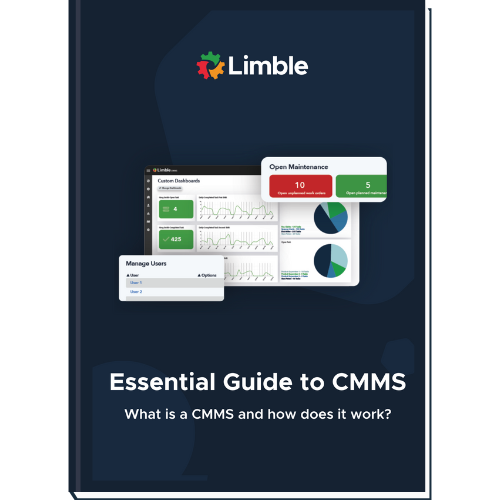 Most companies and commercial establishments run on large and widespread electrical systems. While the majority of modern power supply networks have protective devices installed, they're still prone to electrical failure. This calls for an effective electrical preventive maintenance program that ensures uninterrupted electrical distribution and prevents outage-related downtime.
Defective electrical components are some of the biggest causes of equipment failure.
Considering how complex today's electrical equipment is, preventive maintenance is the only viable solution if companies wish to save on overall maintenance costs.
If you're looking for an effective EPM program guide for your company, keep reading. We'll provide a comprehensive electrical preventative maintenance checklist that covers all maintenance inspection bases.
Healthcare and special occupancies checklist
Special occupancy centers are facilities that house people for specific non-residential or commercial purposes.
Depending on the scale of the facility and the quantity of electrical equipment inside it, special occupancy centers could have varying preventive maintenance needs.
However, some maintenance pointers will be the same for all facilities.
These are:
Determine proper classification and review the definitions of the areas that will be inspected for maintenance.
Ensure all patient-care and waiting areas have proper insulation along the panel boards and outlets.
Confirm if the space behind patient beds have at least eight receptacles (install better/more receptacle panels if necessary)
Ensure that every critical patient care area has at least one dedicated receptacle that's supplied by a critical branch circuit.
Ensure that every operating room has at least 36 individual receptacles, with provisions for more.
Check to see if the power source and feeder capacity is adequate and review the load calculations for essential systems.
Inspect power supply routes to critical life-support systems and perform detailed checks on dedicated backup generators connected to those systems.
Inspect, repair, and/or replace the supply lines for all alternate power sources.
Check all lighting sources for signs of usage-based wear and dimming (replace as necessary).
Identify any areas within the facility that are using more power than they should and isolate the source of the extra consumption.
Relocate excess power consumers and balance supply as needed for smooth functioning.
Healthcare facilities can specifically benefit from preventive maintenance as they house human patients and other high-risk elements that require a steady supply of power.
Developing an electrical preventive maintenance checklist with today's considerations
The concept of preventive maintenance stems from performing minor upkeep before the end of the equipment lifecycles in order to save time and resources and eliminate the need for emergency maintenance.
That said, today, the goal is all about the integration of tech into any and all technical processes, including electrical maintenance.
In light of this, any current maintenance checklist has to consider some crucial factors.
Here are some of those factors:
Individual equipment lifecycle
Performing the same level of maintenance on all equipment is not ideal or cost-effective, and certainly not among the recommended practices for today's electrical equipment.
This is because the same facility could have a manual HVAC unit and an automated fluid pumping system with the ability to self-diagnose built into it.
Considering that, it's more beneficial to bunch together machinery that requires a similar approach to maintenance, and work on those batches separately but simultaneously.
Maintenance management software
Computerized Maintenance Management Software (CMMS) are being used all over the world to streamline maintenance and better manage maintenance activities.
Integrating such software into your maintenance framework will allow personnel to function better and complete maintenance tasks sooner, all while eliminating redundant tasks and saving resources.
Final thoughts
As the global industrial and residential landscape shifts to a more tech-forward approach to daily function, we'll see old processes being replaced by new, more efficient ones.
The same goes for traditional preventive maintenance.
Technology such as CMMS software is ushering in a more effective age of systems maintenance. Incidentally, it's also bringing in a greater need for more cost-effective initial maintenance.
In conclusion, the more effective your preventive measures are, the greater your chances of having facilities run without fault for longer.