Golf is a major industry of its own. At nearly 9,500 golf clubs in the US, the industry is worth $84 billion. It employs over 2 million people, many of whom focus on maintenance. 
What is
golf course maintenance
?
Golf course maintenance is more than just watering the greens and mowing the lawns. 
Golf course maintenance involves maintaining:
Fairways

,

putting greens,

and bunkers

Country club

,

clubhouse

, and any other buildings onsite 

Irrigation systems

and

landscaping

Equipment like

mowers

, and servicing

golf carts
How to maintain a golf course
Use the following best practices to keep the golf course looking amazing year-round.
Mowing
Ensure that putting surfaces are smooth and firm with limited grain and uniform coverage. Follow these steps to achieve ideal conditions.
Mow

tee boxes

and greens with a hand

mower

during slower times in the week and after heavy rains. On busy weekends, mechanical

mowers

will save time. 

Trim greens to about 0.140 inches in the spring and fall seasons and can go as low as 0.100 inches during summer. 

Use a

Stimpmeter

to measure the speed of the

putting green

. Most courses measure speed at 9, with

PGA

courses ranking at 11. 
Source: PitchCare.com
Irrigation systems
Computerized irrigation makes it easier to water a golf course. It regulates water flow and schedules to balance enough water for plant growth while avoiding waterlogged conditions. 
A basic golf course irrigation system includes:
Water source (either a man-made lake or pond)

Pumping station

Water distribution pumps and valves 

Control lines to funnel delivery of water into sprinklers

Fertigation (fertilizer and other chemicals injected into the

irrigation system

)

Sprinkler heads 
The best time to irrigate playing surfaces is early morning. This allows time for the water to distribute properly, avoids excessive water evaporation, and is more convenient for afternoon golfers.
Water grasses on an as-needed basis after checking soil moisture levels and weather conditions. 
Pest control
Where there is abundant grass and foliage, you will find pests. If left unattended, golf centers risk turf loss due to weeds, pests, and fungi. Handle pest control proactively by using a combination of the following:
Pre-emergent herbicides to prevent unwanted seed growth 

Post-emergent herbicides to treat broadleaf and grassy weeds

Fungicides

to kill or inhibit the growth of fungi and fungal spores

Insecticides to deal with invasive pests
There is a lot more to pest control to keep your golf course looking great. Check out these additional pest control resources.
Chemicals and fertilizers
Most golf course maintenance workers prefer organic materials, but some use chemical fertilizers, herbicides, insecticides, plant stimulants, and growth regulators (or sometimes, a combination).
Safe storage and application of these chemicals is a critical part of maintenance practices with designated areas for storage and procedures for mixing and application. 
Maintenance staff that handles chemicals must be trained and certified to work at American golf facilities. Check out the EPA pesticide storage guidelines for more information on chemical use and storage. 
Ponds
Ponds are a part of all golf courses. Regardless of if they are natural lakes or man-made, groundskeepers need to work to keep them clean and free of algae and sediment. 
Most golf course superintendents opt for a combination of aeration and dredging:
Aeration

: ensure there is adequate dissolved oxygen, to keep sludge (mud, algae, insects, etc.) from accumulating.

Dredging: removes sludge from the bottom of ponds with vacuum hoses, and recycles the water.
Source: Dredge America
Removing ball marks and repairing
divots
Ball marks can interfere with other players' games. They are made when golf balls hit the ground and create divots, or when chunks of grass are uprooted by players' golf clubs.
Because they are relatively easy to repair, it's considered good sportsmanship for golfers to repair their own marks. 
Groundskeepers also make a point to correct them as part of regular upkeep. 
Maintaining all shades of green
Golf courses have a variety of types of greens used for play. Good golf course management requires that you know how to care for each of these different areas. 
Tee boxes
The tee area is the smaller section of turf used for the first stroke of each hole. 
While the larger expanse of lawns and greens will receive a lot of attention by default, workers may easily overlook the tee boxes. Maintain tees consistently to ensure ideal playing conditions.
Ways to do this include:
Planting a tougher variety of grass in the box (e.g., perennial ryegrass or Kentucky bluegrass)

Spot fertilization and irrigation

Moving

tee boxes

around to give trampled turf some time to recover
Bunkers
Sand bunkers help make the game more challenging and add interest to the course. 
Maintaining these bunkers involves:
Raking

the bunker to rearrange sand disturbed during play

Frequent refilling with sand

Raking

to remove leaves and grass

Adequate drainage to prevent pools of stagnant water after rainfall

Mowing

the turf around the bunker's edges
Checklist for Creating a Preventive Maintenance Plan
Following a consistent Preventive Maintenance Plan can make life easier. Use this checklist to create your own!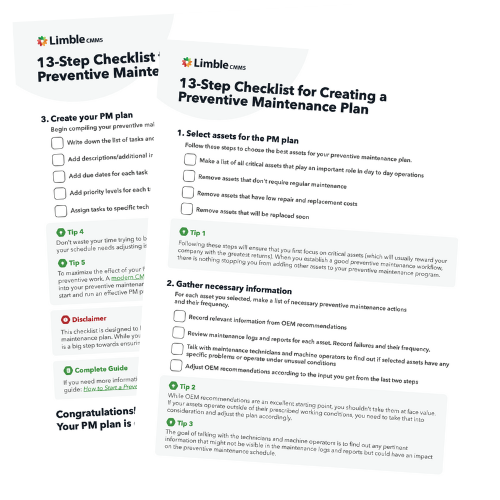 Fairways
The fairway is where the majority of golf course maintenance takes place. Grasses should be cut short so that players can strike the golf ball cleanly. 
Fairways can take up to 30% of a golf course's acreage, which means there's a lot of fairway to maintain.
Fairways maintenance entails:
Keeping a dense and contiguous cushion of

turfgrass

at a general height between 0.38 and 0.5 inches

Mowing

multiple times every week

Suppress the growth rate of

turfgrass

with

growth regulators

and consequently reduce

mowing

frequency
The maintenance team must monitor the frequency of maintenance on the fairway. It can significantly increase labor costs and accelerate the wear and tear on mowing equipment.
Putting greens
Most golf courses can achieve high-quality putting greens by alternating between mowing and rolling the grass to keep the grass around 0.1 inches. 
Groundskeepers should be mindful of the following:
Checking for signs of stress in the grass

Reducing

mowing

and rolling accordingly, especially during high temperatures, humidity, pest infestation, or frozen conditions

Choosing the right

mowing

equipment for

putting greens

– usually either a

walk-behind

mower

or a

triplex

mower
Trees
Keeping trees in and around the golf course well-maintained requires the following:
Deep root

fertilization to cut down the competition between tree roots and turf roots for water and nutrients.  

Trimming leaves to reduce canopy and shade (the surrounding

turfgrass

needs direct sunlight to thrive)

Frequent pest control

Mulching around trees to prevent

mowing

blades from damaging exposed roots

Pruning to prevent weak branches from falling and potentially injuring players or workers
Golf course maintenance equipment
Golf course upkeep requires specialized equipment for workers to do their job. 
More than just the mowers, rollers, and pond drenching equipment mentioned above, you'll also need equipment for: 
Fertilization and pest management

Safety (includes fire-fighting equipment, first aid boxes, and PPE for maintenance staff)

Cultivation equipment (soil aerators, power rakes, sod cutters, and dethatchers)

Transportation

equipment (heavy-duty

golf carts

and other utility vehicles for transporting staff, materials, and tools)

Top-dressing

equipment (sand applicators, blowers, and vacuums)

Chemical handling equipment
Golf course maintenance equipment itself needs regular attention from the maintenance team.
Streamlining
golf course maintenance
with a CMMS
Golf course maintenance should not be approached haphazardly. Equipment and facilities must be kept safe, functional, and presentable.
Here are some of the benefits of using a CMMS for your golf course maintenance.
Create a preventive maintenance plan
Schedule a preventative maintenance plan for things like golf carts or sprinkler systems to avoid surprise breakdowns. A CMMS allows you to automate the scheduling of work and adjust PM schedules seasonally.
Review uptime and downtime of assets
Get a handle on how often assets are being used — for example, your irrigation system — and how often they are down for maintenance.
Keep an eye on your inventory
Inventory control allows you to track things like parts (mower blades, golf cart batteries) so you have the supplies you need on hand when it's time to fix something.
Create maintenance checklists
Maintenance checklists to ensure the same key tasks are getting done each day/week/month. Limble makes this easy.
Risks of putting off
golf course maintenance
Deferred maintenance overtime is expensive and can cost businesses their reputation. Take a look at some specific risks golf courses face when putting off maintenance:
Weeds: grass that is not mowed can easily become overrun with weeds and could eventually need to

be replanted. 

Inadequate irrigation

: a lack of water can cause turf loss, cause trees to die, and ultimately require complete replanting of the course. 

Pests

: pests can take over, causing disease, and rendering the course unplayable. 
For an in-depth look at the long-term effects of putting off golf course maintenance, read the USGA's guide on the risks of deferred golf course maintenance.
Types of
golf course maintenance jobs
The maintenance supervisor generally requires a degree in agronomy and has a certification in golf course supervision. Core functions include managing a team of landscapers and maintenance workers, scheduling the work, and reporting to management. 
Maintenance workers and landscapers or greenskeepers generally study horticulture and turf science; however, they are not required to have a degree, but it is helpful. Pesticide application licenses are a must. 
Doing more with less
There are many moving parts when it comes to golf course maintenance. The sheer vastness of a golf course makes it easy for things to fall through the cracks. 
Using a CMMS will help you manage the back end so that your team can run the front end smoothly. 
If you want to take Limble out for a spin, check the options below:
Try a self-demo

(it's a simulated environment in which you can Limble's features)