As companies scale up, they have an increasing need to recruit facility and maintenance managers for the upkeep of their physical assets and infrastructure. The Bureau of Labor Statistics says that maintenance workers get around 152,300 openings every year.
If you are a job seeker, your maintenance manager resume should be application-ready at any given time. Good opportunities can go to waste if you aren't ready to explore them.
But do not fret – we have compiled crucial tips you need to build a perfect maintenance manager resume. Before that, a quick explanation of key responsibilities.
What does a maintenance manager do? 
Maintenance managers cater to overseeing all repair and upkeep of the physical assets on their premises, building infrastructure and surrounding grounds included. They are also responsible for the optimal safety of their workers and need to make sure that their maintenance department has all the resources it needs to function smoothly.
They work in industrial environments like manufacturing, mining, power plants, as well as other commercial buildings and government facilities. By providing their expertise to streamline operations, they make sure that the background work of every company is effectively carried out to catapult the organization's growth.
Maintenance managers are often the connection between top management and maintenance workers that are down in the trenches.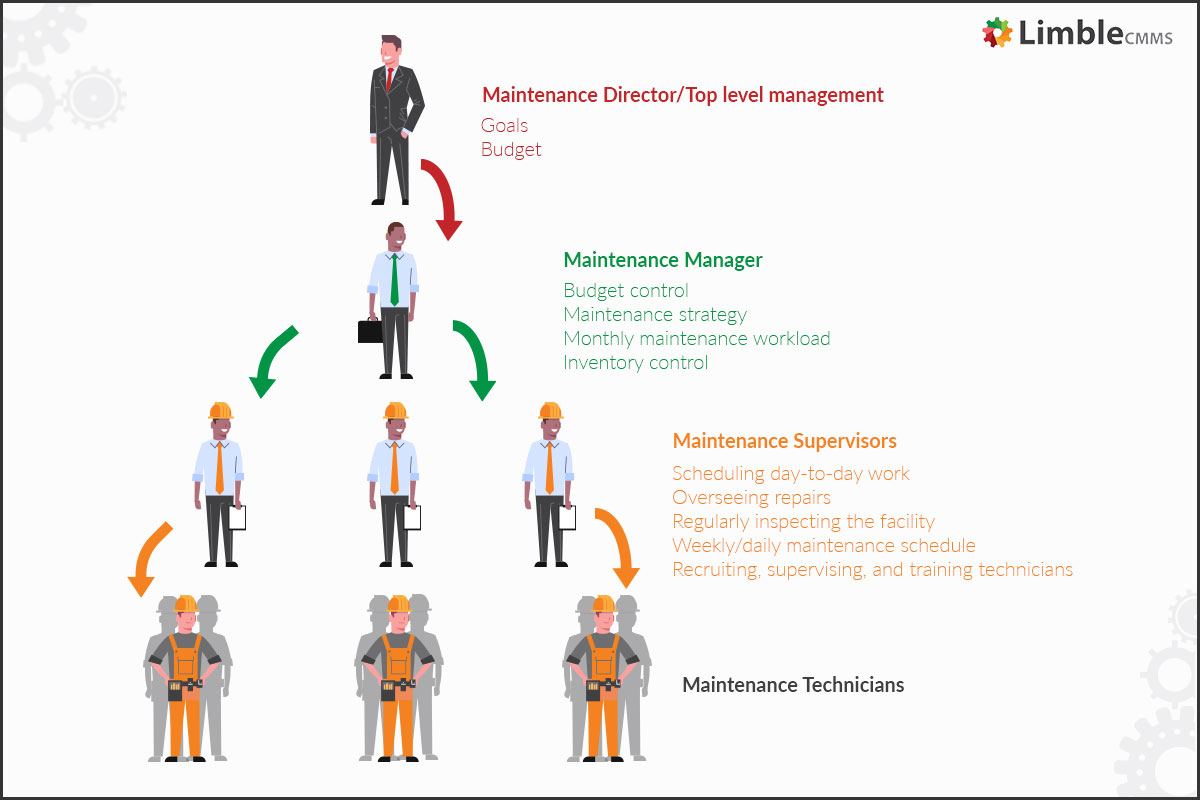 Here are the basic roles and responsibilities of a maintenance manager:
Monitor equipment and

ensure optimal asset maintenance

, availability, and utilization 

Coordinate vendors and contractors 

Oversee activities on-site and supervise employees to function effectively

Carry out all repair and maintenance activities of the site (in smaller organizations)

Maintain logs of daily activities and closely monitor employee performance

Ensure workers comply with safety policies 

Allot workload and oversee staff like janitors, custodians, etc.

Develop proactive

maintenance strategies

 

Track and manage

maintenance costs and budget

…
Of course, the exact list of responsibilities will differ based on the industry and the size of the organization you are applying to. 
For more info, read our guide: What Are The Roles And Responsibilities Of A Maintenance Manager. It includes a whole report on the most important skills and the most common challenges, which we compiled after interviewing dozens of maintenance managers.  
With that out of the way, let's get straight into the tips for writing a compelling maintenance manager resume. 
Maintenance Acronym Guide
Confused by PMs, MTTR, and DFMEA? This maintenance acronym guide will have you talking the talk in no time.
Tip #1: Optimize your professional experience sections 
If you have work experience or even internships in the field, list them on your resume. Additionally, make sure that you don't follow outdated resume writing practices and that your resume is easily readable.
Here are a few tips to help you draft an impressive work experience section:

Include a bulleted list of one-liners instead of writing paragraphs explaining your work functions 

Group similar bullet points under relevant subheadings and highlight important information to attract recruiters 

Maintain a cause-effect relationship in your sentences to provide background information for your work experience

Quantify details wherever applicable to enhance the effectiveness of your professional experience section 
Sprucing up your professional experience section will give your maintenance manager resume an instant facelift, thereby helping you portray yourself as a worthy candidate. 
Tip #2: Add all of your managerial skills 
As an applicant with a fair bit of experience, you would have a whole repository of skills to list on your resume. The "key skills" section of a resume is dedicated to exploring this arena of your professional character. 
If applicable to  you, here are some of the skills you can add to your maintenance manager resume:

Equipment installation

Technical writing

Financial management

Experience with

using CMMS software

Equipment repair

Project management

Experience creating and managing maintenance budgets

Safety management

Inventory control

Vendor management

Experience managing maintenance contractors
You can reserve space to add your technical skills or create a separate section so that you cover all bases. In this section, you can go into more detail about your computer and equipment management skills, depending on what you want to focus on. 
Tip #3: Include relevant certifications
Since maintenance manager job openings do not always require a degree, having certifications that cater to specific functions can be highly beneficial to get a job. Gaining valuable certifications should be a priority to build your knowledge and expertise, instantly increasing your value in the job market. 
Here are a few maintenance manager certifications that will shine on your resume:
In the Certifications section of your resume, you can list all of them in bullets with the format:
Certification | Certifying Authority | Date 
You typically will not be requested to delve into details about your certifications, which is why this format is a concise manner of displaying your skills. 
Tip #4: Do not forget to include additional sections 
To excel in any job position, it is important to evaluate your accomplishments and career trajectory. If relevant, transfer them to your maintenance manager resume. Aside from important sections like the professional experience, key skills, education, etc., you can add extra sections such as:

Research 

Volunteer experience

Honors & awards

… 
Doing so will ensure that you do not leave out any information that could affect your chances of landing an interview. These sections will also do a great job of highlighting your soft skills, which recruiters tend to look out for. 
Maintenance manager resume sample
Talk is cheap. It's time to round everything up with a maintenance manager resume sample. 
It goes without saying that, depending on your experience, you will need to add or remove some sections. The formatting is also not perfect, but it is good enough for an illustrative example that you can use for inspiration to build your own resume.
Maintenance manager resume sample 
This sample was built using Hiration's resume builder and is based on our maintenance supervisor template.  
Key takeaways 
If you have considerable experience in your field, all that you need to excel in your career is an impeccable maintenance manager resume. It can seem intimidating with the newly set industry standards, especially with new technologies like the ATS (Applicant Tracking System). 
Here is what you can take away from this blog to deal with that:
Include one-liner bullet points in your professional experience section and make sure you maintain a cause-effect relationship in each one-liner

Add relevant managerial skills in a dedicated section to give your recruiter a quick overview of all of your areas of expertise

Mention certifications in your resume to give your resume an added touch of professionalism

Assess your areas of expertise and include additional sections for things like awards and volunteer work that will showcase your values and soft skills 
Follow these tips to get a shortlist-worthy maintenance manager resume!
---
Author: Aditya Sharma is on a quest to help professionals across the world land their dream jobs. Aditya lives and breathes Hiration — a platform to help job-seekers find their way in the treacherous job market — where he's a Co-Founder and the unofficial CPO (Chief Problem-solving Officer). He likes to code away his days and nights when he's not busy disrupting the career space.