September 6 2019
What are the Roles and Responsibilities of a Maintenance Manager? [Plus Expert Round-up]
A marketing team needs a marketing manager. A retail store needs a store manager. A maintenance department needs a maintenance manager.
Whenever you have a team of people that needs to be coordinated, someone has to be in charge of delegating and overseeing all of the activities. What makes a maintenance manager a bit different is that the scope of their responsibilities is somewhat larger than with your standard managerial role.
What does a maintenance manager do? What are their responsibilities? Which skills do you need to have to be a good maintenance manager? How technology impacts their everyday workflow? We answer all of these questions and more in the text below.
To make this topic a bit more interesting, we reached out to people who have taken on that role in the past to gain their perspective on what makes a great maintenance manager. If you're only interested in what they had to say, click here to jump to that part of the article.
The value of good maintenance management
A major problem many maintenance managers face is explaining the added value of maintenance activities to upper management. According to our research, more than 60% of top managers still look at maintenance strictly as a cost center.
This is a big problem because it is the direct cause of why many maintenance managers have to work with a very tight budget and compromise on the overall quality of the work their department can deliver.
That is just sad because a strong maintenance management team that doesn't have to compromise can bring a lot of competitive advantages to the firm by ensuring high asset uptime and utilization, keeping a good brand image, and preventing and eliminating technical difficulties that can have a serious negative impact on the productivity of their facility.
Maintenance manager job description (what does a maintenance manager do)
Similar to a facility manager, the maintenance manager has to juggle operational activities and strategic responsibilities. In other words, they have to ensure that day-to-day operations run smoothly and take actions that are in line with the strategic goals of the company as a whole.
Being a maintenance manager is often a balancing act where on one side you are trying to ensure that maintenance technicians have all the required tools to do their job efficiently, and on the other side, you have to measure your every action against the available budget and communicate your department needs with upper management.
What are the responsibilities of a maintenance manager?
While the exact scope of work differs depending on the size of the company, a typical maintenance manager is responsible for keeping the ground operations running by managing and overseeing all maintenance-related activities.
In practice, this includes:
scheduling and overseeing all maintenance-related work by managing a team of maintenance technicians and supervisors
ensuring that all maintenance operations are done in accordance with company policy and OSHA guidelines
ensuring the facility satisfies all industry regulations
managing budgets
forecasting, ordering, and price negotiation for spare parts inventory
developing and implementing a (proactive) maintenance strategy
firing/hiring maintenance staff
coordinating the completion of complex repairs
hiring subcontractors for specialized maintenance work and signing off on maintenance contracts
looking for new ways/tools/assets to improve productivity and cut costs
The above list is a set of tasks for a maintenance manager in small and medium businesses where they work directly with maintenance technicians. In some bigger organizations, part of this workflow is taken over by maintenance supervisors, as you can see in the picture below.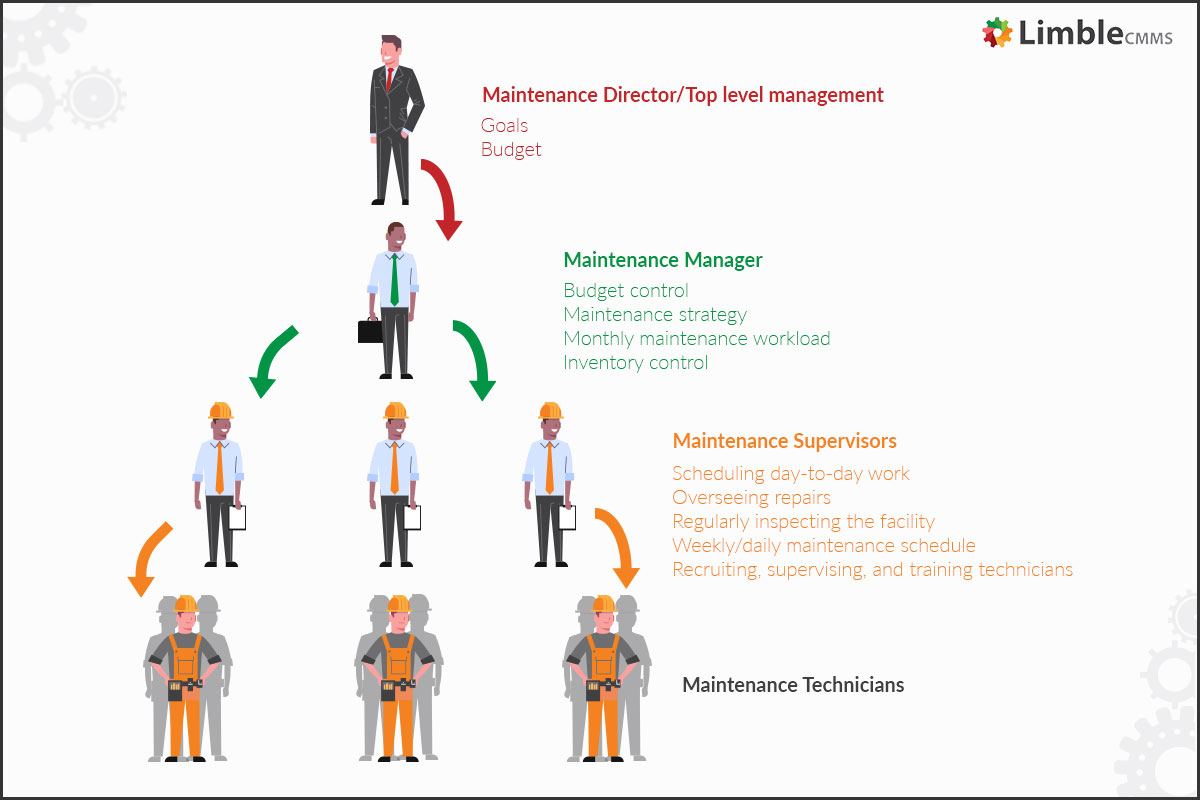 That being said, in many cases, the role of a maintenance supervisor is merged with the role of the maintenance manager.
Insights from maintenance managers themselves
While we were working on the article, we contacted dozens of maintenance managers (and people who have taken on that role in the past) and asked for their insight on 4 different issues.
Here is what they had to say.
1) What are the biggest constraints of your job as a maintenance manager?
Aside from those 3, many maintenance managers said that they also run into constraints like:
working with old equipment
lack of historical data
lack of transparency
spare parts inventory
top management not being interested in implementing preventive routines
2) Which are the most important skills for a maintenance manager?
There are many skills that employers want to see in their maintenance managers. Instead of asking people to list as many as they can remember, we decided to provide a premade list and ask them to choose 3 skills they think are the most important.
Here are the results:
So, according to maintenance managers themselves, the 3 most important skills to have are:
organizational skills
the ability to see the bigger picture
people skills
As you will see in the next section, this is very much in line with the rest of the survey as time management and operations management are common challenges that someone working in this position has to be able to handle.
3) What are your biggest challenges as a maintenance manager?
We have got a lot of interesting and specific answers that clearly show how maintenance managers have to deal with a wide variety of different issues:
Keeping track of ongoing maintenance work.
Putting out fires.
Finding the time to get day-to-day tasks done without all the interruptions from staff and operators.
Team communication with other departments.
Staffing issues (employee turnover).
Optimizing the maintenance strategy to have the most uptime with least cost.
Finding a balance between micromanaging and being hands-off.
Bringing everyone up to speed with technology (specifically CMMS software) and getting them to use it consistently. For an in-depth look at CMMS check out our What is a CMMS System and How Does it work guide.
Ensuring accurate historical data for problem-solving.
Budgeting resources for widely varied (seasonal) equipment usage.
Training equipment operators and technicians.
Keeping everyone moving in the right direction.
You can't tell from this list because we removed overlapping answers, but the most common challenge maintenance managers have by far is time management – finding enough time in the day to properly cover all of their responsibilities.
4) As technology continues to improve, how do you think the needed skills and role of a maintenance manager might evolve in the years to come?
Richard Dedmon, Maintenance Manager at Roplast Industries
Maintenance managers will need to be more tech-savvy and implement enhanced training programs.
Keith Mactavish, Maintenance Supervisor at Enterra
Even though technology improves, the basics remain the same – you have to fix failed component ASAP. With that being said, this will require constantly learning new processes and using new equipment. I do not see this changing my role all that much in the future.
For example, the same thing happened when I was a volunteer firefighter – every year cars changed, seat belts changed, airbags were installed, doors and panels got reinforcements, etc. However, while the way we dealt with these changes did change, the tools we used did not.
Mohammad Hassaan Akram, Engineering & Maintenance Manager at Unilever Home and Personal Care MFG Dubai
With technology improving, the most important skill would be understanding analytics from data and acting upon it. Currently, for typical equipment, data analytics can be used. However, as tech improves, managers will have to set up their own parameters for early warning signs, health and maintainability time for all non-typical equipment, as well as infrastructure.
We will move from qualitative definitions of the condition of equipment to quantitative, but all that will come at the behest of technology.

Mikey Corcoran, Facilities & Property Manager at Lalor Dental
I think the willingness to adopt technology will be paramount.
Mike Hill, Director of Facilities at The Children's Home of Lubbock
MM's will need to be very computer/technology literate. As more aspects of facilities go online, maintenance managers will need to be able to monitor them, use data to be proactive, and manipulate data and observations.
Hugh Fraser, CEO at Kolyny Inc
There will be a much bigger focus on monitoring data.
John Patterson, Equipment Operations Director at Atlanta Athletic Club
I believe that technology needs to be embraced by the modern maintenance manager in order to extract information from the equipment fleet and use the information to make intelligent decisions about maintenance supply purchases and scheduling.
The future maintenance manager needs to be ready to accept new technology and adapt training and maintenance practices as needed. The recent introduction of Tier IV emissions technology in my field is a good example; operators and technicians needed to be trained, different maintenance schedules needed to be developed, and different engine oils needed to be inventoried. The future maintenance manager needs to be flexible and utilize the information available through data mining.

Keith Floyd, Plant Manager at Mid-Continent Coal and Coke Company
Everything will have to be done through tablets and computers and those still using paper copies will be left behind.
Joe, Maintenance Supervisor at Sunbelt Forest Products
Maintenance managers have to be willing to accept changes and learn the needed skills in order to understand the technology and to better understand the bigger picture. They also have to be willing to ask for guidance and/or help from others that might know more about certain subjects than them.
Jeff Burnham, Chief Engineer at Ameritex Services
Maintenance managers will need to improve their computer skills.
Scott C., Maintenance Supervisor & Safety Officer at LA Aluminum
That really depends on what industry you're in. I think, in my small part of the maintenance world, it's all moving towards more automation so we will have to learn basic robotics to be able to maintain them. We also need to make sure we keep up with the state, local and federal workplace codes.
Carlos Zapata, Operations Manager at SUSETESA
There will be a switch from technical towards soft skills and more focus on developing digital culture.
Allen Bryant, Maintenance Manager Conestoga Energy Partners
Maintenance managers need to evolve in the years to come. We will need to focus on staying up to date on available technical advancements to allow our companies to maintain a competitive edge in the market.
Emmanuel Israel, Maintenance Lead at British American Tobacco Nigeria
Maintenance managers will be able to deliver a better quality of maintenance activities by reducing the time spent in troubleshooting.
AJ Magnan, Maintenance Supervisor Ferro – Penn Yan Facility
Maintenance managers will need to be more agile with technical data and data systems, have better understanding of IIOT & PdM, and have better skills as trainers.
Thierno Diallo, Reliability Engineer Ashanti Gold Mining in Guinea
It will lead to improved production.
Bryan Christiansen, CEO & Founder at Limble CMMS
As technology evolves, the needed skills to benefit from the new technology are going to be more critical than ever before. Luckily, a lot of it is simply attitude and the passionate ability to embrace change.
Technology is getting easier and easier to use as the years go by. Because of this, you don't have to learn how to code, get a degree, or sit through weeks of training to get value from the new products on the market today.
The maintenance managers that will be able to thrive in the years to come do not need to be computer savvy. The maintenance managers that will thrive will be the ones that embrace change and are passionate about implementing technology at their facility because they know how much of a difference good technology can make.

Wrapping it up
And there you have it. Being a good maintenance manager is not easy, but it is definitely a dynamic role that is never going to leave you bored.
Are you a maintenance manager and have something to add to the discussion? Feel free to share your insights and experience in the comments below!
As always, if you have a question about the article or our maintenance solution, don't hesitate to contact us.
11 Comments
Hasan abdulhadi

September 7, 2019, 9:24 am

Maintenance manager I think he should be able to use statistical tools in order to analysis the huge Data

Bhavna

March 9, 2020, 9:41 pm

This is great info! Thanks … good research done

Senko

March 11, 2020, 7:37 am

You're welcome 🙂

Glad it was helpful!

Bharat Singh Bisht

April 8, 2020, 3:03 am

It is very helpful to understand the roles and responsibilities and challenges with implementation.

As per my view, our role is very difficult where maintenance activity must running parellel with operation.

If you will add some more points about how to manage work by maintenance manager on daily/weekly/monthly basis.
and splly which area has to keep in focus for self/team/organisation growth.

Senko

April 9, 2020, 12:52 am

Hi Bharat, thanks for sharing your thoughts.

We don't have a plan to update the post right now but I'll share this with our content team to keep in mind for future updates.

Umer

July 28, 2020, 1:56 am

discuss one disadvantage of both if maintenance engineer report to the top management and production department?

Karel C

October 1, 2020, 2:26 am

I dont see the pictures in the post 🙁

Senko

October 2, 2020, 2:34 am

Sorry about that Karel. We are changing some URL structure on the blog so had a few missing pictures on some posts.

The pictures should be back now!

NagaRaju

August 30, 2021, 9:49 am

very good , fully helpful for me . thank you…..

Jonathan Lablah Sackie

October 15, 2021, 7:09 am

This is a real good research and has given me a better insight about how maintenance should be done. I could appreciate if the Limble CMMS table was a bit clear for reading. All other are great.

Senko

October 18, 2021, 8:02 am

Thanks for the feedback Jonathan!
X
Limble
Ranked #1

by maintenance experts in the field
>
<
Nov 07

Very easy to use, functionality is great

"I can track my inventory and it sends me emails when I'm running low on an item. Also that I can track how much time I'm spending on certain jobs over an extended period of time."

Dec 19

Very easy to use, access

"I like the price, the fact I can see it on my phone or the computer. I like that it is internet-based."

Dec 03

It just works

"Honestly - the customer support has been fabulous. We had a minor feature request that was deployed within 24 hours - which is unheard of. Even better when you consider our business is located in a completely different time zone (somewhere in Australia). Limble is quite intuitive and I love the ability to have assets nested within each other."

Jan 30

Great for smaller or larger facilities

"We haven't fully integrated Limble yet but we are already seeing improvements in our efficiency. As we fully integrate Limble we expect to see more benefits and increase our response and completion times. The customer support has been outstanding. The Limble team is very quick to respond to any questions and they are very open to suggestions."

Jan 18

Limble is the best thing to happen to this company

"Limble does such a good job at keeping track of what's been done and letting me know when and what I need to do next."

Jan 11

Great product at a great price

"Terrific customer service, easy to use, and at a great value. Our old Maintenance software was very difficult to use and was very expensive."