August 11 2020
Work Order Management And The Anatomy Of A Work Order Explained
What do you do when you want to make sure that a certain task is performed correctly and on time?
You create a task, describe what needs to be done, assign it to a specific person, and place a due date. When you do all of that, you're basically creating a work order.
Digital work orders are an efficient way to manage tasks throughout the organization and are especially relevant for coordinating maintenance work. However, to be able to use them effectively, knowing the elements of a work order is not enough – you need to understand the whole work order management process.
The purpose of this guide is to show how to create a proper work order and explain how to organize your work order management process by following industry best practices. There is a lot of info packed in this guide so feel free to use the content table on the left to navigate to specific parts of the article.
Let's start things off by defining a work order and see where that takes us.  
What is a work order?
Work order (abbreviated WO) represents a task that is scheduled and assigned to a specific person or group of people. While the term can be used more broadly, it is very popular in the maintenance industry where it is used to assign work to maintenance technicians and mechanics. Work orders can be written/printed on a sheet of paper or in the form of a digital document.
The purpose of maintenance work orders is to: 
standardize your maintenance workflow
have a simple and quick way to schedule, assign, and track maintenance work
document resources spent on maintenance (labor, material, parts)
track maintenance performance (maintenance compliance, the percentage of planned vs preventive work, costs associated with performed work…)
Work orders are most often the result of specific work requests. Occasionally, a technician or a machine operator will notice performance issues and deterioration signs during routine inspection and notify their supervisor to schedule corrective work, which can also result in the creation of a work order.
Types of maintenance work orders
There are a few different ways to categorize maintenance work orders. Sometimes it is important to have this information included on a work order, sometimes it is not. You can read the description of different types below and decide for yourself is it something worth tracking.
Based on the type of problem that needs to be addressed, a work order can be categorized as:
unplanned work order (used to address unplanned maintenance activities like unexpected machine breakdown)
planned work order (used to schedule some preventive maintenance work; sometimes called PMs)
Depending on where the work request is coming from, we can recognize two types of work orders:
internal work orders (work requests comes from someone inside the organization)
external work orders (work request comes from someone outside your organization)
Based on how they are scheduled, we can differentiate between:
manual work orders (scheduled by hand, often by a maintenance manager, after receiving and reviewing a work request)
automatic work orders (work order software like Limble can be set up to automatically schedule WOs based on your calendar or based on data coming from condition monitoring sensors installed on your equipment) 
Most organizations will actively track only the first work order type we listed so they can compare how much preventive vs reactive maintenance work they are doing. As you can imagine, this is very important information for organizations that want to transition from reactive to preventive maintenance or simply want to track and compare costs associated with preventive and reactive work.
The evolution of digital work order process
While we would like to say that most organizations today use digital work orders, that simply wouldn't be true. Maintenance departments are behind on digitalization when compared to other business departments. This is why chalkboards, paper templates, and spreadsheets still play a role in the work order management.
The worst-case scenario is when a department uses post-it notes or assigns work through phone calls. It is an extremely inefficient approach. It heavily relies on technicians knowing their job and their ability to coordinate work between themselves. The lack of maintenance records prevents any deeper insights that could be used to improve maintenance processes.
1) Using paper work order template
If you Google "work order forms" or "work order templates", you will find many different variations of WO templates:
The variability reflects how organizations like to adjust the templates to fit their needs and purposes. 
Here is an example of a detailed maintenance work order:
When such a work order is completed, it can be put in a designated place (like a box on the plant floor). Later it can be reviewed by a maintenance manager and saved in a filing cabinet. 
2) Using spreadsheets and digital WOs
Having paper records is better than having no records. Similarly, having digital records is way better than having paper records. 
Instead of printing them out, WOs can be shared with technicians digitally (in the form of a Word document, spreadsheet, a PDF file, etc.). Technicians can open WOs on their smartphone, perform the work, write in completion notes, and send them back to their supervisor.  
Combined with a digital ticketing system, this can be a great transition step between using paper templates and switching to a CMMS system.
Reduce Reactive Maintenance by 73.2%
See the Results Red Hawk Enjoys With Limble
3) Implementing CMMS software
The ultimate way to manage work orders is with a CMMS. After all, this is what CMMS is designed for. 
The process is fully automated. You just have to fill out a few elements to create a WO. The software immediately sends out email  and push notifications to assigned technicians. Technicians can open WO on their mobile device, access important asset information and checklists, perform the work, and close the work. Upon completion, notes, time spent, materials used, and other info is automatically logged and can be used to generate useful reports. 
There are many other advantages of using CMMS to manage maintenance work and we will discuss those later in the article.
What should be included on a maintenance work order?
In this section, we are going to discuss which information should be included on a work order so the person performing the required work knows exactly what they need to do, where they need to go, and which tools and parts to bring along. 
Here are the core elements of a standard maintenance work order:
Let's dive deeper into each element to understand why they should have a place on every work order. 
1) Who requested and/or approved the work
Maintenance managers and supervisors are responsible for scheduling maintenance work. They will schedule WO for preventive tasks, as well as review and approve incoming work requests.
Sometimes, senior maintenance technicians might have the authority to review maintenance tickets and pick up urgent work. In both cases, it is good to know who authorized the work (be it a supervisor or the technician himself). Even more so if you have a big maintenance team with dozens of technicians and multiple supervisors. 
Another valuable information is who reported the problem, especially if you are running a property maintenance company or deal with work requests that are coming from outside of your organization. This enables technicians to follow up directly with the person who submitted the work order request form. If necessary, contact information can be left as a part of the job description.
2) Job description
An essential part of a work order is the description of the work that needs to be performed. If we are talking about a simple task, then a single sentence summary can do.
For more complex work assignments, you might have to write a list of instructions. For instance, one might include a maintenance checklist that explains the steps needed for executing a specific maintenance task. However, keep in mind that maintenance checklists are usually worth creating only for routine tasks that are carried out on a regular basis. 
When you're creating work orders to address equipment breakdowns and repairs, a good practice is to include a description of the problem left by the person who reported the breakdown/malfunction. The rest is up to the technicians.
3) Asset location and ID
When you have a bigger facility or manage multiple locations, "fix a fridge on the second floor" does not narrow things down enough. 
A proper work order should have the exact location and include some sort of number that uniquely identifies the asset (like a serial number).
More and more systems support barcode scanning (Limble included) so technicians can quickly check if they are looking at the right asset. By using the camera on their mobile device, they can scan the barcode and Limble will automatically load maintenance history and data for that asset.
4) Who is performing the work
This part is self-explanatory. Every work order should be assigned to a specific person (technician) or to a group (i.e. morning shift) to ensure the work actually gets done. 
5) Due date
A great way to end up with a big deferred maintenance backlog is to NOT specify a due date. 
As we mentioned multiple times throughout this post, a proper work order needs to be assigned to someone and have an expected completion date.
Technicians will usually have multiple tasks scheduled for each day and some tasks have to be performed earlier than others. For example, if a machine needs to be lubricated before the afternoon shift starts, then there is a clear time by which that needs to happen. In this scenario, the WO can't just say to "lubricate machine XY this Thursday". To help technicians focus on the important work first, you can look to specify time by which the task should be completed and give those types of tasks a higher priority level.
6) Work priority level
No matter which maintenance strategy you use, your maintenance team will have to deal with some amount of unplanned work. Natural disasters, accidents, human error, and machine malfunctions are things you can never fully prepare for.  
The ability to assign work priority (usually on some sort of scale like 1-5) to a WO helps technicians decide which work needs to be done first. This is especially important in emergency situations when you need all-hand on deck. You can use a mobile CMMS to create the work order of the highest priority and send a notification to select technicians to stop what they are doing and come in for emergency maintenance.
7) List of materials and spare parts
Including the list of materials and spare parts on a WO lowers the chance that technicians will have to go back to the storage room in the middle of a repair. You can imagine how much cumulative time it saves, especially if maintenance activities are performed on the other side of the campus or at completely different locations. It can significantly reduce idle time and make sure your technicians spend more of their time performing actual maintenance work. 
In Limble CMMS, upon completion of the WO, technicians can mark how much time they've spent on that particular task and which spare parts and materials were used. This helps Limble track inventory levels and forecast future demand, as well as track costs associated with specific parts, repair work, and assets.
8) Completion notes
The main purpose of completion notes is to mark anything of importance that might be relevant for future work on the asset. Technicians can write things like what was the cause of failure, how they noticed additional problems that should be addressed in the future, how they had to take some extra steps, and so on.
Having this information saved as a part of maintenance history can help you investigate why certain assets are so problematic. More importantly, asset history can help other technicians speed up their diagnose and repair process, as well useful safety pointers. 
The standard work order management process
Now that we covered how to create a work order, let's discuss how to manage them. To understand the work order process, we have to review:
when are new work orders created
how do they flow through the organization
what happens with them when the work is completed 
This will help us describe how the standard work order management process looks like in practice and how it fits into overall maintenance management workflow.
There are three different parties involved in a WO management process:
Work requester: The person who submits maintenance requests.
Work approver: The person who reviews and approves maintenance requests. It is usually a job for a maintenance manager/supervisor/planner.
People carrying out the work: Maintenance mechanics and field technicians that perform the actual maintenance work that has been assigned to them.
Here is a graphic that presents a standard work order management process in a visual form: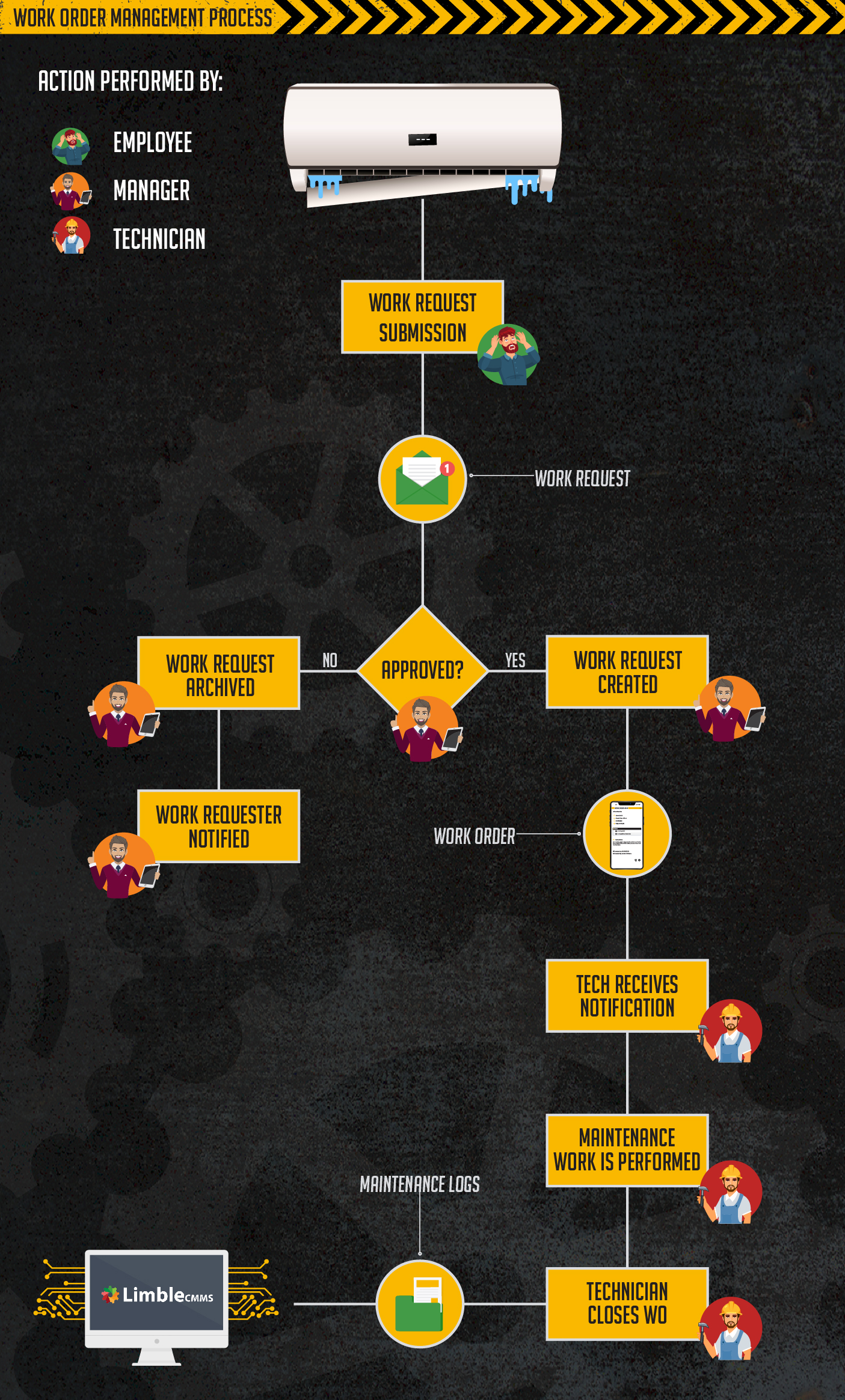 #1) The process starts with a work request
More often than not, maintenance requests are submitted by machine operators or other employees at your facility. They want to report that something is broken and that a technician should come over to fix it. 
If you are doing things the old fashioned way, that request is submitted via a text message or a phone call. Modern organizations use computerized maintenance management software so their workers can submit work requests through a work request portal.
#2) Work requests become work orders
Not every work request results in a work order. Work requests are reviewed by managers/supervisors/technicians (different organizations have different workflows and job positions). 
Here are a few situations in which a work request might be denied:
submitted work request asks for something that is not under the jurisdiction of the maintenance team
the problem was resolved before anyone had time to review the submitted work request
the resources (technicians/tools/spare parts) for completing the required work are not available (in this situation, the WO might still be created – and immediately put on a deferred maintenance backlog) 
Work requests that are not approved are archived and corresponding notification is sent to the person that submitted it.
That being said, most work requests are approved and subsequently used to create a WO.
#3) Technicians receive the WO and get to work
If you followed closely so far, you know that a work order should be assigned to a person or a team. If you're still using paper, a technician will usually get the WO from their maintenance manager, with the instructions on where to go and what to do. 
Organizations that have implemented a mobile work order management system have this process way more streamlined. When a maintenance manager or supervisor creates the WO, the assigned technician(s) automatically receive a push notification and an email.
Depending on the priority of the work order, a technician might start working on it right away or tend to the WO when his schedule clears up.
#4) The work order is completed and closed
When the required work is performed, a technician closes the work order. If he is using Limble CMMS (other vendors follow a very similar approach), he will do the following:
enter how much time he spent performing the work
enter which spare parts and material he used
attach pictures/leave completion comments (if there is anything of importance to note)
click  the "Complete" button
After the WO is closed, the system will automatically update the equipment maintenance log of the corresponding asset.
Limble CMMS as your work order software
Limble CMMS is built to follow the standard work order management process which makes it really easy to implement Limble in any organization. That being said, the software does also provide you with enough flexibility to adjust it for specific scenarios. 
Here is a list of Limble CMMS features that help you efficiently manage any volume of maintenance work:
To prove these are not just empty words, we highly recommend you check out our tutorial for work order management in Limble and see how all of this looks like in practice:
How to get started with Limble CMMS
If you want to test how Limble CMMS handles work orders, you have 3 options:
try our self demo (clicking on this link will open a simulated environment where you can play around with different features)
Conclusion
Effectively managing maintenance work is the main purpose of a maintenance department. If things are breaking down left and right, people will rightfully ask themselves what their maintenance team is doing. The unfair part is that the maintenance team will get a lot of flack when things aren't working, but very little praise when everything is going smoothly. 
Either way, modern maintenance teams that use a mobile CMMS solution will not only be more productive but also have tangible information they can use to spot bottlenecks and optimize their maintenance workflows..
Limble
Ranked #1

by maintenance experts in the field



>
<
Nov 10

Limble has completed changed the way we do maintenance

"Limble is amazing. It has revolutionized the way we handle repairs and the upkeep of our assets and facilities. We not only can keep track of work that has been done on each asset, but we are also able to track costs associated with the asset itself."

Aug 09

Great time saver

"On average, [Limble] saves me an hour to two hours a day, depending on the workload. The biggest thing for me is being able to do things on my phone, on the fly."

I'm amazed with the functionality & customer service

"Executive summary software produces to give me a snapshot of where each contact center is at in preventative maintenance on critical building assets."

Nov 07

Very easy to use, functionality is great

"I can track my inventory and it sends me emails when I'm running low on an item. Also that I can track how much time I'm spending on certain jobs over an extended period of time."

Aug 09

A great tool for Facility Managers.

"Limble is very easy to get involved in and no contracts, with simple monthly billing. I have auditioned other CMMS companies and they make it too difficult, to try out. Limble strategy is very simple - here is our software, you can customize it in most categories and let us know if you have any questions. As a multiple building County Facilities Director, I highly recommend trying it!"

Nov 08

Very well written software. Easy to use.

"The support is fantastic. The guys who support this software even email you to check in from time to time. If you have any issues you can call directly, and get instant help!"