August 11 2020
Work Order Management: The Anatomy Of A Work Order Explained
Maintenance work is infinite. Maintenance teams are not. How then can you succeed at your job? By building a best-in-class work order management system.
Work orders (WO) help you track work, hold team members accountable, and report progress to requesters so they know the value you produce.
In this article, you will learn the elements of a work order and how to manage the WO process end-to-end following industry best practices.
What is a work order?
A work order (WO) is a task that is scheduled and assigned to a specific person or group of people. A work order is a request (usually sent digitally or on paper if you're old school) that tells your maintenance staff what needs to be done. 
Because there's more than one type of work for the maintenance department, there are many types of work orders. Depending on the type of business and facilities being managed, these requests may come from staff, customers, residents, or directly from your technicians. Work orders, ideally, tell us where the location of the problem is, a brief description of the issue, and the tasks that need to be completed.
Typical work orders include:
The specific maintenance task requirements (usually organized by craft, such as plumbing tasks, electrician tasks)
Estimates of labor, material, and equipment
Work instructions (which can also include safety guidelines, PM checklists, SOPs)
Other administrative and financial information
Types of maintenance work orders
There are a few different ways to categorize maintenance work orders. Sometimes it is important to have this information included on a work order, sometimes it is not. You can read the description of different types below and decide for yourself if it is something worth tracking.
Based on the type of problem that needs to be addressed, we can categorize them as:
Unplanned work orders are the issues that come along and can make everyone's life a little more complicated. They are used to address unplanned maintenance activities like unexpected machine breakdown. These work orders are a direct result of a current problem. You only generate them after the problem has already started, which can create headaches for everyone.
Planned work orders are used, typically, to schedule preventive maintenance. These work orders (often referred to just as "PMs") are often considered "general maintenance"— the kind of stuff that helps avoid big problems in the first place. The goal is to keep your machines and facilities operating smoothly, see around the corner for further repairs, and avoid the headaches caused by unplanned work orders. 
Depending on where the work request is coming from, we can recognize two types of work orders:
internal work orders come from someone inside the organization
external work orders come from someone outside your organization
Based on how they are scheduled, we can differentiate between:
Manual work orders are scheduled by hand, often by a maintenance manager/planner/coordinator, after receiving and reviewing a work order request (a.k.a. maintenance ticket). It's common for a manual work order system to be completely paper-based. Paper work orders have to be physically stored somewhere and can easily get lost. If your technicians need to reference old work orders, they have to go digging for them in the filing cabinet.
Automatic work orders are generated digitally by a work order software or CMMS like Limble. Limble can automatically schedule WOs with a completion date based on your maintenance calendar or based on cloud-based data coming from condition monitoring sensors installed on your equipment. This forms the basis of condition-based maintenance.
Most organizations will actively track only the first work order type we listed so they can compare how much preventive vs reactive maintenance work they are doing. 
As you can imagine, this is very important information for organizations that want to transition from reactive to preventive maintenance or simply want to track and compare costs associated with preventive and reactive work.
Go from a paper work order system to a digital one
While we would like to say that most organizations today use digital work orders, that simply wouldn't be true. Maintenance departments are behind on digitalization when compared to other business departments. This is why chalkboards, paper templates, and spreadsheets still play a role in work order management.
The worst-case scenario is when a department uses post-it notes or assigns work through phone calls. It is a highly inefficient approach. It heavily relies on technicians knowing their job and their ability to coordinate work between themselves. The lack of maintenance records prevents any deeper insights that could be used to improve maintenance processes.
Digital work orders and work order software allow technicians to document materials and time spent on a project so that you have proper inventory counts and can better track labor allocation. 
Most importantly, work order management software can act as a central location for communication — technicians can instantly notify requesting users of changes, updates, and completion of their work orders, and end-users can respond back if needed.
If you want to transition from a paper work order system to a digital one, it pays to understand the evolution of the digital work order process.
1) Using paper work order template
If you Google "work order forms" or "work order templates", you will find many different variations of WO templates:
There are many Work Order templates out there in the wild
The variability reflects how organizations like to adjust the templates to fit their needs and purposes. 
Here is an example of a detailed maintenance work order:

When such a work order is completed, it can be put in a designated place (like a box on the plant floor). Later it can be reviewed by a maintenance manager and saved in a filing cabinet. 
2) Using spreadsheets and digital WOs
Having paper records is better than having no records. Similarly, having digital records is way better than having paper records. 
Instead of printing them out, WOs can be shared with technicians digitally (in the form of a Word document, spreadsheet, a PDF file, etc.). Technicians can open WOs on their smartphone, perform the work, write in completion notes, and send them back to their supervisor. While better than a paper system, spreadsheets can still be clumsy at times.
Combined with a digital ticketing system, this can be a great transition step between using paper templates and switching to a CMMS system.
3) Using CMMS software
The best way to manage work orders is with a CMMS. After all, that is what CMMS is designed for. 
The process is fully automated. You just have to fill out a few elements to create a WO. The software immediately sends out email  and push notifications to assigned technicians. Technicians can open WO on their mobile device, access important asset information and checklists, perform the work, and close the work. Upon completion, notes, time spent, materials used, and other info is automatically logged and can be used to generate useful reports. 
There are many other advantages of using CMMS to manage maintenance work and we will discuss those later in the article.
What should be included in a maintenance work order?
When it comes to work orders, the person performing the work needs to know exactly what to do, where they need to go, what piece of equipment/machinery needs servicing, and which tools and parts to bring along. 
For unplanned work orders, you might not know until the technician has had a chance to inspect the problem. In that situation, you want to include a complete description of the problem. 
For example, you might answer the following questions:
What was happening just before the disruption? 
What smells and sounds do you hear? 
Are there other parts of the machine/department that seem to be affected by the problem?
When needed, technicians should be able to track down the person who reported the problem and get as much information from them as you can. The more they know about the problem or equipment failure, the easier it is for them to troubleshoot the cause.
From there, you can follow a series of steps to make sure you have all the information you need.
1) Who requested and approved the work
It's always good to know who authorized the work (be it a maintenance manager or the technician themselves). Once approved, they will schedule a work order for preventive tasks, as well as review and approve incoming work requests.
Even more so if you have a large maintenance team with dozens of technicians and multiple supervisors, it's good to have the contact information of the person who reported the problem, in case you need to follow-up with them for more details about the problem.
2) Job description
An essential part of a work order is the description of the work that needs to be performed. When you're creating work orders to address equipment breakdowns and repairs, a good practice is to include a description of the problem left by the person who reported the breakdown/malfunction. The rest is up to the technicians. 
If we are talking about a simple task, then a single sentence summary can do. For more complex work assignments, you might have to write a list of instructions. For example, you might include a maintenance checklist that explains the steps needed for a specific maintenance task. However, remember that maintenance checklists are usually worth creating only for routine tasks carried out regularly. 
3) Asset location and ID
When you have a bigger facility or manage multiple locations, "fix a fridge on the second floor" does not narrow things down enough. A proper work order should have the exact location and include a number that uniquely identifies the asset (like a serial number).
More and more systems support barcode scanning (Limble included) so technicians can quickly check if they are looking at the right asset. Using the camera on their mobile device can scan the barcode, and Limble will automatically identify the asset and load respective maintenance history and data.
4) Who is performing the work
This part is self-explanatory. To ensure the work gets done, every work order should be assigned to a specific person (technician) or a group (i.e., morning shift). 
5) Due date
A great way to end up with a big deferred maintenance backlog is not specifying a due date. A complete work order will always tell the technician when the work needs to be finished.
Technicians will usually have multiple tasks scheduled for each day, and some tasks have to be performed earlier than others. For example, if a machine needs to be lubricated before the afternoon shift starts, there is an exact time by which that needs to happen. 
6) Work priority level
No matter which maintenance strategy you use, your maintenance team will have to deal with unplanned work. Natural disasters, accidents, human error, and machine malfunctions are things you can never completely avoid.
The ability to assign work priority (usually on some sort of scale-like 1-5) to a WO helps technicians decide which work needs to be done first. This is especially important in emergencies when you need all-hands on deck. 
You can use a mobile CMMS like Limble to create the work order of the highest priority and send a notification to select technicians to stop what they are doing and come in for emergency maintenance. 
7) List of materials and spare parts
Including the list of materials and spare parts on a work order lowers the chance technicians will have to go back to the storage room in the middle of a repair. You can imagine how much cumulative time it saves, mainly if maintenance activities are performed on the other side of the campus or at entirely different locations. 
This can significantly reduce idle time and make sure your technicians spend more of their time performing actual maintenance work.
8) Images (when it makes sense)
If possible, it's great to attach an image of the issue to the work order so that the team can visualize the problem. Limble lets users upload a photo of a problem through the work request portal which can be attached to the work order.
An example of a submitted work request inside Limble CMMS
9) Completion notes
The main purpose of completion notes is to mark anything important that might be relevant for future work on the asset. Technicians can write things like the cause of failure, how they noticed additional problems that should be addressed in the future, how they had to take some extra steps, etc.
Having this information saved as a part of maintenance history can help you investigate why certain assets are so problematic. More importantly, asset history can help other technicians speed up their diagnosis and repair process, as well as helpful safety pointers.
What is work order management?
In short, work order management is how you manage lots of work orders at one time. This is why you need a system.
In an ideal business world, only a few work orders come in each day, and you can quickly fulfill them yourself at a low cost. More likely, your organization is complex, and with that, your work order management requirements become more challenging to manage.
Disorganized or nonexistent planning to manage work orders is kind of like sticking a wrench in the spokes of your bicycle. Go ahead and do it without a plan, but it's going to be a bumpy road.
To succeed, you need a robust system that can help you automate the process and handle a high volume of work orders.
Benefits of work order management system
A work order system is the key to smoothly functioning industrial and facilities management programs. It can help you:
Standardize your maintenance workflows and eliminate paperwork.
Create a centralized hub to schedule, assign, and track labor hours.
Track maintenance performance (percentage of planned vs. preventive work, costs associated with performed work, downtime, etc.).
Estimate and monitor labor, parts, and miscellaneous costs.
Order parts and supplies so things can get done on time and within budget.
Avoid fines and maintain regulatory compliance more easily because you are organized.
A work order management system provides real-time tracking and regular updates in the process. 
Using a work order management system can have positive impacts on your overall effectiveness. Our customers have:
Reduced equipment and asset downtime by up to 26%
Extended asset and equipment lifetime by up to 11%
Achieved up to 652% ROI on their investment with Limble
The standard work order management process
Now that we covered how to create a work order, let's discuss how to manage them. To understand the work order process, we have to review:
When are new work orders created
How do they flow through the organization
What happens with them when the work is completed 
This will help us describe how the standard work order management process looks like in practice and how it fits into the overall maintenance management workflow.
There are three different parties involved in a WO management process:
Work requester: The person who submits maintenance requests.
Work approver: The person who reviews and approves maintenance requests. It is usually a job for a maintenance manager/supervisor/planner/coordinator.
People carrying out the work: Maintenance mechanics and field technicians that perform the actual maintenance work that has been assigned to them.
Here is a graphic that presents a standard work order management process in a visual form: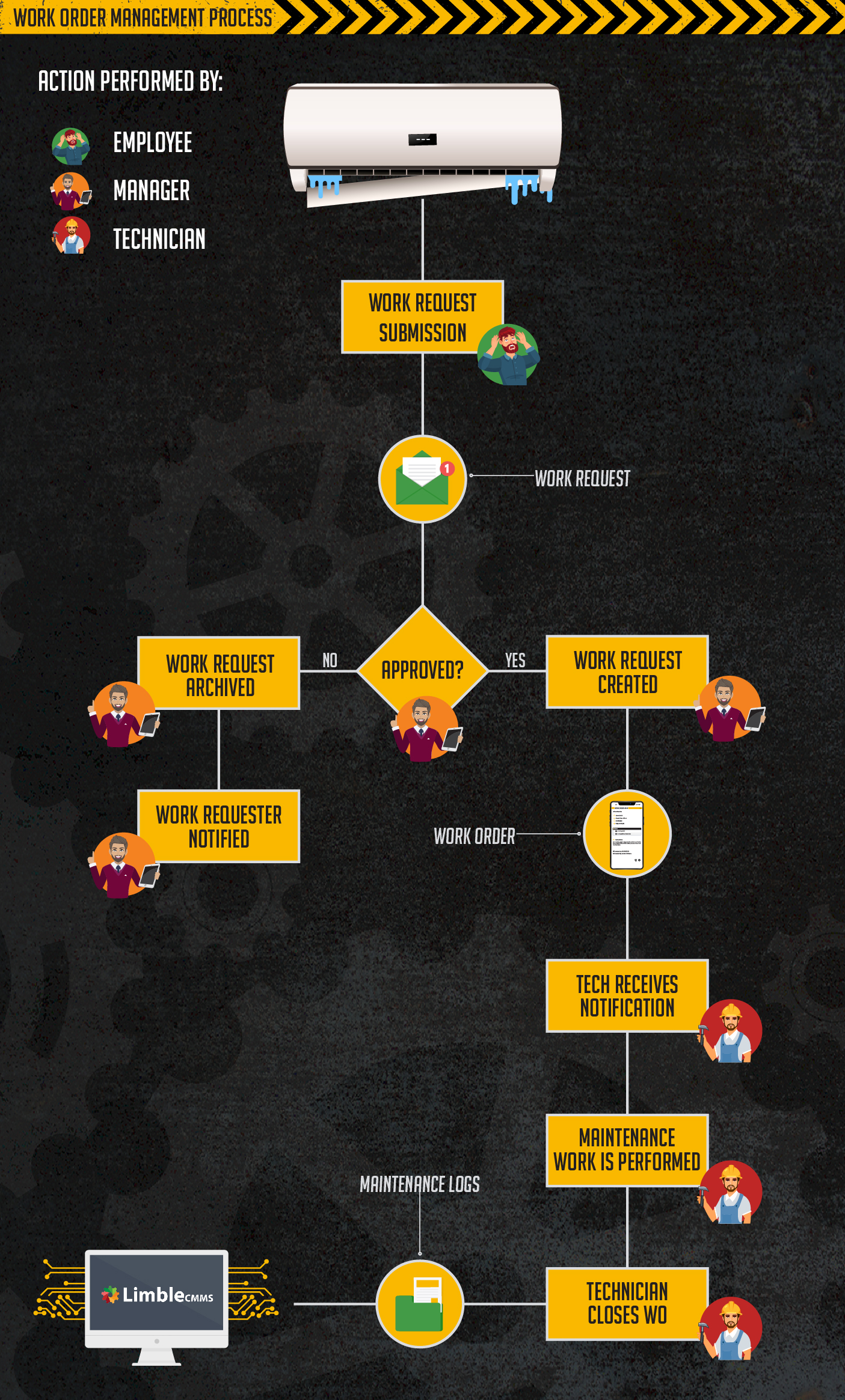 1) The process starts with a work request
More often than not, maintenance requests are submitted by machine operators or other employees at your facility. They want to report that something is broken and that a technician should come over to fix it. 
If you are doing things the old fashioned way, that request is submitted via a text message or a phone call. Modern organizations use computerized maintenance management software like Limble so their workers can submit work requests through a work request portal.
Limble CMMS's work request portal
2) Work requests become work orders
Not every work request results in a work order. Here are a few situations in which a work request might be declined:
submitted work request asks for something that is not under the jurisdiction of your maintenance team
the problem was resolved before anyone had time to review the submitted work request
the resources (technicians/tools/spare parts) for completing the required work are not available (in this situation, the work order might still be created – and immediately put on a deferred maintenance backlog) 
Work requests that are not approved are archived and corresponding notification is sent to the person that submitted it.
That being said, most work requests are approved and subsequently used to create a WO.
3) Technicians receive the WO and get to work
If you have followed closely so far, you know that a work order should be assigned to a person or a team. If you're still using paper, a technician will usually get the WO from their supervisor, with the instructions on where to go and what to do. 
Organizations that have implemented a mobile work order management system have this process way more streamlined. When a WO is created, the assigned technician(s) automatically receive a push notification and an email.
Depending on the priority of the work order, a technician might start working on it right away or tend to the WO when his schedule clears up. 
Limble's mobile maintenance app makes it easy for technicians to have all the information they need at their fingertips all the time.
4) The work order is completed and closed
When the required work is performed, a technician closes the work order. If they are using Limble CMMS (other vendors follow a very similar approach), they will do the following:
enter time spent performing the work
enter all spare parts and material they used
attach pictures/leave completion comments (if there is anything of importance to note)
click  the "Complete" button
After the WO is closed, the system will automatically update the equipment maintenance log of the corresponding asset.
In Limble, no one has to go hunting for work orders filed away in a cabinet in the upstairs office. All completed work is automatically logged in the asset card.
Limble tracks detailed WO history for each asset  
Limble CMMS as your work order software
Work order management software like Limble is a digital platform that organizes the work order process, ensuring optimal workflow and productivity for each job. 
By standardizing and automating the workflow process, increasing visibility into customer, technician, and tool availability, and improving communications, work orders are more efficient, field technicians are more productive, and customers are provided with a better customer experience.
Limble CMMS can help track, automate, and manage work tasks, making a previously paper-intensive process much more efficient. You can provide quality, error-free information tracking your cost, parts, work requests/orders, and manage labor with good data management.
With Limble you can streamline maintenance operations, especially as your company grows. Customized work order templates can be created and operate seamlessly with your preventative maintenance checklists. They include all PM features, but they can be used for planned and unplanned work orders, assign other tasks, and keep a detailed record of the number of people who worked on the work order, plus the time spent to complete it.
This saves everyone so much time and helps maintenance managers cover all their bases. 
Here is a list of Limble CMMS features that help you efficiently manage any volume of maintenance work:
To prove these are not just empty words, we highly recommend you check out our tutorial for work order management in Limble and see how all of this looks like in practice:
Stay organized and look good while doing it
A well-organized work order program supported by the right digital system can save your company money, streamline department operations, and help you look good at your job. 
Effectively managing maintenance work is the main purpose of a maintenance department. If things are breaking down left and right, people will rightfully ask themselves what their maintenance team is doing. The unfair part is that the maintenance team will get a lot of flack when things aren't working, but very little praise when everything is going smoothly. 
Maintenance teams that use a mobile CMMS solution will not only be more productive but also have tangible information they can use to spot bottlenecks and optimize their maintenance workflows.
If you want to test how Limble CMMS handles work orders, you have 3 options:
Do not let all those pesky maintenance tickets get the best of you!
2 Comments
Fred Weber

March 19, 2021, 2:20 pm

Bryan
Have you considered the RPM method?
The RPM method was designed based on the definition of maintenance: "to repair; prevent," . The RPM method is simple. Each work order priority is define as "R";repair, "P";preventive, or "M";modification. These three components in the RPM method would increase the success of your CMMS system.

Would your customers like to know the annual Repair, Preventative and Modification costs to each piece of equipment?

Fred
http://www.wrenchtime.com

Senko

March 23, 2021, 1:44 am

Hi Fred,

I'm sure some readers would like to know more so I left the URL in your comment.

While not being closely familiar with the RPM method, I think we do something similar in Limble CMMS. In general, if you do a repair you schedule a WO, and if you do preventive maintenance, you schedule a PM. You can use these variables later to create specific reports and track costs associated with preventive work vs reactive work.
X
Limble
Ranked #1

by maintenance experts in the field



>
<
Jan 6th

It takes me about 10 seconds.

"Limble made my job easier pretty much right off the bat. Now I create Work Orders on the fly. It takes me about 10 seconds."

Nov 21

Awesome Product with REAL support!

"Our team reviewed & demoed 6 different CMMS companies and the decision was easy! The functionality was extremely easy, but still provides the analytics needed to track our companies time and money spent on maintenance. Their support is top-notch! I've dealt with numerous software companies in my position and can tell you, you will not find one better!"

Jan 30

Manufacturing

"Great experience. Solved our obvious PM tracking issues but also addressing our SHE&S requirements (safety audit task tracking), Environmental checks are being logged, Corporate Audit items tracked"

Nov 8

A must for any maintenance department

"The thing that I loved the most right from the start was the ease of use of the Limble software. The customization options available when setting up PM's are great. I love the flexibility it gives to tailor the PM to exactly what your needs are."

Dec 19

Very easy to use, access

"I like the price, the fact I can see it on my phone or the computer. I like that it is internet-based."

Jan 11

Great product at a great price

"Terrific customer service, easy to use, and at a great value. Our old Maintenance software was very difficult to use and was very expensive."