Work orders are the core of any maintenance function. Each one represents a project or task your maintenance team is responsible for and holds the information they need to get each job done. That's why creating, tracking, and managing them well is the key to a successful maintenance function.  
To help you improve your work order management process, you need to master the basics. What is a work order? What are the use cases for different types of work orders? What kind of information needs to be included in a work order?
Join us as we answer these questions and more in this practical guide.
What is a work order?
A work order (WO) is documentation of a maintenance task that needs to be completed and includes the information necessary to get the task done. They tell your maintenance staff what needs attention, and provide relevant details on how. They also serve as a way to help organize and manage maintenance work. 
Depending on the business or facility being managed, work orders may come from staff, customers, residents, or directly from your technicians in the form of paper or digital requests. Work orders will ideally tell you where the location of a problem is, give a brief description of the issue, and outline the process to complete the task.
Work Order Ticketing System Templates
These useful templates will help you get a handle on work order ticketing and management.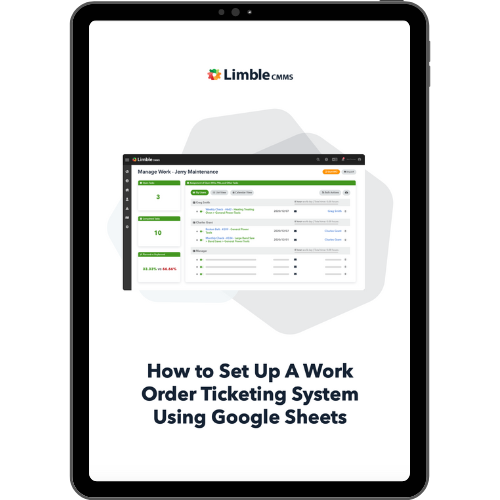 Types of maintenance work orders
Maintenance teams perform a wide variety of tasks. To be truly helpful tools, work orders themselves should contain information specific to each so that maintenance teams have the information they need to be successful and efficient.  
Repair work orders
When a low-priority asset malfunctions or reaches functional failure, a repair work order for corrective maintenance is triggered. 
Emergency work orders
Emergency work orders are repair WOs of the highest priority. They are sent when a critical machine experiences a failure or there is an issue that poses a significant safety risk.
Preventive maintenance work orders
Often called PMs, these work orders are used to schedule routine maintenance work like filter and oil changes, cleaning, visual inspections, and lubrication. 
Facilities management work orders
All organizations that are responsible for their own physical facility will have some facility maintenance issues that arise from time to time. These WOs may require specific information and will have different impacts on the business than other types of WOs. It is important to prioritize them accordingly.
Other work orders
There will always be some work that isn't easy to categorize. Equipment installations and upgrades, sensor retrofits, and non-destructive tests are types of maintenance tasks that will arise less regularly, but still need a spot on your schedule.
Understanding the types of maintenance work orders you perform most will help you build processes to get them done quickly. It will also help ensure you spend your time on the most important tasks. The priority for most organizations is to track planned and unplanned work to minimize reactive maintenance.
How to use work orders at your organization
If you are currently using phone calls, emails, and random knocks at your door to learn about maintenance requests, the task of moving to a work order system may feel daunting. However, with a few simple steps you can begin using work orders to gain consistency, and efficiency. 
If you do have a work order system that is in place but it isn't meeting your needs, reviewing the process from the beginning can help you find ways to improve the way you use WOs.
Create your own work order templates
Once you know the most common types of maintenance tasks at your organization, you can build a work order template for each. 
You may choose to capture your work orders on a paper form or digitally on an app or CMMS (computerized maintenance management system) that can route them to you in real-time. Either way, building these thoughtfully ahead of time so that you ask the right questions and capture the right information will make the next steps that much easier. 
Implement a work order process
Just like your assets, every work order will have a lifecycle.  It is critical that you think about what your ideal workflow is to ensure all the necessary steps are taken. 
Ask yourself things like: 
How do I want to receive new work order requests?

What is our expectation for follow-up with requesters?

How do work orders get assigned to the right maintenance technician?

Are approvals and sign-offs required? 

What documentation of completed work orders do we need for audits? 
Whatever your process ends up looking like, it is critical that you follow it carefully. If you want the rest of your organization to go through the proper channels (and quit sending you random emails already!), they must trust that the system works and works consistently.
Master work order management
Managing work orders is no small task. But it isn't hard.  Especially if you have the right tools. 
Good work order management involves a few key actions:
Tracking all work orders in one place

Oversight of work orders as they proceed through the WO process.  

Prioritizing work orders so that the most important ones get done first and less important ones are added to a backlog.
Not only do these actions ensure that no WOs fall through the cracks, but they also allow for quick and easy status updates to requesters. 
Depending on the size and scope of your maintenance function, you may be able to rely on paper work order forms and a maintenance ticketing spreadsheet to track them. 
However, for organizations with a higher volume of work orders (like multiple requests per day or week) a work order management software will likely be worth the investment. Many offer customizable tools and automated workflows, checklists, and reporting on key metrics and KPIs to help evaluate your work order process.
The Essential Guide to CMMS
The Essential Guide to CMMS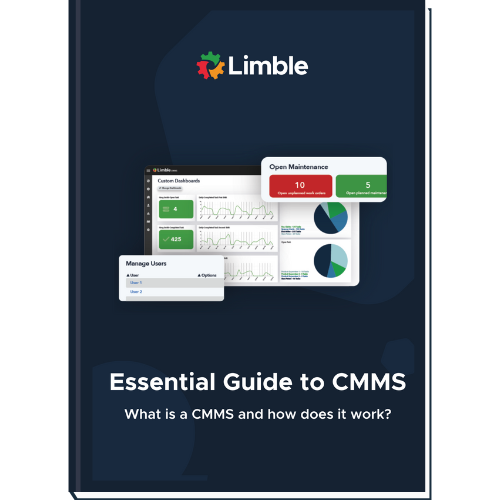 Upgrade from spreadsheets to Limble CMMS
Implementing and standardizing work orders at your organization is a great way to take control of your maintenance activities and requests.  And if you are looking for the greatest efficiency out of your work orders, managing them with a modern CMMS software or work order management system will provide the biggest benefit.
With Limble, your maintenance department gets one platform that takes care of everything — tickets, work orders, scheduling, inventory, purchasing, vendors, asset management, regulatory compliance, and custom reporting. And everything is accessible and usable on mobile devices from anywhere.
To learn more, start a free trial or get in touch with our amazing support team to learn how Limble can streamline maintenance work at your facility.