Work orders help you track work, hold team members accountable, and report progress to requesters, so they know the value you deliver. Therefore, knowing how to create, manage, and use them is essential for a smoothly functioning maintenance department.
To help you improve your work order management process, you need to master the basics. What is a work order? What are the use cases for different types of work orders? What kind of information needs to be included in a work order?
Join us as we answer these questions and more in this practical guide.
What is a Work Order?
A work order (WO) is a task that is scheduled and assigned to a specific person or group. A work order is a request (sent digitally or on paper) that tells your maintenance staff what needs to be done, where, and by when. 
Depending on the type of business and facilities being managed, these requests may come from staff, customers, residents, or directly from your technicians. Work orders, ideally, tell you where the location of the problem is, give a brief description of the issue, and outline tasks that need to be completed.
Typical work orders include:
The specific maintenance task requirements (usually organized by craft, such as plumbing tasks, electrician tasks, etc.)

Estimates of labor, material, and equipment

Work instructions (which can also include safety guidelines,

PM checklists

,

SOPs

)

Other administrative and financial information
Types of maintenance Work Orders
We can sort work orders based on the type of maintenance work performed:

Repair WO:

When a low-priority asset malfunctions or reaches functional failure, the maintenance planner will schedule a repair work order to fix the issue.

Emergency WO:

This is basically a repair WO of the highest priority. Emergency work orders are sent out when a critical machine experiences a failure or there is an issue that poses a significant safety risk.

Preventive maintenance WO:

Often called PMs, these types of work orders are used to schedule routine maintenance work like filter and oil changes, cleaning, visual inspections, lubrication, etc. 

Other WO:

There will always be some work that doesn't really fit in any of the three categories above. Equipment installations and upgrades, sensor retrofits, and non-destructive testing are types of maintenance tasks that you could throw into this category.
Keep in mind that there is no universal nomenclature you have to follow here. Most organizations just want to track planned vs unplanned work to make sure they are not doing too much reactive maintenance. 
What to include in a Work Order?
When it comes to work orders, the person performing the work needs to know exactly what to do, where they need to go, what piece of equipment/machinery needs servicing, and which tools and parts to bring along.
What a typical WO looks like inside Limble CMMS
It is worth diving into each of the elements and seeing why they are important to include in a Work Order.
1) Who requested and approved the work
When you run a large team, with dozens of maintenance technicians and multiple supervisors, you should always know who authorized the work. Being able to trace the work order request improves accountability and work ownership.  
It's also good to have the contact information of the person who reported the problem, in case technicians need to follow-up with them for more details. The more they know about the issue at hand, the easier it will be to troubleshoot the cause.
Work Order Ticketing System Templates
These useful templates will help you get a handle on work order ticketing and management.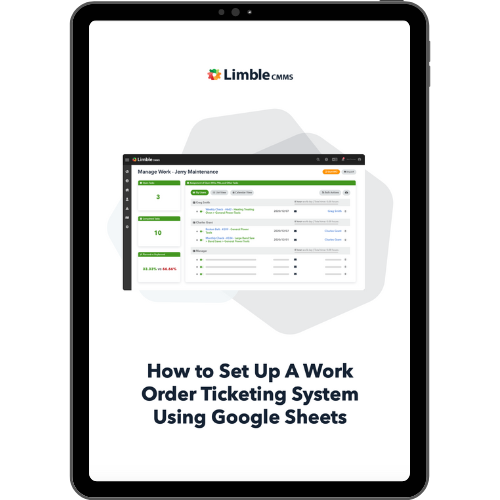 2) Job description
An essential part of a new work order is the description of the work that needs to be performed. 
If we are talking about a simple task, then a single-sentence summary can do. For more complex work assignments, you might have to write a list of instructions. For example, you might include a maintenance checklist that lists different troubleshooting steps based on the type of malfunction the asset is experiencing.
When you're creating work orders to address equipment failure, a good practice is to include a description of the problem left by the person who reported the breakdown. For an A+, you can ask that everyone who submits a ticket tries to provide the following information:
What was happening just before the disruption? 

What smells and sounds do you hear? 

Are there other parts of the machine/department that seem to be affected by the problem?
The rest is up to the technicians.
3) Asset location and ID
When you have a bigger facility or manage multiple locations, "fix a fridge on the second floor" does not narrow things down enough. A proper work order should include the necessary details on the exact location of the asset and a number that uniquely identifies it (like a serial number).
More and more systems support barcode scanning (Limble CMMS included) so technicians can quickly check if they are looking at the right asset. They can scan the barcode using the camera on their mobile device, and Limble will automatically identify the asset and load its respective maintenance history and data.
Limble users can use the same barcodes to quickly report a problem.
4) Who is performing the work
This part is self-explanatory. To ensure the work gets done, every work order should be assigned to a specific person (technician) or a group (i.e., morning shift). 
5) Due date
A great way to end up with a big deferred maintenance backlog is to not specify a due date. A proper work order will always tell technicians the required completion date. 
That "when" can be a date, or even a specific hour in the day.  
Technicians will usually have multiple tasks scheduled for each day, and some tasks have to be performed earlier than others. For example, if a machine needs to be lubricated before the afternoon shift, then that task will have priority over replacing the HVAC filters on the third floor. 
6) Work priority level
No matter which maintenance strategy you use, your maintenance team will have to deal with unplanned work. Natural disasters, accidents, human error, and random machine malfunctions are things you can never completely avoid.
The ability to assign work priority (usually on a scale, like 1-5) to maintenance requests helps technicians decide which work needs to be done first. This is especially important in emergencies when you need all hands on deck. 
You can use a mobile CMMS like Limble to create the work order of the highest priority and send a notification to select technicians to stop what they are doing and come in for emergency maintenance. 
In Limble, you can assign or change work priority levels with a couple of clicks. 
7) List of materials and spare parts
Including the list of materials and spare parts on a work order lowers the chance technicians will have to go back to the storage room in the middle of a repair. You can imagine how much cumulative time it saves, mainly if maintenance activities are performed on the other side of the facility or at entirely different locations. 
This can significantly reduce idle time and make sure your technicians spend more of their time performing actual maintenance work.
Pro tip: For planned Work Orders, consider using maintenance kits to further optimize technician productivity.
8) Images and videos (when it makes sense)
If possible, it's great to attach an image of the issue to the work order so that the team can visualize the problem. For that reason, Limble lets users upload a photo when submitting the ticket through our work request portal.
An example of a submitted work request inside Limble CMMS
9) Completion notes
The main purpose of completion notes is to mark anything important that might be relevant for future work on the asset. Technicians can write things like the cause of failure, how they noticed additional problems that should be addressed in the future, how they had to take some extra steps, etc.
Example of a completion note in Limble CMMS
Having this information saved as a part of maintenance history can help you investigate why certain assets are so problematic. More importantly, asset history helps other technicians speed up their future troubleshooting tasks.
The Essential Guide to CMMS
The Essential Guide to CMMS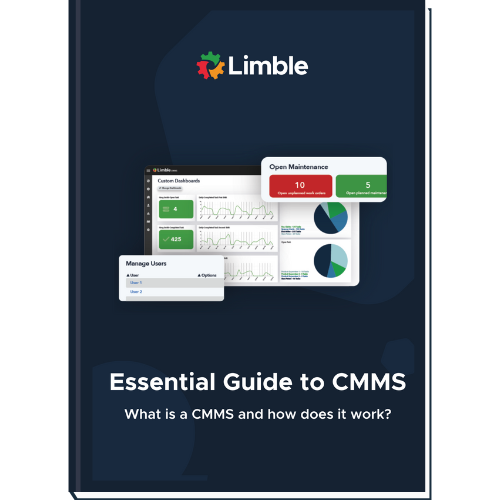 Paper Work Order forms vs digital Work Orders
We would love to say that most organizations today use digital work orders. But that simply is not true. Maintenance departments are behind on digitalization when compared to other business departments. 
Post-it notes, smartboards, and paper templates still play a role in work order management. A much bigger role than they have any right to play. 
Why? Because those approaches are highly inefficient. They rely on technicians to know their job and their ability to coordinate work between themselves. The lack of maintenance records prevents any deeper insights that could be used to improve maintenance processes. Not to mention how much important work simply slips through the cracks.
In stark contrast, digital work orders allow technicians to seamlessly document materials and time spent on a project. That way, you have proper inventory counts, and are able to better track labor allocation and the associated costs.  
Additionally, work order software can act as a central location for communication — technicians can instantly notify requesting users of changes, updates, and completion of their work orders, and end-users can respond back if needed. 
Digitizing your work order system will not magically solve all of your problems, but it will make sure that every ticket is accounted for. 
[limbledemo]
Going from a paper Work Order system to a digital one
If you want to transition from a paper work order system to a digital one, it pays to understand the evolution of the work order process. It is something you might want to follow yourself.
1) Using paper Work Order templates
If you Google "work order forms" or "work order templates", you will find many different variations:
There are many Work Order templates out there
This variability reflects how every facilities management team likes to adjust the templates to fit their needs. 
When running a paper-based system, upon its completion, WOs can be put in a designated place (like a box on the plant floor). Later they can be reviewed by the maintenance manager and saved in a filing cabinet.
Having such a manual process leads to a whole bunch of issues we discussed in the previous section. In an effort to alleviate some of those issues, many organizations have already switched to spreadsheet-style WO systems. 
2) Switching to spreadsheets and digital WOs
Having paper records is better than having no records. However, having digital records is way better than having paper records. 
Instead of printing them out, WOs can be shared with technicians digitally (in the form of a Word document, spreadsheet, a PDF file, etc.). Technicians can open WOs on their smartphone, perform the work, write in notes after completed work, and send them back to their supervisor. 
While better than a paper system, spreadsheets can be clumsy at times, and still require a significant amount of administrative work. And we all know how much technical staff loves administration.
Combined with a simple digital ticketing system, this can be a great transition step between using paper templates and switching to a CMMS system.
3) Streamlining work with CMMS software
The best way to manage work orders is using a CMMS. After all, that is what CMMS is designed for. 
The workflow is fully automated, and moves along in real-time. You just have to fill out a few elements to create a WO. The software immediately sends out email and push notifications to the assigned technicians.
Technicians can open WO on their mobile device, access all relevant information, and perform the work. Upon completion, the notes, time spent, materials used, and other info is automatically logged. 
Since CMMS is a centralized system, every detail we just mentioned can be used to generate useful reports and FAQs, which all continuously improve your maintenance operations. 
There are many other advantages of using a modern CMMS to manage maintenance work, but we have to save something for the following section.
Use Limble CMMS as your Work Order software
Switching from a paper WO system to a digital one will do wonders for your maintenance department. But you shouldn't stop there. If you are making a change, go for modern CMMS software that will help you digitize all maintenance tasks, not just tickets and work orders.
With Limble CMMS, you get one platform that takes care of everything — tickets, work orders, scheduling, inventory, purchasing, vendors, asset management, regulatory compliance, and custom reporting. Everything is accessible and usable on mobile devices, and available in 14 different languages!
It is about time you start getting credit for the hard work you do. Start a free trial or get in touch with our amazing support team to learn how Limble can streamline maintenance work at your facility.