Contrary to how it might sound, autonomous maintenance does not take maintenance work off the plate of the maintenance team and achieve it through use of robots or other automated technologies. As nice as that might sound, autonomous maintenance actually spreads the responsibilities of the equipment maintenance function to machine operators and other staff on the floor. While this shift of responsibility can be highly effective, it often requires a significant change in the organization's mindset for successful implementation.
Checklist for Creating a Preventive Maintenance Plan
Following a consistent Preventive Maintenance Plan can make life easier. Use this checklist to create your own!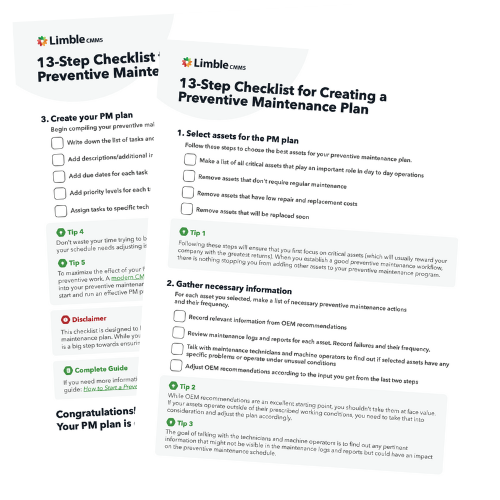 Implementation: 7 steps to autonomous maintenance
When planned and implemented correctly, autonomous maintenance delivers a win-win situation for all the parties involved: operators get enriched with technical skills, maintenance technicians are freed up to focus on more critical issues, and the organization as a whole gets a more efficient maintenance structure.
Implementing autonomous maintenance is typically broken into 7 steps.
1) Increasing operator knowledge
Using equipment and understanding how it works are two very different things. The effectiveness of autonomous maintenance rests first and foremost on operators getting familiar with their machines' interior workings.
As mentioned before, the operators must be adequately trained and tested to ensure that they understand the following details:
The machine's components, their purpose, and how they function (just the basics are often enough)
Signs of deviation from optimum performance
Which maintenance actions they'll need to perform
How to report issues to the maintenance team
2) Initial cleaning and inspection
This step involves overhauling and cleaning the equipment (and surrounding areas) to get it to an almost brand-new condition. By identifying and rectifying all signs of wear and tear, the machine return to ideal working conditions that serve as a great starting point for involving machine operators in equipment maintenance.
The usual tasks at this stage cover:
Deep cleaning the machines including removal of dust and dirt
Lubricating and oiling (for equipment that requires lubrication)
Identifying and eliminating signs of deterioration (such as leaks and cracks)
Tightening of any loose nuts and bolts, etc.
It's good practice to document any observations and the restoration protocols that were used during this process. That information can serve as a valuable reference for operators later on.
3) Eliminating contamination and improving access
Once the initial cleaning is finished, and equipment is in peak condition again, it is important to adopt practices that will keep it this way.
This is achievable in several ways:
Controlling contamination. This starts by promoting clean habits among the operators. However, it might be necessary to complement their efforts by using high-quality sealing and machine covers. Industries that are prone to dust contamination (e.g., sawmills) may need to look for specific solutions such as dust extractors.
Promoting orderliness. The area surrounding the asset requires attention as well. It should be clean, neat, and free of dirt and spills. Tools should be stored properly so that operators can reach them quickly when needed.
Promoting safe access. Safe access to maintain and clean a machine is paramount. Also, cleaning a machine while it is running can be dangerous. So lockout/tag out (LOTO) would be a prerequisite for continuing the task if operators cannot reach contamination areas without risking injury. Of course, operators should have clear visibility all around the machinery they are attempting to clean.
4) Setting standards for cleaning, lubrication, and inspections
The success of autonomous maintenance depends heavily on a culture of discipline and orderliness. To sustain the benefits of what the operators have learned so far, there must be some standards to guide cleaning, lubrication, and inspections.
We mentioned earlier that it's a good practice to document the cleaning and restoration protocols used. This documentation can serve as a baseline for establishing the required standards. These standards should cover:
What to clean/lubricate
How to perform those tasks
How often should you perform those tasks
Other maintenance-related information operators might find useful
Once all these details are finalized and documented, the operators will have something they can refer to whenever needed.
If you are using Limble CMMS software and give operators access to it, you can create task templates that outline the processes they need to follow (as seen on the screenshot below).
5) Carrying out inspection and monitoring
The operators now have the required training and tools to handle the equipment. They are officially in charge of their machines' daily upkeep, and they may adjust their assigned maintenance routines if it improves productivity.
At this stage, the maintenance lead can use a scheduling tool – usually a CMMS – to check that workflow is streamlined between both units. This is done by tracking the operators' maintenance-related tasks and comparing them with the maintenance unit's schedules to avoid overlapping or duplicated duties.
6) Implementing visual maintenance management
Visual maintenance management means making it as obvious as possible to see whatever is going on with every piece of equipment. This helps to maintain each asset's integrity because it allows the operators to handle the machinery more confidently.
For example, you can use color-coded tags to indicate the sequence of checks on a machine and inspection frequency, change opaque machine coverings to transparent covers, use posters and wall signs as reminders for all operators, and so on.
7) Ensuring continuous improvement
Since autonomous maintenance is a part of TPM, the implementation is not done until the organization establishes a continuous improvement process.
This means you'll need to evaluate the standards and procedures that were previously established periodically. This enables you to spot any shortcomings and find new places for improvement.
Start the process by asking the following questions:
When last did we review our processes?
Are our process documents up to date?
Are operators still complying with established standards and procedures?
In which areas are we struggling the most?
Are there new technologies that can make maintenance tasks easier or faster?
Are we encouraging feedback? When last did we get feedback from an operator?
Is there any structure for recognizing/encouraging staff that contributes the most to positive change?
Where have we succeeded the most?
Where have we failed the most?
…and so on.
They are positioned to get vital information to guide their improvement efforts in a focused and precise manner.
Key takeaway
Looking at everything stated above, it is easy to understand how implementing autonomous maintenance is a lot of work.
I am not here to convince you otherwise. As a part of TPM, the push for autonomous maintenance is a big organizational effort. But that doesn't mean you can't steal certain practices and use them to improve your maintenance department.
Teaching machine operators to look for specific wear and tear signs that lead to critical failures is just one simple thing that could reduce the number of unexpected breakdowns later down the line. Do not underestimate the power of incremental improvements.
If you have any further questions about the role of a CMMS in implementing autonomous maintenance and TPM, get in touch via our contact form.