According to The 2022 State of Employee Safety Report, 79% of employees say they are concerned about their health and safety at work.
Workplace safety policies along with various technologies can be effective tools for preventing injuries and increasing employee productivity. Overlooking or underutilizing these resources can leave you vulnerable to serious problems and legal consequences.
Engaging the whole company, including upper management and every single employee, in using these resources is the only way to truly achieve facility safety. Here's how.
The Essential Guide to CMMS
Download this helpful guide to everything a CMMS has to offer.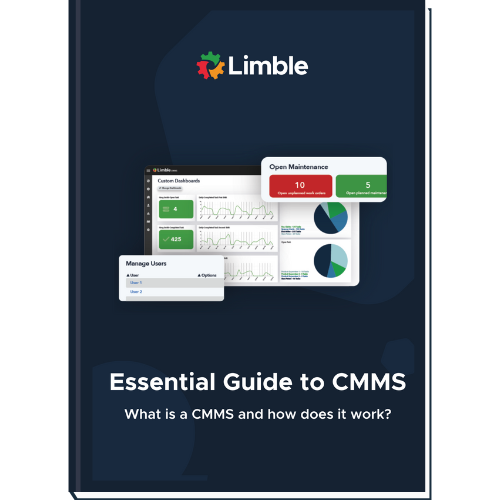 What is facility safety?
Facility safety is when an organization has the appropriate infrastructure in place to ensure the working environment is as safe as possible for all employees. It requires the development of standard operating procedures (SOPs) and use of best practices to address and resolve safety risks. 
In addition, various tools and approaches are used to enhance safety — from PPE (personal protective equipment), regular toolbox talks, and facility monitoring, to technology solutions like the Industrial Internet of Things (IIoT) and CMMS.
Let's tackle them one by one.
1. Get buy-in from all levels
Safety must be driven by upper management. The moment they show interest and commitment to protecting every single employee from injuries and hazards is the moment the company's safety program is set up to succeed.
To reach this level of commitment, management must understand all the benefits of facility safety improvements (we'll go over these later).
Only then will they be ready to make serious investments into facility safety programs in the form of formal procedures and policies, and new safety tools and technologies.
2. Have a safety management system
A safety management system (SMS) is an organization-wide process of managing safety risks in the workplace. It should be applied to any facility, irrespective of its type and industry sector.
There are four main components of an SMS:
Safety policy and objectives

Safety risk management

Safety assurance

Safety promotion
An SMS is best achieved through a consistent and thorough Plan-Do-Check-Act approach. This approach offers a step-by-step management plan for planning, implementing, correcting, and reviewing safety on a regular basis. 
The various components and stages of a safety-focused PDCA can be seen below.
Components of a safety-focused PDCA (Source)
3. Understand your risk
According to The American Society of Safety Professionals, risk management is the formal process of identifying, evaluating, and analyzing hazards. It is a crucial component of any safety management system (SMS) and consists of five steps:

System description:

Describe workplace activities and equipment conditions, and take systems into consideration such as procedures, measures, and interfaces.

Hazard identification:

Identify unwanted events that could result in workplace injuries, illness, and equipment damage.

Risk analysis: Determine the frequency or potential likelihood of hazards and the severity of their consequences.
Risk assessment:

Determine whether or not a safety risk is acceptable;

a risk matrix

is usually used in this step.

Risk control:

Implement safety measures to minimize the occurrence or impact of the risks.
4. Know your processes and surroundings
Process diagrams are an invaluable tool in process flow analysis. They inform you of each step or phase in your process and help identify areas where risk exists. We distinguish two types of diagrams:
Process flowcharts

explain how something is physically made or done in a facility 

Workflow diagrams

explain how the actual work, or individual tasks, are done
Process flow mapping helps you highlight the flow of materials, equipment, energy, and people, emphasizing potential safety hazards.
Workspace layout (Source)
Note any potentially hazardous situations such as:

Large distance material transfers within the facility

Hazardous materials that are too close to work areas

Unacceptable working conditions 

Utilities-related issues

Specific steps that post particular electrical safety, chemical safety, fire protection, or other risks
Once you have compiled a list of all potential hazards, prepare for a facility layout redesign in order to reduce or eliminate as many of them as possible. This will result in a safer and healthier work environment.
5. Keep physical assets in good operating condition
There are many reasons to keep assets in good operating condition:
Reduce the risk of equipment failure and accidents

Increase equipment reliability

Enhance equipment performance

Comply with OSHA (occupational safety and health administration) and other safety regulations
Lack of maintenance and misuse of assets are common causes of equipment failure. Some of those failures will pose a safety risk.  
The best way to mitigate those risks is to take a proactive approach to asset maintenance with a proactive maintenance plan. Then implement a cloud-based CMMS to streamline maintenance processes and make sure you stick to your maintenance schedules. 
6. Embrace new technologies
Investments in various safety technologies shouldn't be neglected, especially for organizations with physically intense operations.
There are different types of safety tech you can choose from:

Wearables:

helps decrease the frequency and severity of employee injuries and includes devices that track different physiological (body temperature, heart rate, etc.), environmental (air quality, temperature conditions, etc.), and other measurements.

CMMS:

helps automate and streamline your entire facilities management process — from

scheduling work orders

and red-flagging machine breakdowns to maintenance data analysis and compiling reports.

IIoT:

allows a digital interconnection of machinery and devices, enabling real-time data collection and analysis. For example, an IIoT system can have embedded fail-safes that automatically trigger alerts when an error in a production process or network occurs.

VR and AR:

allow employees to train and safely practice tasks by using certain equipment in a simulated working environment mimicking those that pose potential risks.
7. Involve your people
Writing safety policies should not be a 'top-down' exercise. By gathering ideas and opinions from your employees you will:

Provide involvement that increases the likelihood of employees to actually remember the policy

Achieve buy-in and long-term compliance with the policies 

Show commitment to each of your employees and foster a sense of belonging
In the end, your employees are the ones who best understand the potential hazards of a given task or machine. For example, airline cabin crew intimately understand in-flight safety issues, just like an electric arc welder knows the safety hazards of working at unusual heights.
Make sure to listen to all of your employees (no matter the management level), gather their ideas and opinions, and then implement those that will provide the most benefit to the safety of the overall work environment.
8. Conduct continuous training and education
Safety training and education should be provided to all employees, regardless of whether they work in hazardous locations or not.
The words 'training' and 'education' are often used interchangeably but are actually different terms:
Training

refers to learning a relevant skill or task, such as using a pneumatic drill or forklift, working in a confined space, or the location of fire extinguishers at a specific facility. 

Education

refers to more generalized, conceptual learning, such as learning about risk management or how to assess safety emergencies and conduct emergency response.
You can again use CMMS software to track your maintenance employees' performance and identify employees who need additional training. 
Furthermore, you can use it to:

Store training and completion dates as well as licences and certifications

Assign complex maintenance tasks to qualified technicians

Record safety requirements for facility, equipment, and machines

Schedule recurring work orders for safety-related tasks
Remember, continuous training and education keep safety topics front-of-mind and result in more productive employees.
9. Monitor your facility 
Facility monitoring is an efficient and cost-effective way to improve the safety of your facility.
Video surveillance, along with video analytics and trained monitoring operators will help to:
Identify and fix problems before an unwanted event occurs

Monitor dangerous equipment

Monitor high-risk areas prone to accidents

Avoid potentially expensive lawsuits

Ensure employees are following safety procedures
Video surveillance is a powerful tool for facilities that value the health and safety of their employees. 
10. Hold regular toolbox talks
Conducting regular toolbox talks can reduce the incident rate by up to 82%.
Simply put, toolbox talks are informal discussions related to a specific safety issue. The topics can vary from fire and fall prevention to biohazard safety. The main goal is to review safety practices and improve safety culture.
The frequency of these talks is up to you  — some companies conduct them daily or weekly, while others prefer holding them on a monthly basis. It all depends on the number of safety concerns you want to address.
Avoid wasting the productive time of your employees, so make sure the talks are quick — keep them to 15 minutes or shorter.
The main benefits of improving facility safety
Continuously improving facility safety inevitably leads to:

Improved productivity:

Safe working conditions and environments result in producing more outputs in less time.

Reduced downtime:

Fewer accidents also reduce downtime and compensation costs.

Decreased absenteeism:

Safe, healthy, and happy employees are more dedicated to their work.

Better reputation:

Fostering a safe working environment with a zero incident rate leads to a positive reputation.

Protection from legal actions:

Providing safe working conditions for your employees saves your business from legal actions.
A safe workplace is a productive workplace
Safety management is a comprehensive, risk-based system that must include all areas of your facility, processes, and workforce in order to be successful.
As an employer, you should:
Raise the awareness of operating hazardous equipment and machinery

Encourage employees to adopt safety practices and protocols

Ensure employees have access to necessary safety technology and tools.
Not only is it the ethical thing to do, it also leads to superior business results — improved productivity, reduced costs, and reduced downtime.
To learn more about safety and maintenance keep browsing the Limble blog.