September 2 2021
Choosing The Right Technique For Failure Analysis
Learning from past failures is the best way to understand and prevent future equipment breakdowns. In practice, that learning process falls under the umbrella of failure analysis.
These days, there are plenty of failure analysis techniques to choose from. They all come with a specific set of advantages, challenges, and use cases. Let's explore all the options, discuss which ones might be right for your situation, and review the steps you need to take to implement one.  
What is failure analysis?
Failure analysis is the process of collecting and analyzing failure data, usually to identify the root cause of an asset malfunction/breakdown. This information can be used to improve machine/component design, adjust maintenance schedules, and improve maintenance processes. Ultimately, its goal is to improve asset reliability.
The failure analysis process is generally done after a failure has already occurred. It is an integral part of the RCA (Root Cause Analysis) process. However, it can also be used to determine various factors that could cause a potential failure – so we can select and apply the right prevention methods. 
Depending on its purpose, failure analysis can be performed by plant and maintenance engineers, reliability engineers, or failure analysis engineers. 
Maintenance engineers conduct primary failure analysis based on their knowledge of the plant operations. If the internal team doesn't have the required expertise, it is advisable to hire consultants that provide failure analysis services.
Last but not least, reliability engineers employ different failure analysis techniques to improve fault tolerance and ensure the robustness of their system.  
Common use cases for failure analysis
The most common reasons to conduct failure analysis are discussed below.
Identifying the root failure causes 
In many cases, machine failures are surface-level manifestations of deeper problems that were not addressed in time. Sometimes, a combination of different factors leads to an unexpected breakdown. 
Since breakdowns are so expensive and disruptive, maintenance teams need to put a lot of effort into preventing them. Aside from routine maintenance, identifying root failure causes – and eliminating them – is the best way to keep breakdowns at bay. 
Preventing potential failures 
A machine or system has many interconnected and interdependent components. These components do not have the same probability of causing a system-wide failure. Information and data on the system can be used to analyze the probabilities of potential failures. 
Tests and simulations can be run to find the weakest links and improve them – be it through design tweaks or by changing operating and maintenance recommendations.
Improving product design 
As we just alluded to in the previous paragraph, failure analysis can be done to improve equipment or component design. Engineers can employ different failure analysis techniques to identify potential issues in their designs. 
On a more practical side, they can also conduct destructive testing to evaluate the characteristics of components and materials they plan to use in their final product. 
The insights gained from these tests and analyses are used to create or improve product quality.
Ensuring compliance 
Regulations and standards imposed by governments or industry bodies often require failure analysis. Failure analysis methods are used to ensure the product adheres to the required standards.
Liability assessment
Legal proceedings related to failures require the cause of a failure to be analyzed. The same is done as a part of specific insurance claim settlements to ensure the conditions in the contract are met. In such cases, failure analysis might be a legal requirement. 
Naturally, the result of failure analysis can also be used as protection from litigation.
Steps for conducting failure analysis
Failure analysis techniques vary widely based on the specific use cases. That being said, steps for conducting failure analysis follow the same pattern. 
Step #1: Define the problem
A well-defined problem statement is essential for any deep analysis. Failure analysis requires the engineers to define the problem as clearly and concisely as possible. The problem statement should contain details about: 
the failure that occurred 
the data that needs to be collected 
the failure analysis technique to be used 
the expectations for the failure analysis (goals)
Step #2: Collect failure data
All relevant data has to be collected. This includes both quantitative data and qualitative data. 
Quantitative data refers to the operations data, maintenance data, age of the machine, etc. It can be obtained:
from maintenance records
from CMMS database or any other tool used to monitor asset health and performance
by performing a visual inspection (as a part of failure investigation)
Qualitative data cannot be easily quantified. Such data is obtained by interviewing machine operators, maintenance technicians, operations managers, etc. All relevant data concerning the failure should be collected.
Step #3: Create a failure timeline 
Root causes result in a chain reaction that forms the surface-level failures we observe. The collected failure data can shed light on the event sequences that happened. With enough information, the team performing the analysis can create a failure timeline. This serves as a visual and mental aid to the analysis process. 
Hopefully, the timeline will provide clarity into the cause-and-effect relationship between the events. 
Step #4: Select useful data and discard the rest
The timeline created in the previous step is also used to identify useful data. Quantitative and qualitative data collected in step #2 is mapped to the events in the timeline. The data that finds a place in the timeline is useful for the final analysis. 
The rest of the data can be discarded as it is not relevant to the events that caused the failure. This way, failure analysis teams won't waste time and effort analyzing irrelevant information.
Step #5: Administer the chosen failure analysis technique
The next step is to conduct the chosen failure analysis technique (we will discuss them in the next section). The method selected depends on the specific use case, industry, and the experience of failure analysis engineers conducting the analysis.
Step #6: Review results, test and apply a solution
The result of failure analysis is studied in detail. In most instances, the purpose of failure analysis is to implement remedies that can prevent future failures. Different solutions proposed are tested and the best solution is used to improve the system/machine.
Common failure analysis techniques
Failure analysis is not an exact science. It is a curious exploration of the true cause behind failures and it can be considered a craft. 
Still, failure analysis cannot be done without any structure. Over the years, engineers developed quite a few techniques that can be used as a framework to analyze all kinds of failures.
The most popular failure analysis techniques are discussed below.
5 Whys
5 Whys represents a simple methodology used to identify cause and effect relationships between events. It is based on asking "why" the initial problem happened. The first answer then forms the basis for the next "why" question. We keep asking this until we get to something fundamental or completely outside of our control.
Recommended reading: 5 Whys: The Ultimate Root Cause Analysis Tool.
Fishbone Diagram/Ishikawa Diagram
Fishbone diagram (a.k.a. Ishikawa diagram) is a failure analysis technique that is visualized in the form of a fishbone. The head represents the problem we are analyzing while the bones represent potential causes.
The whole diagram is predicated on the idea that multiple factors can lead to the failure/event/effect we are investigating. It is widely used for process improvement in the medical field, aerospace industry, and IT.
Recommended reading: How to Use the Fishbone Tool for Root Cause Analysis.
Failure modes and effects analysis (FMEA)
FMEA is a preemptive failure analysis technique. It is used to predict potential failures with the help of past data and future projections. It takes a look at the potential ways in which a machine fails and the consequences of each such failure. 
Failure modes and effects analysis is a preventive fault analysis technique where each part of a system is brought under the scrutiny of an expert team. It serves as a framework to instigate rigorous brainstorming sessions. 
The technique is extensively used in reliability engineering, safety engineering, and quality control.
Recommended reading: FMEA & FMECA: How To Perform Failure Mode And Effects Analysis.
Fault Tree Analysis (FTA)
Fault tree analysis makes use of boolean logic relationships to identify the root cause of the failure. It tries to model how failure propagates through a system. This helps reliability engineers create well-defined systems with proper redundancies where component failures do not always cascade into system-wide failures.
FTA is widely used in the aeronautical industry, power generation, and defense.
Recommended reading: What Is Fault Tree Analysis And How To Perform It.
Pareto charts
A common rule-of-thumb states 80% of outcomes (or failures) result from 20% of potential reasons.
The principle is dubbed the Pareto principle (some know it as the 80-20 rule). This skew between cause and effect is evident in many different distributions, from wealth distribution among people and countries to failure causes in a machine.
Pareto charts are quantitative tools to identify the root causes that cause the most number of failures. They are widely used in scenarios where multiple root causes have to be addressed but the resources are scarce.
Recommended reading: How to Conduct Root Cause Analysis Using Pareto Charts.
Barrier analysis
Barrier analysis is a root cause analysis methodology that determines the barriers to the safety of the target. Here the target is defined as the component or machine or system that is to be protected from failure. 
The various pathways that could cause machine failure are identified. Elements in these pathways that act as barriers to safe operation are determined. They are altered to eliminate the problems in the system.
Barrier analysis identifies the impediments to successful operations. The barriers are circumvented or eliminated as a result. It is a root cause analysis technique widely used in the IT industry.
Recommended reading: Sample of a Barrier Analysis for Root Cause Investigations.
A quick comparison of failure analysis techniques
Below is a quick table that compares FA techniques based on the time needed to train your internal team to use them, how long it takes to conduct each, as well as the main advantages and limitations of the respective failure analysis methods.
How to write your failure analysis report
After you've done the analysis, it is time to write the report. While administrative work is nobody's favorite job, documenting used procedures, tested solutions, and found conclusions can be extremely useful for future failure analysis.
How exhaustive your failure analysis report is going to be will depend on the type and scope of the analysis you are performing. 
For example, an in-depth field failure analysis performed after a product recall needs to have very detailed documentation. In this case, it is recommended to slowly gather documentation and records as you go through the process. Later on, you can ask all involved teams to send over what they have, merge it, and finalize your failure analysis document. 
In stark contrast, for a quick analysis performed to analyze the breakdown of conveyor belt #3, a single-page report might suffice.   
What to include in the failure analysis report
There is no universal report you can follow as every organization has its own procedures and goals. 
We recommend that you use good old common sense. When someone looks at the report 15 months later when troubleshooting a similar problem, which information will make their job safer/faster/easier? Of course, the purpose of the report and how "official" it needs to be will also have an impact on its structure and things that need to be included. 
In general, look to cover the following:
Introduction (why the analysis is performed, the scope of the analysis…)
Problem description (what happened, the chronology of events that created the issue…)
General information (who performed the analysis, failure analysis techniques, and tests used to gather data and analyze the problem)
Findings (what was the root cause, as well as any other notable findings that might not necessarily be related to the initial purpose of this investigation)
Recommendations for corrective actions (a good report should focus on solutions and prevention more than assigning blame)
This might still sound rather abstract so let's look at some templates.
A few failure analysis report examples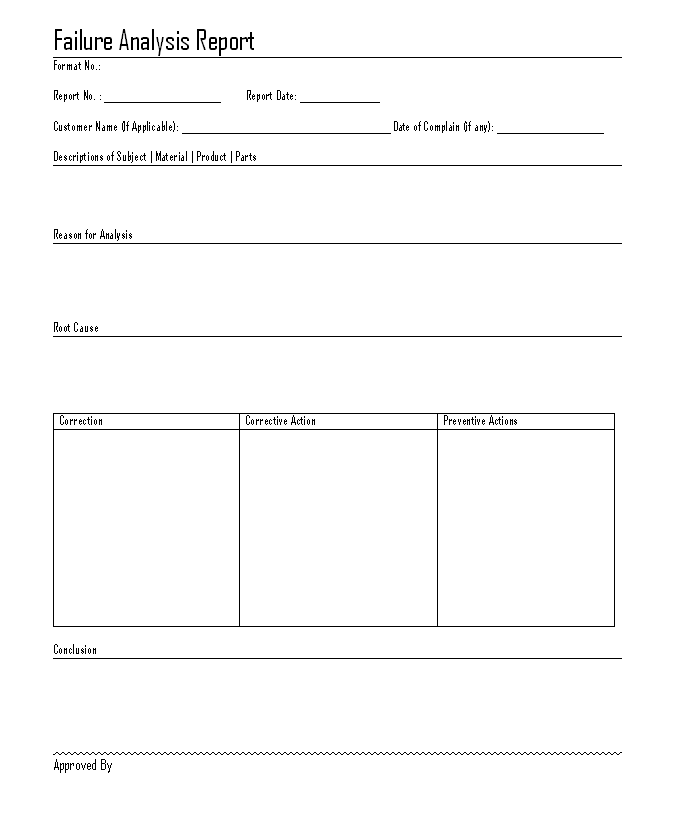 A sample of a basic failure analysis report. Source: Inpaspages
More comprehensive failure analysis report form. Source: Dexform 
You can find many other examples on the web by searching for "failure analysis report" and taking a look at Google's "Images" section.
Key takeaways
Failure analysis is a versatile tool that has many purposes. It can be used to investigate past failures, understand failure mechanisms, and predict the modes of future failures. 
There is no "one size fits all" solution to conducting failure analysis. The technique selection will depend on the goal of the analysis, available resources, access to relevant data, and what the failure analysis team knows and prefers to use.
X
Limble
Ranked #1

by maintenance experts in the field

>
<
Nov 07

Very easy to use, functionality is great

"I can track my inventory and it sends me emails when I'm running low on an item. Also that I can track how much time I'm spending on certain jobs over an extended period of time."

Dec 19

Very easy to use, access

"I like the price, the fact I can see it on my phone or the computer. I like that it is internet-based."

Dec 03

It just works

"Honestly - the customer support has been fabulous. We had a minor feature request that was deployed within 24 hours - which is unheard of. Even better when you consider our business is located in a completely different time zone (somewhere in Australia). Limble is quite intuitive and I love the ability to have assets nested within each other."

Jan 30

Great for smaller or larger facilities

"We haven't fully integrated Limble yet but we are already seeing improvements in our efficiency. As we fully integrate Limble we expect to see more benefits and increase our response and completion times. The customer support has been outstanding. The Limble team is very quick to respond to any questions and they are very open to suggestions."

Jan 18

Limble is the best thing to happen to this company

"Limble does such a good job at keeping track of what's been done and letting me know when and what I need to do next."

Jan 11

Great product at a great price

"Terrific customer service, easy to use, and at a great value. Our old Maintenance software was very difficult to use and was very expensive."