Performing timely maintenance at remote locations brings an additional layer of complexity to an already challenging task. Actively managing this kind of maintenance work falls under the jurisdiction of field service management.
Performing field maintenance work comes with a lot of moving parts. Before you can optimize it, you have to understand what an ideal field maintenance process looks like — from receiving a work request form to updating your maintenance and financial records. 
Which is what we are going to cover here today.
To make sure we are on the same page, let's start by defining field maintenance.
The Essential Guide to CMMS
Download this helpful guide to everything a CMMS has to offer.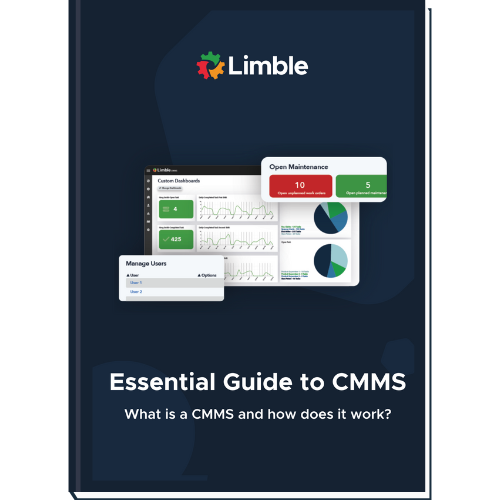 What is field maintenance?
Field maintenance refers to maintenance work that is carried out remotely — away from a production or maintenance organization's location. 
The term refers to various activities performed on remote assets like:
Installation

Commissioning

Modification

Routine maintenance

Repairs

Overhauls.
The work is usually performed by engineering and maintenance technicians.
Which industries commonly use field maintenance services?
There are two common situations that 'force' a business to use field maintenance services. 
1) Geographically mobile assets
Airlines, earthmoving, mining, or marine organizations are companies that extensively use field maintenance. 
The cost and logistics of bringing large assets back to a central location for maintenance are just too great; when they experience a major breakdown, it's almost impossible. A maintenance team simply has to go to their location to execute the repairs. 
2) Distributed fixed infrastructure
Energy, utility, or elevator company assets are not mobile. Their fixed and distant location requires the technician to travel to the asset and do their work on-premises, not the other way around. 
As an asset-intensive business, often comprising main plants and nationally distributed satellite facilities, many manufacturing companies can also be slotted into this category.
When you use complex equipment from many different OEMs, having a centralized maintenance facility is often more cost-effective. It removes the costly duplication of tooling, specialist skills, and inventory from your business needs — things that you would otherwise need to have in each plant.  
What is field service management?
What do you need when a team of maintenance technicians is geographically dispersed, carrying out different tasks for different clients? You need end-to-end tracking and control. 
Field service management provides that control as it looks over:
Planning

Scheduling

Dispatching

Monitoring

Client liaison.
Unless your organization is extremely large, field service management also covers a wide range of secondary tasks:
Vehicle fleet management

Personnel rostering

Inventory management

Invoicing

Task prioritization

Engineering support.
Why it is crucial to plan out your field service management infrastructure
It's a common belief that maintenance technicians can self-manage, making field service management systems unnecessary. Even if that was the case, there are other reasons for having management infrastructure than simply completing a defined maintenance task. 
Here are some points you should think about if you need to send out field workers on a fairly regular basis.
Efficient routing of personnel
Planners, schedulers, and supervisors in a field service workforce management team greatly benefit from having a clear overview of all field service tasks. Understanding how long each task will take will help them route field service teams to different job sites, to execute the day's tasks efficiently. 
Having good data and clear procedures gives them a degree of objectivity when dealing with stressed clients. Furthermore, they shield technicians from client irritation which can happen due to potentially controversial task prioritization decisions.
Standardized processes
To be efficient and effective in their service delivery, maintenance teams need to be armed with standardized processes and workflows. 
The need for such control increases when introducing greater variables to a maintenance task, like technicians operating remotely and on the client's premises. 
Field service management offers centralized control, ensuring the correct implementation of company policies and procedures while presenting a consistent and professional face to clients as their service providers.
Deploying qualified personnel in a timely manner
When scheduling remote maintenance work, it's extremely important to have an awareness of the training, skills, and experience of your maintenance personnel. 
You want to have a high First Time Fix Rate to avoid costs associated with having to send over another technician for a do-over. You also want to avoid not meeting customer expectations, or even losing the client because you didn't solve their issue the first time.
Task prioritization
A field service management team will have an overview of the weekly and daily plans, whereas technicians will just have an overview of their day-to-day tasks. 
By understanding how these tasks fit together, the field service management team can prioritize the ones that need more immediate attention. As breakdowns and emergencies arise, the management team can select which technician should address the issue, pushing back planned tasks with lower priority.
Inventory control
The same oversight that allows task prioritization assists with inventory control. 
While a technician may have spares for a planned maintenance task, when needed elsewhere, the field service management team can reallocate the spare, arranging for its pickup from the technician, and delivery to the higher-priority job. 
Similarly, if a technician finds they need extra spares, the field service management team can source and deliver the components, keeping the technician working on-site where they belong.
Customer management
Maintenance technicians are employed to maintain equipment. While they may have good people skills, they are not paid to chat up the work requester and improve the customer experience. 
A field service management team will be aware of any sensitivities with the client, convey unwanted messages, and present a standardized company image. All of these are factors in customer satisfaction.
Warranty and financial management
Field service management teams take care of the pricing, ensuring that your business correctly charges (and gets paid) for spent time and inventory. They also capture task and financial data for assets under warranty.
Safety oversight
Maintenance teams working in remote locations require someone to have their back. A field service management team is aware of the team's location and task, operating as their first point of contact. In the event of accidents or incidents, they can help coordinate between technicians and the client.
An outline of a typical field maintenance workflow
Every organization doing field maintenance will have a standard process that allows either their internal team or external customers to submit a maintenance work request. 
While the exact process differs from organization to organization, there is a common thread that is hard to avoid. When we break it down into steps, field maintenance workflow overlaps with the standard work order management process.
Let's briefly dive into each step and discuss the important nuances of the field maintenance process.
1) Submission of a work request form
The work request collects information from the client in a standard format, which should include: 
Location of the problem and the equipment

Description of the problem

Name, company, and contact information of the person reporting the issue 

A priority ranking assigned by the client.
When they fill out that information, the client can submit their work request to the maintenance department/provider.
If your company is using modern maintenance software like Limble CMMS for order management, your clients can submit their tickets using the dashboard on our simple work request portal, which you can see below.
They just need to go to an URL or scan the asset's QR code, fill out the required fields (which you can customize), and click the submit button.
2) Reviewing and approving the work
Submitting a work request does not guarantee the work will be accepted (or completed with the urgency the client has expressed).
The maintenance manager, or their delegate, will review all work requests. They will check to see if duplicate work requests have been submitted, whether the issue is actually a maintenance concern, and whether the task has an appropriate priority level.
Limble CMMS uses machine learning algorithms to catch and flag duplicate work requests. It is one less issue the reviewer has to worry about. 
If the reviewer accepts the request, they will sign it and approve it as a work order, sending it to the field maintenance planner/scheduler.
3) Planning and scheduling field maintenance work
In small organizations, these roles sit with one individual. Upon receipt of the work order, they will study it to understand the required technical skill, resources, and urgency. 
If the task needs spares, tooling, or consumables, the planner will check to ensure the items are in stock and serviceable. Only then will they schedule the field service operations. 
4) Appointing a technician
Selecting the technician to complete the task is usually the role of the maintenance supervisor. They will make that decision when planning the day's work, choosing technicians based on their skills and experience, their current workload and location, and the priority of other work on their to-do list.
5) Executing field maintenance work
The appointed technician will accept the work order and assemble the tools, spares, consumables, and any additional help they might require, charging everything against the work order.
If field technicians are going out to execute preventive maintenance work, this part of the process can be significantly sped up by implementing maintenance kitting.
They will travel to the location and complete the task. Ideally, they should record what was done, the defects found during maintenance, and the spares used. 
The completed work order returns to the maintenance supervisor or the planning department. If you are using CMMS or field service management software, this is done automatically, with no physical paperwork involved.
6) Updating maintenance and financial records
Returning the completed work order to the field service management team triggers three actions: 
The maintenance records for that asset and client are updated, scheduling any future tasks or further rectification that may arise

Inventory levels are adjusted, possibly triggering a reorder process

The planner loads the financial system with the time and materials used to complete the task, triggering an invoicing process. 
And that wraps up the process. After a new work request comes in, the process starts all over again. 
If you are performing planned maintenance on remote assets, the process is very much the same. The main difference is that the work is triggered based on a time calendar instead of a work request.
Four proven methods for streamlining field maintenance work
Before we let you go, here are a few final tips that have the potential to make your field service management significantly more cost-effective.  
1) Standardize processes
Operating a maintenance team is a demanding task at the best of times. The task becomes more complicated when that team, company assets, and tools are spread across the country. 
By standardizing your maintenance processes, you:
Improve field technicians' health and safety

Create a workflow that is more repeatable and effective

Ensure regulatory compliance

Reduce your overall operational costs.
Simply put, removing variability from maintenance work pays dividends in the form of increased safety, reduced cost, and better machine reliability.
2) Computerize and automate
The typical field maintenance request process involves many interfaces and requires multiple tasks for a reliable field maintenance operation. 
More than seven or eight people can be involved in one planned maintenance task. Multiply that by the number of maintenance tasks carried out in a week, and you understand the magnitude of the back office work supporting field services.
A CMMS system provides a central repository of all maintenance information, handling each step of the field maintenance process. Lodging work requests online provides date/time stamps and traceability. The review and approval process is streamlined, while inventory selection and technician allocation can occur automatically. 
Yet, the real power of a modern CMMS lies in its cloud-based operation, allowing technicians to access maintenance data, work orders, spares, and operating history in real-time, using mobile devices and mobile apps. Manual interfaces disappear and paperwork is reduced when you digitize the process, improving information accuracy and timeliness. 
[limblecta formid=8]
3) Ensure rigorous tooling and inventory management
Field maintenance services are notorious for tooling and spares becoming "lost". 
Once these valuable assets leave your premises in field service vans, tracking them becomes a nightmare, as does recovering the spares removed from the repaired equipment. 
This is a hidden cost that can grossly inflate maintenance budgets.
Using your CMMS to scan and track these items passes more responsibility to the field service technicians. Those assets remain against their name until they are used in the field or returned to the maintenance storeroom. 
The CMMS can also track calibration and maintenance schedules for sensitive equipment like multimeters or torque wrenches, raising an alert for the technician to return them to the maintenance base.
4) Invest in technician training and integration
The danger with people that are always on the road is that they can begin to impose their own standards and behaviors on their work, feel isolated from the head office, and sometimes feel misunderstood or more important than their workshop-bound colleagues.
This separation from the company culture impacts client perception of your company while affecting equipment reliability, efficiency, and cost.
Run regular training for the teams back at base, and integrate them with the field service management teams. Some companies regularly rotate technicians through the field service maintenance office to broaden their understanding of the role while leveraging their practical knowledge. 
Use Limble CMMS as your field service management software
Field service management is essential for the efficient and professional operation of remote and dispersed maintenance teams. With access to an affordable, cloud-based field service management solution, businesses of all sizes can now implement professional field maintenance services with minimal personnel.
If you're interested in learning how Limble can help you automate, organize, and streamline field maintenance work, schedule a demo or get in touch with our amazing support team.