Prolonged asset downtimes can result in all kinds of safety and productivity issues that can seriously hinder operational productivity and give a major blow to your bottom line. Aside from preventing problems through proactive maintenance, having a standardized work request system in place is the only way to efficiently deal with faulty assets.   
Setting up such a system is actually fairly straightforward when you know what the role of a work request in the overarching maintenance process is. Below, we give you all of the necessary details and tools you need to establish a proper ticketing system and workflow.
Work Order Ticketing System Templates
These useful templates will help you get a handle on work order ticketing and management.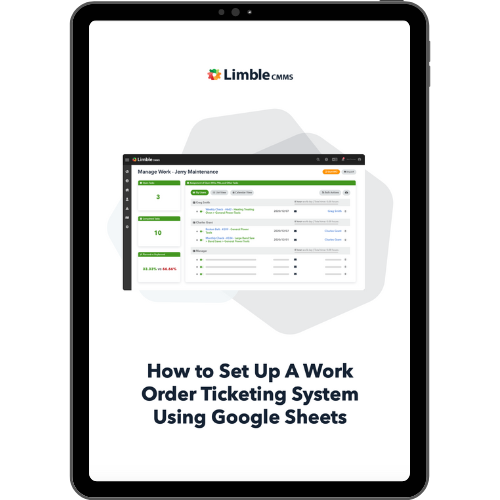 What is the purpose of a work request?
A work request is a document that is used to alert the maintenance team about issues that require their attention. It highlights a problem or defect that inhibits the operation of a particular asset or property. 
It is a document commonly used across many different industries, so it has plenty of synonyms like a maintenance ticket, maintenance service request, maintenance job order, repair order, problem report, etc. 
A work request can be submitted manually (paper-based) or digitally (through a work request solution) by:
A customer:

tenant renting an apartment; employees from different departments; equipment operators within production floors.

Partner facilities:

organizations such as schools, industries, or offices that outsource maintenance work and send work requests to their maintenance vendors.

Maintenance workers and machine operators

who identify anomalies during routine inspections and normal operations.
Its role in the maintenance process
A work request forms a basis for the maintenance department to plan, prioritize and assign emergency maintenance work to technicians.
Having an efficient ticketing system and process in place is crucial for quickly scheduling and addressing priority work, streamlining the maintenance requests workflow. It is the only way to reduce the response time of your maintenance team, lowering the mean time to repair and promptly resolving issues that can otherwise result in an excessive amount of idle time and lost productivity.
People outside of the maintenance industry often confuse work tickets with work orders. That is an important distinction so let's set things straight. A work request represents a formal appeal for an asset to be maintained. After a work request is reviewed and approved, it becomes a work order.
Work requests are reviewed by maintenance/facility managers, maintenance supervisors, maintenance planners, or maintenance coordinators – in other words, any person tasked with coordinating work and technicians. The approval/rejection of the maintenance ticket is based on:
the availability of maintenance funds

the current availability of internal resources (repair tools, spare parts, and labor) 

priority of the reported problem (based on safety risks and potential losses if left unaddressed) 
Generally speaking, issues that carry high safety risks or severely affect production and organizational goals are the ones that will be approved and scheduled first. 
The elements you should find on a work request form
A work request should describe maintenance issues in simple terms, to provide sufficient insights into the nature of the reported problem. In some situations, it can also provide suggestions on the desired corrective measures. 
Here is an example of a basic work request template:
And here is an example of a more advanced work order request form:
As you can infer from the templates above, a proper work request form should contain the following key elements:
1) The information about the requester
The person handing in a maintenance request can be a tenant, a departmental head, a production employee, a technician – anyone who has the authority to submit work requests for maintenance repairs. Having the requester's contact information means that the maintenance team knows who to contact if they need additional information. This is especially important when the maintenance work is outsourced.
2) Problem description
It is a simple description of defects, issues, or mishaps inhibiting the operation of equipment or facilities. If applicable, the requester can try to identify the issue and provide an opinion on what can be done to correct it. With digital solutions, the requester can also include a picture alongside the problem description, taken with their mobile phone.
Each problem has to be described in a simple, yet complete manner, to enable the maintenance team to act promptly and spend less time on troubleshooting. If poor problem descriptions prove to be a problem, the maintenance team should establish guidelines on the important details to include when submitting a maintenance ticket.
3) Location of the asset/problem
Maintenance technicians need to know the exact location within a facility, or a specific part of large equipment that is problematic. Some organizations have the same type of asset spread across different locations – and on the same building floors. The requester needs to specify the problematic asset unambiguously. 
The good news is that technology already has the solution for that. For movable assets like fleet and construction equipment, organizations can use GPS and other asset tracking methods. For fixed assets, they can use barcodes which can be scanned with a mobile device to uniquely identify the asset.
4) Priority level and budget estimation (optional)
Available budget and priority levels can also be included on a work request form. That being said, this is predominantly used by companies that outsource maintenance work. The exact details included will vary based on what was outlined in the maintenance contract.
CMMS Buyer's Guide
Learn the questions to ask and the features to look for during the CMMS selection process - and find the right CMMS for you.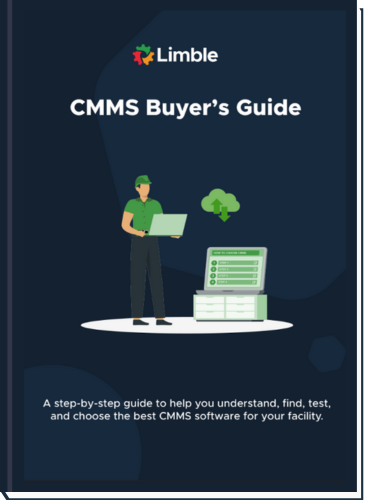 Setting up a smooth work request system
A work request is supposed to expedite repairs. However, reliance on complicated work request systems can impede maintenance activities resulting in deferred backlogs. Companies can enhance their work request systems by taking the following steps:
Set clear work prioritization guidelines
The maintenance department can often receive multiple requests from different locations at the same time. With limited personnel and time, the department has to devise a method for ranking incoming requests and prioritizing tasks based on asset criticality.
This can be very challenging when you consider that the priority has to be correlated with existing planned work, which might (or might not) be of higher priority than the non-routine maintenance ticket that just came in (think e.g. power outages and air conditioning failures vs. landscaping tasks).
When devising a work prioritization strategy, planners and managers can look into the risk matrix and create a simple work priority decision matrix like the one in the picture below:
Standardize work request submissions
Work requests are submitted through manual or digital means. Some organizations allow submissions using both channels, which increases the probability of duplication. Some requesters might even use word of mouth, text messages, or emails, which further exacerbate the problem.
As a part of the standardization, an organization should provide details on:
who can submit work requests

who is responsible for reviewing/approving them 

which information to (and not to) include in a work request form

how to submit a work request

how/where to check the progress of the ticket
There might be more things to standardize, but these are the basics that everyone needs to know.
Centralize incoming work requests
Managing work requests can be tedious if not handled in an organized manner. Organizations that use a CMMS – or another digital tool – should already have this problem solved.
Those that are still relying on paper forms need to look for other means to centralize the process. It can be by assigning a specific person/office that will handle incoming work requests (such as a help desk), or by installing a box on the (plant) floor everybody can use to submit a ticket. However, bear in mind that an online work request will never depend on limiting factors such as the business hours of a help desk.
Centralization is important for overall accessibility, for tracking the status of valid requests, removing duplicate requests, minimizing the chance of misplaced tickets, and finally – for managing the overall maintenance workload.
Automate the work request system
It is so much easier to manage work requests if you are using a digital solution. Work requesters can just open the app on their mobile device and report issues with the tap of a button, anytime, anywhere. If needed, they can also snap a picture and include it as a part of the problem description. 
Using Limble CMMS to submit a work request
Every request is assigned a unique tracking number, so it is close to impossible to miss one. What's more, digital work request systems often have algorithms that filter incoming records to block invalid requests and duplicate submissions. This can save a ton of time for any person that is charged with reviewing these tickets.
Manage work requests with Limble CMMS  
Many CMMS solutions offer some way to manage incoming work tickets. Here at Limble, we have solved it with the features found in our work order software. 
Basically, you get a link that can be shared with the entire organization. Anyone who needs to submit a maintenance ticket can just click on the link and enter the required details of the online work request. Everything else is automated by the software as we outlined in the previous section.
If you're interested in learning more, here is a video that explains in detail how Limble helps you manage work requests:
If you also need a solution you can use to share work tickets and work orders with your maintenance service providers, Limble has you covered on that front too. You can learn more about our vendor management capabilities here.
It is time to go digital
There are so many advantages of handling work requests through a digital system that it is hard to argue otherwise. If you don't need everything that CMMS offers, there are plenty of tools out there that you can use solely for managing work request tickets.
Don't get stuck in the old ways of doing things. Paying a few hundred dollars a month for a few accounts is nothing compared to the savings you can incur by saving time and reducing equipment downtime, especially in the industrial environment. Your future you is going to be immensely grateful.