Once your maintenance department reaches a certain size, maintenance supervisors become essential. The work they do helps ensure business continuity and minimize the usual operational headaches associated with managing day-to-day maintenance operations.
What is a maintenance supervisor?
Maintenance supervisors act as a link between senior management and the rest of the maintenance team by serving as the primary channel for the flow of information within a facility. They are expected to organize, supervise, and direct maintenance workers. Although they are members of the maintenance team, this job title is considered as part of middle management. Therefore, maintenance supervisors usually occupy a more managerial role compared to maintenance technicians and mechanics. 
On a typical workday, you will find maintenance supervisors working primarily with the technicians and other employees on duty. They must lead and motivate the team and delegate tasks accordingly. They may report to a maintenance manager, facilities manager, maintenance director, or some other executive.
Because they provide such an essential service in overall maintenance management, maintenance supervisors can find work in various types of industries. The size of the organization will shape the exact capacity in which a maintenance supervisor will work.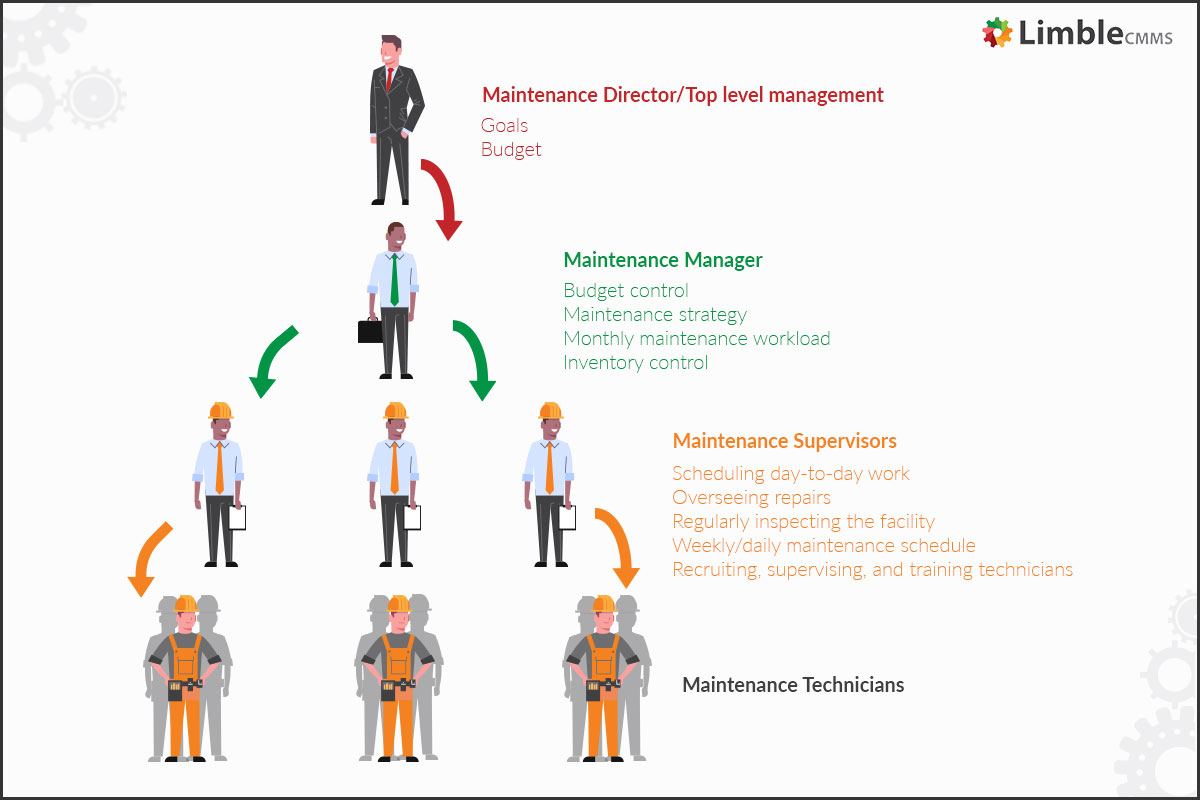 Smaller companies may find that they can get along just fine with a technician that displays strong communication and managerial traits. In such cases, that technician can double as a supervisor. The alternative is that a maintenance manager picks up the tasks that would otherwise be performed by a maintenance supervisor.

For large organizations with dozens of technicians and other maintenance personnel, it is necessary to have designated maintenance supervisors to oversee and coordinate maintenance activities.

Below, we're going to take a look at what maintenance supervisors do, what kind of skills they should have, and review how much a maintenance supervisor earns.
Maintenance Acronym Guide
Confused by PMs, MTTR, and DFMEA? This maintenance acronym guide will have you talking the talk in no time.
Maintenance supervisor job descriptions and duties
Different industries and organizations will have varying demands for what they expect from a maintenance supervisor on a day-to-day basis. Still, the overall goal is to ensure that the workforce is properly trained, organized, and has access to tools and parts they need to execute assigned tasks.
Considering that, maintenance supervisors can expect to do the following:
Prepare maintenance schedules in line with the organization's

maintenance goals

and monitoring PM compliance. 

Frequently inspect facilities to proactively detect potential problems and recommend the necessary

repair or maintenance

.

Provide support and advice during staff recruitment and ensure the proper onboarding and training process.

Oversee and enforce good record-keeping practices (be it pen and paper or

CMMS software like Limble

).

Generate work orders, enter comprehensive job details, and assign work to qualified team members.

Occasionally inspect the quality of performed maintenance work.

Communicate policies, procedures, and any updates to maintenance staff.

Check that every single job is executed on time, to the budget, and without compromising building users' safety. 

Work closely with vendors, outsourced service providers, and contractors to protect the interests of the facility.

Keep an eye on materials and spare parts inventory.

Help with the development of maintenance procedures and proactive maintenance programs like

preventative maintenance

.

Recommend budget items, contributing to the development of an annual maintenance budget.

Recommend upgrades, overhauls, and other changes to major systems and equipment.

Actively participate in projects (e.g. remodeling or renovation).

Actively discuss staff-related challenges with senior management.

Help out with day-to-day

equipment maintenance

work when needed.

Check that the premises are safe and not in violation of any regulations. 

Communicate directly with building occupants to resolve service requests.
Three most common maintenance supervisor jobs

As a maintenance supervisor, you can work at any business that has a maintenance team that needs to be managed. While reviewing maintenance supervisor job posts, we found that there is a lot of need for building, apartment, and plant maintenance supervisors – so we will be discussing those three in more detail below.
Building maintenance supervisor
This position requires a supervisor who will oversee a team responsible for the maintenance of a certain building, usually a commercial property. The supervisor will manage the technicians responsible for the daily tasks in and around the building. They are expected to provide detailed instructions and pitch in to help when necessary. Also, they will often communicate with the building's users by answering questions, informing them about upcoming work, and similar.
Apartment maintenance supervisor
The setting here is usually a block of residential units. The supervisor can be a part of a property management team tasked with managing the technicians while they carry out electrical, mechanical, and plumbing projects. Unlike in commercial buildings where occupants close for the day after work, a residential building doesn't get such a break. Hence, it is essential that the supervisor has the foresight and experience to plan and schedule maintenance tasks with minimal disturbance to the occupants.
Plant maintenance supervisor
This represents a fully industrialized environment. The maintenance supervisor should have core technical skills to fit that particular industry (in other words, know how to maintain physical assets used at their plant). They will supervise the team and maintain complex plant systems and equipment to meet production deadlines and preserve product quality. 

They should also have to be highly observant and diligent with safety regulations as the manufacturing industry has been called out time and again by agencies like OSHA for its poor safety records. For example, in this report, OSHA warns that manufacturing employees suffer the most from work-related injuries.
Maintenance supervisor salary
From all the above, it's obvious that maintenance supervisors do quite a lot. So, if you were to choose this career path, what kind of compensation should you expect? The exact salary for this position will depend on the type of maintenance supervisor job, size of the organization, and to some degree, on the years of experience in this or similar roles.
Here are some figures for full-time maintenance supervisor salaries, gathered from major job platforms:

This is a higher average salary compared to maintenance technicians and mechanics, but not by much. The real difference seems to be at the top end of the scale. In other words, a well-paid maintenance supervisor can earn significantly more than a well-paid technician.
Skills and requirements to look for in maintenance supervisors
Employers looking to add maintenance supervisors to their payroll should have a clear idea of what they expect from them. It is important to identify the role-specific hard skills and soft skills required for hiring a good maintenance supervisor. Here are some qualities that we advise employers to look for when hiring for this role:
Technical skills
It's impossible to teach what you don't know. A maintenance supervisor is responsible for guiding and monitoring technicians and artisans. And although you can't expect them to know everything about every piece of equipment, they should at least have a strong technical background suitable for the industry where they work in. If not, it would be incredibly hard to train people and oversee their work.
This technical knowledge will come in handy when creating preventive maintenance checklists, managing the work order process effectively, handling emergencies, creating troubleshooting guidelines, etc.
An eye for detail
The ability to spot potential issues and act quickly often averts serious problems at any facility. Therefore, a maintenance supervisor can't afford to be sloppy or continuously overlook minor issues at their location.
Additionally, as someone who has to inspect work, check for compliance, and participate in the creation of different procedures, it helps to have good attention to details combined with a problem-solving mindset.
Emotional intelligence
A great maintenance supervisor directs the team and is able to influence team members' emotional state positively even when morale is low. But this requires self-awareness, interpersonal skills, and empathy. They need to put personal issues aside and focus on getting the job done.
Similarly, it's important that supervisors can remain composed even on those days where everything seems to be going wrong. The behavior of a maintenance supervisor in tough situations will reflect on the quality of performed work. It is the difference between being able to keep the team calm and focused versus bringing in additional nervousness that is very disruptive.   
Leadership qualities
Supervisors with good leadership skills help ensure that the maintenance team functions as a cohesive unit working towards common goals.
They should have good communication skills, know when and how to delegate, spot and resolve conflicts between team members, and be able to handle different temperaments. 
Education requirements
Most employers would require at least a high school education to qualify, while others prefer candidates with a post-secondary education up to a bachelor's degree. Still, there are employers that will hire supervisors without a degree if the candidate has prior experience in a leadership role with proven records of successfully managing other staff.
Some maintenance supervisors end up in this role by being promoted from the position of a maintenance technician or a similar role. In fact, many organizations will look for supervisors that have such hands-on experience, which makes a lot of sense when you look at the maintenance supervisor duties we listed earlier. 
Tech abilities
Technological advancements in the built environment are evolving rapidly. Looking forward, maintenance supervisors who wish to remain relevant will need to be able to use mobile technology and different software solutions like computerized maintenance management systems (CMMS), building automation systems, inventory management solutions, and other apps for workflow optimization.
They don't need to be programmers, but a solid understanding of mentioned technologies will be a big plus and offer a competitive advantage in the job market.
Recommended certifications 
With online courses and exams, it's getting easier than ever before for maintenance supervisors and other professionals to get helpful certifications. Ideally, these certifications should provide strong technical knowledge combined with managerial skills. Some of the popular certifications for maintenance supervisors include:
Finding skilled workforce
In our 2021 maintenance report, respondents said that finding skilled maintenance workers is their biggest challenge right now. This means that employers have to approach the hiring process with enough attention and effort. Utilizing skills-based hiring allows employers to outline particular technical skills required for the role, as well as identify top maintenance candidates for employment.

Maintenance supervisor jobs should clearly outline what is expected from the employee by listing duties, responsibilities, and working conditions (like expected levels of overtime work and general work environment). They should offer reasonable compensation and be sure to highlight the benefits and perks that come with the job. 
If that fails, organizations can always look to promote one of their technicians/mechanics/electricians into a more supervisory role, which is also a great way to show existing workers that hard work will be rewarded.