What is First Time Fix Rate?
First Time Fix Rate (FTFR) is a metric used to determine the efficacy of a maintenance call. When a repair is not successful on the first attempt, problems for the business can compound.
A business can improve the rate of fixes by measuring and focusing on this metric. This ultimately leads to an improvement in the bottom line.
The Essential Guide to CMMS
Download this helpful guide to everything a CMMS has to offer.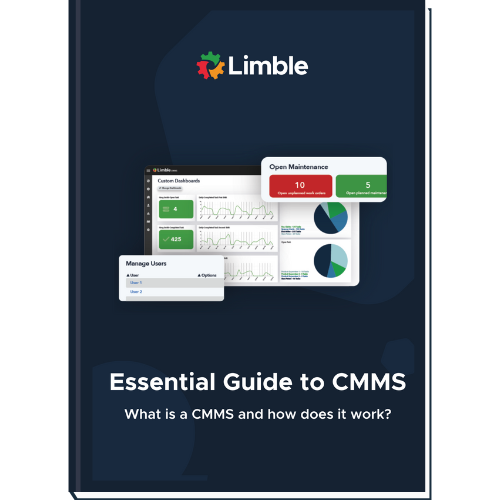 How to calculate First Time Fix Rate
Put simply, the FTFR is a percentage of first-try repair success, without needing additional information, expertise, or parts.
To calculate FTFR, divide the number of times the first fix is successful by the total number of maintenance calls. The resulting percentage is your FTFR.
For example, let's say you have to respond to 100 maintenance calls in one week. If the number of times the issue was fixed without a return visit was 78, then you end up with an FTFR of 78/100, or 78% for the week.
If you have context information for each job, this metric can be sliced any way you like — whether by area, equipment, job type, or technician. This tactic allows you to understand where the strengths and weaknesses are in your organization.
Impacts of FTFR
According to an Aberdeen Group study, the industry average FTFR is around 75%. "Best-in-Class" organizations can boast an FTFR of 89%, while some of the poorest performing businesses can face an FTFR close to 50%.
Effects of a poor FTFR
Repeat trips back to a job can quickly add up to a domino-type effect. For example, assume there are 20 maintenance calls per day. If the FTFR is 90%, then 2 of those issues will need a return visit. But if the FTFR is something like 60%, now there are 8 repairs that need additional visits. Each of those return trips takes away man-hours for moving on to the next problem on the list. 
To further illustrate this financially, assume each hour of technician time costs $100 and the average job takes 1 hour of time. If 8 repairs are getting additional visits, that is $800 worth of time that needs to be accounted for somehow, not even counting in the potential gasoline costs and other expenses. 
It is easy to see how this can compound into further issues with overtime, schedule changes, and late orders.
Benefits of a high FTFR
Conversely, a high FTFR will result in cost savings, with repair technician time being used more efficiently. Furthermore, the end users will be happier with the repair team and carry a sense of assurance that maintenance can handle most problems.
This is especially important if you are running a service repair business — most people report they will change businesses if their first response is not satisfactory.
A high FTFR not only saves time and money, but it also fosters a high level of confidence in the operation, and ultimately reduces business risk.
How to improve First Time Fix Rate
As we have seen, a low FTFR will cost your organization time, money, and reputation. So it's important to work at increasing a poor FTFR.

Understand maintenance and asset data
The first step in improving First Time Fix Rate is to understand why the metric is subpar. Are there certain technicians who are struggling, or specific types of jobs that your business grapples with? Maybe one machine is a constant nuisance and needs its own, focused project. Knowing the root cause of the problem will help you build a directed plan. 
You can make this study much easier by using software to track the maintenance program.
Improve repair request information
Often the reason that a technician must leave the repair is that the initial diagnosis is either unclear or wrong. This can come from a maintenance request that is lacking information.
One way to help the diagnosis is to enable an accessible service history. Ideally, technicians and/or dispatchers could then use this to pre-determine the repair need.
Another way you can help is by guiding operators and customers to clearly report their repair issues. Instead of "it's broken", have your end users explain exactly what is occurring. This can be as simple as giving them a script to answer, such as: 
"What exactly isn't working correctly?"

"What happened to change the status?"

"Do you know what caused the problem?"

"Has this happened before?"
Improve spare parts availability
Another large reason for FTFR failure is that a spare part is not available at the time of the maintenance visit. Scrambling for parts can be a massive drain on technician time. A centralized part inventory can solve this, along with detailed recordkeeping.
Furthermore, you can use software to improve your spare parts management. The software can help you clearly define and track critical spares, and review part inventory levels periodically. 
Lean into condition monitoring and predictive maintenance
An additional angle of attack is to use condition monitoring to track the health of your machines. This would involve installing devices such as vibration monitors on motor bearings. If you set up the proper monitoring devices, your technicians will be able to swiftly identify the right fix for any issue.
Taking this concept further is predictive maintenance — the use of data and software to continuously monitor assets, and predict breakdowns before they even occur. When a machine is well understood via sensors, data, and history, repairs become much easier for your maintenance staff.
Improve the quality of maintenance work
Concentrating on maintenance quality is another way you can increase FTFR. Technician training is a natural spot to focus on. Start by tracking the subjects or machines that your business struggles with; then make a plan to supplement the staff's knowledge. 
Along with training, be sure to review and update your maintenance operating procedures. Make them clear and available for the staff to use. If the procedures are in a straightforward format and easily accessible, your techs will have an easier time following best practices.
Implement CMMS software
One theme keeps repeating itself for FTFR improvement: software solutions. A Computerized Maintenance Management System (CMMS) will aid in every single category mentioned above.
A CMMS will:
Capture and store maintenance data for analysis.

Store

maintenance history records

, for ease of future diagnosis.

Enable you to create and allow quick access to safety guidelines and standard operating procedures.

Help you dispatch the best technician for the job.

Help manage your spare part inventory.

Help you implement and run condition monitoring and predictive maintenance.
If you genuinely want to get a handle on your FTFR, a CMMS is an essential tool.
Checklist for Creating a Preventive Maintenance Plan
Following a consistent Preventive Maintenance Plan can make life easier. Use this checklist to create your own!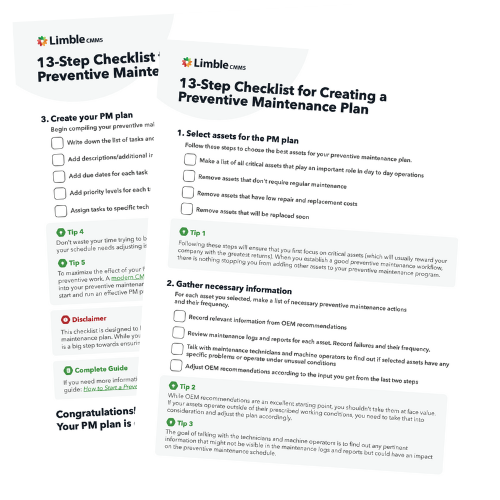 Maintain a high First Time Fix Rate
A high First Time Fix Rate means you have knowledgeable technicians at your disposal, who are able to resolve occurred problems on the first visit. A high rate positively impacts your customer satisfaction — and therefore your bottom line.
In order to boost and retain a high FTFR, you'll have to improve certain parts of your business processes. You can affect each of them separately or you can track everything in one centralized software. 
If you want to find out how Limble CMMS can help you organize, track, and optimize your maintenance processes, start a free trial or schedule a product demonstration with one of our awesome specialists.
Related Content
Explore our blog for insightful articles, personal reflections and ideas that inspire action on the topics you care about.