Heavy equipment is usually one of the costliest assets for an organization. That includes big trucks, rollers, cement mixers, cranes, excavators, and more. To save on repair and replacement costs, it is crucial to maintain your heavy equipment with specialized software or through a heavy equipment preventive maintenance checklist.
Preventative maintenance not only ensures the longevity of your heavy equipment but also helps with the upkeep and reduces the risk of equipment failure.
In this article, we'll go over a heavy equipment preventive maintenance checklist template and the ways it can help with equipment management.
Let's get started.
What exactly is preventive maintenance?
Preventive maintenance is the polar opposite of reactive maintenance, where the staff reacts to an issue. Preventive maintenance is about developing a maintenance plan where you continue routine maintenance while predicting potential issues and rectifying them accordingly.
A preventive maintenance program is about periodic checking by different maintenance staff while keeping a proactive approach. For example, if a maintenance technician notices a loose lug nut in the heavy equipment, it would be better to replace it rather than trying to tighten the same nut.
Other than that, preventive maintenance can also be considered as predictive maintenance; that's primarily what separates it from regular maintenance. In regular maintenance, there is a fixed maintenance schedule with regular inspections, such as visual inspections. In preventive maintenance, you check for potential issues by predicting possible downtime in the future and then develop a maintenance strategy based on your findings.
Heavy equipment, such as construction equipment, requires proper maintenance on a regular basis. In the United States, you have to complete heavy equipment maintenance to meet safety standards too. However, heavy equipment isn't just any piece of equipment; it requires a well-crafted maintenance plan that is developed using the owner's manual, the experience of the machine operators, and a heavy equipment maintenance checklist.
The best way to go about heavy equipment maintenance is to develop a personalized preventive maintenance checklist.
Checklist for Creating a Preventive Maintenance Plan
Following a consistent Preventive Maintenance Plan can make life easier. Use this checklist to create your own!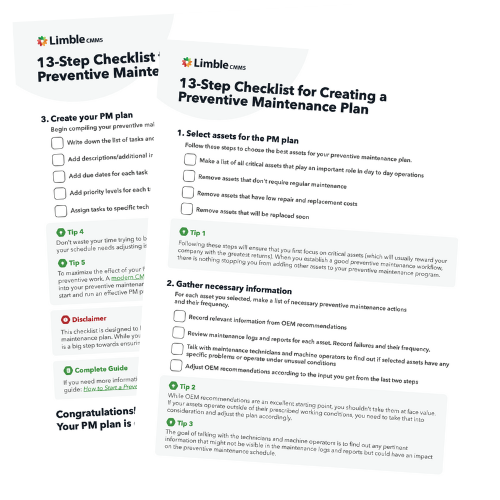 The complete heavy equipment preventive maintenance checklist template
Most heavy equipment maintenance tasks are similar but require precision and experience to complete. The following heavy equipment preventive maintenance checklist template is for heavy construction equipment maintenance. However, you can tweak it a bit and use it for your own heavy machinery.
The point of a checklist is to ensure you don't skip any component of your heavy machinery. According to equipment manufacturers and equipment owners, the primary reason for equipment breakdown is poor maintenance and improper equipment inspection, where some detail is overlooked. Therefore, it's essential to break down your preventative maintenance plan into a checklist with various steps and sections.
This heavy equipment preventive maintenance checklist can be boiled down to four crucial steps. You can improve upon each step to make your reactive maintenance more cost-effective.
Step One – Inspect completely from the ground up
The first step should always be to inspect everything from the ground up. You can consider this your average exterior and basic inspection to get an idea of the overall operating conditions. In this step, your checklist would include the following.
Body: This is where you will be doing a visual inspection of the exterior body by walking around. Look for any obvious signs of damage, including dents, rust, scratches, chipped paint, and broken glass. This part of the inspection is purely for asset value maintenance and doesn't affect the performance of the equipment.
Attachments: These are the small work tool attachments with the equipment. It can be a simple hammer and screwdriver or complicated tools. In any case, it's essential to ensure they're up to the mark. Attachments can also include things like fire extinguishers.
Brakes: Your equipment needs to be in peak condition, and your brakes, parking brake, and other fittings play a crucial role in it. Check your brake line fluid levels, connections, brake pads, drums, discs, and shoes. Also, check whether any brake part needs lubricating.
Fuel: The next thing is to check the fuel delivery system; that includes checking the fuel lines and pumps, and it's better to check the fuel tank for dents along with the tank cap.
Electrical Lines: An electrician should conduct various tests to check the amperage and voltage of all electrical lines, while also examining the fuses and cables. Make sure all the wires and insulation are intact and make sure there's no static electricity.
The things mentioned above are the basic things you should start with.
Checklist addition step one
It's best to be as thorough as you can with your preventive maintenance checklist; therefore, it's advisable to include the following in your checklist too.
Lift Arms: If your heavy equipment has lift arms, you should have your equipment operator check for any leaking hydraulic lines, rust, or weak points that may hinder the arm's abilities.
Hydraulic Oil: Inspect the hydraulic oil level and fill it if necessary. You should also check for hydraulic lines, hoses, and cylinders.
Lubrication: Lubricating all moving parts, joints, and sleeves is essential as it ensures the smooth operation of your equipment and reduces friction.
Suspension: You should also check the shocks, springs, struts, and undercarriage of the machine's suspension mechanism. Check for wear and tear, damage, and any sort of corrosion. Check the fluid levels where necessary.
Once you're done with all of the above, you can move on to step two.
Step Two – Check primary components
The second step is where you check the primary components of your heavy equipment. These components are crucial to making use of the equipment. In this step, your checklist will include the following.
Tires: Tire health is crucial and needs to be observed regularly; otherwise, they can become a large part of the operating costs. You should check the tread depth, PSI, and wear of the tires. Furthermore, check the balance, alignment, axles, driveshaft, valve stems, and lug nuts on the tires and rims.
Tracks: Some heavy equipment runs on tracks, and that requires continuous maintenance to ensure there's no torsion. Check the cleats, idlers, treads, rollers, sprockets, shoes, and links.
Exhaust: Notice the exhaust sounds when revving the engine and check for any abnormal sounds. Check the exhausts for any obtrusion, check the exhaust's connections (hangers and clamps), and check for irregular smoke.
Steering: Check all the steering parts, including the wheel, idler arms, tie rods, and ball joints. If your heavy equipment is old, check the oil levels.
The tasks mentioned above would conclude that most of your heavy machinery is working well.
Step Three – Scrutinize the engine completely
The engine is the central part of any heavy equipment, and also the most expensive. Repair costs are extremely high; therefore, it's best to be thorough with the following checklist.
Batteries: Check all the battery cells for rust, corrosion, and grime. Clean the terminals, check for leaks and cracks, and note down the battery's age, lifespan, acid ration, and voltage retention.
Coolant Fluids: Check the engine coolant, including the coolant in the radiator and transmission. Notice the level and color of the fluid to determine warning signs.
Belts: Most engines run on belt-driven components prone to wear and tear. Check the rubber for any fraying, cracking, or discoloration, and check whether the belt has enough tension and slack.
Filters: Check for all the filters, including the oil, cabin, fuel, and hydraulic filter. If the machinery has air conditioning, check the AC filter too. Replace them if necessary, or just clean them of any dirt.
Hoses: Check all the engine tubes for any leaks, rot, or wear.
Fluids: Check the engine oil, hydraulic, windshield, transmission, and brake fluids. Perform fluid analysis to check the levels and quality of the fluids, and top-up if necessary.
Injectors: Clean and replace fuel injectors to ensure your engine gets a steady supply of fuel.
When you're done with the engine inspection, try revving the engine and drive the machinery around to notice any differences. It would give you an idea of the operating conditions after maintenance and complement the equipment service.
Step Four – Inspect the interior/cab compartment
The fourth and last step of the heavy equipment preventive maintenance checklist is checking your cab compartment. Ensuring all compartment equipment is working is as essential as checking the rest of the machinery. The following checks should be included in this section.
Lights: Check headlights, warning lights, and brake lights for any issues. If your jobsite requires heavy machinery work at night, replace dimmer bulbs.
Handrails, Steps, and Grab Bars: Make sure all the grab points are free of damage and rust and can sustain the weight of your machine operators.
Safety Devices: Cab compartment check also includes checking things such as compartment lights, horns, locks, seatbelts, alarms, pedals, controls, gauges, and hazard warnings.
Windshield: Lastly, check all the glass areas, including the windshield, side mirrors, back mirrors, and lights for any cracks, chips, or internal frosting.
When you're done with step four, go over your checklist again to see if you've missed anything – Double-check problematic areas after completing your checklist or develop a secondary check system.
Preparing a heavy equipment preventive maintenance checklist
Preparing the average preventive maintenance checklist isn't as complicated. However, heavy equipment requires more detailed checks and extra precision. You can find various maintenance tips for heavy equipment, but proper equipment maintenance will only be achieved with a complete heavy equipment preventive maintenance checklist.
It's always more cost-effective to develop preventive maintenance programs for equipment longevity rather than invest in new equipment every few years.
Make sure you develop and tailor your own heavy equipment preventive maintenance checklist using the template above to focus on your equipment and organization.