The advancements in business technology solutions always bring new vocabulary and big promises. IIoT technology is no different: while maintenance managers do not have time to track each new fad, when it looks like some of the technology is here to stay – it's time to learn its benefits.
The industrial internet of things (IIoT) is a technology that has moved beyond the hype to offer a serious competitive advantage to businesses. This article will unpack what it means and present ways in which IIoT can benefit your maintenance and asset management strategies.
IoT and IIoT: What they mean and how they differ
IoT describes an embedded communication and interface protocol that connects different devices via the internet. It refers to consumer-based usage, offering ease of use, acceptable security, and a wide range of general consumer applications. Monitoring your security cameras while at work is an example of IoT.
Similarly, IIoT describes network-connected devices but with an emphasis on industrial applications. Given the mission-criticality of IIoT systems, their reliability, robustness, size, and security are paramount, placing them at a level of sophistication well beyond IoT devices. 
Additionally, the volume of data transmitted by IIoT systems requires low-latency communication, high-bandwidth connections, and cloud-based computing power to drive machine learning and artificial intelligence engines.
The Essential Guide to CMMS
Download this helpful guide to everything a CMMS has to offer.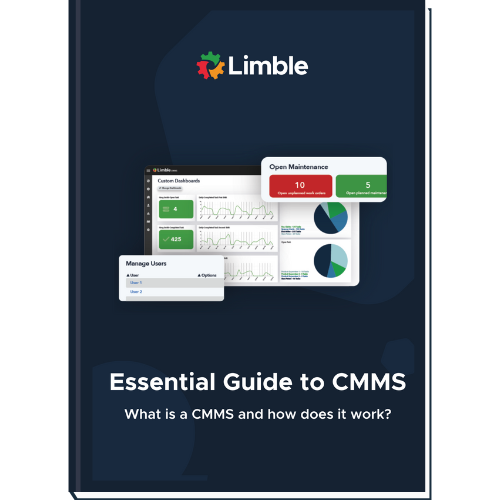 How does IIoT benefit maintenance?
IIoT offers businesses cost savings and increased maintenance efficiency and effectiveness by monitoring, recording, and analyzing asset operation and maintenance data. It provides timely and targeted advice on arising issues, preventing breakdowns, and optimizing maintenance actions. 
Here are four benefits for a business using IIoT for maintenance improvement.
Real-time monitoring
IIoT provides an always-on, always monitoring capability. Using equipment monitoring sensors linked with a CMMS system allows real-time asset condition monitoring that provides early identification of small diversion from normal operations, and raises alerts for maintenance intervention. 
More effective maintenance
IIoT connects maintenance technicians to a wealth of data located locally or globally. They get instant access to:
Technical manuals

Inventory counts

In-service history

Condition-monitoring data

Special tooling guidance

Remote expert support or advice (using mobile devices and headsets is available)

Augmented reality which ensures tasks are correctly acquitted and components accurately identified 
IIoT keeps technicians where they belong – with the equipment, on the shop floor.
Centralized data collection and storage
IIoT is data-heavy. By pairing it with a CMMS, you get a centralized platform that can safekeep all information regarding your physical assets. It's regularly backed up, highly secure, and available for interrogation and data-mining for reliability and audit purposes. 
Compare this with the old paper-based systems of manual maintenance systems, and the efficiency and cost-effectiveness of IIoT are apparent.

Greater equipment uptime
IIoT provides a previously unprecedented level of insight into equipment performance. Maintenance issues are caught earlier, allowing timely and planned intervention that prevent costly breakdowns. 
A greater understanding of the mean time between component failures improves equipment reliability and helps maintenance planners optimize the allocation of internal resources. The effectiveness of maintenance interventions can be analyzed and adjusted to improve future outcomes. 
The incremental improvements in maintenance facilitated by IIoT cut unwanted downtime and prolong the useful life of your assets.
Applications of IIoT in maintenance
While the theory is fine, here are three real-world applications from early adopters that show the benefits they gained from implementing IIoT to support their maintenance program.
Real-time condition monitoring
Sotreq is a Brazilian distributor for Caterpillar that has been using remote asset condition monitoring for years. It used ten poorly-integrated systems, making information sharing between condition-monitoring analysts difficult. Clients complained about the long response times, ranging from 48 to 96 hours, and information that got lost, falling between all the different databases.
An IIoT condition monitoring system was implemented by Sotreq across almost 12,000 condition-monitoring agreements. Over 6,000 assets were connected by satellite and monitored at three condition-monitoring centers. Wagner Emerick, Product Support Director for Sotreq, cites the following benefits of a centralized IIOT system:
A 30% reduction in condition-monitoring personnel

Increased repair accuracy for first-time repairs

An improvement in average response time from 72 hours to 2 hours

Oil analysis turnaround time improved from 60 hours to 24 hours

Using machine learning on the oil analysis increased result accuracy from 15% to 75%

Unplanned downtime and user operating costs were substantially reduced
Predictive and prescriptive maintenance
Alcoa is a US aluminum producer that invested heavily in predictive maintenance (PdM) technologies using IIoT systems. Their initial proof of concept involved assets of their Fjardaal aluminum smelter casthouse in Iceland. Alcoa integrated sensors with its maintenance systems to monitor 50 assets and begin building models and learning baseline operations. The initiative reduced unplanned machinery downtime by 20%, and they achieved a return on their investment in less than six months. 
The following example illustrates their gains. The predictive maintenance system noticed an increase in the idling current of an HDC saw motor system. A belt guard was found to be loose and contacting the sawing drive, damaging the belt. Repairing the issue during an imminent planned shut alleviated 12-hours of unplanned downtime had the belt failed. 
Alcoa is expanding the PdM system to over 1,000 assets in Fjardaal, with plans to scale it enterprise-wide.
Limble CMMS recently partnered with Aveva to streamline predictive maintenance for its current and future users, expanding an already impressive feature set. 
Augmented reality 
Thyssenkrupp is a German elevator manufacturer and an early investor in using IIoT and augmented reality (AR) to improve maintenance effectiveness and efficiency. In 2016, the company rolled out augmented reality technology to 24,000 service technicians. The aim was to enable the technicians to visualize the fault and identify problems before arriving at the client's premises. 
On arrival at the worksite, the hands-free holographic guidance increased worker efficiency and effectiveness while allowing remote access to technical documentation and centralized expertise during the rectification. As a result, Thyssenkrupp has reported that maintenance interventions are performed up to four times faster than before.
This is by no means the end of IIoT maintenance applications. Prescriptive maintenance, digital twins, equipment-as-a-service are just some additional examples of using IIoT technology for asset management.
Preparing your organization for IIoT-based maintenance
Before leaping into the deep end with IIoT implementation, you might consider the following four steps to ensure a successful implementation.
1) Start an organization-wide conversation
Implementing a change as profound as IIoT is not done through one person. The ramifications on a business are profound. Optimizing spending while targeting meaningful outcomes requires a company-wide discussion.
Conduct cross-department meetings with the intention to identify gaps in staffing and knowledge, infrastructure and servers, and internal networking bottlenecks. Gain buy-in from your team to ease the transition to a new way of working and identify previously unknown challenges.
2) Strategize the desired business outcomes
Any substantive transformation requires identifying where your business is now, where and why you want it to be somewhere else, what that "somewhere else" looks like, along with an outline of the broad steps to get there. A clearly defined business case aligns all stakeholders and ensures your investment is focused on initiatives that add value to the plan.
In this sense, you do not really need to think about implementing IIoT. Instead, think about the problems you need to solve and the technology that will help you solve them (i.e. remote monitoring, predictive maintenance…).
3) Research implementation partners
It is unlikely you'll have the necessary expertise in-house, so you'll need external help to implement your chosen solution. Technology is advancing at a great pace, and you must be sure you don't end up with a turnkey system that rapidly becomes islanded and outdated. 
You need scalability and backward and forward integration with old and new technologies. Specialist advice will guide you through design issues to ensure you gain a system that grows with you into the future.

4) Identify critical assets
Implementing IIoT into your maintenance program requires investment and time. Therefore, the system must be designed to support only those critical assets for which improved reliability will pay back your investment by increasing uptime and revenue while reducing maintenance costs. 
Remember that IIoT does not supplant your existing maintenance program, it augments and strengthens it. For this reason, be selective. Wholesale implementation of technology for its own sake will waste money, drown you in data, and provide little to no financial benefits or efficiency gains.
The future is now
The use of IoT in maintenance offers organizations increased efficiency, reduced maintenance costs, and more effective asset management.
It always takes time before cutting-edge technology becomes available to smaller businesses in terms of price and ease of implementation. Some IIoT-based technologies like remote monitoring and predictive maintenance are getting there. 
Bookmark Limble blog to stay informed about the latest trends in the maintenance industry.