Forklift maintenance is the regular servicing of a forklift to perform preventive repairs, cleaning, and inspections that keep the machine running smoothly.
Benefits of
planned maintenance
for your
forklift
Providing your forklift with regular planned maintenance has a number of benefits:
Lower costs
Planning forklift maintenance will reduce maintenance costs. You will also reduce production costs due to reduced downtime. Some managers value forklift downtime at thousands of dollars per minute. Additionally, keeping up with forklift maintenance will help avoid fines from OSHA. 
Improves equipment life
A well-maintained forklift will provide years of reliable and safe service. 
Increases productivity
Regular forklift maintenance helps to avoid surprise breakdowns and long periods of downtime. Less downtime equals more productivity. 
Increases residual values
A well-maintained forklift will bring a higher price tag when it's time to sell because prospective buyers will have greater confidence in its reliability. 
Enhances safety
Perhaps the most significant benefit of regular forklift maintenance is enhanced safety by preventing dangerous accidents due to unexpected equipment failure. 
OSHA requirements
for
forklift

maintenance
Workplace safety is the cornerstone of maintenance. 
Guidelines and regulations regarding occupational health and safety are set by an arm of the U.S. Department of Labor – Occupational Safety and Health Administration (OSHA) and they have set quite a few forklift maintenance regulations.
Checklist for Creating a Preventive Maintenance Plan
Following a consistent Preventive Maintenance Plan can make life easier. Use this checklist to create your own!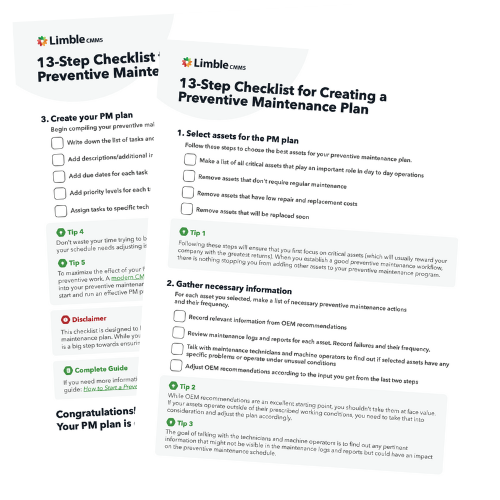 General
forklift
safety: daily
maintenance checklists
Operators should inspect forklifts each day before use by performing these simple, daily checks.
Non-driving
maintenance checklists
Perform these tests while the forklift is off.
Check your

fluid levels

(i.e., fuel, water, hydraulic).

Look for visible damage. See something? Tell your manager.

Check

tire condition

and pressure.

Check that

forklifts

are in good condition.

Check that the inspection stickers and decals are in the right place and legible.

Ensure the operator's compartment is clean and free of debris.

Check that all safety devices (i.e.,

seatbelt

, finger guards) are working.
Forklift
-specific
maintenance checklists
There are three types of forklifts, and each requires additional daily checklists according to type. Make sure to perform these tests while the forklift is off. 
Electric forklifts (battery-powered) 
These are typically used indoors, in warehouses, and in manufacturing facilities.
Safety maintenance checklist for electric forklifts:
Ensure no cables are frayed.

Check the battery restraints. 

Check that electrolytes are at proper levels.

Ensure the hood latch is secure.
Internal-combustion engine forklifts
These are commonly used in environments where high speeds, ramps, and longer continuous operations are required. 
Safety maintenance checklist for internal-combustion forklifts: 
Check the

engine oil

and

coolant

. 

Check

brake fluid

.

Check that belts and

hoses

are in good shape.

Check that the

radiator

and

air filter

are in good shape.

Ensure the hood latch is secure.
Liquid propane forklifts
These are powered by propane stored in a pressurized tank. These forklifts are typically used in large indoor or outdoor facilities that require great lifting power of up to and above 15,000 pounds.
Safety maintenance checklist propane forklifts:
Ensure the

propane

tank is mounted correctly and secured.

Check the tank for any damage or leaks.

Check that the relief valve is pointing up.

Check that

hoses

and belts are in good shape.
Driving
maintenance Checklists
All types of forklifts require the same driving checklist. Perform these tests while the forklift is on. 
Ensure the steering, accelerator, and brakes work.

Check that the gears work (forward and reverse).

Check that the lift works (tilt and hoist).

Ensure the horn, lights, and backup alarm work.
Most common
forklift maintenance
repairs 
It's essential to tend to an issue with your forklift as soon as it's spotted to decrease downtime and prevent further damage, but it isn't always easy to figure out what the problem is. Here are the top 3 most common forklift maintenance repairs.
Mast problems
First, check your

hydraulic oil

level. 

Next, inspect the

lift chains

. 

Because the mast is the control hub of the

forklift

, it's important to keep your eyes out for other minor repairs while inspecting your

forklift

. This also helps avoid more significant problems down the road. 
Common mast problems to look for:
Not lifting or lowering properly

Not lifting quick enough

Jerky when raising and lowering
Steering problems
Maintaining working steering functionality is critical for both safety and efficiency. 
Strange noises while turning may mean there is rust on the steering mechanism, or there is an issue with the hydraulics. 

The first thing to do is check the steering

fluid levels

and consistency.

If your

fluid levels

are low, try adding more. 

If your fluid is thick and gunky, change it completely. 
Common steering problems to look for: 
Worn-out/loose pressure valves

Worn-out gears

Misaligned tires

Low levels of steering fluid



Starting problems
How you resolve a starting problem depends on how your forklift is powered. 
Electric forklift troubleshooting steps:
Check battery charging level. If the

forklift

won't start, check when

it was last charged.

Test the lights, brakes, and other auxiliary

functions

.

If they do not work, try recharging the battery or replacing it. 
Internal combustion forklift troubleshooting steps:
Determine the age of the fuel.

Has the fuel been in the tank for a long time? Old fuel may make starting your

forklift

a slower process.

Check for fuel leaks.

Is the smell of fuel stronger than usual? This could mean you have a leak. 

Check oil levels.

Some

forklifts

won't allow the fuel valve to open unless it has a certain amount of oil in the engine. 

Check the battery. If you've checked steps one through three and are still having trouble starting, check that your battery is

sufficiently charged. 
Check the coolant level.

If there is

radiator

blockage or lack of

coolant

, the

forklift

could overheat, and as a result, not start up properly. If needed, clean the

radiator

and/or add more

coolant

. If your

radiator

has a lot of corrosion, it may be time to replace it. 
Simple forklift maintenance tasks you can perform on your own
Here's a list of simple maintenance tasks you can safely perform yourself.
Filter replacements

Fluid

top-offs

Quick inspections

Battery checks
If  your forklift repair is beyond the scope of these tasks, don't risk safety or equipment damage by trying to do it yourself. Call in the experts. It will save you time and money in the long run. 
How to save money with
forklift maintenance
Below are a few of our experiences and best practices to help you save money on forklift maintenance.
Make sure your forklift operators know what they're doing
Having well-trained forklift operators is the best way to avoid expenses accrued from human error. Take a look at OSHA's guide for tips on implementing a strong training program. 
Use a modern CMMS to streamline
preventative maintenance
A modern CMMS like Limble will help you run your forklift maintenance plan smoothly. Limble's mobile software enables you to schedule PM's, track work histories, track costs, process work orders, and much more. 
For an in-depth look at what a CMMS is, check out our complete guide to CMMS. 
Change the
forklift tires
regularly and watch for tire damage
Bad tires can cause accidents and add costs. Additionally, poor tires can also increase fuel costs. 
Remove obstacles
Keep your facility clean and pathways uncluttered. Make sure there is plenty of space for lift trucks to get around. It's essential to make sure there are rules and regulations for operating the lift trucks, including right-of-way for multiple vehicles. 
Use licensed and
certified technicians
Ensure the individuals who are performing maintenance (changing tires, repairing an LPG tank, etc.) are licensed. If forklift repairs are not done by a licensed professional, you risk them being done incorrectly or creating a potential safety risk.
Keep your
forklifts
clean
Dirty vehicles make it hard to spot damage. Cleaning your forklift regularly helps you identify what's broken or damaged and what's good to go. Moreover, letting dirt and grease pile up on your forklift can damage the forks and their operational mechanisms.  
Streamline a process for dealing with corrective maintenance
Ensuring a streamlined repair process will save time, money, and headaches. Implementing software like Limble can streamline the entire forklift maintenance process for you. 
Maintenance matters! 
Forklift maintenance is an excellent way to keep direct (money) and indirect (time) costs down. One way to do this is to implement daily inspection checks as well as a long-term forklift maintenance plan. Using a modern CMMS can help streamline this process. Get started by contacting Limble today. 
Want to test Limble out for yourself?