Finding new ways to improve plant maintenance is always on the mind of every maintenance manager.
The COVID-19 pandemic stopped or created major complications for many production lines that were not deemed essential. A lot of plant floors have been unusually empty. While there isn't a way to spin this into something very positive, maintenance managers need to think about how to get the best out of a bad situation.
As in many industries, the pandemic could be used as a great opportunity to implement a vast array of different improvements that will ultimately lead to reduced operational costs and benefit your organization's bottom line. These changes could be critical for business survival in the months to come.
In the rest of this article, we will discuss these improvements, many of which you can even do without physical access to your assets.
Before that, let's briefly overview what plant maintenance is all about.
The main objectives of plant maintenance
The main goal of plant maintenance is to ensure the conditions in which a plant can reach peak productivity while keeping the maintenance costs as low as possible.
If we break down (no pun intended) this goal and think about this goal, we can conclude that the main objectives of plant maintenance are:
Keeping assets in peak operating condition to maximize production capacity.
Minimizing the chance of unplanned machine breakdowns.
Shortening the time it takes to perform scheduled maintenance during planned shutdowns.
Maximizing the useful life of plant equipment and machines.
Ensuring a safe working environment for every plant worker.
Minimizing maintenance costs (often include labor costs, lost productivity because of machine inefficiency or breakdown, cost of spare parts, etc.).

Running a tight operation that is able to reach those objectives is no small task. You will need some help. The straightest line to success is choosing the right maintenance strategies supported by modern CMMS software.
Choosing the right maintenance strategies
Notice that we said "strategies", not "a strategy". While no one is stopping you from placing all of your assets on a preventive maintenance plan, that is almost never an optimal solution.
Some assets are more expensive to repair than others. Some assets are critical to production continuity. Some assets are old and will be replaced after their next failure. And some assets can fail and be put on a deferred maintenance backlog without much cost to production capacity.
It is unlikely that a single maintenance strategy is the best choice for all of them. Of course, if you don't have the resources to invest in condition monitoring sensors and implement an advanced maintenance strategy, focusing on preventive maintenance is still better than running around and putting out fires that are the results of not being proactive.
However, before you decide on your ideal mix of maintenance strategies, you need to know your options. For more info, check out the resources below.
Recommended reading:
Checklist for Creating a Preventive Maintenance Plan
Following a consistent Preventive Maintenance Plan can make life easier. Use this checklist to create your own!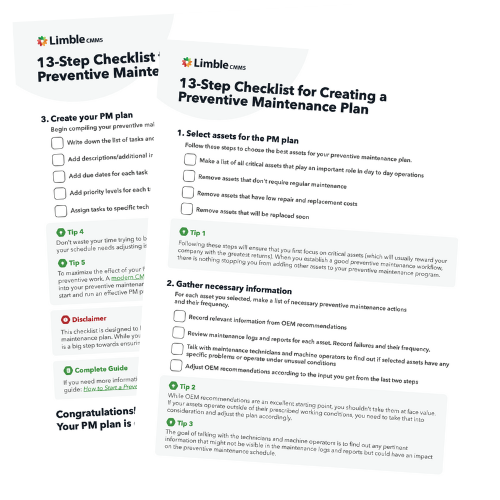 Things you can do on the plant floor
If your facility isn't under complete lockdown, there a plenty of things you can do to improve plant maintenance while the production lines aren't running.
1) Do a detailed check of your critical assets
This is probably the first thing that crossed your mind.
That yearly planned shutdown for a thorough cleaning, inspection, and servicing you had scheduled for the next quarter might as well be done right now if you have the needed parts and tools. It goes the same for any big planned repairs that require shutdowns.
Aside from that, It doesn't hurt to clean and inspect all important assets, even if you have done so fairly recently.
If your technicians have plenty of time on their hands, you could also consider doing things like stress testing, checking and calibration of condition monitoring sensors, reviewing if all safety equipment is in place and working correctly, and so on.
2) Clean out your deferred maintenance backlog
Since there are fewer routine PM tasks and no unplanned breakdowns while the production is on hold, this is the perfect time to clear out your deferred maintenance backlog.
If the list is long, decide which tasks should be a priority. When you're done, send out Work Orders (WO) and let your technicians get to work. If you are using CMMS, you can attach priority levels to each WO so technicians that are assigned multiple tasks know which one should be done first.
Before you assign those Work Orders, cross-check your spare parts inventory to ensure the technicians have everything they need to actually get the job done. This gets much easier with software like Limble CMMS, which updates your stock levels as soon as you assign parts to a particular WO.
Recommended reading:
3) Detailed equipment, tools, and inventory control
It might be hard to do an accurate control in bigger maintenance departments where equipment and tools are constantly going in and out of the storage. While you would expect missing PPE and broken tools to get reported, that is not always the case, so it never hurts to check the exact numbers and condition of available tools and equipment.
The same goes for your spare parts inventory. Even if you track everything through a CMMS or dedicated inventory management software, people are still the ones that need to mark when a part is actually been used which means that you can never discount the possibility of human error.
This could also be a good time to clean and reorganize where you keep and how you store all of your inventory and frequently used tools, especially if workers tend not to put these things in the same place they have found them.
That being said, major reorganization should only be considered if that is something you already planned to do anyway. The reason is, if you plan to hit the ground running in maximal capacity, people not knowing where things are could lead to some problems early on.
Recommended reading:
4) Implement delayed improvements
The best improvements you can make right now are those you had to delay because you were busy fixing breakdowns and doing routine maintenance work. While there are wide arrays of small improvements we already covered (and will cover later on), let's throw some out-of-the-box ideas into the mix:
Finally, retrofit your assets with the condition monitoring sensors you ordered.
Organize some in-house training for new technicians.
Hold a team-building meeting to see how everyone feels and if they have any ideas for small improvements you can do in this situation.
Place barcodes on your assets and enter that association into your CMMS. For instance, technicians that use barcodes in combination with Limble CMMS can just scan the barcode with the camera on their mobile device and Limble will automatically load data for that asset (general info and maintenance history). This can speed up everything from data entry to troubleshooting.
Things you can do from home
Even if you are in a situation where you are basically forced to work from home and have very limited access to your facility (like some businesses are experiencing right now during the COVID-19 outbreak), there are still plenty of productive things you can do.
5) Review and update your documentation
Being a maintenance manager is a lot of work. We all know that the documentation should be up-to-date, but when maintenance technicians are getting by with existing procedures, other work often takes precedent.
You will not find a better time to sit down, review existing procedures, and update your documentation. Here are three great places to start with:
standard operating procedures (SOPs)
emergency operating procedures (EOPs)
OSHA guidelines (Lockout-Tagout procedures, PPE, process safety management, emergency action plan…)
Depending on the current status of your documentation, this step alone could keep you busy for quite a while.
Recommended reading:
6) Create preventive maintenance checklists
Even if you're not running preventive maintenance, you should still be running some proactive tasks like occasional inspections and oil and filter changes.
If you are still relying on reactive maintenance, creating preventive maintenance checklists for the tasks you do perform on a regular basis could be a great way to start moving towards preventive maintenance. First, you write a few PM checklists, after that, you start to pay more attention to your maintenance schedule, and before you know it, you are running a simple preventive maintenance program.
If you already have this done but didn't update it for a while, you could consult with your technicians and use this time to do some optimizations.
What are you waiting for, go get those OEM manuals and start writing!
The Essential Guide to CMMS
The Essential Guide to CMMS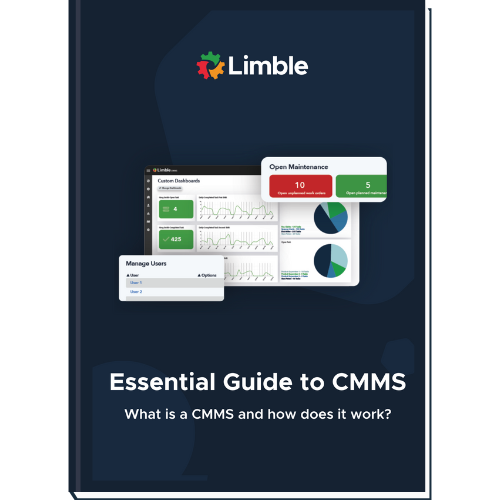 Recommended reading:
7) Review reports finding new places to improve plant maintenance
Sometimes, despite your best efforts, maintenance results are not at the level you expect them to be. In an even worse scenario, you don't even exactly know how your team or department is performing.
To find places for improving your plant maintenance, you need to be able to measure how your team performs and what are the results of their actions. To be able to do that, you need to track relevant maintenance metrics. By "tracking", we mean going through asset history, maintenance logs, reports, and other historical data – all of which you should be able to access with a few clicks if you are using a CMMS.
Depending on which part of the plant floor you'd like to improve, you might look at things like:
MTTR and MTBF
Overall Equipment Effectiveness (OEE)
Planned Maintenance Percentage
overview of total maintenance costs
Keep in mind that reports themselves are not the solution, only a road sign. When you find metrics you are not satisfied with, it is time to dig deeper to find out why you underperformed. The real improvements come from solving these underlying issues.
Two categories that are often overlooked in this scenario are spare parts inventory and maintenance schedules. With a lot of other things to worry about, maintenance managers often tweak these until they work "well enough", but not "as perfect as they could".
Regarding parts inventory, your main concern should be if your team always has the necessary parts when they need them (but without holding too much excess inventory). If the records show that the lack of spare parts is the major cause of prolonged asset downtime and repair time, look for ways to improve your inventory control and adjust the ordering schedule.
When it comes to balancing your PM schedules, one thing to look out for is the volume of preventive work. If an asset isn't experiencing breakdowns, maybe it could work perfectly with less preventive work. On the other hand, if an asset is experiencing breakdowns despite preventive work, maybe that work needs to be done more often (which is often the case if you're following OEM guidelines but don't factor in that your asset doesn't work in ideal conditions/works longer hours than recommended/wear and tear that accumulated over the years).
Recommended reading:
8) Communicate order changes and delays with your vendors
Those companies that run Limble CMMS will have a much easier time doing this than most others. The reason for that is our Vendor Management feature that lets you save all important information in one place (names, addresses, emails, phone numbers, contract, parts supplied, purchase history…).

A review of our internal data for 2019. showed that the average Limble client uses this feature to track over 40 different vendors. While not all vendors are needed every month, that is still a lot of phone calls to make.
Considering the all-around uncertainty caused by the corona pandemic, the existing contracts you've signed with your vendors, and the current levels of your parts inventory, there are 2 types of calls you will likely need to make:
Delay shipments of parts you don't need at the moment because the production is on hold and/or there's none to receive them.
Check if your vendor is able to deliver all of the parts you need (for instance, if you are planning to perform any maintenance work on the machines while the production is on hold).
Even if you don't need anything from them at the moment, it might be a good idea to check how they are affected and if that changes any arrangements you have going forward.
9) Get informed and improve your skills
Here's a piece of good news. If you reading this article, you are already following this tip.
It's not much, but it's honest work 🙂
This downtime can be a much-needed opportunity to inform yourself about:
The latest news and trends in the maintenance industry.
The latest tools in the maintenance industry.
The latest software solutions in the maintenance industry.
The missing gaps in your personal knowledge base.
Aside from everything mentioned, this also might be a good time to work on skills that will make you a better manager. The picture below is from our survey of maintenance managers and shows which skills they find most useful in their daily work.

Take some time to reflect and see if you can honestly say that you have nothing to improve. Most of us will be able to find something we can work on. Read a guide or two, watch a webinar, or participate in an online workshop. Heck, you could even use this time to earn a certification or two.
10) Help technicians improve
It is a common misconception that maintenance technicians don't bring much value if they are not out there working on your assets. While it is true that they can't add direct value from their living room couch, they too could work on building some future value.
Working from home might be an unusual concept for maintenance techs, but we live in unusual times. You might face some resistance, but reminding them that they are staying at home doing nothing while they are still on the payroll can be made into a convincing argument.
Here are a few ideas on what they could do from home that will ultimately have a positive effect on your plant maintenance:
help you with the documentation update we mentioned earlier
help you build/polish PM checklists
help test/review different CMMS solutions (we will talk about this more later in the article)
organize a group on Facebook or WhatsApp where you all can discuss common issues and best approaches to solving them, or just discuss general ideas for improvements
participate in online training courses and workshops
earn different certifications
Potential training resources:
Additional things you can do if you do not have a CMMS yet
Almost everything we mentioned so far can be done without a CMMS (even though some tasks will take a bit more time and the effects might not be as strong).
However, if you do not use any maintenance software at the moment (or plan to replace an old CMMS), this might be a good time to do some reviews.
The main purpose of CMMS software is to help you be more productive and minimize your maintenance costs. In this situation, we would go as far as to say that you need to spend money to save money. And it's not like you have to spend much.
11) Shortlist and test different CMMS solutions
There are numerous ways in which CMMS improves your plant maintenance. The problem is that there are hundreds of different vendors who all say the same thing:
Our software has this set of features, it's easy to use, and you'll definitely love it.
This is why finding the right solution for your organization can be a chore. Your best course of action is the following:
Make a list of "must-have" and "nice-to-have" features.
Decide how much you can/are willing to spend on it on a monthly basis.
Look for software review sites like Predictive Analytics and Capterra.
Shortlist 5 or so solutions based on their features and pricing.
Test those solutions out (most of the vendors should have free trials).
If possible, include technicians in this process as they are also going to use it on a daily basis.
Do you want to review a maintenance solution without having to sign up or jump on a call with a sales representative? If you are a desktop user, just move your eyes to the right sidebar and click on the "START INSTANT DEMO" button!
Recommended reading:
12) Outline a CMMS implementation plan
If implementing a CMMS is on your wishlist, it doesn't hurt to create a rough outline of how that process might look like.
To give you a head start, here are some things to think about:
How will you present this idea to upper management?
Which technician(s) are going to be your right-hand man?
How many assets and spare parts do you need to enter into the CMMS database and who will be responsible for that?
Will some people need extra training and who is going to help them?
How are you going to control if people are using the software correctly early on?
If you are able to answer most of those questions and use that to outline an implementation plan, you're halfway there.
Start fresh with a new (or revised) plant maintenance program
Having a lot of idle time is bad for any manufacturing business, but with all of the tips we outlined above, this time can be used wisely to support future business growth.
If everything we mentioned here inspired you to create or revise your plant maintenance program, here's one important thing to keep in mind.
Creating a plant maintenance program comes down to selecting and implementing the right mix of maintenance strategies you plan to use. Before you make your choice, make sure you have the support from upper management and enough resources to implement and run the chosen strategy.
If you have difficulty choosing the right strategy or if you're wondering how Limble CMMS can support a particular plant maintenance program, don't hesitate to get in touch. We're always up for a chat.