If someone asked you for a list of your company's assets, how difficult would it be to provide it? What about the exact location, condition, and utilization of each asset? 
Organizations with a large number of physical assets can answer those questions only if they have the right asset inventory management system and process in place. Setting that up plays an important role in lowering your asset management cost and improving overall business productivity.
To get there, you first need to understand what asset inventory management entails and which tools you can use to streamline and optimize the process. 
The difference between asset management and inventory management
Asset inventory management is, in a sense, a lovechild of asset management and inventory management. So, to understand asset inventory management, we first need to explain the overarching concepts.
Here are necessary definitions to help us frame the discussion.
What is an asset? 
Assets are resources that a company uses to run its business: produce items or deliver a service. 
Most commonly, the word asset is used to refer to physical assets like machinery, vehicles, fixtures, computer equipment, furniture, and similar.
In a broader sense of the word, an asset can also mean intellectual property (like patents) and digital assets (like important documents, webinars, videos, whitepapers…).  
What is inventory?
The word inventory refers to a broad category of materials and items that are used to build a product, as well as for finished goods the company plans to sell. There many different types of inventory, the main categories being:
raw materials and components (items that will be a part of the final product)
WIP (work-in-progress) inventory (semi-finished products; intermediate goods)
finished goods (items the company plans to sell)
maintenance, repair, and operations (MRO) inventory (supplies needed to perform maintenance work)

What is asset management?
Asset management refers to the set of tools and practices that are used to track, maintain, and repair company assets. It covers the whole asset lifecycle, from procurement to disposal.
The main goals of asset management are:
keeping track of the company's assets

keeping assets in peek operational condition to reduce the chance for unexpected breakdowns and extend asset lifespan

to streamline all maintenance work (be it reactive or proactive)
Good asset management will always lead to improved asset performance, fewer safety incidents, improved business productivity, and most importantly, lower operating costs.
What is inventory management?
Inventory management encompasses tools and practices used to manage your inventory. It includes actions like buying, storing, and tracking inventory. It also keeps an eye on the inventory stock and production demand in an effort to make accurate inventory forecasts for upcoming months. 
Poor inventory management practices lead to overstocking and understocking, lost items, problems with vendors and suppliers, and different productivity issues, all of which can negatively affect your bottom line.
An important subsection of inventory management is spare parts inventory management. It is used to forecast, purchase, store, and track MRO inventory. MRO items have a special section because they are the only type of inventory that doesn't end up being part of the final product. Instead, those are items used to maintain and repair company assets (consumables like adhesives and welding rods, janitorial supplies, office supplies, replacement parts for different assets…).
The purpose of asset inventory management
As its name suggests, asset inventory is concerned with having an up-to-date inventory of your company's assets. 

Asset inventory management is a part of an asset management strategy that aims to:
create a central repository of all assets the company wants to track

track the physical location of the company's assets (especially important for assets that are used at different locations like transportation and construction equipment) 

track the utilization of assets (time of asset in use vs

idle time

)

track asset performance

track the condition of the asset (often done by looking at the maintenance history of the asset in question)

track the asset through its lifecycle (so accounting can properly depreciate fixed assets over time and so that managers can plan for upgrades or disposal and purchasing of replacement assets)
Naturally, you can't apply all of these elements to every single asset. You are not going to measure the performance of your furniture or track if your building ventilation system walked over to a different location.
It is up to the organization to decide which metrics they want to track for different assets.
The role of asset tracking in asset inventory management
Asset tracking utilizes electronic tags to track an asset's current location, user, condition, and storage location. 
There are multiple ways to track assets:
scannable barcode labels

RFID

Bluetooth Low Energy (BLE)

GPS
Each asset needs to have a unique asset ID so we do not leave any room for interpretation and confusion when having multiple assets of the same type. For similar reasons, it is a good idea to have a central repository of your assets with accompanying asset logs. 
Those logs are particularly useful to track the movement of assets that use barcode labels. They record when was the asset moved last time and who moved it (who is the current user of the asset). In other words, you can track chain-of-custody for items that are often moved around.
More advanced tracking methods like GPS track the asset location in real-time. Nonetheless, asset logs are still very helpful as they track maintenance history and cost associated with each asset.
Having an asset tracking system in place significantly reduces the chance that an important item gets stolen or misplaced. Moreover, the data system generates can be used to calculate asset depreciation (and for other financial purposes).
The benefits of using an asset inventory management system
Implementing an asset inventory management system (sometimes abbreviated as AIM) helps you build a central repository of your assets. The ability to do that is beneficial in more ways than one.
1) Improved productivity
Knowing the location of every asset, its condition, and how much it is utilized, can boost productivity on many different levels.
By knowing where the asset is, employees do not need to waste time tracking down its location.
By knowing its condition, you eliminate the chance that an employee will waste time preparing for a certain process, only to find out that the asset is broken, partially functional, or shut down for maintenance work. 
By tracking asset utilization and performance, the organization can plan for upgrades or the purchase of new assets in a way that matches their needs. Moreover, it helps the company keep an optimal level of asset inventory.
2) Lower operational costs
Assets are necessary for performing business activities. If an asset ends up stolen or misplaced, the company has to purchase replacements, increasing its operational costs. Up-to-date asset inventory combined with asset tracking prevents that from happening.   
Additionally, having a digital asset inventory management system removes the need for manual data entry, eliminates administrative work, and lessens the need for tedious asset inventory checks. The end result is lower labor and operational costs.  
3) The ability to estimate asset value
Assets that are regularly used lose their value over time. This is why accounting depreciates assets. 
If you want to accurately depreciate asset value, you need to know the original asset value for the organization, at which stage of the lifecycle it is now, and how much it is being used. This will give you a good idea of how fast the asset will deteriorate. All of this data can be found in an AIM system if its database is kept up-to-date.
The records can be cross-referenced with the company's EAM/CMMS system for even greater insight. After all, detailed asset logs and maintenance history is the best way to find out the condition of the asset and estimate its remaining useful life.
At some point, an asset will become a burden. In other words, the value it brings to the organization will be lower than the amount of resources you have to spend to keep it operational. Asset inventory management helps you realize when you've crossed that point –  and helps you plan for new asset purchases. 
4) Less hassle coordinating maintenance work
Scheduling maintenance work for broken assets is much simpler than scheduling routine maintenance work. It is for one simple reason – broken assets are not in use.
When a maintenance supervisor needs to schedule planned downtime for assets that are operational, they can't do that on a whim. It doesn't matter if we are talking about reinstalling windows on an office PC or shutting down the conveyor belt for a monthly inspection. They have to know when the assets will be free to not disrupt operational activities or mess with the production schedule. For complex assets and machinery on the plant floor, predictive maintenance technology can help plan maintenance activities in advance.
Knowing "when" to schedule maintenance is important, but so is "where". Many assets are used by different people at different locations. Vehicles and computer equipment are the first that come to mind. Maintenance technicians need to know the location of the asset they are supposed to work on. 
The Essential Guide to CMMS
The Essential Guide to CMMS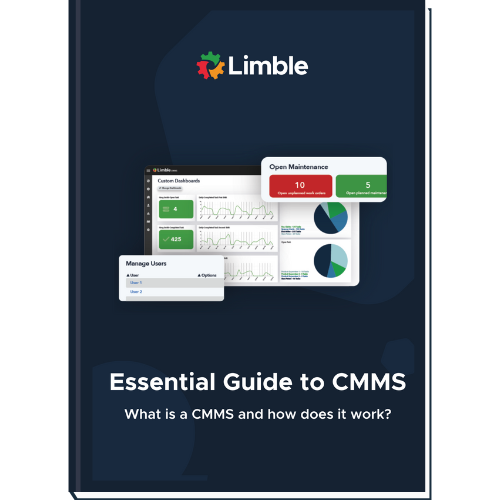 5) Informing future purchases
Having a pulse on your asset inventory is essential for optimizing your procurement process and for planning new purchases. 
For example, let's say you have 20 laptops available for your workforce. If asset utilization is tracked properly, you know that 15 laptops are used regularly and 3 are used occasionally. If you hire a new employee, you know right away that there is no need to purchase additional computer equipment.
Similarly, you might have a bunch of assets of the same type, but from different vendors. This is an opportunity to compare asset performance and maintenance costs. Knowing which vendor offers better value is useful information to have before your next purchase.
What to look for in an asset inventory management software
To answer this question, you first need to understand your asset management needs.
How many assets do you have? Do you want to track and manage industrial assets, office equipment, or both? Do you want to focus on asset inventory tracking or do you need software that can also help you schedule routine maintenance and manage maintenance tickets?
Discuss which asset management problems do you want to solve with the software (lost items, frequent equipment breakdowns, high operational costs…). With that, it is going to be much easier to make a list of your must-have features.
Keep in mind that asset inventory management doesn't really come as a standalone solution. It is often a part of larger asset management solutions like CMMS or EAM or facilities management software. These solutions can be roughly divided into three groups. The first group offers robust asset maintenance and asset tracking features. The second group is focused on asset tracking and offers barebone asset maintenance features. The third group is focused on asset maintenance and offers limited asset tracking features. A detailed review of available features should precede any buying decisions.
Here are some general software characteristics you should look for:
cloud-based solution

so you only need an internet connection to access the database which can be updated in real-time

mobile-enabled solution

so you can use the system on any mobile device

solution with appropriate

asset tracking capabilities

(barcodes, GPS, or RFID, depending on the needs of your organization)

tool with appropriate

integration capabilities

(in case you need to connect it with your ERP software, financial software, etc.)

solution with appropriate

asset management functionality (maintenance history, ticketing system, work order management, based on your maintenance needs)
solution that is configurable

(so that you can decide things you want and do not want to track and have the ability to create customizable fields, KPIs, and reports)
It is really important that your asset management software is intuitive and easy to use. Many solutions will match your feature requirements on paper, but not in practice. It is really important to try them out first and see how the features are implemented. If the software is buggy, slow, or hard to figure out, it's not worth the trouble.
This is why we always suggest businesses to make a shortlist of potential solutions, talk with vendors about available features, and take a free trial for a hands-on test. We have a whole guide on how to choose the right asset management software for your organization if you're interested in learning more about the proper selection process.
When reviewing asset management solutions, always take a closer look at their pricing plans. They often have limitations on the number of users and/or assets you can add to the database. If you need to enter an unusually large number of assets or users, a lot of software vendors will be open to creating a custom monthly/yearly plan.
Using Limble CMMS to track and manage your assets
Limble CMMS offers many prime features you would find in enterprise asset management software. As such, Limble can be used to answer many of your asset inventory management needs. 
Let's take a quick look at features you might find very useful.
1) Centralized asset card
Having all asset information in one place is very important if you want to stay organized. A centralized asset card is the best way to find any info about your asset. You can view all asset information you defined (make, model, manuals, warranty, location…), detailed maintenance history,  and reports.

2) Sensor and QR code integration
If you want to have real-time insight into the condition of your critical assets, you want to have software like Limble that can receive and interpret information from condition-monitoring sensors and equipment. If there is a problem, Limble can be set up to generate automatic alerts and work orders.
Additionally, Limble users can use barcodes for easy asset identification. It is often used by maintenance technicians in the field to quickly access asset logs. They can just scan the barcode with the mobile device and Limble will automatically open the asset card for that particular asset.
3) Unlimited custom fields
Different businesses use different assets and have different tracking needs. Limble allows you to create an unlimited number of custom fields and track only what you want to track. Location, make, model, manuals, pictures, mileage, hours run, meter readings, and any other information that is important to your company.
4) Organizing assets into a parent-child hierarchy
When you have a bunch of assets spread around different locations, it can be very useful to organize those assets in a parent-to-child hierarchy. This provides a neat visual overview of your assets and how they are organized inside your facility. Moreover, it helps you generate custom reports like "show me all assets that are children of asset X".

5) Granular reporting
Need a report for a certain metric that is based on all assets, one specific group of assets, or an individual asset? With Limble's granular reporting you can review reports at the level you need. That is how Limble users make informed decisions.
I was looking for proper asset management software with locations, assets, sub-assets, components and not just a maintenance management software. I stumbled upon Limble and honestly I was pleasantly shocked. I like everything… I love the interface… I love the ease of use… I love being able to see my full factory in one place. A small yet very valuable thing which Limble does and which I did not find in any other software is that you can choose the generality of statistics that you want. If I want statistics on Asset level 1 I can get that. If I want statistics on Asset level 5 I can get it with just one click. – Mohammad Hassaan Akram, Factory & Maintenance Manager, Unilever
If this sounds like something you're searching for, don't hesitate to:
SCHEDULE A DEMO:

Contact us and someone on our team will give you a walkthrough and get you familiar with all of the major features.

TRY SIMULATED SELF DEMO:

Clicking on this button will refresh your browser tab and load a simulated test environment where you check how Limble works at your own pace.

or

START A FREE TRIAL:

You can sign-up for a free 30-day trial to evaluate if Limble CMMS is a good fit for your organization.
Best practices for managing asset inventory
Before we wrap this up, we should discuss best practices you can apply at any organization to stay on top of your asset inventory. 
Implementing software won't' be one of the points. It should be clear by now that this is the best way to manage large and expensive asset inventory.
Start with clean data
To build a strong asset management strategy, we need a stable foundation based on accurate data. 
The first step should be making a list of all assets you want to track and which metrics you want to track for each type of asset. After that, the asset list and respective asset details can be imported into your software of choice. 
If you're already using a digital system to track assets, the first step can be to make an asset audit and ensure that the database is accurate and up-to-date.
The goal of both scenarios is to clean up your data:
ensuring you do not have missing items and duplicate entries

defining data entry standards (naming conventions, compulsory fields, appropriate data formats…)  
Set up clear operating procedures
Your database will not be accurate for long if people do not follow set operating procedures when interacting with your assets. There should be clear guidelines defined for things like:
procedures and policies for new asset acquisitions

how to update asset inventory database (adding new assets or archiving those that were lost/disposed of)

procedure for taking the asset out of storage

procedure for returning the asset back to storage

how to leave comments/notifications and update asset logs (if your asset inventory management system allows that in the first place)

procedure for updating the system when an asset changes its current user (exchanges hands)

…
Many of those will be very simple procedures, but it is important that EVERYBODY follows them. Part of that effort is to provide the necessary training. Even if it is from something basic like how to handle a barcode scanner.   
There will always be border scenarios that aren't covered by standard operating procedures. You should have a known person in charge people can contact to solve specific problems.
Set up automated reports and periodic audits
If you're using asset management/asset tracking software, use the available reports. Most modern solutions give you the ability to set up automated reports to track important metrics and KPIs. If there is a problem, check asset logs for additional details.
To ensure the database is accurate and up-to-date, set up periodic auditing. If there are significant discrepancies, try to pinpoint the cause of the problem. If needed, update operating procedures and communicate the changes to all relevant parties.
Follow best inventory and asset management practices
Being good at inventory management requires the understanding of basic inventory principles like lead times, safety stock, reorder points, turnover rate, and similar. Learning best practices for managing inventory can inform your asset inventory management strategy.
Knowing where your assets are and how they are utilized is great, but it doesn't mean much if they're constantly breaking down and are not able to fulfill their purpose. After all, one of the goals of asset inventory management is to make sure that assets are ready and available when workers need them.
Applying best asset management practices (like preventive maintenance) prolongs asset lifespan and reduces the number of operational issues. This leads to lower asset turnover, more automated workflows, and lower operational costs. Ultimately, it results in a smoother asset inventory management process.
Conclusion
Staying on top of asset inventory gets exponentially harder as the number of assets grows. Enterprises have no other option but to implement asset management and asset tracking solutions to control their assets and their inventory.
If you want to learn more about Limble CMMS and how it can help manage your asset inventory, let us know what you're looking for and we'll be glad to share more details with you.