Do you know what Thanos from Marvel's Avengers, Agent Smith from The Matrix, and equipment breakdowns have in common? They are all cited as being inevitable.
When something is inevitable, you should have a plan for it. So, whether you are running a proactive or reactive maintenance department, you should know how to effectively deal with breakdown maintenance.
What is breakdown maintenance?
Breakdown maintenance is performed on an asset that has experienced failure, with the goal to restore it to an optimal operating condition. 
Some use breakdown maintenance as a synonym for a reactive maintenance strategy, while others like to use it interchangeably with the likes of corrective maintenance and emergency maintenance.
If there ever was a firm consensus, it has been lost over the years – but we are not here to debate the nuances between actions and strategies. 
For the purpose of this article, we are going to treat breakdown maintenance as a type of reactive maintenance work, not as a maintenance strategy.
Typical breakdown maintenance workflow
You are probably familiar with a breakdown maintenance workflow. Maybe even more intimately than you'd like to admit. 
The image above represents typical steps for scheduling the repair of a critical asset. In a scenario where a low-priority asset fails, there will probably be no need to schedule emergency maintenance – the asset will be taken care of after more important work is done.
Run-to-failure maintenance strategy
If technicians spend the majority of their day performing breakdown maintenance, that's a very bad sign for the organization's asset management. It means that maintenance costs are going up and that organizational productivity is going down.
This happens when an organization doesn't have a plan on how to manage its assets. They use technicians and mechanics as tools to remove issues, instead of preventing them. Their asset management consists mostly of handling equipment failures, usually with a considerable lack of planned maintenance.
It is the main reason why reactive maintenance has such a bad reputation.  
However, reactive maintenance can be done with a plan in mind. Every facility features non-repairable assets and equipment that is cheaper/easier to replace than repair (i.e. equipment at the end of its useful life). 
Those types of assets can go on a run-to-failure maintenance plan. With good spare parts management and maintenance scheduling, they can be quickly replaced upon failure.
Guide to Moving from Reactive to Preventive Maintenance
Want to transition away from costly reactive maintenance but don't know where to start? This guide has everything you need to know.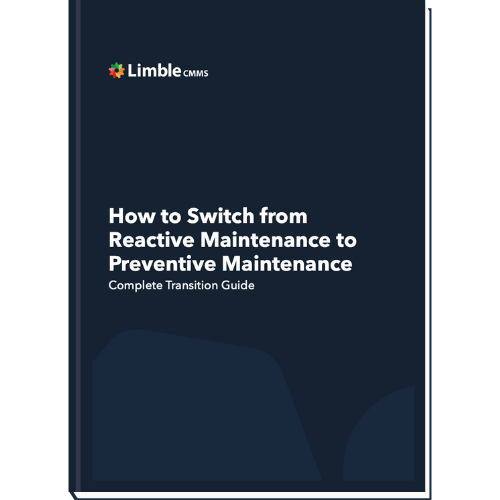 How does breakdown maintenance fit into this story?
For a variety of reasons, most related to budget limitations, maintenance teams will often have a larger number of assets on a run-to-failure maintenance program. When they fail, technicians have to perform breakdown maintenance to get operations back up and running. 
Ideally, the necessary resources (parts, tools, labor) to perform the repairs will be available. This could be called planned breakdown maintenance. It is doable with good planning and coordination facilitated by CMMS software – but only when there is a reasonable number of assets on the run-to-failure maintenance plan.     
Otherwise, maintenance teams will get overburdened with emergency work orders. They will have to postpone other types of maintenance – such as planned preventative maintenance work – leading to more unplanned breakdown maintenance down the line.
Using CMMS software to manage breakdown maintenance
Asset breakdowns are expensive and disruptive. The sooner you can deal with the problem, the better. Computerized maintenance management software is probably the simplest way to improve your mean time to repair (MTTR). 
Below are some examples of breakdown maintenance scenarios that illustrate how to nail your assent management.
Manage work orders and priority
There are days when shit hits the fan. There is so much work to be done you do not know where to start. You have to prioritize. 
In these situations, it's very helpful to have a clear overview of your maintenance team's workload. You want to know where different team members are and how important their current task is. A good maintenance software can provide that information.
Workload overview inside Limble CMMS
Armed with this info, you can shuffle around low-priority maintenance tasks and simply reassign technicians to the emergency work that just came up. 
Speed up breakdown maintenance work
Production is stopped because there is an issue with a piece of critical equipment – the induction motor that operates the conveyor belt. The maintenance coordinator gets a call from the production team and issues an emergency work order. Soon, a maintenance tech is at the scene.
Every second of downtime, with the belt not moving, translates into lost profit for the company. Speed is of the essence. 
The technician takes out his phone, scans the QR code on the asset and Limble automatically opens up its asset card. He taps on the screen to open maintenance logs. Oh, would you look at that – it seems that this engine has a common problem when the conveyor belt is fully loaded. 
The technician looks at the comments left by his colleagues after previous repairs and is able to quickly apply the tried and tested fix. The issue is removed and the day is saved!
Training, experience, the right tools and spares – all essential for a fast repair. However, the support of the CMMS should not be overlooked. Having access to mobile maintenance software like Limble offers multiple lanes through which you can speed up maintenance work.
The access to maintenance logs, checklists, performance data, troubleshooting steps, user manuals, and other relevant info will not always be enough to shorten the repair times. But more often than not, it will.    
Eliminate assets that have stopped being cost-effective
Assets at the end of their lifecycle can become a money drain that affects your bottom line. Such assets need to be sent to retirement before the end of their lifespan. 
The decision to replace instead of repair is often made too late. If it is plainly obvious that an asset is not worth servicing anymore – without the need for a detailed cost/benefit analysis – it probably should have been disposed of months ago.  
CMMS helps you track costs associated with each of your assets. Instead of digging through sheets or file cabinets, you can set up a maintenance report to track how many maintenance resources you are spending on specific machines.
With that data readily available, it is so much easier to recognize when an asset is more trouble than it's worth. Fewer shi*ty assets = less breakdown maintenance work.
Track tools and inventory needed for the repairs
We do not have to explain how a lack of appropriate tools and pieces of equipment affects the productivity of maintenance techs and mechanics. The same goes for spare parts.
Parts inventory screen inside Limble CMMS
Digital asset tracking is mandatory for effective MRO inventory management. 
Limble CMMS was designed with that factor in mind:
Get instant push and email notifications when a part's quantity is low

. Keep the right number of parts in stock by receiving instant and automatic push/email notifications when the quantity of a part is below a custom set threshold.

Technicians instantly know if the part is in stock from inside of a Work Order

. If the part is not in stock, easily check other locations to see if it is available.

Automatic parts usage tracking

. As Work Orders or PMs use parts, the inventory will be automatically updated to reflect the parts used.

Real Time Reporting

. Know what parts are used where and how much they are costing you.
With so much data, a company doesn't have to bend over backwards to keep optimized inventory stock levels. 
Limble can now be integrated with your SAP system to improve data visibility across the entire organization.
Being good at being reactive
Even predictive maintenance isn't immune to asset breakdowns. A random electrical surge or an operator's mistake is all it takes to ruin a perfectly good afternoon. 
To minimize potential damage, every able business should look to define clear breakdown maintenance procedures, implement mobile CMMS software, and try to make sure that the relevant MRO inventory is ready whenever needed. 
It is less stressful to hope for the best when you are prepared for the worst. Limble CMMS helps you prepare for the worst.