Most firms find it difficult to maintain effective spare parts management since there is a fear that stocking spares may not be in line with effectively controlling operating costs. As plant managers, various expectations to recognize ways to perform efficient spare parts management becomes important.
To be a successful plant manager, practical spare part inventory management remains the foundation for dependable plant operation. As a plant manager or supply chain manager, you are required to know the process of determining which spare parts you need to make your system productive. You need to develop a planned approach that follows best industry practices.
How to be efficient at spare parts management
There are a few things to consider in creating effective spare parts inventory management. The seven things to consider have been carefully analyzed to help in enhancing performance, the effectiveness of plant operations, and also reduce cost. Below are the seven things to consider:
Operation strategy
Standardizing the work order process
Effective parts inventory control
In-depth understanding of lead times for different parts
Calculating risk for every equipment
Stocking parts for new equipment
Adopting better security measures
These things, when taken into account, can result in reduced carrying costs, reduced performance interruption, and improved overall efficiency.
Let's analyze each in more depth.
Maintenance Inventory Tracking Template
Begin tracking your maintenance and parts inventory with this free and easy-to-use template.
Operation strategy
Operation strategy involves the will of operating from a reactive or predictive approach. Several businesses fall into the habit of creating an operational plan based on responsive events. To perform spare parts management successfully, the need to adopt a predictive strategy.
Even though a reactive approach can never be completely abandoned, the core of successful maintenance management lies within the ability to avert future problems before they happen.
Things to consider for effective inventory management involving operation strategy for spare parts include:
The collection and analysis of data relevant to improving your business strategy.
To have the ability to cover the entire operational scope for part management process. This scope includes locating and solving significant problems that may arise in the long run.
Ensure to look out for failure patterns that may reveal problems that appear to be less visible.
Use of predictive management to aid in better usage of resources, lessen cost, and time-related to solving issues.
Standardizing the work order process
The use of a robust but straightforward work order process can be helpful in effective inventory management. Once considered, the process should be made easy to follow and standardized for everyone.
An active work order requires proper guidelines covering all parts issuance – so the inventory control system maintains accuracy. The development of a less complex work order process ensures all necessary information is accounted for.
The things to consider to standardize the work order process include:
How complex is the approach for getting parts without a work order.
The ability to find employees that are not following the defined workflow, which may lead to inventory imprecisions.
Do you have a flexible enough process in which work orders with higher priority can be created in advance.
Handling work orders and purchase order requests earlier to reduce the wait time for parts.
There is no better way to standardize your workflow than clearly defining best practices and have the whole process supported by spare parts inventory software.
Effective parts inventory control
Spare part inventory management does not always have to be all-inclusive to be called productive. In reality, it is unlikely to see stock of various parts in large quantities. To properly store and organize spares in a secure maintenance storeroom is key to inventory control.
Prompts for reordering are less likely if parts or new stock get taken without records. Proper analysis and review of your check-out and storage system can reveal a lot about the quality of your inventory control.
The things to consider to achieve better control over inventory include:
Developing clear criteria to aid, categorize, and define spares (marking parts with terms like "critical" can help in parts inventory prioritization).
Periodically reviewing all spare parts based on the time change, replacements/substitutes, and more.
Conducting a regular review of spares to see if you are holding excess stock for particular parts can help to reduce your overall inventory costs.
Using a CMMS with spare parts inventory software or other designated inventory management software is an excellent way to stay in control of your inventory levels and eliminate the need for periodic inventory checks – under the notion that everyone who uses spare parts updates stock levels accordingly.
For a detailed look at CMMS, check out our What is a CMMS System and How Does it work guide.
In-depth understanding of lead times for different parts
Getting a thorough knowledge into your spare part lead times is essential for creating a successful spare part inventory management. Lead time for a part is essential for considering which parts to stock, and in what volume.
For example, spare parts for machines that are not critical to everyday operation can often be left out of stocking plans. On the other hand, if lost production time implies a weighty financial loss to your business, staying a day or two without parts for those critical assets is almost unacceptable.
The things to consider when seeking an in-depth understanding of lead times for parts inventory include:
Creating made-to-order for parts with long lead times and removing expediting options (preferably it is best to keep parts with long lead times).
Creating a list of off-brand components that are quickly obtainable (as a viable substitute during a crisis).
Stock parts for new equipment
Very often, we hear managers claim that "no spare parts are required for new equipment installation."While it may appear logical, it is a wrong approach for efficient spare part management because it assumes that vendors supply faultless and quality machines and parts (which is not always the case).
But, regrettably, part failure during equipment startup is not that unusual. Stocking the proper amount of spares ready for use in such circumstances might not be a bad idea.
Things to consider for stocking spare parts for new equipment include:
Working with operations division to make sure budget includes funds for spare parts.
Asking vendors for a list of recommended critical parts for the machines they just sold you.
Utilizing available information to improve decisions on which parts are necessary to stock.
The Essential Guide to CMMS
The Essential Guide to CMMS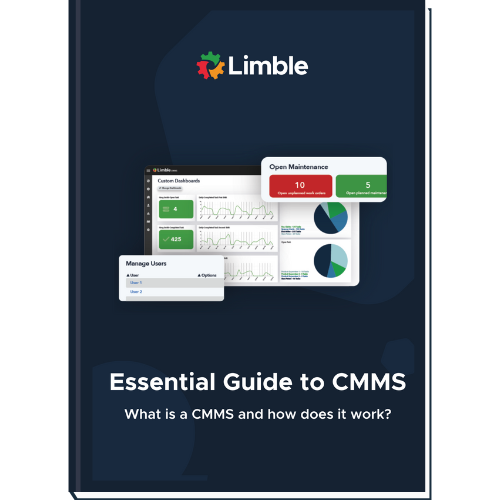 Calculating risk for every equipment
Unavoidably, the equipment can fail at any time, but calculating the risk for downtime can aid efficient spare part management.
Whenever a machine goes down or is due for a significant overhaul, there may be several components that are still valuable for future usage.
The things to consider during the calculation of risk for every piece of equipment include:
Calculating your exposure by determining what is the total cost of one-hour downtime for your firm.
Working with relatable data and lead times for parts.
Determining cost and reasons for the shutdown.
Creating a comparison of cost for purchasing "new vs old" parts for replacement.
Adopting better security measures
Limiting who can access the parts inventory warehouse is also an important step in creating an efficient spare parts management system. If everyone has access to parts inventory warehouse/room, you are likely to lead a never-ending battle with inventory inaccuracies.
The several essential practices to consider in implementing better security measures include:
Adopting policies that make access to parts inventories off-limits for some staff.
Ensuring the adoption of physical security measures, like parts counters, for every inventory stock.
Installing security camera systems alongside entry and exit badge access.
Educating employees on the plant floor on proper care for parts and performing consistent reviews of critical spare parts.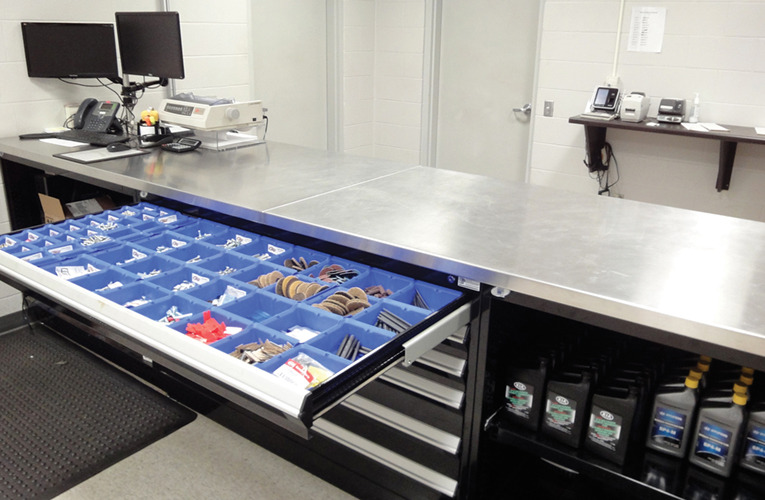 Metric parts counter example – Image source
Key takeaway
Often, spare part inventory management does not get the attention it requires and only gets seriously looked at if inventory costs need to be cut down or when missing spare parts continuously prolong costly downtimes.
Bottom line, an accurate inventory system, alongside efficient spare parts management, allows parts usage to be much more proactive and responsive to operational demands. Your business can save a lot of money by knowing which parts play a critical role in your day-to-day operations – and stocking accordingly.
---
Dr. Muddassir Ahmed has received a Ph.D. in Management Science from Lancaster University Management School, an MSc. in Management of Production from Chalmers University of Technology, Göteborg, Sweden. He is a Six Sigma Black Belt and has founded SCMDOJO – a blog that helps supply chain professionals solve their problems by offering ebooks, guides, training and talks, courses, videos, and self-assessment tools.