Work orders play an essential role in keeping your maintenance tasks in order. But work orders without the right process and organization can lead to delays, malfunctioning assets, and inefficient operations. 
In this article, we'll walk you through the best work order process for your maintenance strategy along with helpful tips for getting your work order process off the ground. 
What is a work order? 
A work order is a documented request – sent digitally or on paper – that provides maintenance task instructions for your maintenance team. It tells them where, when, and how a maintenance task needs to be done. 
Depending on your business, work orders may come from employees, customers, residents, vendors, stakeholders, or the technicians themselves. 
Common types of work orders include:
General work orders

Preventative maintenance work orders

Reactive maintenance work orders

Inspection work orders

Emergency work orders

Corrective maintenance work orders
Work Order Ticketing System Templates
These useful templates will help you get a handle on work order ticketing and management.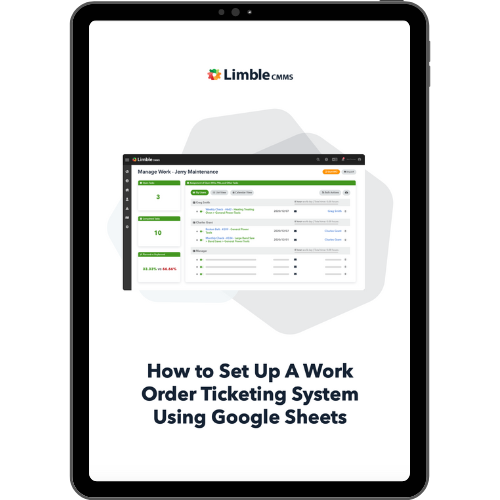 Why is it important to have a work order process?
Creating and optimizing a work order process is important for improving efficiency in any company that requires maintenance work. 
The work order itself is critical, of course, but without a process to get the work order from a request to the technicians that will complete the request, things can easily get missed along the way. 
The best work order management process will help keep your maintenance operations running smoothly and ensure consistency for all work order requests. 
What does a typical work order process look like?
Work order processes may vary between companies, but the basic principles remain the same. Take a look at the six steps of a work order life cycle below, and use this guide to help identify the best work order process flow for your team. 
Step 1: Identify the task
First, someone must identify the task for the work order request. A work order typically comes from a need to fix something or run maintenance on a certain asset. 
Is a staff member requesting a repair on a printer? Does a resident need assistance with their HVAC system? Are there preventative maintenance tasks or routine maintenance that is needed?
Wherever the problem comes from, you need an organized way for the reporting parties to notify your maintenance team of the problem. 
Step 2: Request the work order
Once the problem and task are identified, the reporting party should put in a service request for a work order. Communication will play an important role in implementing a work order process. Make sure your staff, tenants, or team members understand the process for submitting a maintenance work request.  
Step 3: Approve and create the work order
After a work request is submitted, you need someone in your maintenance department who can approve the request and create a new work order. Ideally, the approving individual will review the request to determine the feasibility, priority level, personnel, and resources needed for the task. 
Then they'll use that information to create the work order. 
Step 4:  Assign the work order
After the work order is created, it can be assigned to a technician. You may have a supervisor or team lead who assigns out each work order, or you might utilize computerized maintenance management system (CMMS) software to automate these assignments to the next available technicians. 
Step 5: Complete and close out the work order
Each maintenance technician should document their work and close out their individual work orders as they complete them. That documentation should include time spent, materials used, observations of the job, and images or video if necessary.  
Step 6: Review the work order
Once a work order is complete, the supervising team member should review the documentation to ensure everything was completed properly. They can then identify if any additional steps or follow-ups are needed. 
Reviewing finished work orders can also provide valuable insights into a company's operations. Information like task completion time and the resources used can help with future planning for those types of tasks. If you are using CMMS software, many of these metrics are automatically calculated and reported for you.
CMMS Buyer's Guide
Learn the questions to ask and the features to look for during the CMMS selection process - and find the right CMMS for you.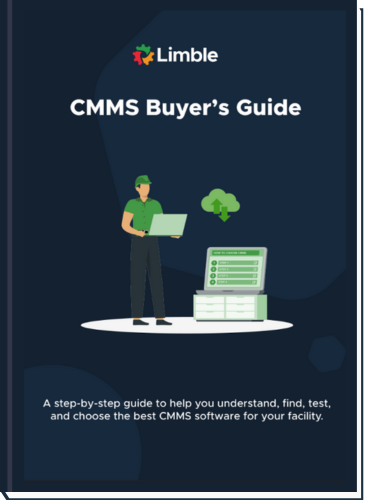 Tips for creating an effective work order process
A work order process is more than just following a series of steps. Check out these tips and best practices for optimizing your work order process. 
Use software to track your work orders
Gone are the days of keeping track of everything on paper. To keep maintenance operations running efficiently and keep up with the competition, you should take full advantage of work order management software.
CMMS software can help you automate the work order process and keep everything digital. Team members can submit requests, receive alerts on mobile devices, document and review tasks, and track inventory management all in the same system. 
Provide plenty of details
Each work order should contain plenty of details so your technicians know exactly what they need to do to get the job done right the first time. 
These details might include: 
A detailed description of the problem (where it is located, how bad it is, what part of the asset needs repair, etc.) 

Identification of the specific assets that need repair

Comprehensive checklists of tasks for the repair (this might include the SOP for that specific task)

List of resources needed

Health and safety requirements

Completion date
Check out this detailed guide for how more information about what to include in a work order. 
Encourage users to follow the work order process
A work order process only works if one involved is accountable for doing their part. Make sure your team is trained on and aware of your work order process. If you have customers or tenants who send work order requests, make sure they know the proper channels to submit them. Encourage consistency by providing timely responses.  
Provide a channel for feedback
It can be extremely helpful to receive feedback from your staff and customers on your work order process. So be sure to provide a way for them to share feedback with you. 
This can help you determine what is or isn't working and allows everyone to build trust in the process, knowing that their input is being considered. When people trust the process, they will follow it. 
Streamline your work order process with Limble CMMS
If you're looking for the right software for your work order process, you're in the right place. Limble CMMS gives you one platform to take care of everything, from ticketing and digital work order assignments to asset management and custom reporting. 
Start a free trial today, or reach out to our customer support team to learn more!