Using a computerized maintenance management system (CMMS) is the first of the many steps to streamlining all your maintenance workflows. However, that's just the first of the many steps. To really reap the benefits, there are certain CMMS best practices you must follow.
If you're a maintenance director or a facility manager with little or no experience with maintenance software, keep reading. In this post, we'll share some of the tried-and-tested CMMS best practices to help you get started.
Understand your organization's needs
Before getting started, you need to determine (or revisit) the value that you hope to get from your new CMMS software.
While the underlying benefits will be the same for all CMMS users – such as improving upkeep, reducing administrative costs, reducing downtime, etc. – the exact way in which the CMMS will impact the broader strategic objectives could vary.
Considering that, you need to clearly define the goal(s) you want to accomplish with the CMMS system.
Here are some examples:
Cut down the time it takes to approve work orders by X percent
Improve the response rate to emergency or unplanned maintenance process
Reduce inventory management costs by X dollars
Cut down on the repair and maintenance costs by X dollars
Reduce the frequency of equipment failure to increase productivity by X percent
By having a clear vision of where you want to be, you can leverage your software in the best way possible and integrate it with your maintenance strategy.
Here are some CMMS best practices that can help any maintenance department get the most out of their system.
1) Get the entire organization involved

Whether you set up your CMMS recently or have been using it for a while, the first thing that you should do is to get all the organization on board with the usage of your CMMS system. This includes everyone – from an entry-level technician to all the way up to the top maintenance managers and directors.
CMMS implementation goes further than just paying for the SaaS and getting your team up-to-speed on the platform. Everyone needs to truly understand and believe in the apparent benefits of using the computerized maintenance management system. This is especially true for upper-level management.
Without the buy-in of the folks in the boardroom, you won't get much far along. To do that, you can conduct department-wide educational sessions, invite the upper-level managers, and inform everyone about the potential advantages of using the CMMS.
2) Leverage mobile capabilities
The biggest drawback of relying on a paper-based maintenance program is a delay in communication.
One of the primary benefits of using a CMMS is smooth communication between the managers, supervisors, technicians, and other people requesting maintenance work.
With a software platform, especially one with a mobile app, maintenance teams can approve work orders, supervise tasks, and track progress – all in real-time. With a mobile maintenance app, authorized personnel can do all of the above, and more, through their smartphones.
Have your whole team download the app. That way, they can send out maintenance requests, monitor maintenance activities, and plan out their work from any corner of the world.
The Essential Guide to CMMS
Download this helpful guide to everything a CMMS has to offer.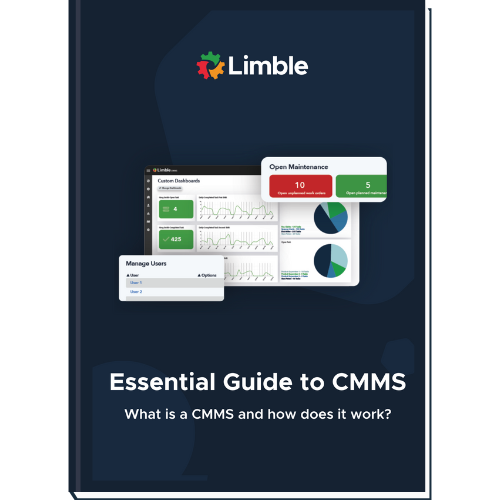 3) Track assets in real-time
A key module/feature found in almost every computerized maintenance management software is an enterprise asset management (EAM) platform. You can use this feature to monitor the health of your company's assets in real-time.
It's next to impossible for an organization with hundreds of assets to track all items and ensure that they're in optimal conditions. That's only possible with an EAM. More specifically, if your CMMS allows you to track your asset's performance with meters in real-time (as opposed to following a simple preventive maintenance schedule), it is highly advised to leverage this capability.
4) Set up a comprehensive maintenance schedule
Another awesome benefit of having a CMMS is the ability to streamline your preventive maintenance program. At the least, the preventive maintenance program should have a schedule. But maintenance scheduling goes way beyond simply marking certain maintenance activities to be completed over regular intervals of time.
In addition to the above, you also need to clearly define the reasons behind performing particular maintenance tasks, share clear instructions on how to perform said tasks, and factor in inventory planning.
5) Create custom dashboards to track what matters
There's no point in having a CMMS if you don't use it to analyze data in real-time and derive valuable insights to improve your processes and take important business decisions.
Some of the common maintenance KPIs that most platforms track by default include MTBF and MTTR. However, you can always go one step ahead and track the metrics that are critical to your long-term business goals. If your CMMS has the capability to create custom dashboards and reports, your managers should capitalize on that option to get deeper insights.
6) Use the CMMS features you need
With so many CMMS features available, it can be overwhelming to get started with a new software. From work order management to inventory management, there are a ton of things that a modern platform can achieve. Hence, another CMMS best practice is to only acquire the features or modules that you need, as opposed to paying for the entire suite (if your CMMS provider gives you that option).
Some vendors offer different features as standalone modules. However, the best approach is to discuss your problems, devise a strategy, and pay for a custom plan best suited for your organization.
7) Create an ongoing training program
Regardless of how much hands-on experience your employees have with CMMS platforms, ongoing training is a must. That's because vendors frequently introduce cutting-edge features and tweak UIs to keep their software up-to-date in accordance with the changing preferences.
From breaking down main features to sharing a standard way of performing data entry, the training program should cover everything. Furthermore, you should keep in touch with your vendor, ask for any training/onboarding sources, and keep an eye out for webinars/events that could be beneficial for your maintenance team.
8) Create product champions
A common CMMS best practice is to have a champion or two for the platform your organization uses. This person would be responsible for understanding the platform from the inside out, figuring out new ways of using it to the company's advantage, keeping an eye out for any upcoming updates, and tweaking the strategies accordingly.
You don't have to hire a separate profile just for this purpose – you may include it as a part of an existing manager's job description.
Get the most out of your CMMS
With a modern CMMS platform, you can certainly ease a lot of administrative burdens, make maintenance a breeze, and impact your business bottom line.
But if you don't know how to make the most out of it, a CMMS might do more harm than good in terms of saving you money. However, by sticking with the CMMS best practices discussed above, you can definitely reap those benefits.
For a deeper dive with Limble CMMS, request a demo or start a free trial.