What is EAM?
Enterprise Asset Management or EAM is a set of processes and tools that allow companies to track and manage their physical assets (machines, equipment, buildings, and vehicles) throughout their lifecycle – from procurement to disposal.
EAM is used to plan, optimize, execute, and track all maintenance activities for assets. This includes associated maintenance priorities, skills, materials, tools, cost, and other information.
The goal of enterprise asset management is to:
Increase the performance and uptime of your physical assets

Reduce operational costs 

Boost environment, health, and safety (EHS) initiatives

Streamline all activities related to asset management through a centralized platform 
By investing in enterprise asset management, organizations get a reliable big-picture perspective of assets across locations, departments, and facilities, whether those assets are fixed or movable.
All enterprise-level organizations can use EAM. It is most often used in asset-intensive industries like utilities, manufacturing, energy, and construction.
What does EAM do?
Large organizations can have thousands of assets that need to be taken care of. EAM offers one central hub to manage and control this type of complex work environment. While still maintaining efficient production, operating, and service levels. EAM can help you manage work orders, contracts, asset lifecycle, supply chain, and a wide range of other capabilities to help you stay on top of your business.
Work Management
Work management includes managing all planned and unplanned maintenance work. It covers the management of incoming maintenance requests, planning maintenance schedules, tracking work in progress, and coordinating maintenance work with outside contractors. This is why work order management is a core feature in every asset maintenance and management software. 
Asset Lifecycle Management
An essential function of EAM is asset lifecycle management. This can help you move away from an asset tracking system that's kept on paper or spreadsheets and move this essential data into a centralized hub. It helps to plan and streamline asset tracking and management at every stage of an asset's life: 
Developing a procurement strategy and commissioning the asset

Maintaining and repairing the asset throughout its useful life

Cost vs. replacement analysis and disposal
Labor Management
Labor Management includes organizing and tracking everything related to the labor force. It can help track the assessment, training, and certification for different employees and contractors. As a feature in the EAM system, labor management makes it easier to access, audit, and adjust work schedules, especially when the labor force grows. 
Supply Chain & MRO Management
EAM software comes with built-in features to improve your inventory and stock control procedures. It allows you to have a clear look at supply chain management at your company. It covers spare parts procurement, stock control, purchasing, estimating demand for materials, and making accurate inventory forecasts. This inventory can be anything from cleaning supplies to machinery spare parts and lubricants (basically all MRO inventory).
Contract Management
Asset management requires a lot of service contract management. Think contracts with employees, partners, vendors, and customers. And then managing those contracts to completion, which includes tracking things like compliance and financial expenditures. An EAM can help make contract management easier and all in one place. 
Analytics & Reporting
By using an EAM system, you'll have a complete overview of your maintenance operations. Combined with a wide variety of reports, an EAM gives you access to in-depth operational insights like:
A summary of the maintenance department's activity in real-time

Asset performance management to eliminate recurring problems and reduce unexpected downtime

Track a variety of key performance indicators (KPIs) and metrics to find the root cause of any significant problem

A clear trail to track costs associated with every aspect of asset management (assets, parts, tasks, labor, downtime, etc.) 
A CMMS can do the heavy lifting for you when it comes to reporting. You can build custom reports and dashboards to see precisely the data that will help improve the performance of your assets.
Financial Management
Managing finances means using the EAM to gather data on spending across departments and forward that data to accounting. From there, accounting can monitor expenses and project spending. This can help you stay in line with your company's financial goals.
EAM as a strategy vs. EAM software
EAM as a strategy 
This refers to the act of managing the assets of a business. It includes a combination of software, systems, and services to maintain and control operational assets and equipment and is an integral part of facility management. The aim of EAM as a concept is to manage the quality and usage of assets throughout their lifecycle. The ultimate goal is saving money, maximizing use, and improving the quality of your assets.
EAM software
This is the tool for managing assets. It provides a complete overview of your organization's physical assets and infrastructure throughout the entire lifecycle of each asset. It also tracks and manages assets from design and procurement to operation, maintenance, disposal, and replacement.
The Essential Guide to CMMS
Download this helpful guide to everything a CMMS has to offer.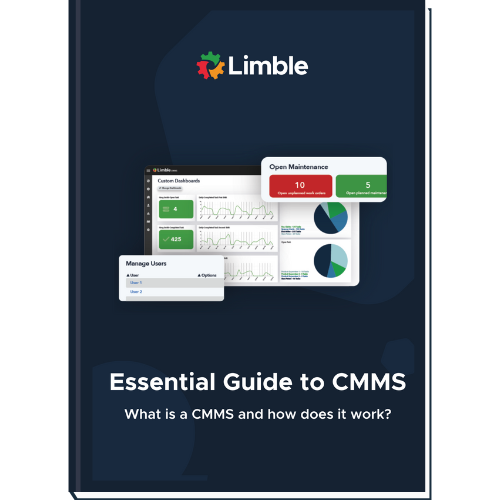 Head-to-head: EAM software vs. CMMS software
Both systems help companies steer away from a reactive maintenance approach and toward a preventive maintenance strategy by automating maintenance activities. However, there are a few defining differences. Let's take a look at CMMS vs. EAM.
CMMS software is a solution specifically designed to automate and streamline all tasks related to maintenance management. CMMS focuses primarily on managing maintenance when the asset is operational – the time it's up and running and productive. The main functions include maintenance scheduling, managing spare parts inventory and work orders, and tracking asset data.
EAM software covers all of that and builds upon it with additional functionality like tracking asset lifecycle, offering different accounting and finance management functionality, and more. It tries to take a more broad and holistic approach. An EAM system focuses on managing the entire lifecycle of a company's assets, from their design and creation to their disposal. Can also handle tasks related to accounting, finances, HR, and procurement.
In short, EAM solutions have some CMMS capability, but not all CMMS tools have EAM functionality.
Putting technology to work for you
Any way you look at it, managing a high volume of assets is expensive. But, you know what's even more costly? Not managing them at all.
If you can't track assets throughout their lifecycle or stick to a proactive maintenance plan to maximize their useful life, all you can expect is constant operational issues and an inflated maintenance budget. Now, choosing an EAM solution should be easier than ever. And if you're still unsure, we're always here to help guide you through the process.
Related Content
Explore our blog for insightful articles, personal reflections and ideas that inspire action on the topics you care about.