Having an efficient maintenance department requires a strategic approach to maintenance. For large organizations, that means hiring a maintenance director who will decide the maintenance budget, approve strategic initiatives, and make sure maintenance goals are in line with overarching business goals.
We will cover everything that goes into a maintenance director job description and give you an idea of what it is like to be one.
Maintenance director job description
Being the maintenance director is the highest job position in the maintenance department. As a strategic leader, the director of maintenance is tasked with setting and achieving strategic goals for their department.
Maintenance directors have to be focused on a bigger picture so they have limited involvement in day-to-day tasks on the ground level. That being said, they do work closely with maintenance managers and supervisors to prevent/solve bigger operational issues and to ensure that defined maintenance KPIs are being met.
The reason why we are being a little vague here is because the maintenance director's job description will vary depending on the industry they work in. Different industries can have different goals and ideas on how to get there.
Roughly speaking, based on the industry, we could split maintenance directors into the following categories:
Facilities maintenance director (a.k.a. director of facilities; oversees big facilities: everything from schools, hospitals, hotels, and museums to casinos, shopping malls, airports, and fitness facilities)
Plant maintenance director (mostly manufacturing industry)
Property/building maintenance director (commercial buildings, residential and rental properties)
A more detailed breakdown of typical responsibilities will be discussed in one of the sections below.
The Essential Guide to CMMS
The Essential Guide to CMMS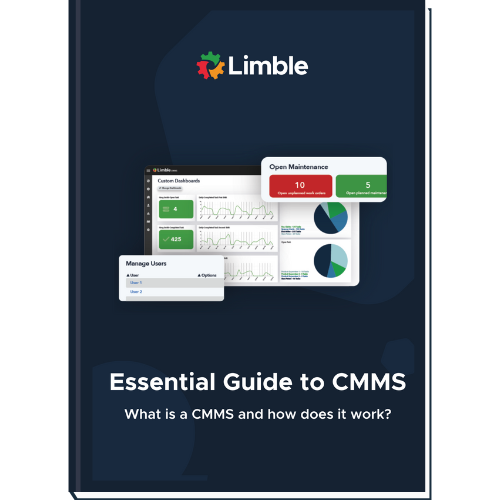 Their role in the decision process
If you would take a look at the structure of the maintenance department in a bigger organization, you would usually see something like this:
The director of maintenance is someone who will call in maintenance managers and say: here are our goals, and here is the budget we can allocate for achieving those goals.
Depending on the organizational structure and culture, maintenance directors might discuss different strategic initiatives with their maintenance managers to try and agree on the best ways in which the allocated budget can be spent.
What can't be seen in the graphic above is that maintenance directors report directly to the executive branch (usually to business owners or director of operations). Like all maintenance professionals, they are under constant pressure to reduce operational costs to improve the company's profit margins.
In smaller organizations, a maintenance manager will take over the responsibilities of a maintenance director as the scope of needed work is way more limited.
Responsibilities of the maintenance director
As we mentioned earlier, responsibilities change from industry to industry. If you want to see a full list of responsibilities in a specific niche, you can find relevant job posts with a quick Google search.
For the purpose of this article, we looked at dozens of job post from different industries and pulled out those that are stated most often:
Estimates annual maintenance budget
Maintains costs within the budget and quickly communicates issues that might result in a need for additional funding
Identifies current and future maintenance needs; resource planning
Makes sure that the department meets legal and OSHA requirements
Approves and oversees different capital projects (like software/machine purchases and installations or renovation projects)
Reviews and approves vendor bids (like those for replacement parts)
Helps with the development and implementation of proactive maintenance strategies and maintenance programs
Provides regular reports to top management
Provides leadership and guidance to all maintenance personnel
Makes sure that the maintenance team is properly staffed (with qualified maintenance staff)
One interesting side note: while we were reviewing maintenance director job posts for this article, we noticed that some of them list duties like routine maintenance operations (alongside team and budget management responsibilities). This was especially prevalent in the property management space. In our opinion, such job descriptions are more suitable for maintenance managers or maintenance supervisors. Just something to double-check if you are applying for this position or writing a job description for one.
Skills that make a great director of maintenance
Most higher-level positions in any organization will require the same skills, regardless of the industry or department. This is true for a maintenance director, but only up to a point as this position comes with a few unique requirements.
Here's a list of common traits and skills that make a great director of maintenance:
The ability to see the bigger picture. As someone who is involved in making rules, creating procedures, and approving different initiatives, a maintenance director has to keep in mind how these changes might impact other business operations. Moreover, he/she has to ensure that these actions will help in achieving defined goals and fit inside the available budget.
Communication and people skills. Maintenance directors are the bridge between the plant floor and top management. Good communicational skills will help in presenting convincing arguments to top management, while great people skills can be put to use for motivating maintenance professionals and showing an understanding of their needs and problems.
Organizational skills. When you look at the list of responsibilities, it is obvious that this is a dynamic job that will keep you on your feet. If they do not want to become a cause of idle time, maintenance directors have to have good organizational skills.
Basic computer skills. You don't have to be a programmer to answer emails, make presentations, or review and create digital reports in your CMMS. However, you do have to have some basic computer skills. As organizations continue to digitize their business processes, these skills will become even more desirable.
Analytical skills. Good strategic decisions are almost always based on quality information. To have quality information, the maintenance director needs to be able to analyze existing data for positive and negative trends, as well as be able to discern between correlation and causal relationships.
Technical background. It is hard to understand problems maintenance techs face in the field or on the plant floor if you do not have the technical background and first-hand experience. This is why the majority of job postings for a director of maintenance require people with practical experience that understand how a standard maintenance department functions.
Lastly, let's also mention that maintenance directors that oversee multiple facilities/properties at different locations will often need to spend quite a bit of time on their feet making rounds and inspections, attending different meetings, giving consultations, and maybe even helping out with some maintenance duties.
Maintenance director salary
As with a maintenance technician and maintenance mechanic, how much money the director of maintenance makes is dependent on the industry and size of the organization they work at.
We jumped over to the big job platforms and looked for the maintenance director's average US yearly salary. Here are the numbers summarized:
If we take all of those numbers (including bonuses), we could say that the gross annual salary average is $87k.
One thing that escapes this analysis is the high-end part of the equation as the pool of large enterprises that are looking for maintenance directors is relatively small. At such organizations, it is not rare to see maintenance directors with a yearly salary of over $150k.
Closing thoughts
As we move forward, new competitors and technology will continue to force organizations to focus on efficiency if they want to stay competitive in the market.
The modern maintenance director will need to be someone who understands when it is time to cut costs and when the better long-term solution is an investment in new equipment, tools, and CMMS software.